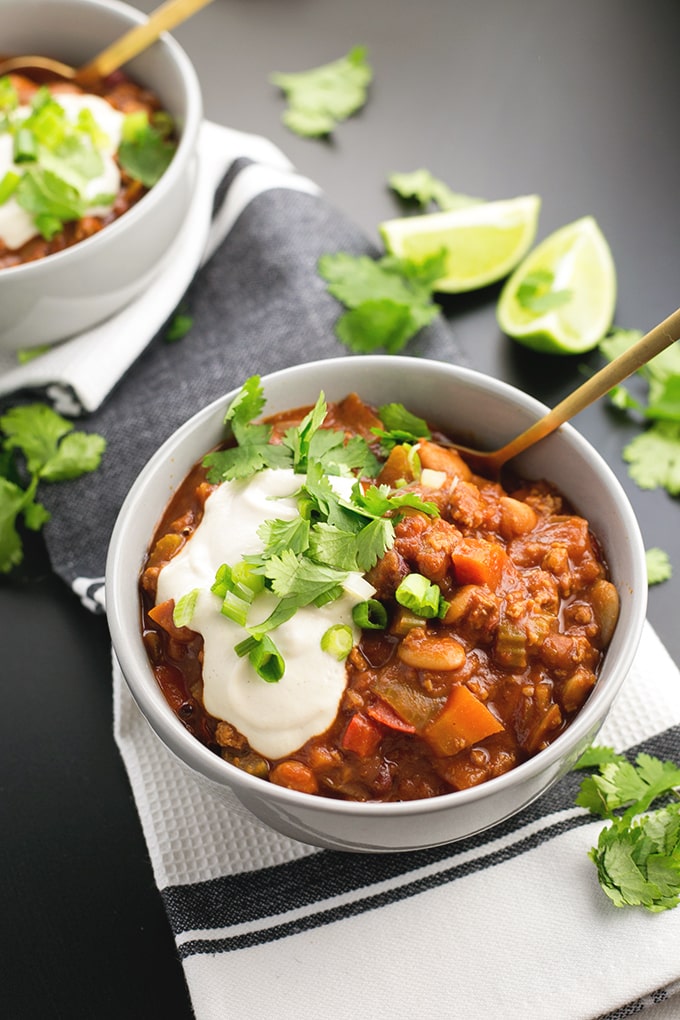 I've never actually tried Chili Con Carne in my life. The only memory I have of it is a Flash game called Boowa and Kwala that I used to play when I was a young friendless moron, where you'd play as a Koala and serve Chili Con Carne up to people. I was an absolute loser when I was younger. May still be. Anyway, I came across Boowa and Kwala a few days ago and that is what inspired me to make this Vegan Chili Con Carne. Loser.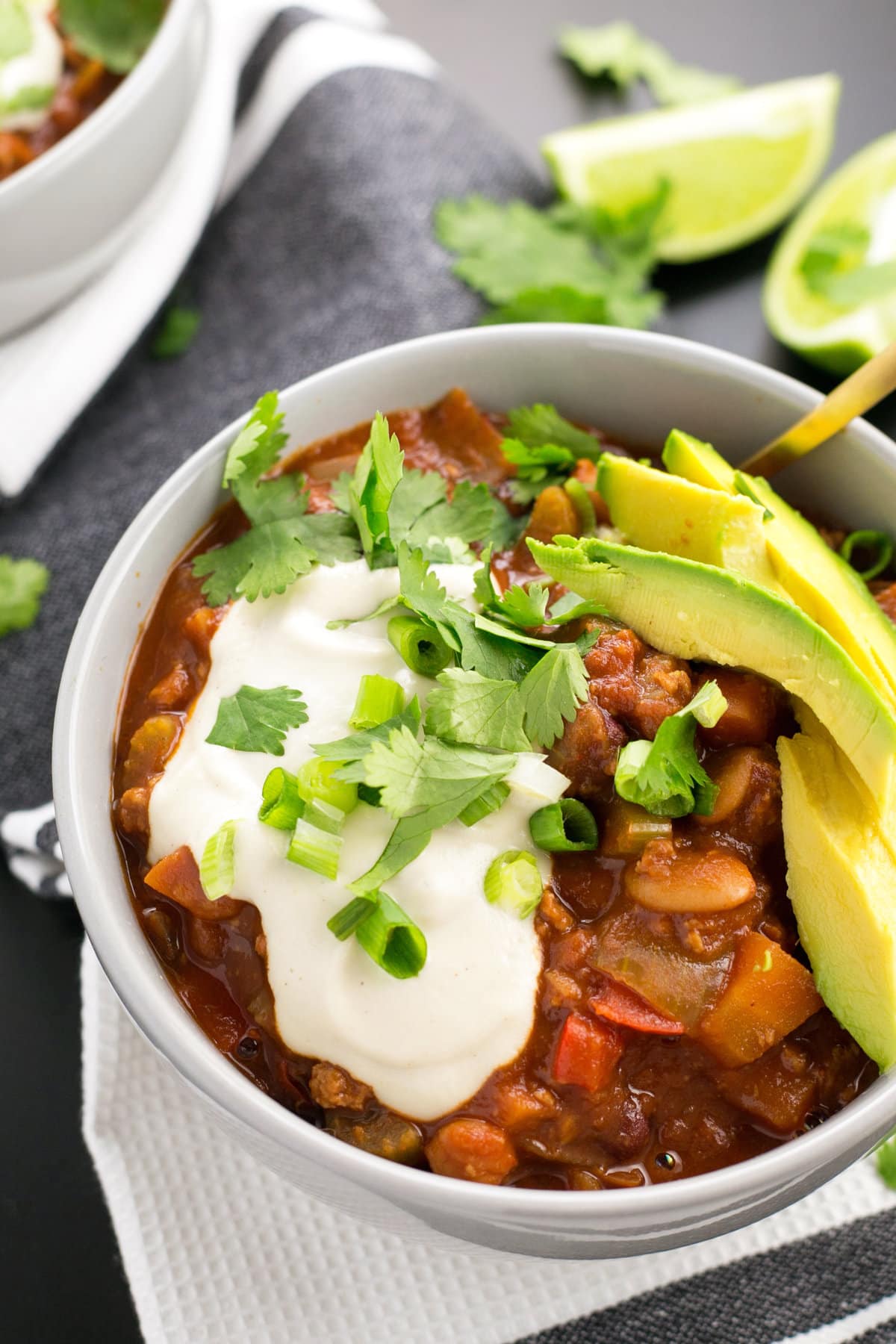 To be honest, this Vegan Chili Con Carne was a breeze to make. Everything is made in one pot (and a blender for the Cashew Sour Cream, but feel free to grind cashews for hours by hand because grinding is such a great thing especially when you're blind drunk and in a club). I've used Vegan "Meat" Crumbles in this recipe for a heartier texture, along with a mixture of Beans, Veggies, Tomato Paste, Tinned Tomatoes, Mexican Chili Spice Mix and a little Dark Chocolate. The cashew sour cream I top this with is the same one I use in my One Pan Mexican Quinoa.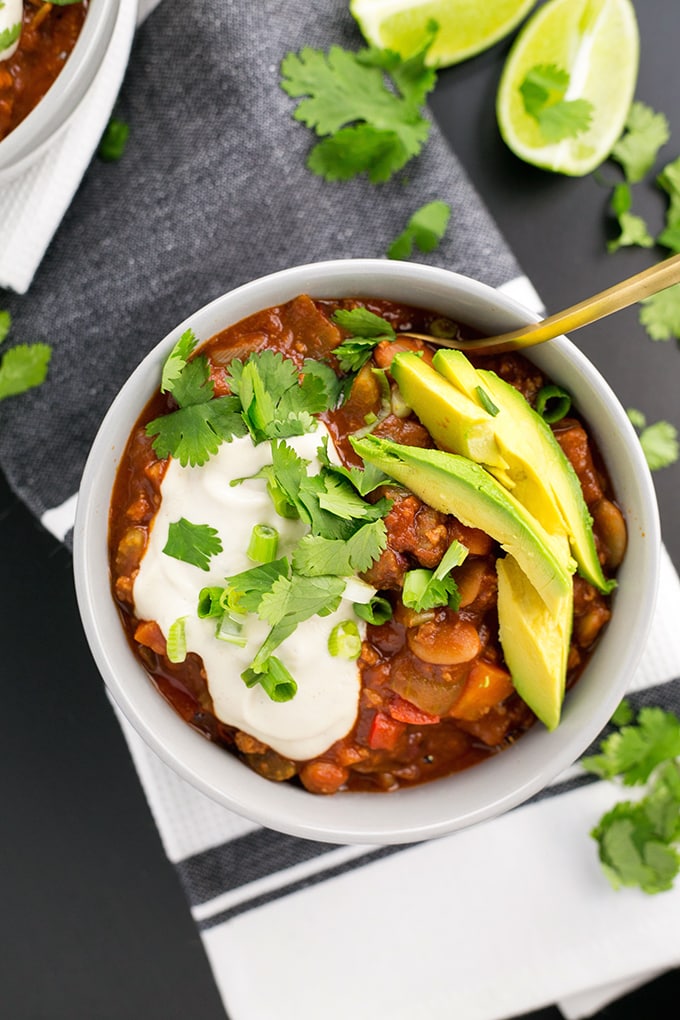 The result is a relatively mild Chili Con Carne, one that will not make your a$$hole cry the next morning. You know what I'm talking about 🙂 But hey, if you're into that kind of stuff feel free to go WILD and add a bucket of Chilli Powder to this, and KABOOM! Die with a bang, I always say.
FREE EBOOK SERIES! 5 SECRETS FOR FOOLPROOF VEGAN DESERTS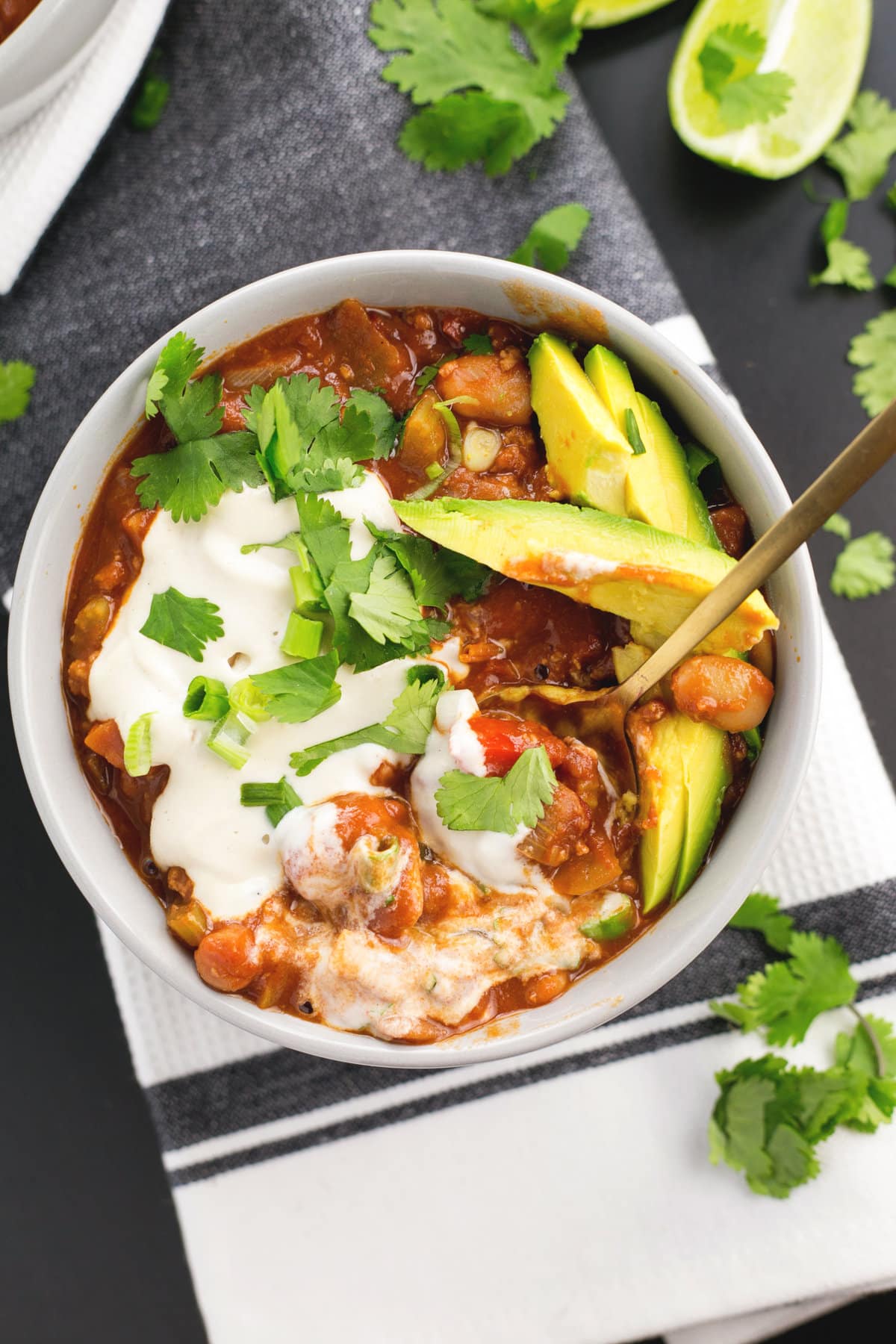 Topped with Cashew Sour Cream, Avocado, Cilantro and Green Onion, this Vegan Chili is pretty hearty in itself and doesn't need to be served with anything else, but feel free to dip bread or whatever the fk you want into it. I reckon it'll go well with a side of rice too, but hey, what do I know. So scroll down for my Vegan Chili Con Carne recipe, my fellow cretins.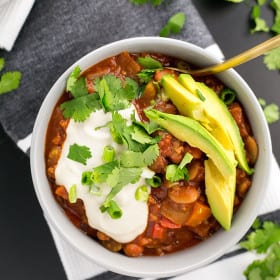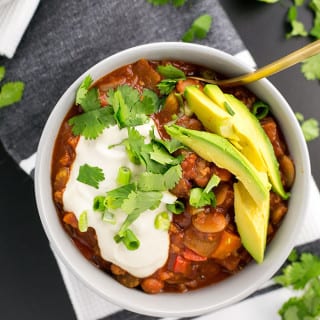 Vegan Chili Con Carne
A delicious, hearty and healthy one pot Vegan Chili Con Carne with Cashew Sour Cream.
Ingredients
1 1/2

tablespoons

Olive Oil

1

large

White Onion

diced

1

large

Carrot

diced

1

large

Red Bell Pepper

diced

1

large

Celery

stalk, diced

1

cup

Vegan Meat Crumbles

Gardein Beefless Crumbs or whatever

2

tablespoons

Tomato Paste

1

14 oz

Crushed Tomatoes

1/2

cup

Vegetable Broth

1

oz

Mexican Chili Spice Mix

1

teaspoon

Ground Cumin

1

tablespoon

Sugar

1

tin

Mixed Beans

drained

1/2

oz

Dark chocolate

1

teaspoon

Salt

to taste
To serve:
1/4

cup

Cashew Sour Cream

1

large

Green Onion

Chopped

1

bunch

Cilantro

Chopped

1

large

Avocado
Instructions
In a large pot, heat Olive Oil up and saute the Onion, Carrot, Red Bell Pepper and Celery till onion has turned soft and translucent, and other veggies have sweated down a bit, about 5-7 minutes.

Add Vegan Meat Crumbles to pot and cook, stirring, for another 5 minutes.

Add Tomato Paste to pot, stir well and then add in your tin of Crushed Tomatoes and Vegetable Broth to the pot.

Bring to a simmer and add in Chili Spice Mix, Cumin, Sugar, drained can of Beans and Dark Chocolate.

Bring back to a simmer, cover with a lid and let cook for 30-35 minutes or until all the vegetables are tender and Chili has thickened.

Taste and season according to preference.

Serve with Cashew Sour Cream, Cilantro, Chopped Green Onion and Avocado Slices.
Nutrition
Serving:
1
serving
Calories:
106
kcal
Carbohydrates:
10
g
Protein:
2
g
Fat:
7
g
Saturated Fat:
1
g
Cholesterol:
1
mg
Sodium:
400
mg
Potassium:
321
mg
Fiber:
3
g
Sugar:
5
g
Vitamin A:
2418
IU
Vitamin C:
33
mg
Calcium:
27
mg
Iron:
1
mg