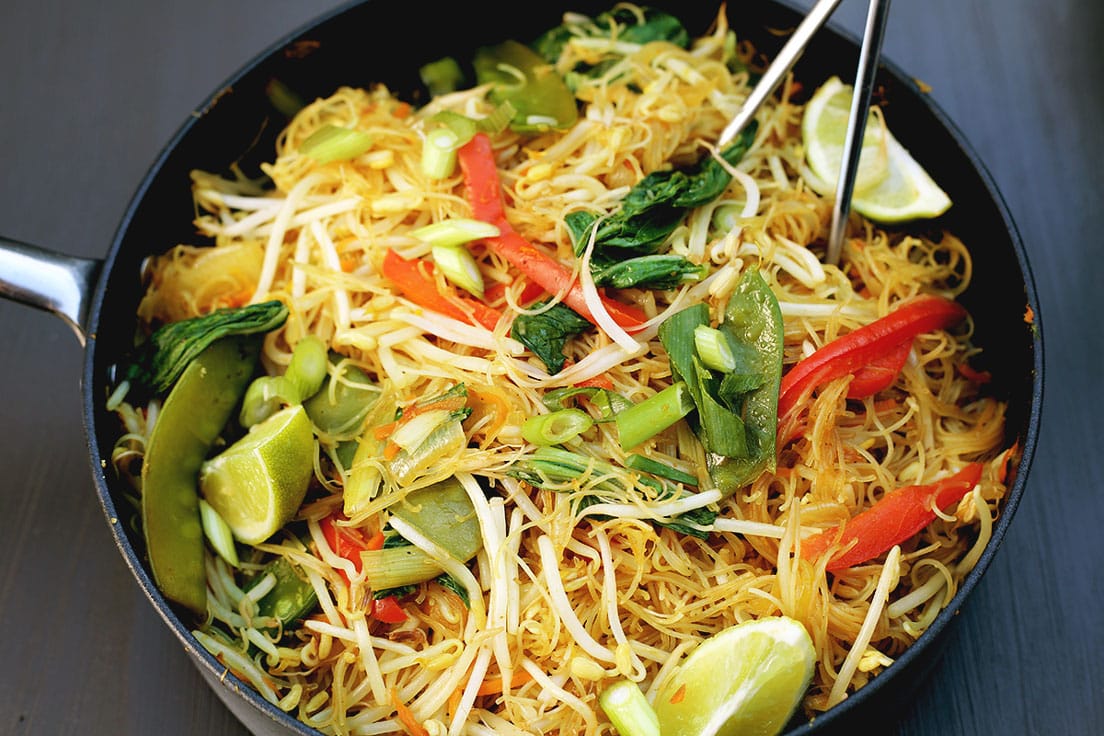 After escaping from the 'horny' clutches of Miss Unicorn (Levan and I were tortured in a dingy dungeon), I was suffering from a hardcore craving for Asian cuisine –something noodle-y…something like these Singapore Noodles (aka Singapore-style Noodles). Many of our American, Canadian, and Australian readers will be very familiar with this extremely popular Chinese take-out recipe. But guess what – Singapore Noodles doesn't exist and has never been heard of in Singapore. Period. It's true! We've had plenty of other noodle dishes, but you'd be hard-pressed to find any restaurant that sells these "native noodles" LOL 🙂  So, in actuality, Singapore Noodles is a cross-cultural mutated freak of nature!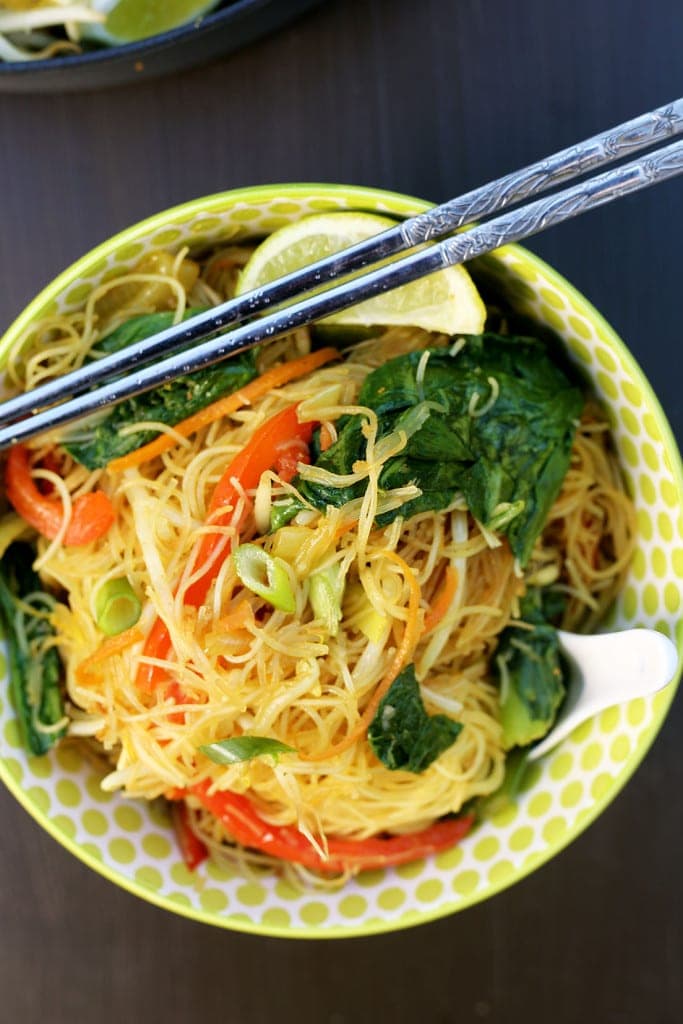 That being said, we'd thought it'd be kinda fun to try our hand at creating our very own yummy Singapore Noodles recipe. Cue in my one-pan adaptation… of an adaptation… of noodles that don't actually exist in Singapore! Made from rice vermicelli (thin rice noodles), curry powder, bean sprouts, bok choy, spring onion, carrots, red pepper, snow peas, and a ton of other nutritious and easy-to-get ingredients, I'm happy to say that this Singapore Noodles creation is a surefire noodle winner.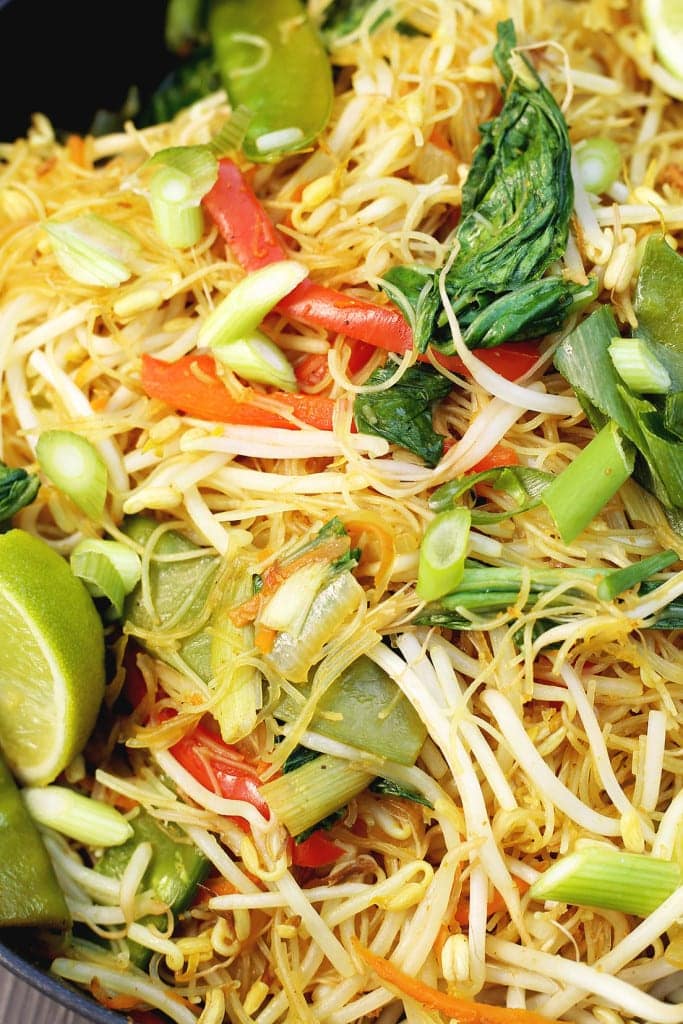 And, hey, good news to all vegans out there! Unlike many Singapore Noodles recipes on the Internet, these Singapore-style Noodles are 100% vegan – with no meat, eggs or seafood added! Now, rest assured that no taste has been sacrificed. The soy sauce, brown sugar, sweet soy sauce, sesame oil, and vegetables that more than make up for the lack of shrimp, beef, or pork. Also, I highly recommend you have these Singapore Noodles with a touch of Sambal Oelek, just to add a little spicy kick. There is also a gluten-free option for this recipe, so gluten-conscious folks need not worry!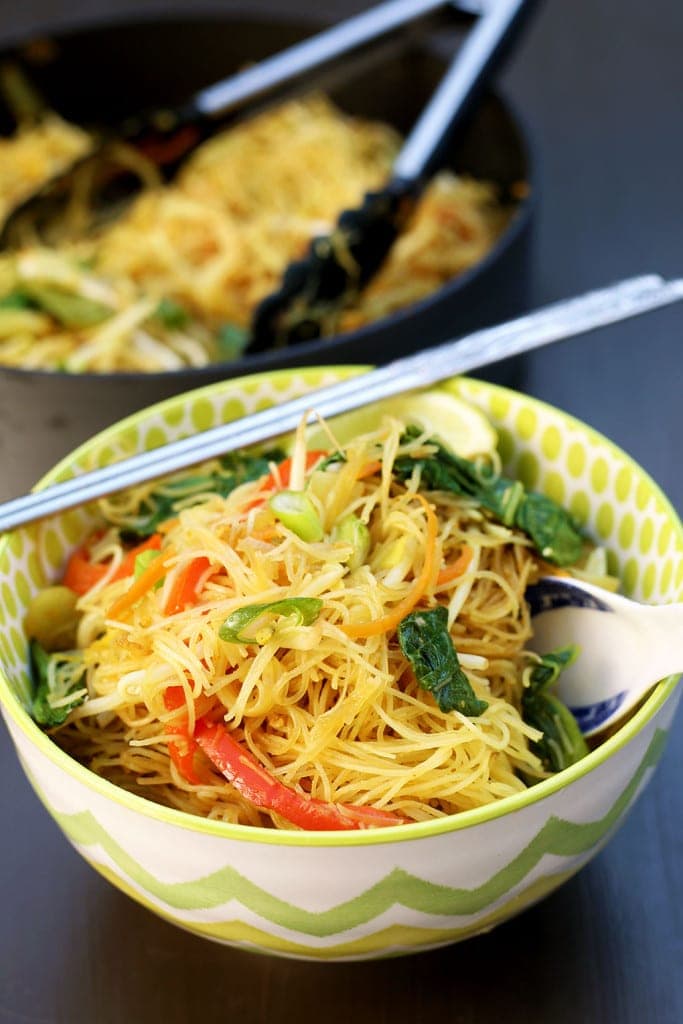 Well, I've got to run. I swear I hear Miss Unicorn giggling somewhere in the distance. Terrifying! So without further ado, here's my delicious and no-fuss one-pan recipe for Singapore Noodles! Enjoy! Oh, feel free to drop us a comment and share this recipe with your noodle-loving friends!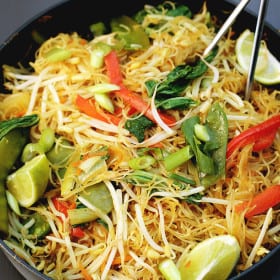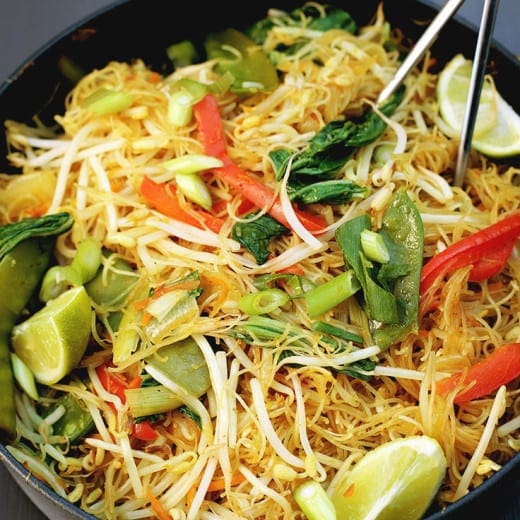 One-Pan Singapore Noodles
Simple One Pan Singapore Noodles recipe made from rice vermicelli (thin rice noodles), curry powder, bean sprouts, bok choy, spring onion, carrots, red pepper, snow peas, and a ton of other nutritious and easy-to-get ingredients. Vegan, gluten-free, and healthy!
Ingredients
2

tablespoons

Vegetable Oil

1

White Onion

sliced

4

cloves

garlic

minded

1

Red Pepper

sliced

1

cup

Snowpeas

1

Carrot

julienned

2

Spring Onions

sliced

1 1/2

cups

Bean Sprouts

2

heads Bok Choy

8

oz

Thin Rice Vermicelli

Seasoning:

2

teaspoons

Curry Powder

1/2

teaspoon

White Pepper

1

cup

Vegetable Stock

2

teaspoons

Sweet Soy Sauce

Omit if Gluten Free and compensate with an extra tsp of sugar

3

Tablespoons

Tamari

1/2

teaspoon

Brown Sugar

1

teaspoon

Sesame Oil
Instructions
Prepare vermicelli noodles by soaking in a large bowl of cold water for 10 minutes.

In a large wok or saucepan, heat oil up. Gently stir fry garlic, onion, red pepper and snow peas for a minute, then add in carrot and spring onion. Continue stir frying for 30 seconds.

Drain noodles from water and add into wok. Using tongs, loosen up the noodles so they cook evenly.

Add all seasoning ingredients to the pan and make sure to keep moving the noodles around so they don't burn or break up. Stir fry until all the liquid in the wok has been absorbed by the noodles. Taste for seasoning and alter to your preference.

minute before you're done stir frying, add bean sprouts and bok choy into the wok. Toss to heat the veggies through and then turn off heat. Add sesame oil after heat has been turned off and stir to mix through.

Dish up and enjoy!
Notes
Do not soak your vermicelli in warm or hot water as this will soften it up too much, and noodles will end up breaking into little rice-like strands when stir frying.