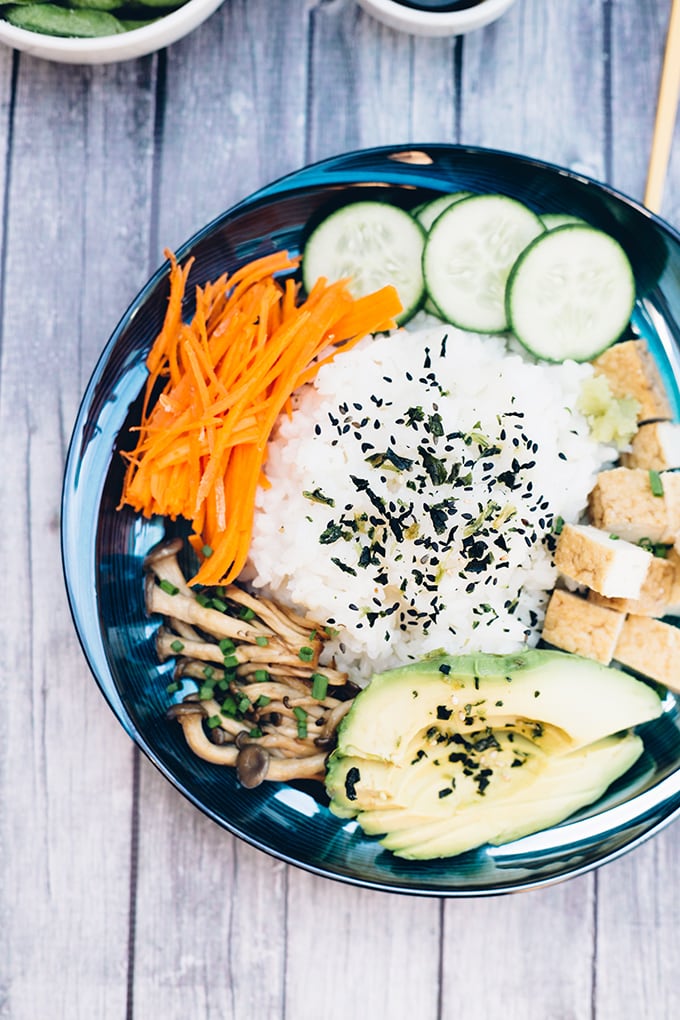 If you're anything like me and are completely dead inside, you've struck gold by visiting my Vegan Sushi Bowl post! When you have no feelings and your soul is dead, stuffing yourself to the point of explosion is always a good idea because at least you feel *something*.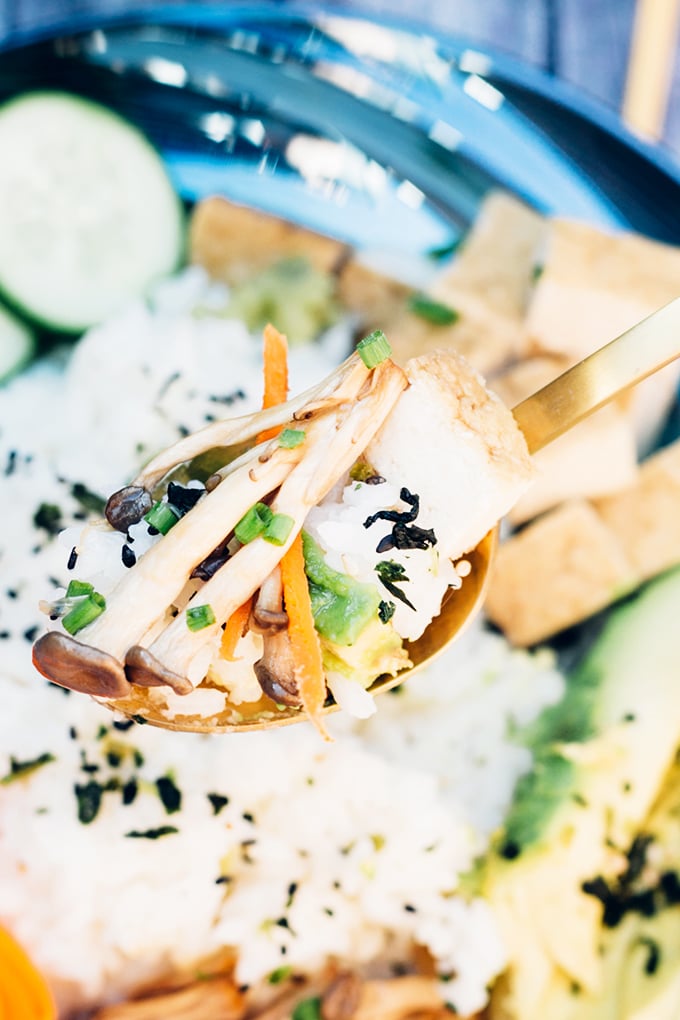 Vegan Sushi Bowls are one of the few things I genuinely enjoy these days, with the other being crying myself to sleep. Sushi Bowls are just an English term for Chirazi/Chirashi Sushi, something hopefully happier people in Japan eat on a regular basis. It translates to Scattered Sushi (scattered just like my emotions), and is a much easier way of enjoying Sushi without the hassle of rolling and sh*t. My recipe for Seasoned Sushi Rice is in my opinion close to perfection, and obviously the most important part of a Sushi Bowl. It takes a little while to make, but it's worth it fo sho, unlike most things in life.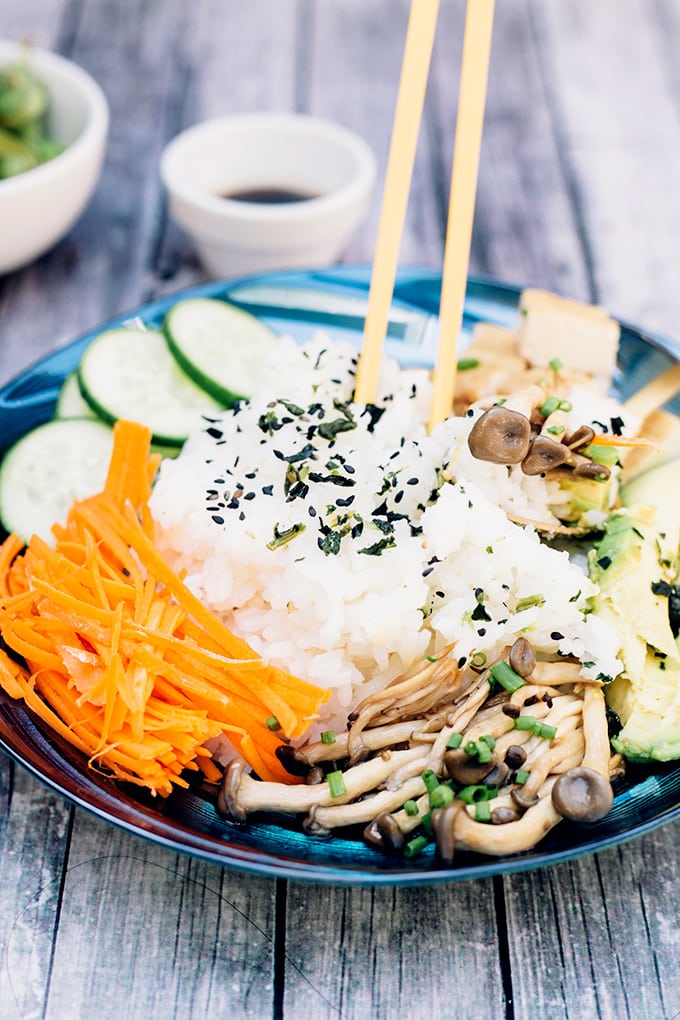 FREE EBOOK SERIES! 5 SECRETS FOR FOOLPROOF VEGAN DESERTS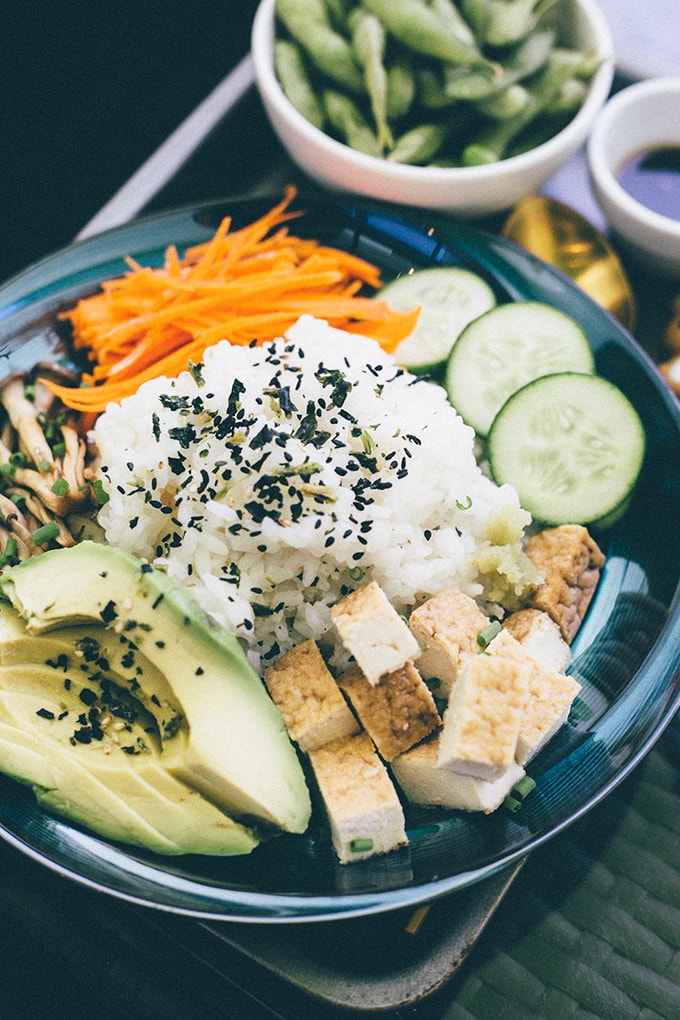 I top my rice with Teriyaki Shimeji Mushrooms, Avocado, Tofu, Carrot, Cucumber, Black Sesame, Seaweed Flakes and Teriyaki Dipping Sauce. Anyway, enough with my rambling, just go check out my recipe below. Said recipe is Healthy, Gluten Free, adaptable to any Sushi toppings you enjoy. Just for the record, this recipe probably won't make you feel any happier in the grand scheme of life but oh well, it's worth a fleeting, momentary feeling of faux joy. Enjoy XX.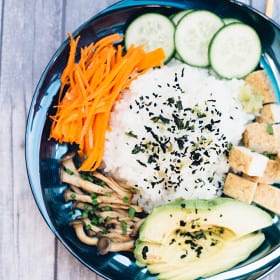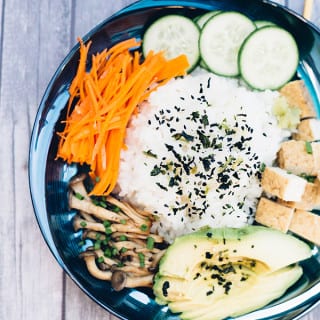 Vegan Sushi Bowl
Sushi Rice Bowl with Teriyaki Mushrooms, Avocado, Tofu and Veggies, all topped off with a Teriyaki Dipping Sauce.
Ingredients
Instructions
Rinse Rice off in a colander for about 3 or 4 times, then place in a sieve and let it drain over a bowl for 45 minutes. This step is important.

Whilst waiting for the rice to drain, prepare sushi seasoning by heating Rice Vinegar, Mirin, Salt and Caster Sugar and Lemon Juice in a small pot till sugar is dissolved. Don't boil!

After 45 minutes of draining, add rice and 1 1/3 cup cooking water to a heavy based small pot. Bring to a boil.

Once boiling, cover with a lid and reduce to a simmer. Let cook for 15 minutes exactly. (don't open the pot....ever!) Once 15 minutes is up, turn the stove off and leave the pot covered for 10 minutes.

Transfer rice to a bowl and pour sushi seasoning in. Using a bamboo paddle or large spoon, With a cutting motion, stir seasoning into the rice.

You need to fan the rice at the same time whilst cutting the vinegar in. (I use a small table fan for this, but feel free to ask someone to help you with this by hand)

Once cooled, the rice should be sticky and have absorbed all the sushi seasoning. It is now ready to use!

In a pan, place Shimeji Mushrooms, Tamari, Mirin and Sesame Oil over a small to medium heat. Let cook for a few minutes at most, stirring occasionally, till mushrooms soften and release their moisture into the pan - this liquid is what you'll use as your Dipping Sauce.

Place rice in a bowl, and surround with prepared Mushrooms, Carrot, Avocado, Tofu, Cucumber. Sprinkle Sesame Seeds and Seaweed Flakes on rice. Serve with reserved Mushroom cooking liquid which goes hell great when drizzled on the rice (i.e. dipping sauce).
Notes
Shimeji Mushrooms can be found in most supermarkets these days, or definitely at Asian grocers!
Nutrition
Serving:
1
serving
Calories:
306
kcal
Carbohydrates:
63
g
Protein:
10
g
Fat:
1
g
Saturated Fat:
1
g
Sodium:
1190
mg
Potassium:
105
mg
Fiber:
3
g
Sugar:
6
g
Vitamin A:
25
IU
Vitamin C:
7
mg
Calcium:
66
mg
Iron:
3
mg