Tuna Salad sandwiches were my absolute favourite as a child. They're probably one thing that I truly missed after cutting meat out of my diet. But hey, fish are friends, not food. Enter the Vegan Tuna Salad. This creamy, delicious Vegan Tuna Salad is the perfect addition to any sandwich (although you're more than welcome to eat it on its own or perched on some crackers), and is my recent food obsession. I've eaten this for 3 days straight. Vegan Tuna Salad and nothing else – all about that healthy lifestyle.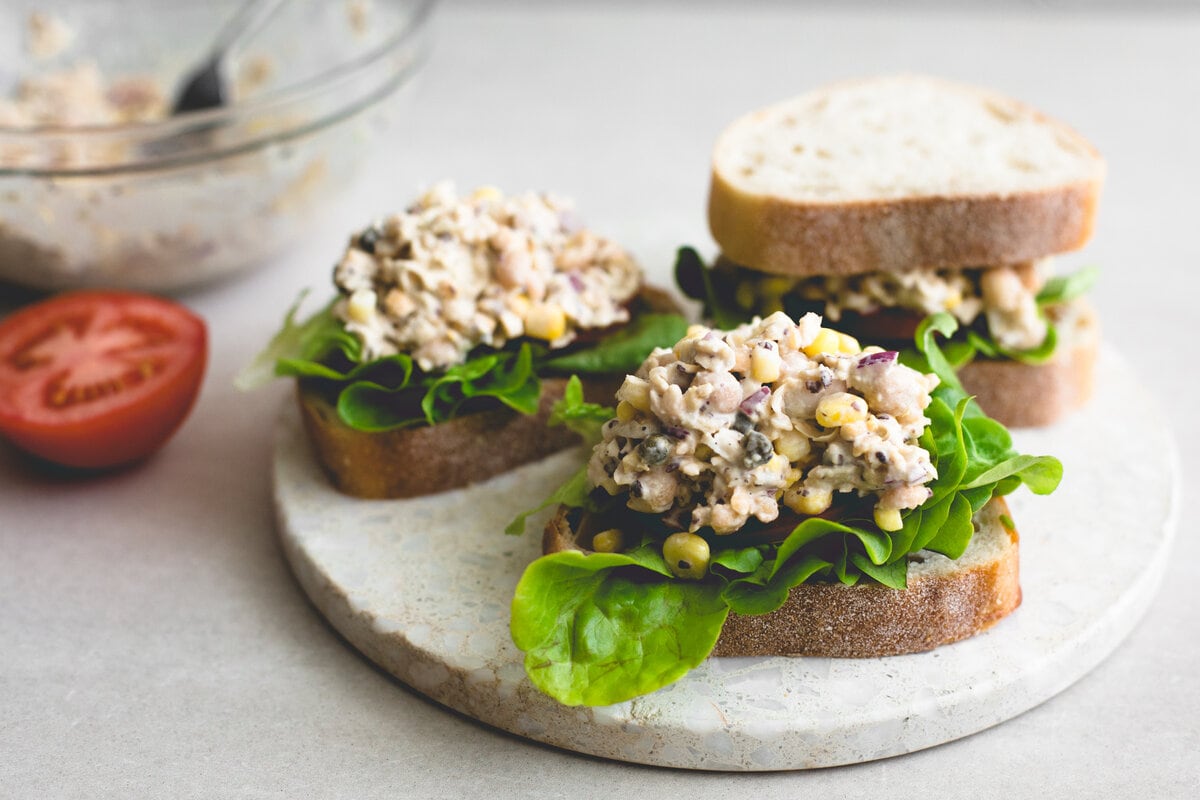 Most Vegan Tuna Salad recipes start off with Chickpeas, and this recipe is no exception. Chickpeas provide the best kind of texture that resembles tuna in my opinion, compared to any other bean or pulse. Chickpeas are quite wonderful, magical, amazing.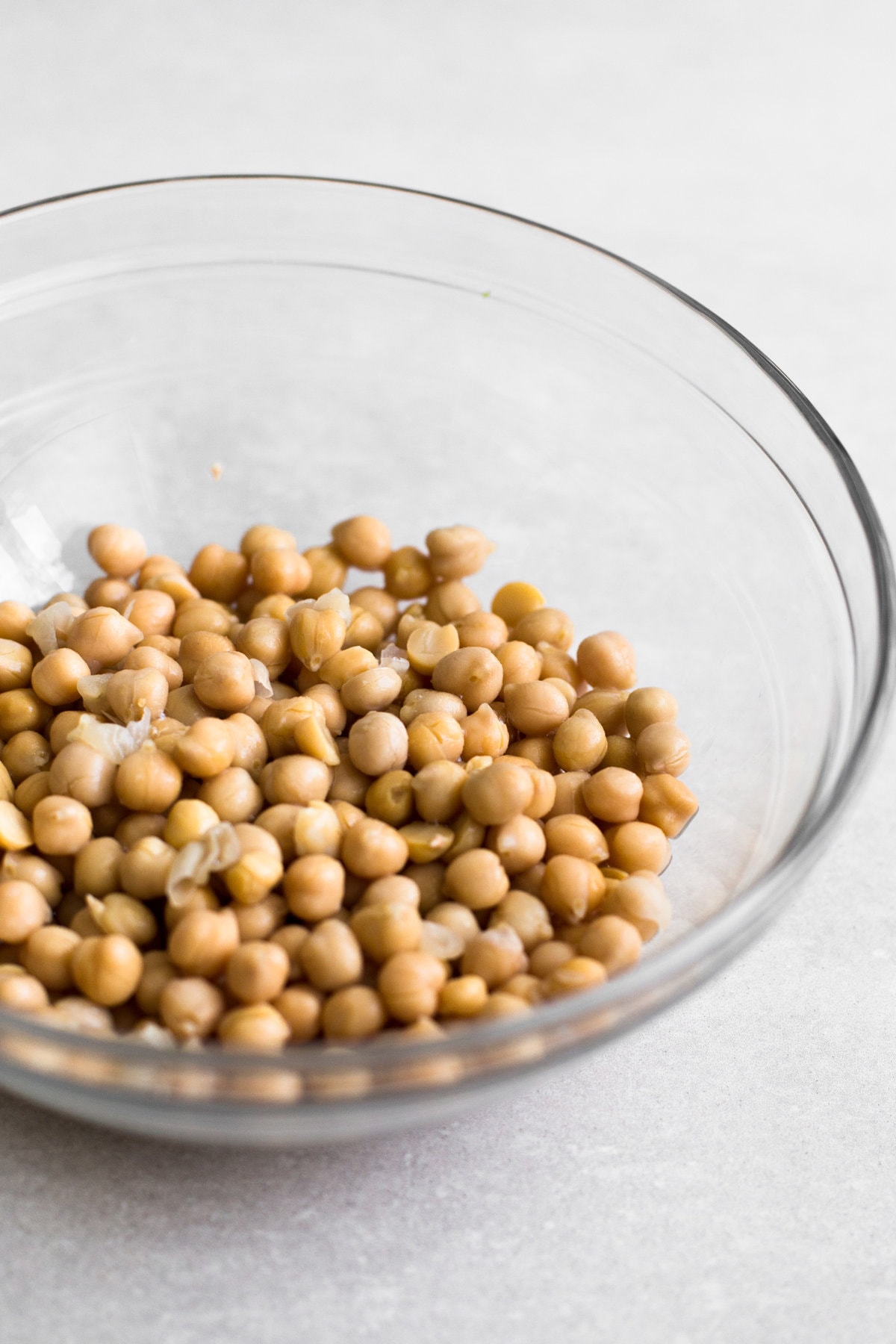 Using a high quality Vegan Mayonnaise is essential in this Vegan Tuna Salad, because we want it to be creamy, rich and as satisfying as its fishy counterpart. You can use Veganaise, but I prefer using my own homemade Vegan Mayonnaise which costs a fraction to make and is so luscious and slick that you could use it as lube during sex. Please don't send me the medical bill after!
The secret to getting a real "fishy taste" is to use Dulse Flakes. You can get this bad boy at any health store (and in most Vegan grocery stores these days). I personally got mine at Vitacost. If you can't find it, I'd say leave it out, but that would be dishonest because Dulse Flakes really do add a taste of the sea to this Vegan Tuna Salad recipe. This recipe is honestly bloody child's play – all you need to do is mash your Chickpeas, add some Vegan Mayonnaise, Dulse Flakes, Dijon Mustard, Capers, Minced Red Onion, Lemon Juice and the piece de resistance – some Sweetcorn. Obviously, the Sweetcorn is optional, but I like the little bursts of sweetness it adds to the Faux Tuna Salad.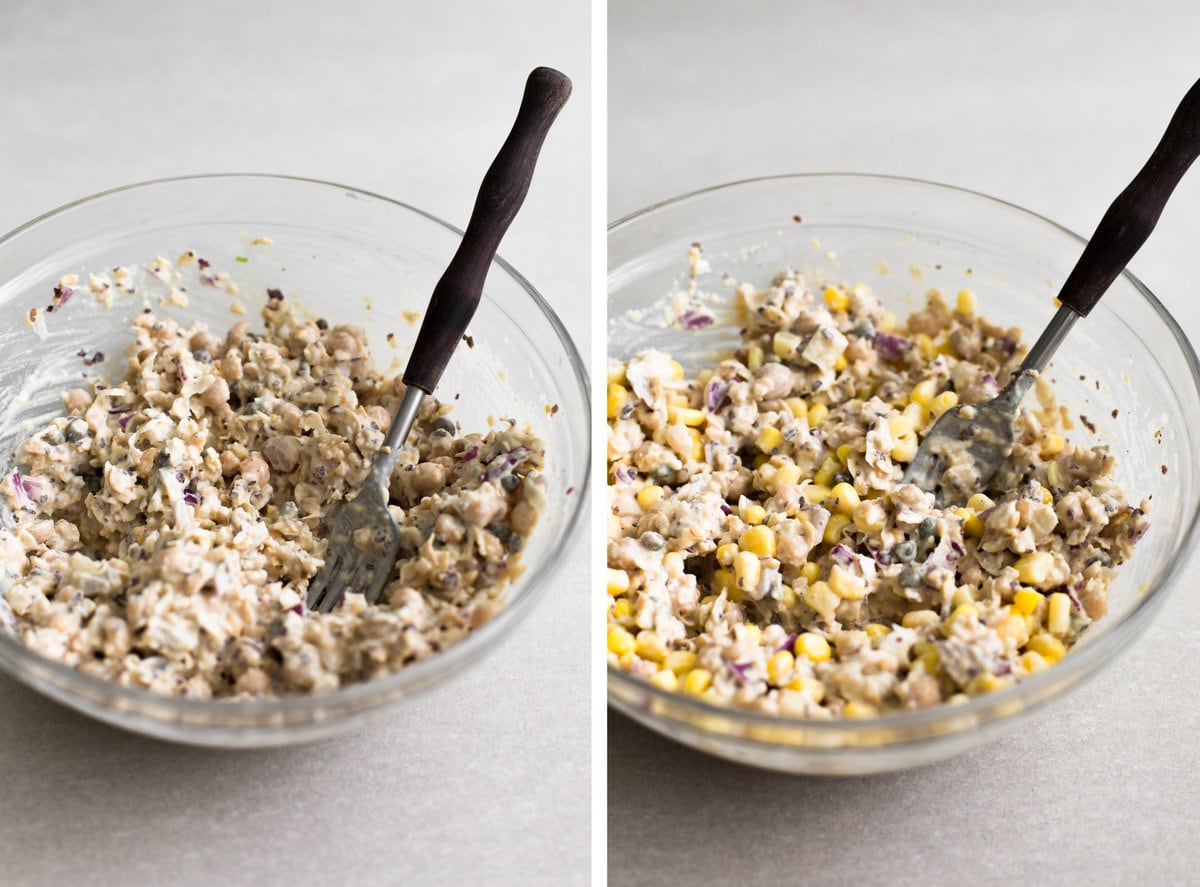 Once you've mixed everything up, you've got the perfect sandwich filler for lunch or dip for crackers when the munchies hit. I sandwiched my Vegan Tuna Salad with some delicious Sourdough Bread, Fresh Tomato and Lettuce. Bomb dot com. Scroll down for the full recipe, and head to Instagram where you can tag me in all your creations. Peace out mothercluckers!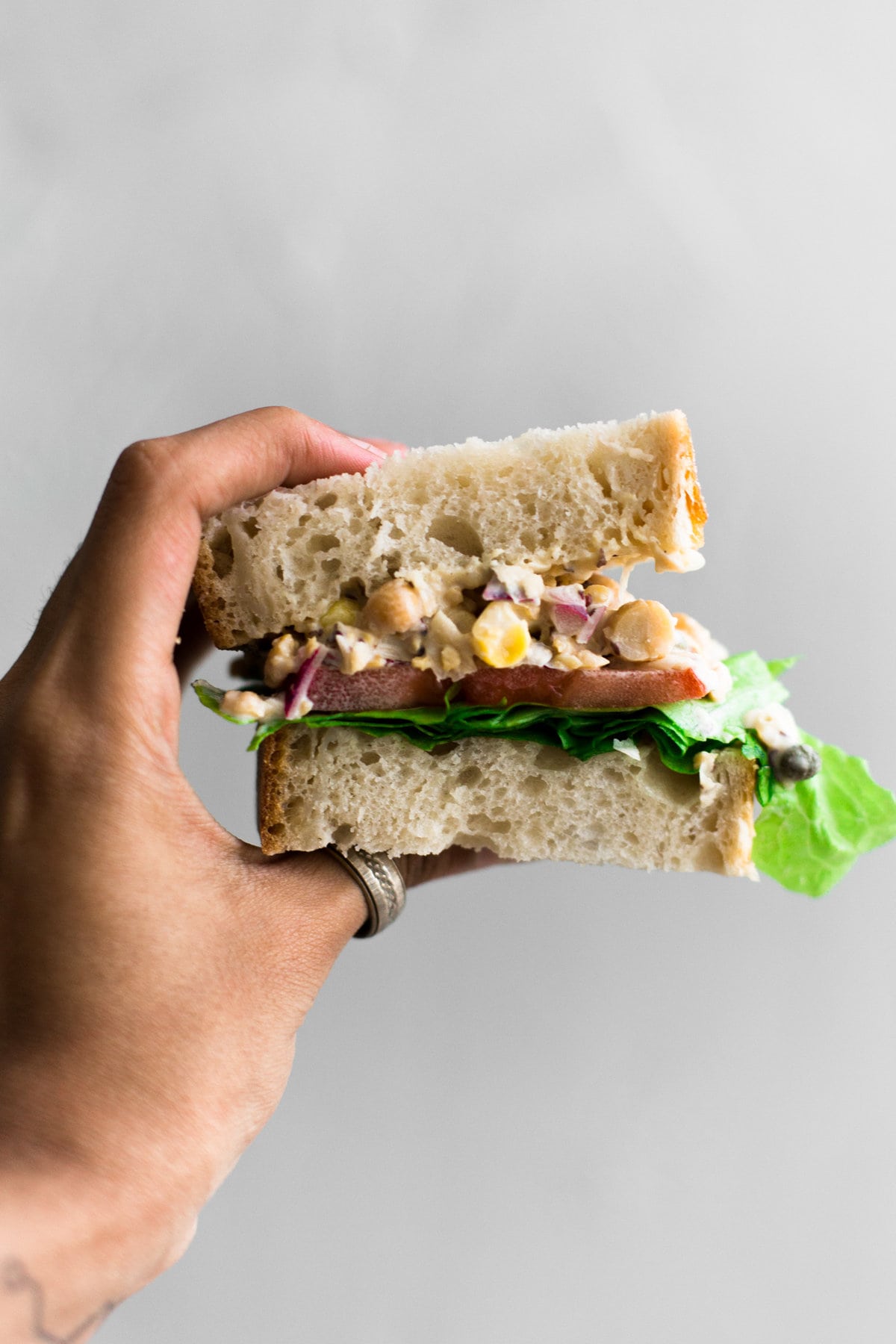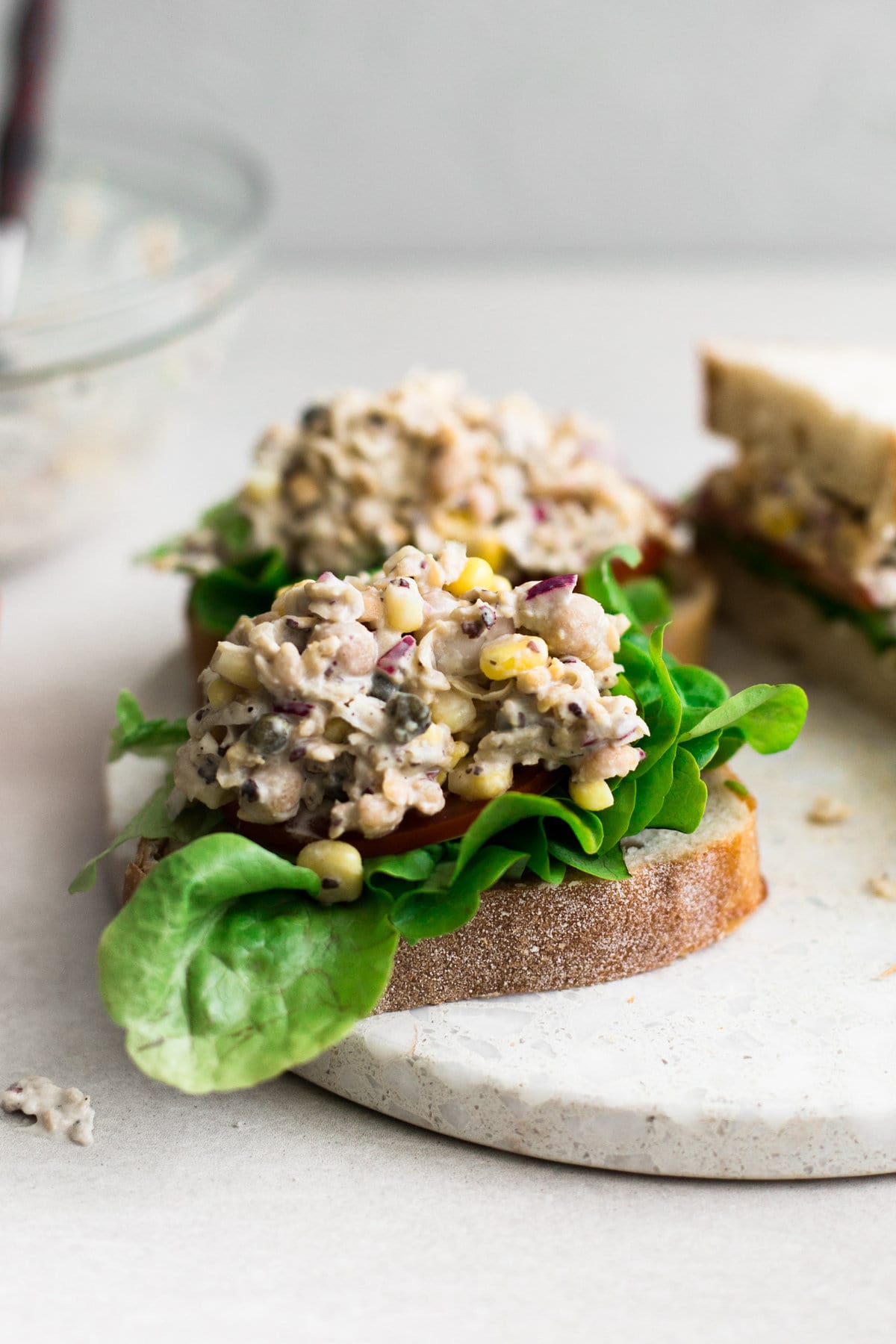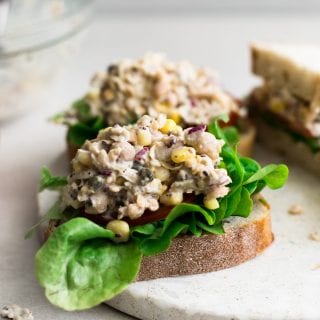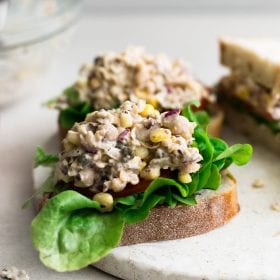 Vegan Tuna Salad
The Best Vegan Tuna Salad ever! Made with Chickpeas, Vegan Mayonnaise, Dill, Capers, Red Onion and a secret fishy ingredient! Perfect on crackers, in sandwiches or on its own. Ready in under 10 minutes.
Ingredients
1

tin

Chickpeas

drained

4

tbsp

Vegan Mayonnaise

1/2

tsp

Dijon Mustard

1

tbsp

Lemon Juice

1/2

tsp

Maple Syrup

1

tbsp

Jarred Capers

1/4

cup

Red Onion

minced

1 1/2

tsp

Dulse Flakes

* See notes

1/2

cup

Sweet Corn

tinned

1

tsp

salt

to taste
Instructions
Drain and rinse your chickpeas. Using a paper towel, dab on the chickpeas to absorb excess water.

Using either a potato masher or a fork, mash your Chickpeas until mostly broken down.

Add Mayonnaise, Dijon Mustard, Lemon Juice, Maple Syrup, Capers, Red Onion and Dulse Flakes.

Mix well to combine.

Check for seasoning and adjust.

Finally, add the drained tinned Sweetcorn and stir gently to incorporate.

Serve Tuna Salad with crackers or sandwich between bread with veggies of your choice.

Prepared Tuna Salad will last in an air-tight container in the fridge for up to 1 week.
Notes
Try your best to not omit the Dulse Flakes - they really do make a difference. If you really can't find any, add some finely shredded Nori Seaweed instead.
Nutrition
Serving:
1
serving
Calories:
117
kcal
Carbohydrates:
7
g
Protein:
1
g
Fat:
9
g
Saturated Fat:
1
g
Sodium:
669
mg
Potassium:
64
mg
Fiber:
1
g
Sugar:
2
g
Vitamin A:
52
IU
Vitamin C:
3
mg
Calcium:
5
mg
Iron:
1
mg