Learn to make this vegan tuna salad; creamy, delicious, and healthy. Made using simple ingredients, it's a quick, simple, and mess-free recipe!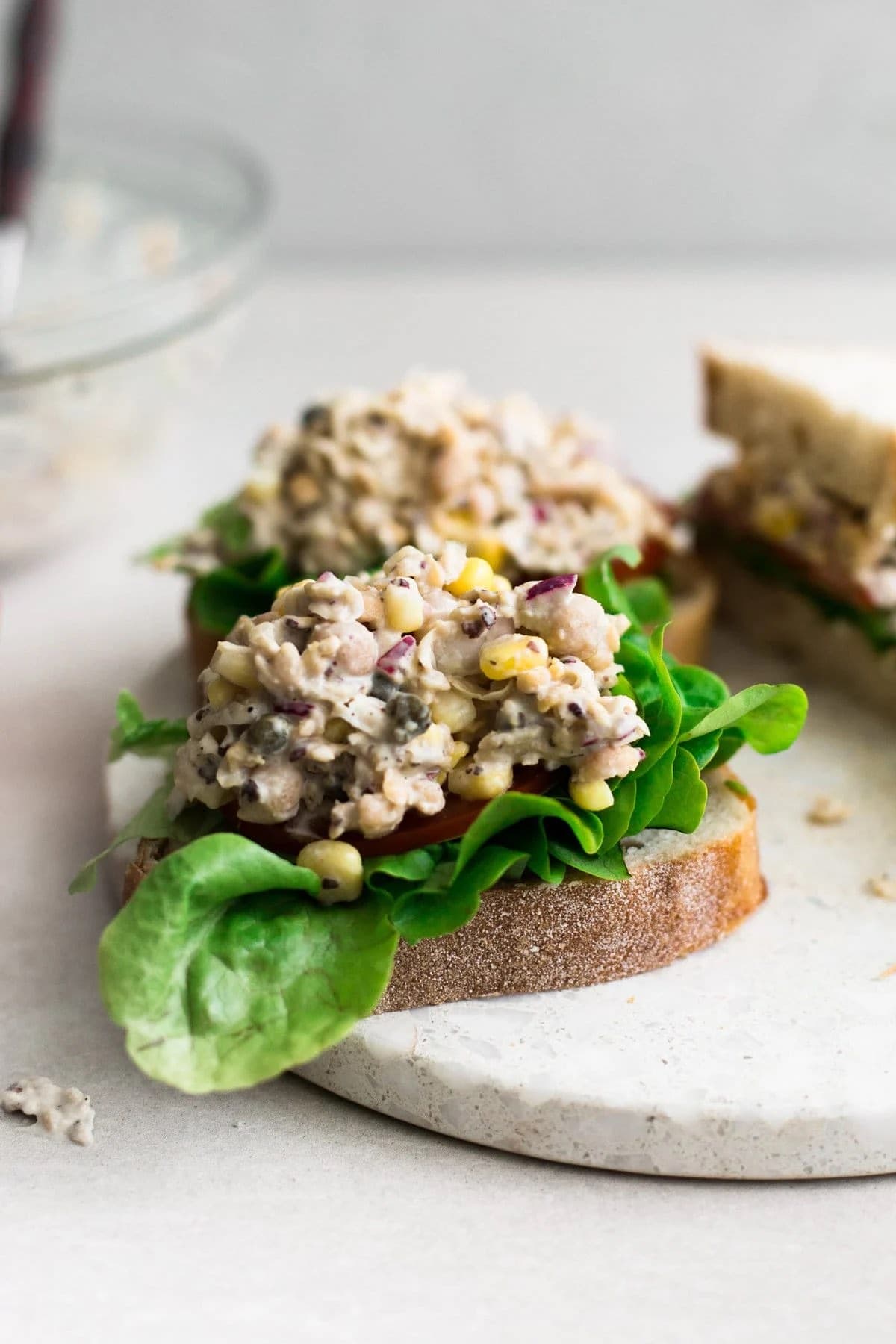 We love recreating our favorite meat-based dishes into something completely plant-based. Our favorites include a cheesy lasagna, black pepper burgers, and this tuna chickpea salad.
What is a vegan tuna salad?
Vegan tuna salad is a plant-based alternative to traditional tuna salad. Instead of fish, it consists of mashed cooked chickpeas as the base and vegan mayonnaise, onions, and seasonings that give it a texture and taste similar to real tuna salad.
FREE EBOOK SERIES! 5 SECRETS FOR FOOLPROOF VEGAN DESERTS
We love making this tuna chickpea salad weekly because:
Inexpensive.

It is prepared using low-cost ingredients that you might already have in your kitchen.

Quick and easy.

It takes less than 10 minutes, and the ease demands no cooking experience.

Healthy.

Rich in fiber, and protein, and low in cholesterol and calories, it

ticks all the nutritional boxes.

No mess.

No fancy gadgets or oil splattering, hence super easy to clean up afterward.
What I love most about this recipe is its versatility. You can use it as a sandwich filling in your favorite bread, a meal side dish, or even an appetizer.
What is vegan tuna salad made of?
Here is everything you'll need to make this delicious vegan tuna salad:
Canned chickpeas.

Drained.

Mayonnaise. Either your favorite store-bought kind or make your own.
Dijon Mustard.

You can also use yellow mustard.

Lemon.

Juiced.

Maple syrup.

To sweeten the salad and add flavor.

Capers.

Jarred.

Red Onion.

Diced.

Dulse Flakes

. To garnish.

Sweet Corn.

Canned.

Salt.

To taste.
How to make a vegan chickpea tuna salad
Ready to enjoy a healthy and flavorful salad bowl? Follow the easy steps below to make the perfect salad:
Step 1: Prepare chickpeas
Strain out your canned chickpeas before washing them. Pat them with paper towels till completely dried.
Mash the chickpeas using a potato masher until you have a flaky and lumpy texture.
Step 2: Mix ingredients
In a mixing bowl, add the mashed chickpeas, dulse flakes, red onion, capers, maple syrup, lemon juice, mustard and mayonnaise and mix well. Taste for seasoning and add more if required.
Strain and add the canned sweet corn to the mixing bowl. Lightly mix it till evenly distributed.
Step 3: Serve or store
Grab your favorite bread and spread it on with your preferred vegetables.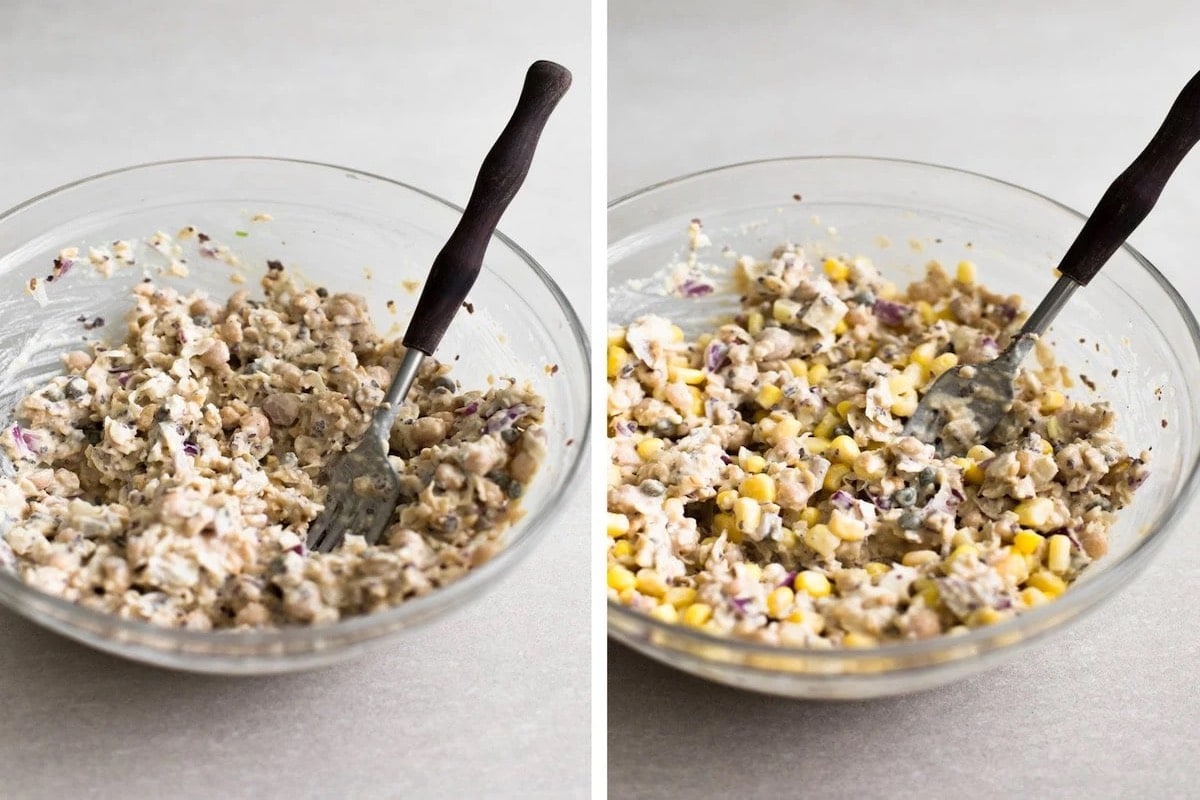 Flavor variations
Here are some easy alterations you can try to customize the recipe to your liking:
Replace mayonnaise.

Thin some hummus with a dash of plant-based milk (or water)

and use it instead of the mayo for a more umami-rich flavor.

Red bell pepper.

Incorporate diced red bell pepper for added flavor, color and crunch to each bite.

Kimchi.

Top it up with kimchi for a spicier, tangier, and crunchier tuna salad.
Tips to make the best recipe
When mashing the chickpeas,

avoid mashing them into a paste.

They have to be a little chunky to imitate the texture of tuna.

If the canned chickpeas are too tough, boil or steam them till they are tender enough to be mashed.

If the mixture looks too dry, add some olive oil and mix well for consistency.
Storage instructions
To store. Store in your fridge, covered, for up to 1 week.
To freeze. Place the vegan tuna salad in a freezer-safe container and freeze it for up to 3 months.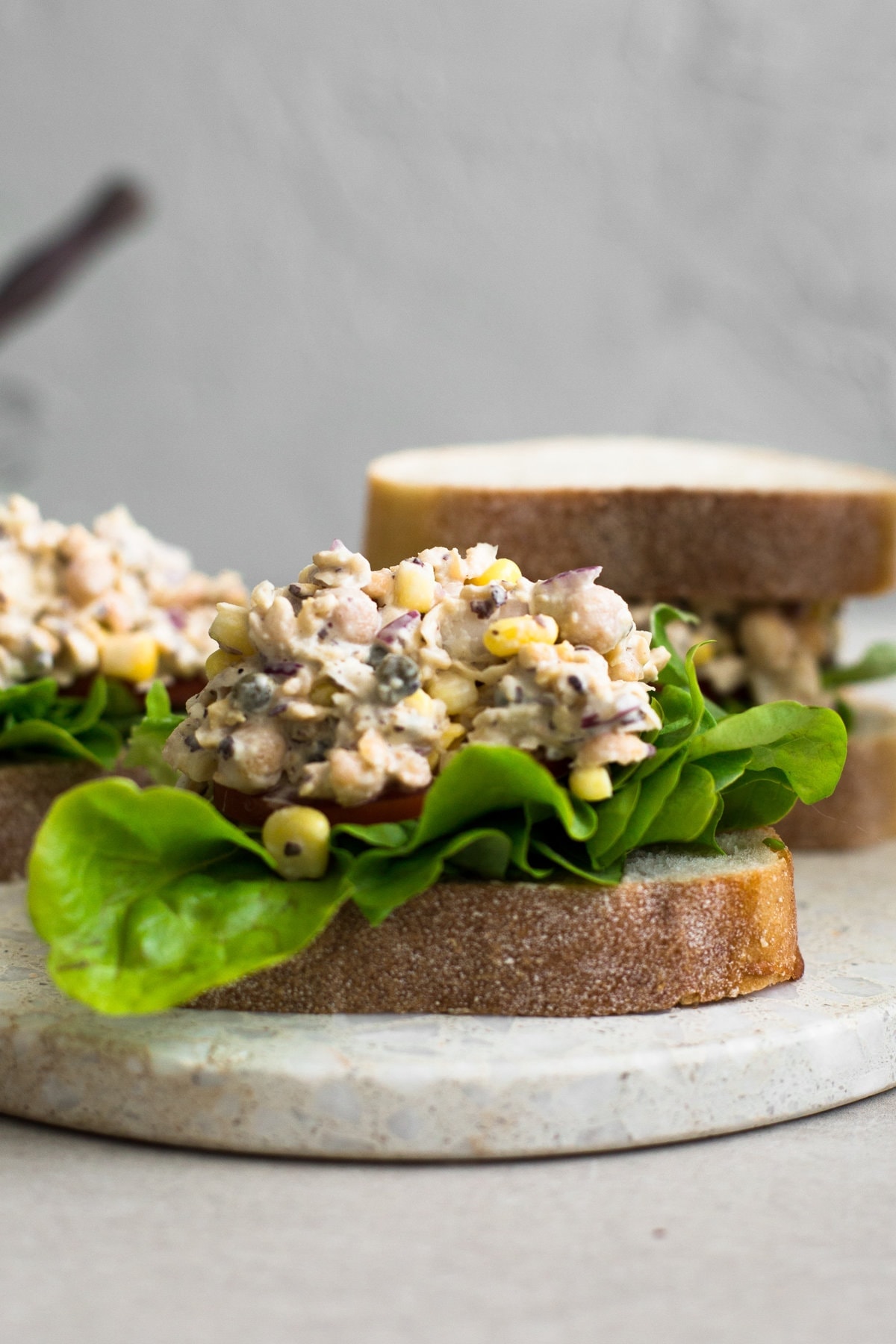 More salad recipes to try
Frequently asked questions
What is plant-based tuna made of? 
Plant-based tuna is a blend of ingredients that recreate the texture and flavor similar to traditional tuna. These include soy protein, seaweed, chickpeas, and plant oils.
Is this gluten-free?
Yes, it is gluten-free because it uses ingredients that don't contain gluten.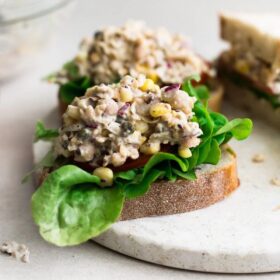 Chickpea Tuna Salad (Vegan Tuna Salad)
The Best Vegan Tuna Salad ever! Made with Chickpeas, Vegan Mayonnaise, Dill, Capers, Red Onion and a secret fishy ingredient! Perfect on crackers, in sandwiches or on its own. Ready in under 10 minutes.
Ingredients
1

tin

Chickpeas

drained

4

tbsp

Vegan Mayonnaise

1/2

tsp

Dijon Mustard

1

tbsp

Lemon Juice

1/2

tsp

Maple Syrup

1

tbsp

Capers

1/4

cup

Red Onion

minced

1 1/2

tsp

Dulse Flakes

* See notes

1/2

cup

Sweet Corn

tinned

1

tsp

salt

to taste
Instructions
Drain and rinse your chickpeas. Using a paper towel, dab on the chickpeas to absorb excess water.

Using either a potato masher or a fork, mash your Chickpeas until mostly broken down.

Add Mayonnaise, Dijon Mustard, Lemon Juice, Maple Syrup, Capers, Red Onion and Dulse Flakes. Mix well to combine. Finally, add the drained tinned Sweetcorn and stir gently to incorporate.
Notes
TO STORE: Store in your fridge, covered, for up to 1 week.
TO FREEZE: Place the vegan tuna salad in a freezer-safe container and freeze it for up to 3 months.
Nutrition
Serving:
1
serving
Calories:
117
kcal
Carbohydrates:
7
g
Protein:
1
g
Fat:
9
g
Saturated Fat:
1
g
Sodium:
669
mg
Potassium:
64
mg
Fiber:
1
g
Sugar:
2
g
Vitamin A:
52
IU
Vitamin C:
3
mg
Calcium:
5
mg
Iron:
1
mg