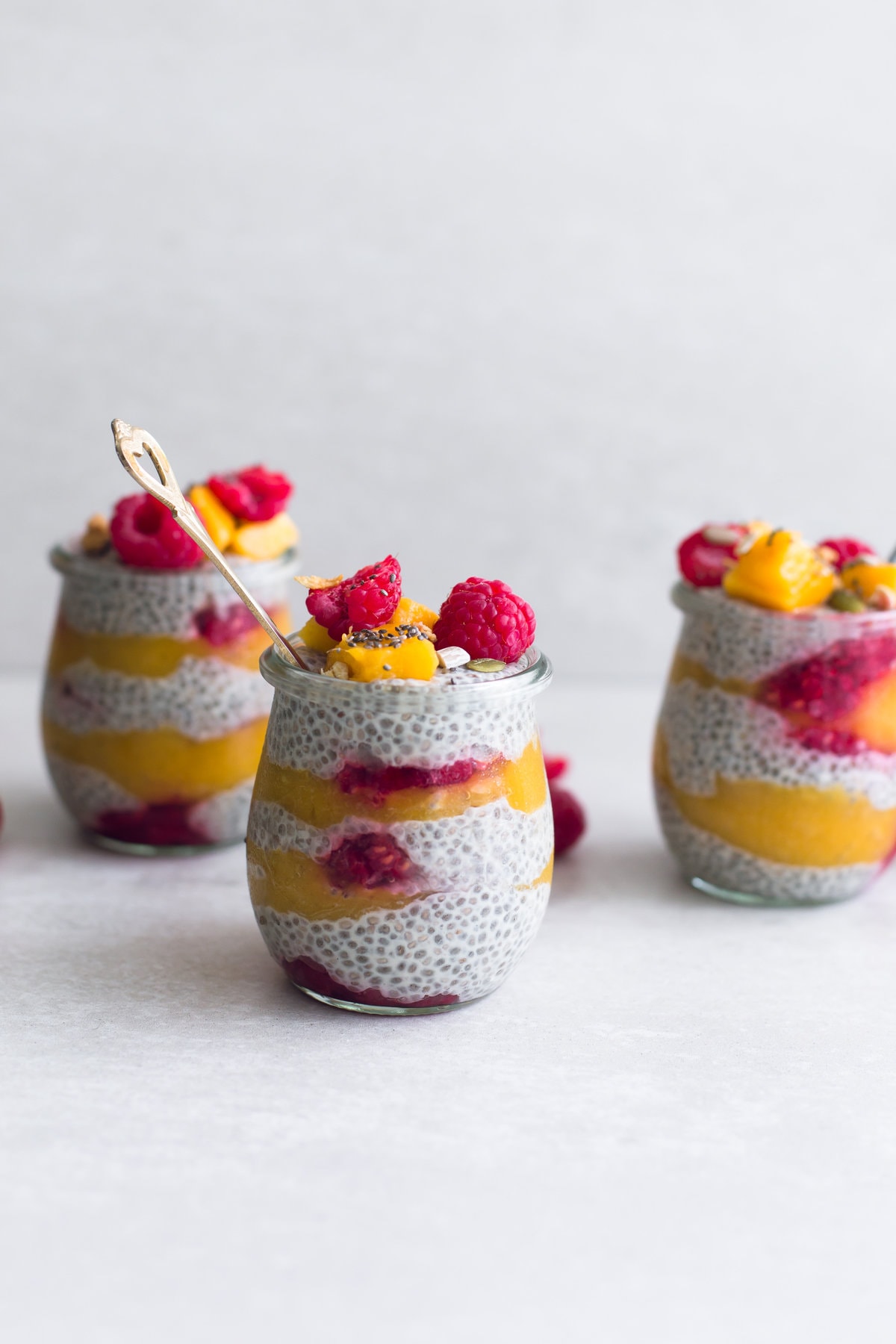 Like I said in my last post, I'm currently on the Health bandwagon, also known as the "I can't fit into my fu*king clothes anymore and need to lose some of this god damn blubber" diet. So expect to see relatively healthy and salubrious recipes for the next week weeks, like this Mango Raspberry Chia Seed Pudding. Chia Seed Puddings are something I've taken a liking to in recent months, and I love experimenting with new flavours each week. They're so cheap to make, compared to the exorbitantly priced crap you get at supermarkets. I'd always recommend making Chia Seed Puddings VS buying them. That and because I'm basically living in poverty, so I wouldn't even be able to purchase one if I wanted to. (Sugar Daddies out there, if you're looking for a Sugar Baby, please send me an email or follow me on Instagram).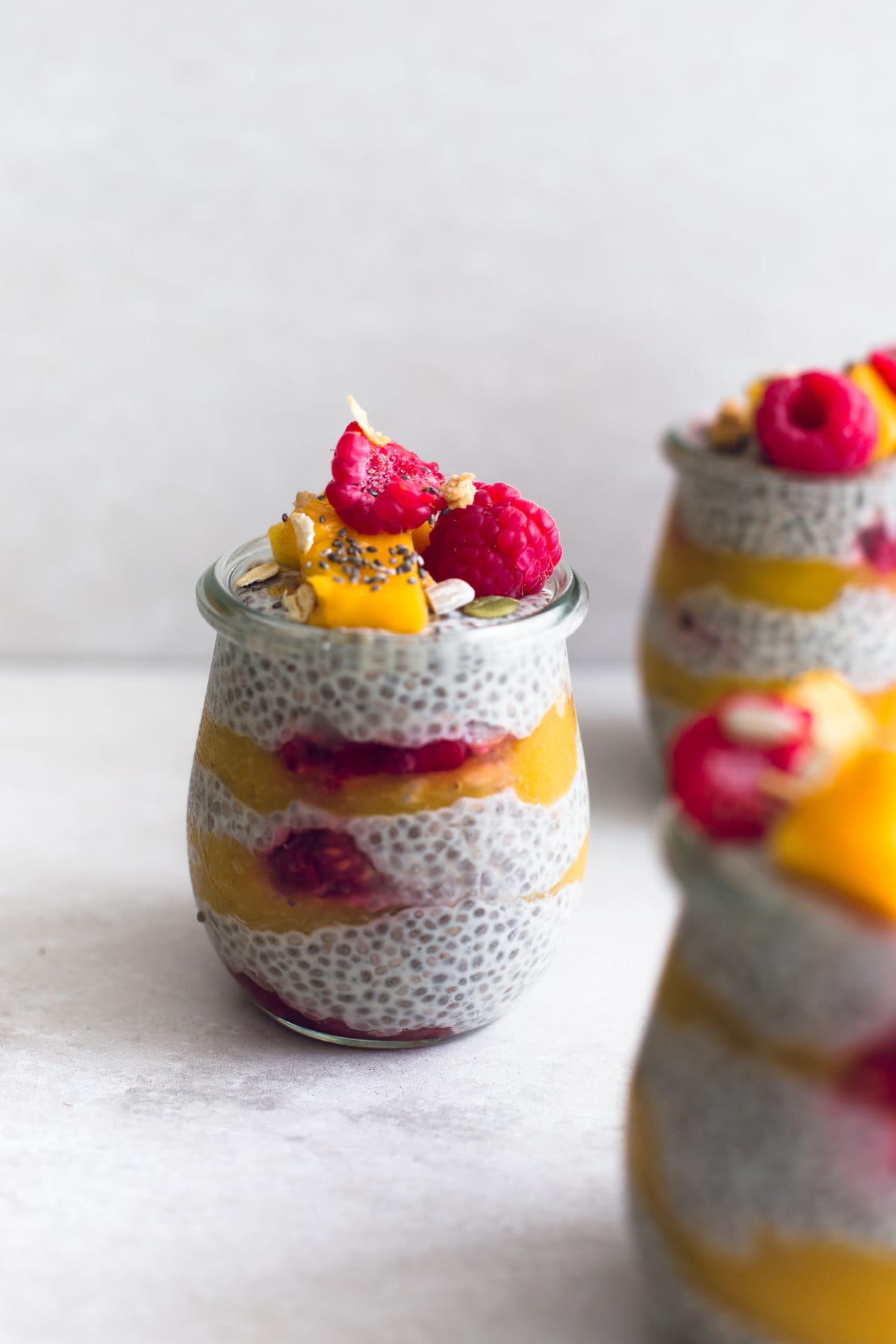 This recipe is absolutely rudimentary. You start off by making a basic Chia Seed Pudding (Always 1 Part Chia to 4 Parts Liquid for the perfect set, I say). I use Soy Milk, but feel free to use Almond Milk or even Coconut Milk (increases the fat and calorie content, but if that's not something you're worried about, go for it). The remaining ingredients in the Chia Seed Pudding are Vanilla Extract, Maple Syrup and Sea Salt. Easy peasy. All you have to do is leave this to set for a couple of hours before layering in a glass.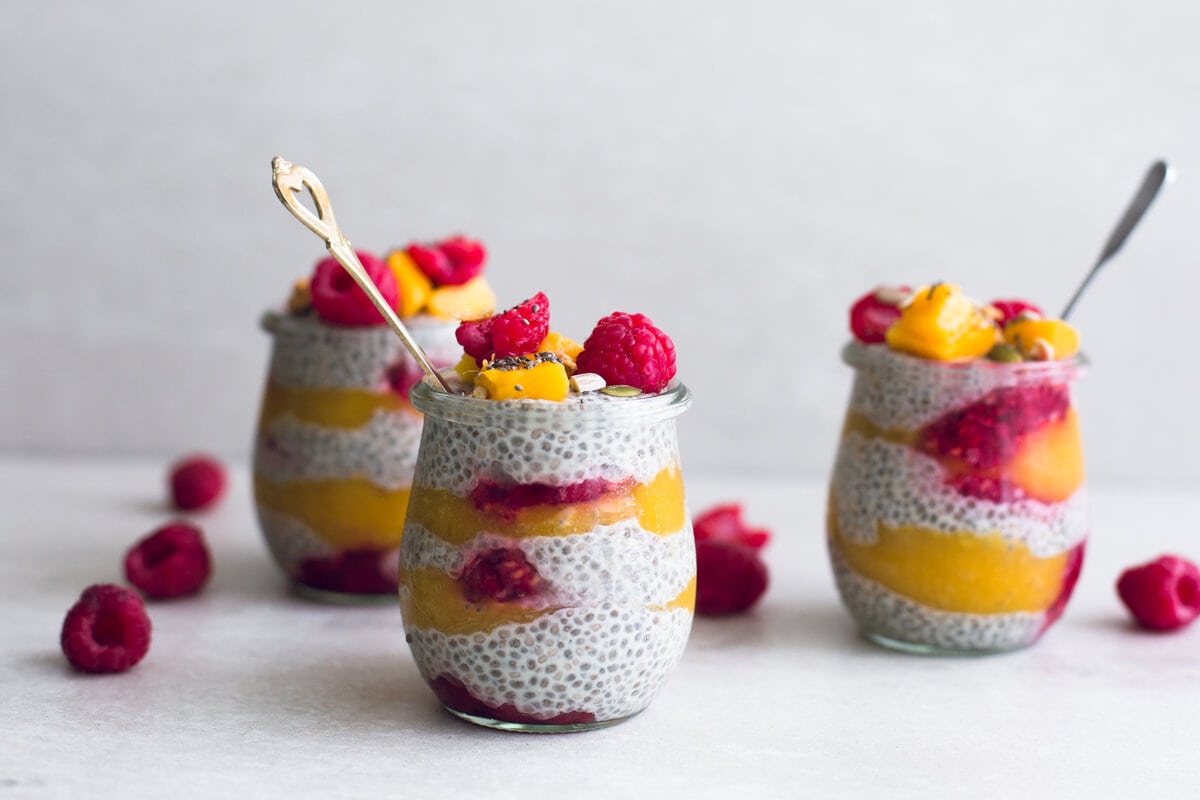 Now, the fun bit. The Mango and Raspberry. Mangoes are in season at the moment in Australia, so all I did was puree some ripe mango flesh and hey presto, instant Mango Coulis. If your Mangoes aren't as honeyed as the ones we have at the moment, feel free to puree your Mango with a bit of Maple Syrup or Agave Nectar. As for the Raspberries, I simply crush them up with a teaspoon or two of Maple Syrup to form a chunky, rustic Coulis which offers a great sharp contrast to the sweet Mango and Chia Seed Pudding.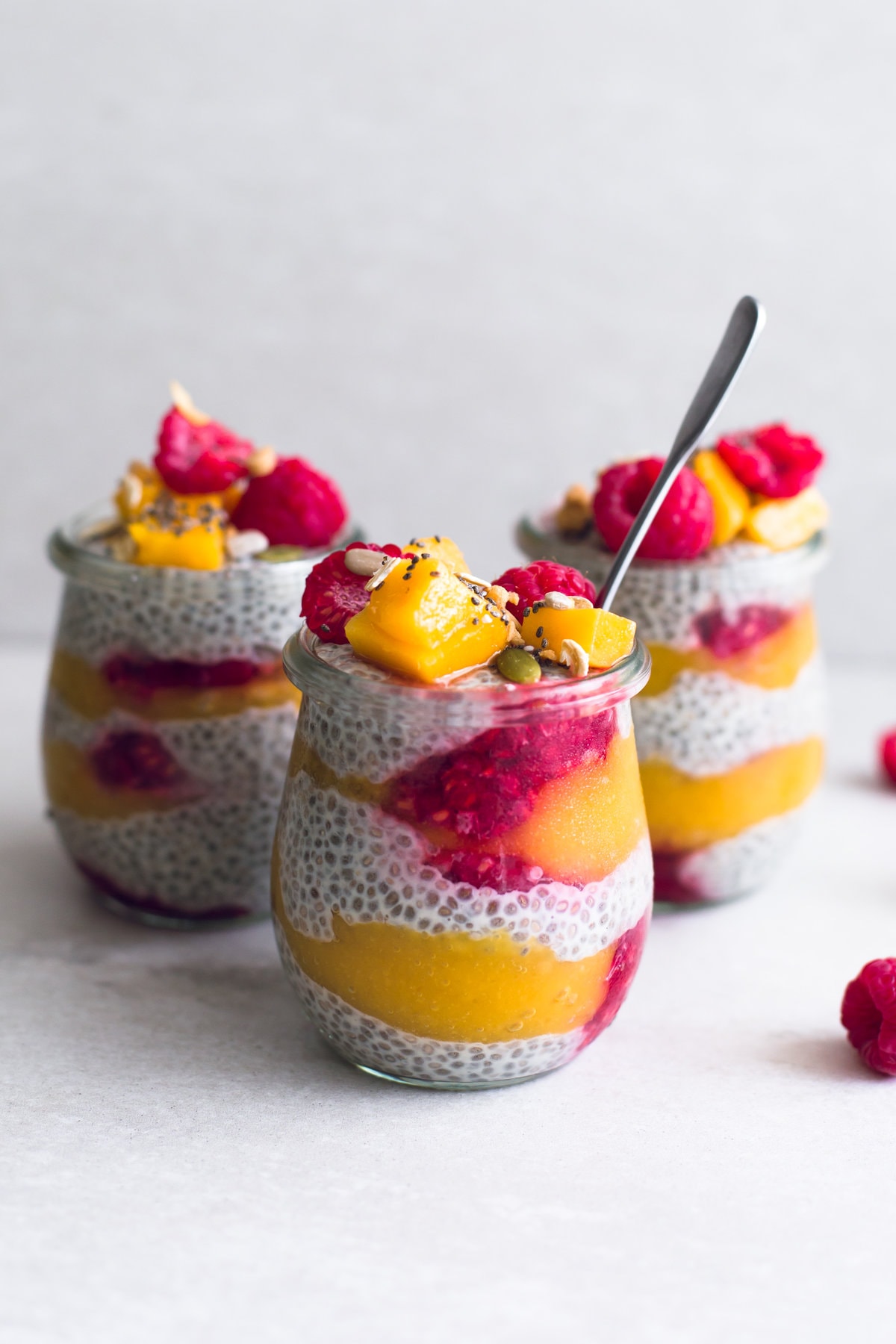 Once your Chia Seed Pudding has set, it's simply a mechanical task of layering the Chia Pudding, Mango Coulis and Raspberry in a pretty glass, in whichever fashion you fancy. This Mango Raspberry Chia Seed Pudding is the perfect breakfast, but also makes a good sinless dessert in the evenings when your sweet tooth is screaming for a hit. As always, this recipe is 100% Vegan and also Gluten Free, so scroll down to grab the full recipe. Enjoy!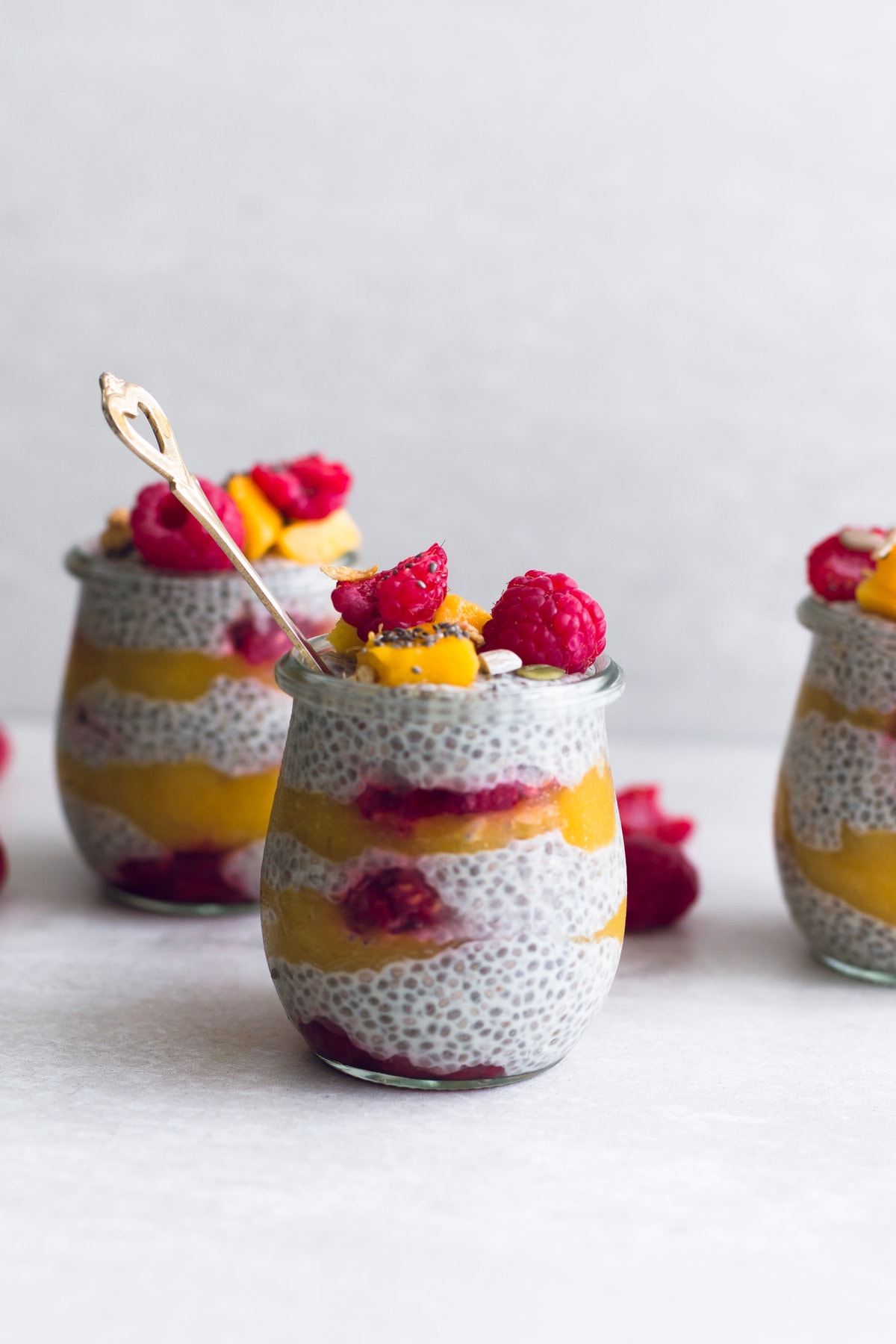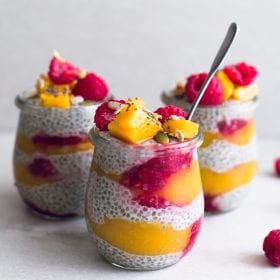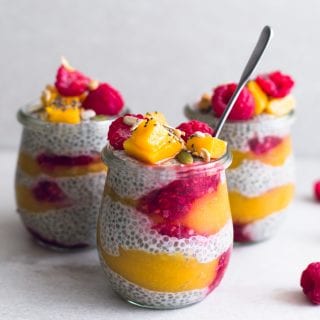 Mango Raspberry Chia Seed Pudding
A healthy, fruity and delicious guilt-free Mango Raspberry Chia Seed Pudding. 100% Vegan, Gluten Free and Refined Sugar Free.
Ingredients
1 1/2

cups

Soy Milk

or Almond/Coconut Milk

1 1/2

tablespoons

Maple Syrup

or Agave Nectar

1

Pinch

Sea Salt

1

teaspoon

Pure Vanilla Extract

6

tablespoons

Chia Seeds

1

large

Mango

1/2

cup

Raspberries

2

teaspoon

Maple Syrup
Instructions
In a measuring jug or bowl, combine Soy Milk, Maple Syrup, Sea Salt, Vanilla and Chia Seeds. Stir well and leave to set in the fridge for between 4-6 hours, or ideally, overnight. You may want to stir the pudding halfway through the process to loosen as it will get thicker at the bottom.

Once your pudding is ready and before assembling, purée the flesh of your Mango to form a simple, healthy Mango Coulis.

Combine Raspberries and Maple Syrup in a bowl and crush lightly with a fork. You don't want a smooth coulis, but rather a chunky Raspberry Coulis.

Layer Chia Seed Pudding, Mango Coulis and Raspberries in a glass. I do 2 layers of each, just for a pretty effect.

Stuff into your face and enjoy! Leftovers can be kept in the fridge for up to 2 days, and make a great quick breakfast.
Nutrition
Serving:
1
serving
Sodium:
59
mg
Calcium:
259
mg
Vitamin C:
29
mg
Vitamin A:
922
IU
Sugar:
17
g
Fiber:
8
g
Potassium:
334
mg
Calories:
199
kcal
Trans Fat:
1
g
Saturated Fat:
1
g
Fat:
8
g
Protein:
6
g
Carbohydrates:
28
g
Iron:
2
mg