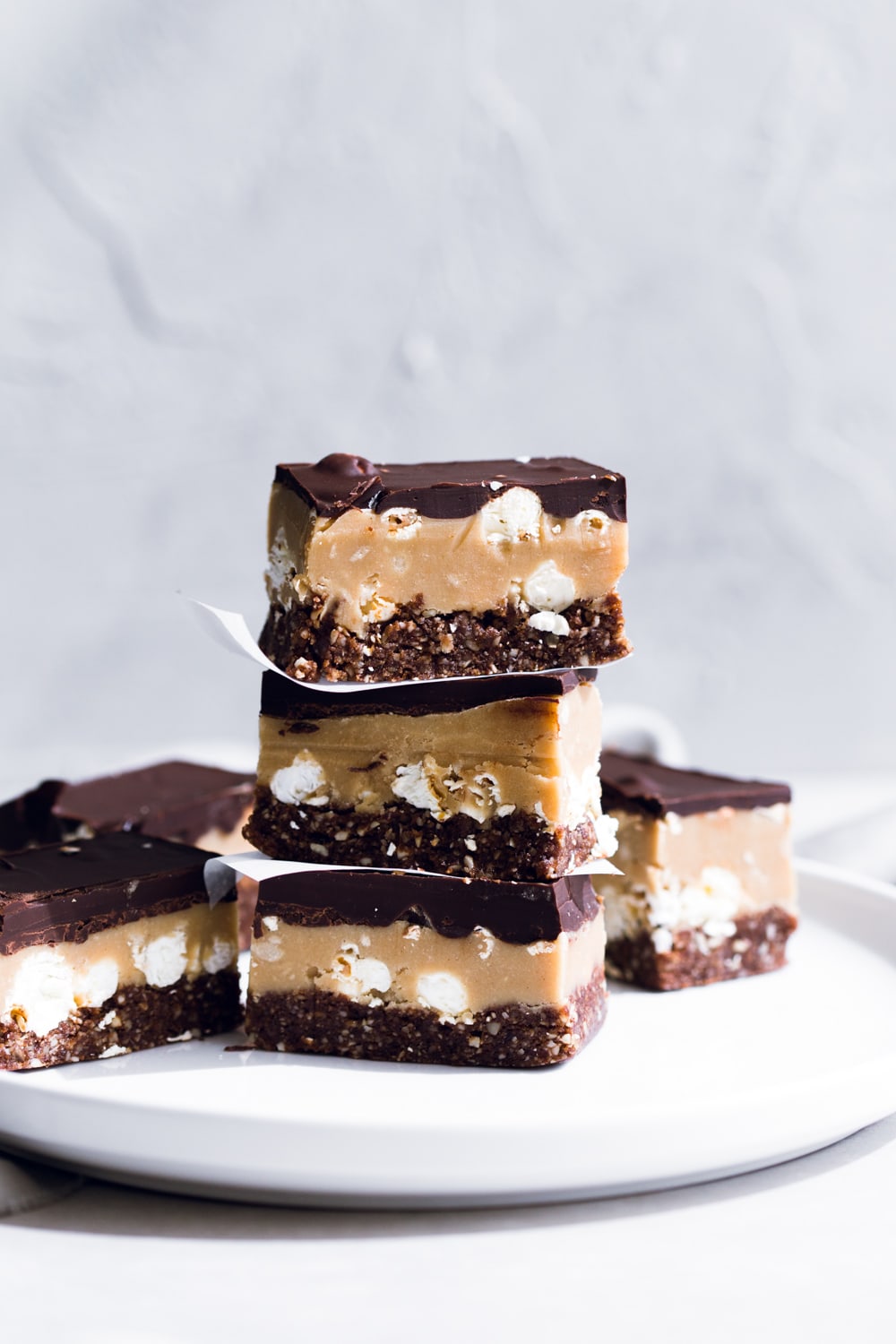 I've been on a bit of a popcorn frenzy lately. All I seem to do is stuff that sh!t into my mouth (my dental crown even cracked thanks to some good ol' popcorn munching, but that is a story for another day). I rarely see popcorn being used in recipes, so I thought why not try my hand out at making some healthy Vegan Caramel Popcorn Bars.
Since everyone is on lockdown at the moment, I aspired to create a recipe that would require few ingredients and things that the average person would already have in their pantry…ain't nobody got time to go to the damn supermarket these days. SOCIAL DISTANCING, PEOPLE! Anyway, back to these Vegan Caramel Popcorn Bars.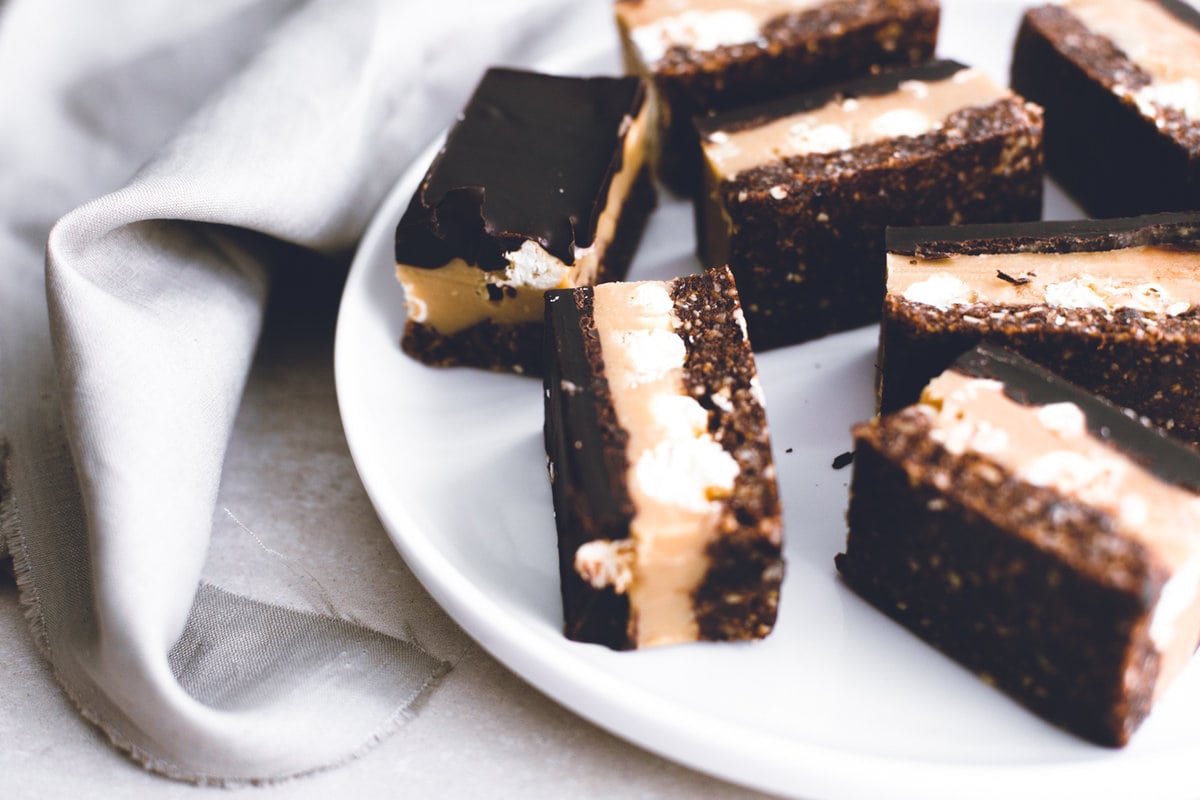 The base of this recipe is made with a mixture of Nuts (anything you have in the cupboard), Raw Cacao, Sea Salt and some Medjool Dates – stock standard raw dessert base. Now, once you've pat your base into a lined cake tin, you sprinkle a liberal amount of either freshly popped or store-bought Popcorn on and then proceed to make your caramel filling. Some advice: I love using Salted Popcorn here because it really compliments the sweet Tahini Caramel filling that goes on next.
FREE EBOOK SERIES! 5 SECRETS FOR FOOLPROOF VEGAN DESERTS
For the Tahini Caramel, you simply whisk up some Hulled Tahini, Maple Syrup, Sea Salt, Coconut Oil and Almond or Peanut Butter, depending on what you have on hand. Pour this mixture over your popcorn layer and leave to freeze for an hour or two. Finally, a very simple Chocolate Topping for these Vegan Caramel Popcorn Bars. Into a bowl goes some Vegan Dark Chocolate which you then melt with a tablespoon of Coconut Oil. Mix well and then pour over your frozen caramel layer before leaving to set in the freezer for an hour or so.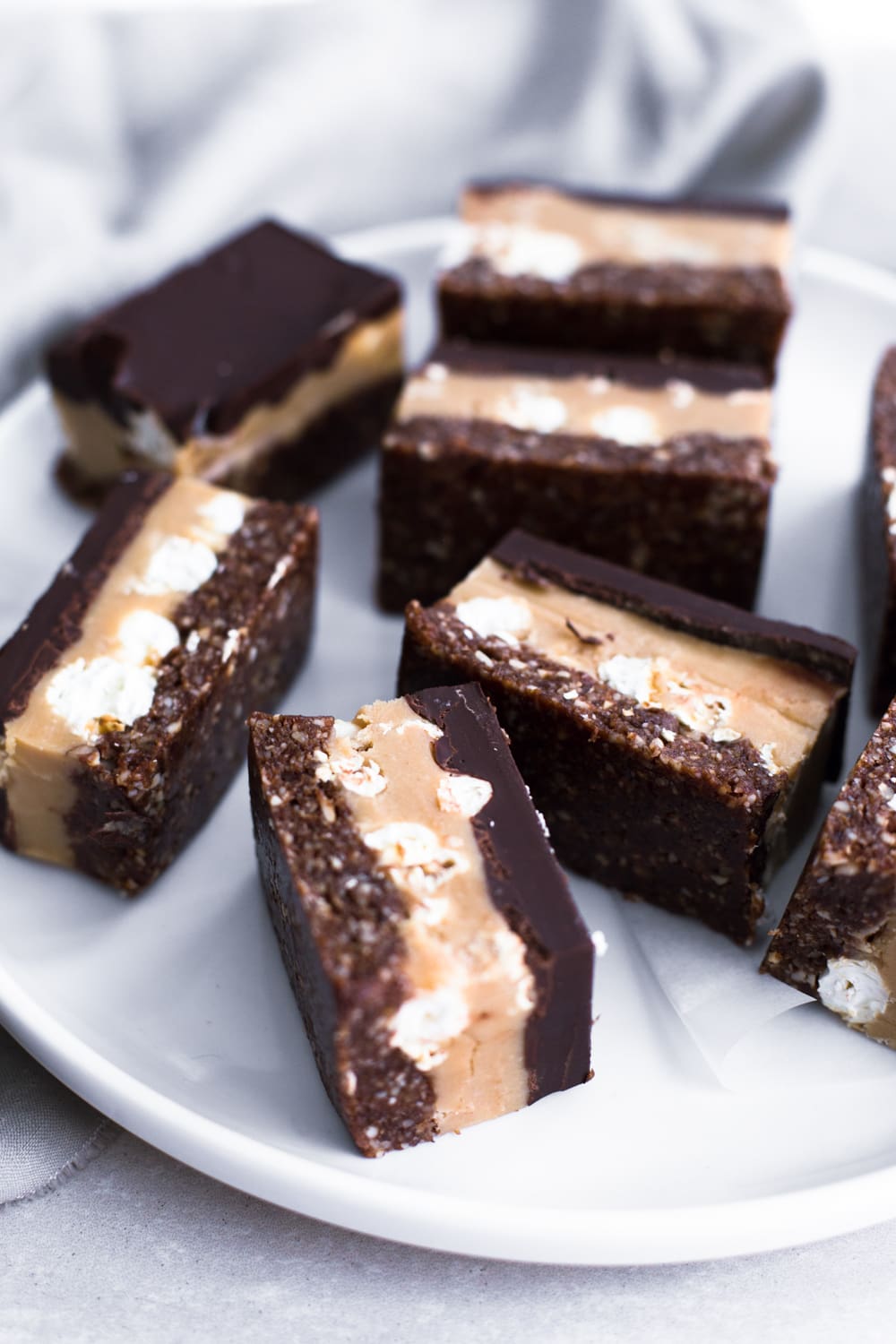 These Vegan Caramel Popcorn Bars are completely Gluten Free, Dairy Free and Refined Sugar Free. Once sliced, you can store them in the freezer for up to 3 months, or in the fridge in an air-tight box for up to 3 weeks. Keep in mind, this is a chilled treat that will melt at room temperature, so I always recommend storing it in the fridge or allowing it to thaw for 5-10 minutes if you choose to keep them in the freezer. Scroll down for the full recipe and stay healthy and safe in these troubled times!
Similar recipes you may enjoy:
Vegan Tahini Caramel Slice
No-Bake Peanut Butter Chocolate Bars
Homemade Snickers Bars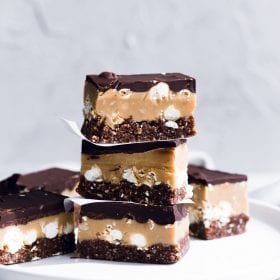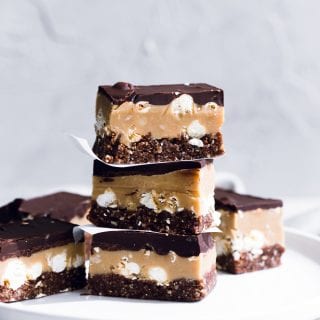 Vegan Caramel Popcorn Bars
Healthy Vegan Caramel Popcorn Bars. Chocolate Coated Tahini Caramel Slice with bursts of salted Popcorn. Gluten Free, Dairy Free and Refined Sugar Free.
Ingredients
For Base:
200

g

Mixed Nuts

You can use Almond, Walnut, Cashew, Pecans

10

g

Raw Cacao Powder

1

tsp

Salt

150

grams

pitted Medjool Dates

1

cup

Salted Popcorn
Tahini Caramel Layer:
120

grams

Maple Syrup

or other sweetener

120

grams

Hulled Tahini

120

grams

Coconut Oil

melted

3

tbsp

Almond or Peanut Butter

natural

1

tsp

Salt

1

Vanilla Pod
For Chocolate Topping:
200

grams

Vegan Dark Chocolate

you can use Raw

1 1/2

tbsp

Coconut Oil

1/4

tsp

Instant Espresso

1

tsp

Salt

1

cup

salted Popcorn

for garnish
Instructions
To prepare base, first line a 7x7 inch tin with non-stick parchment or baking paper. In a food processor, combine Nuts, Cacao, Salt, and Dates. Process until you have a moist mixture. If it is too dry, add a few drops of water and process till moistened.

Press mixture into the base of your prepared tin, and then scatter Salted Popcorn over the base. Using your hands, press the Popcorn into the base. Place in freezer for 15 minutes.

Meanwhile, to make the Tahini Caramel, combine all ingredients in a bowl. Whisk till smooth. Pour over prepared base and leave to set in the freezer for 2-3 hours. Some Popcorn may float to the top, that's okay!

After 2-3 hours, combine all ingredients for chocolate topping in a bowl. Either over a bain-marie/double boiler or in the microwave, heat until melted.

Whisk to combine. Let cool for 5 minutes and then pour onto your frozen base. Scatter extra Salted Popcorn bits on top if desired.

Leave in the freezer for a further 1 hour. After 1 hour, remove from freezer and slice with a warm knife.

Bars will store in an air-tight box in the freezer for up to 3 months. Allow to thaw for 5-10 minutes before eating.

Alternatively, store in the refrigerator for up to 3 weeks.
Notes
If you don't like the taste of Coconut, use Refined Coconut Oil instead of Virgin Coconut Oil.
TO STORE
: Leftovers can be stored in the refrigerator, covered, for up to 2 weeks.
TO FREEZE
: Place leftovers in a ziplock bag and store them in the freezer for up to 6 months. 
Nutrition
Serving:
1
bar
Calories:
129
kcal
Carbohydrates:
7
g
Protein:
1
g
Fat:
12
g
Saturated Fat:
10
g
Sodium:
582
mg
Potassium:
23
mg
Sugar:
6
g
Calcium:
11
mg
Iron:
1
mg