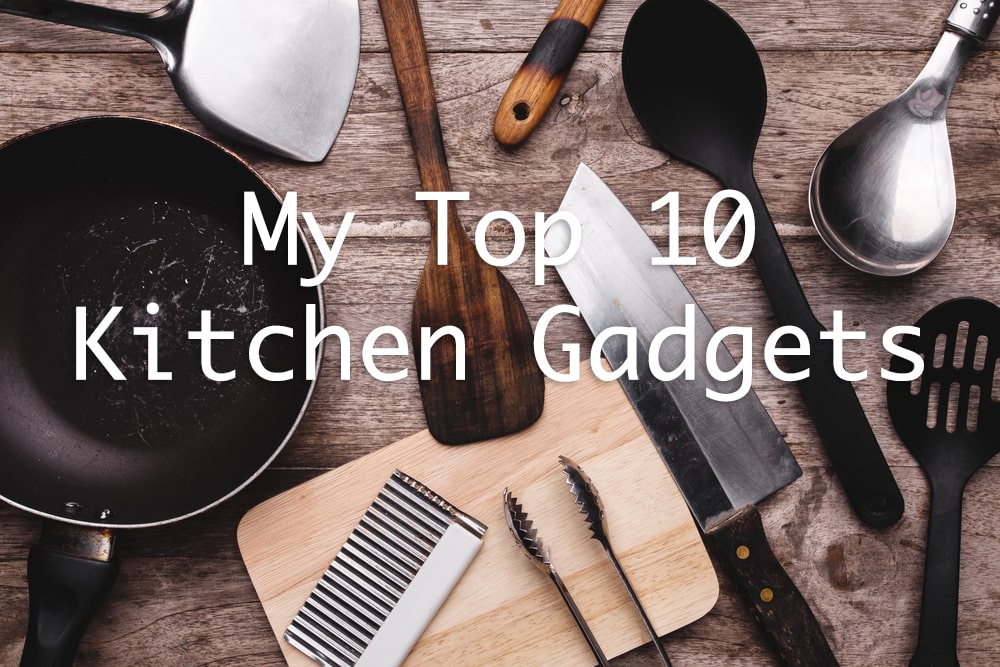 Aloha readers! I've been meaning to do a little post like this for a while, since so many people always ask me what appliances or gadgets I use when preparing my recipes. Although I live in a tiny shoebox apartment, I seem to have more kitchen gadgets and appliances than anyone else I know, so I thought I'd share my top ten must-have kitchen gadgets with you lovely people. Most of these appliances are pretty affordable sans a few which I have invested in over the years, but I'd say 80% of them are things you could probably even find on E-Bay for a discounted price. Anyway, without further ado, here we go!
1. Kitchen Aid Stand Mixer
Now, I've owned a variety of different Kitchen Aid Stand Mixers since the age of 15. The first one my dad got me was a bright orange stand mixer that lasted me close to ten years. Ever since moving away from home, I tried going without one for a couple of years but finally caved and bought another in 2016. The Kitchen Aid is also the mixer we used at Le Cordon Bleu London, and I absolutely love everything about it. Aside from looking flash AF, it comes with multiple add ons including a Pasta roller, mincer, Ice Cream attachment and so much more, essentially turning your cake mixer into 10 gadgets at once.
2. Cuisinart Ice Cream Maker
When I was a teenager, I went on a crazy ice cream making rage. I churned batch after batch and made everyone fat. Back then I used a compressor Ice Cream Machine, but since my Ice Cream phase has come and gone, I've settled with a standard Cuisinart Ice Cream Machine. This simple gadget does the job wonderfully and also comes in a range of pretty colours that will suit any kitchen design. You can easily get one at under $100 and you can be assured that you'll be able to churn Froyo, Ice Creams and Sorbets with ease.
FREE EBOOK SERIES! 5 SECRETS FOR FOOLPROOF VEGAN DESERTS
3. Vitamix
I've done a post on the Vitamix over 5 years ago, and to this day I still use the same blender as I did before. The Vitamix is to me, one of the best and most long lasting blenders anyone could have. It is a little costly, but rest assured it'll last you ages. You're not only able to make smoothies and all the regular blended stuff you can think of – you are also able to make Nut Meals, Icing Sugar and Flours from scratch. I was totally amazed when I blended regular sugar in the dry container and it turned it into Icing Sugar in under 30 seconds. You can find Vitamix Blenders at any reputable purveyor of  kitchen supplies in Melbourne.
4. Philips Food Processor
Next on the must-have kitchen gadgets list is this food processor. I kid you not, this Philips food processor is one I've had for 6 years. It's basic AF, but always does an amazing freaking job at processing anything I need. It's not fancy, it's not flash looking, but it WORKS. It also comes with a blender attachment if that's what you're looking for. I have nothing but praise for this one.
5.  Cuisinart Waffle Maker
Whilst Waffle making isn't on the top of most people's agendas, I really enjoy having a waffle maker around just in case I'm trying to impress someone with a fancy breakfast. I love my Cuisinart Belgian Waffle Maker because it's simple to use, not too expensive and can also be doubled up as a sandwich press. WAFFLED TOASTIES ARE COOLER THAN NORMAL ONES. I've had mine for 5 years now and it still works an absolute charm each and every time.
6. Digital Candy Thermometer
If you're someone who enjoys making Italian Meringue, Candy or any other dessert that requires paying close attention to temperatures, then a digital cooking/candy thermometer is something that has to be on your must-have gadgets list. I have been using a digital probe thermometer for years, especially when making Macarons, James and Meringues as it gives me a very accurate gauge of what I'm working with as opposed to a manual candy thermometer that can sometimes be a little off.

7. Julienne Peeler
This one may seem stupid compared to every other appliance on this list, but trust me, a Julienne peeler is something that every home cook needs. Whether you're making Spring Rolls, a Noodle Salad or anything else, a Julienne peeler is the fastest, easiest and cleanest way to get Julienned vegetables without the fuss. I've been using a Jamie Oliver one that I've had for 7 years now and I'm pretty sure I'll still be using it in 7 years from now. Get one!
8. Vegetable Spiralizer
If you're into Zoodles, Sweet Potato Noodles or any other form of spiralized vegetable, then a Spiralizer is definitely to be added to your top ten kitchen gadgets list. I use my Spiralizer in recipes such as my Healthy Japchae, Aglio Olio and so much more. Most Spiralizers come with various sized attachments as well which allows you to control the thickness or shape of your vegetable noodles.
9. Bamboo Steamers
Do me a favour and don't waste your money on fancy steamers or other steaming paraphernalia. All you need is a bloody Bamboo Steamer. Whether you're looking to steam veggies, frozen Dumplings or Buns, a bamboo steamer is one of the easiest, fastest, most in-expensive ways of steaming your way to perfection. You can get these steamers at under a few dollars at most Asian grocery stores and they last freaking ages and ages which is always a plus!
10. Cast Iron Grill Pan
Last but certainly not least, a Cast Iron Grill Pan. If you're tight for space like I am and don't have a grill or BBQ in your non existent backyard, a Cast Iron Grill Pan is the easiest way to get charred grill lines on your Veggies, Tofu or any other thing you're looking to "grill". A good quality grill pan should feel heavy and seem like a real pain in the bum to clean, but trust me when I say this is the best way to achieved a "grilled" flavor without using a real barbecue! If you have both the budget and the space, don't hold back and get a grill or smoker for yourself. Find a good one (some are mentioned here: (Cookshack smokers reviews) and take your vegan cooking to the next level. However, you don't always have to spend a lot of money for great home cooking—a grill pan can always do the job.
__________________
And there you have it, 10 kitchen gadgets that little ol' me can't live without! Until next time!