These Vegan Banh Mi sandwiches are a plant based twist on the famous Vietnamese street food sandwich! Filled with marinated tofu and crisp, pickled vegetables, you won't miss the meat!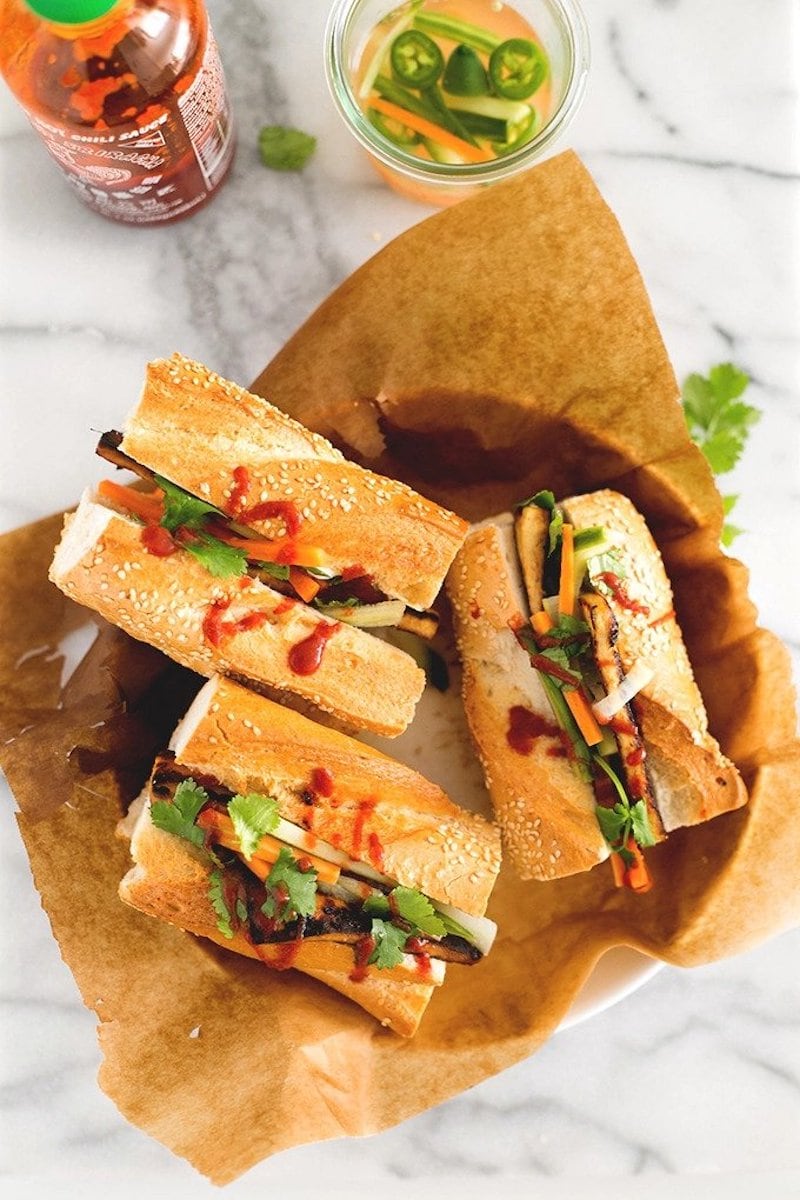 Vegan Banh Mi isn't the original non-vegetarian dish, but it has a touch of the classic dish. The flavors and the ingredients won't make you feel that you're eating Banh Mi sandwiches without meat or pate. 
FREE EBOOK SERIES! 5 SECRETS FOR FOOLPROOF VEGAN DESERTS
Curious to know more about these super tasty sandwiches? Here you'll find all you want to know about this delicious recipe. 
What is Banh Mi? 
The term Banh Mi comes from the Vietnamese dictionary and stands for "bread." Banh Mi sandwiches are popular street food in Vietnam that originated in Saigon. The original recipe has a baguette filled with pickled vegetables, mayo, chili peppers, and protein. Banh Mi sandwiches have a flavor that is a hybrid of French and Vietnamese cuisine. 
What Is Banh Mi Sauce Made Of? 
The Banh Mi sauce is the real hero of these yummy sandwiches. The ingredients of the Banh Mi sauce in the non-vegetarian sandwiches include: 
Pate 

Mayonnaise 

Butter 

Soya sauce 
These four simple ingredients can ultimately enhance the taste of the overall dish. In the vegan version, we've swapped out all those ingredients for something EVEN better!
Vegan Banh Mi Ingredients 
As Banh Mi sandwiches are inspired by Vietnamese and French cuisine, so the ingredients have a flavor of both. The recipe includes Vietnamese meats and vegetables filled in the French baguette. The delicious creamy condiments flavors take this recipe to another level. 
To make a vegan version, you'll need the following ingredients: 
Tofu- A protein source for vegan Banh Mi. Make sure you choose the one which has as little water content as possible. 
Oil- Any oil that is suitable for high-heating cooking, such as coconut or avocado oil. 
Marinade- The combination of sesame oil, mirin, lime juice, sriracha, tamari, black pepper, garlic, ginger, and black pepper for marinating tofu. 
Vegan mayonnaise- Even with different ingredients, it serves as a substitute for regular non-vegan mayonnaise. 
Baguette- Take as per your requirement and cut them into sandwich portions. 
Pickled vegetables- A combination of carrot, cucumber, jalapeno, rice vinegar, water, sugar, and salt. 
Cilantro- Helps in garnishing or seasoning your sandwiches. 
Sriracha- A spicy sauce comprising of red chili pepper and garlic. It's popular in Vietnamese cuisine.
How Do You Make Vegan Banh Mi Sandwiches?
Got all the ingredients? Ready to make Vegan Banh Mi sandwiches? Follow the easiest steps given below:
Step 1- Marinate the tofu
To start the recipe, take a bowl to prepare a marinade for marinating the tofu. For this, add sesame oil, mirin, lime juice, sriracha, tamari, black pepper, garlic, ginger, and black pepper in the bowl and mix well. Then, add the sliced tofu to the mixture. Cover the bowl with plastic wrap and keep it in the refrigerator overnight when you're done coating tofu with the mixture. 
Step 2- Pickle your vegetables 
For pickling the vegetables, take all the vegetables in a jar. Then, take rice vinegar, water, salt, and sugar in a bowl and mix until completely dissolved. Add this mixture to the vegetables, and store the jar in the refrigerator overnight after covering with a lid. 
Step 3- Cook or bake tofu
Take a pan the next day to cook the tofu. While cooking, keep the flame high and continue cooking until it's a bit burnt. Turn off the flame once all done. 
Step 4- Assemble, serve, enjoy your sandwiches!
To assemble your Vegan Banh Mi sandwiches, cut the baguette slices in the middle to make space for filling all the prepared ingredients. Start with adding vegan mayonnaise, then pickled vegetables, tofu, and fresh cilantro. In the end, sprinkle a generous dose of sriracha and serve with prepared vegan Banh Mi sauce.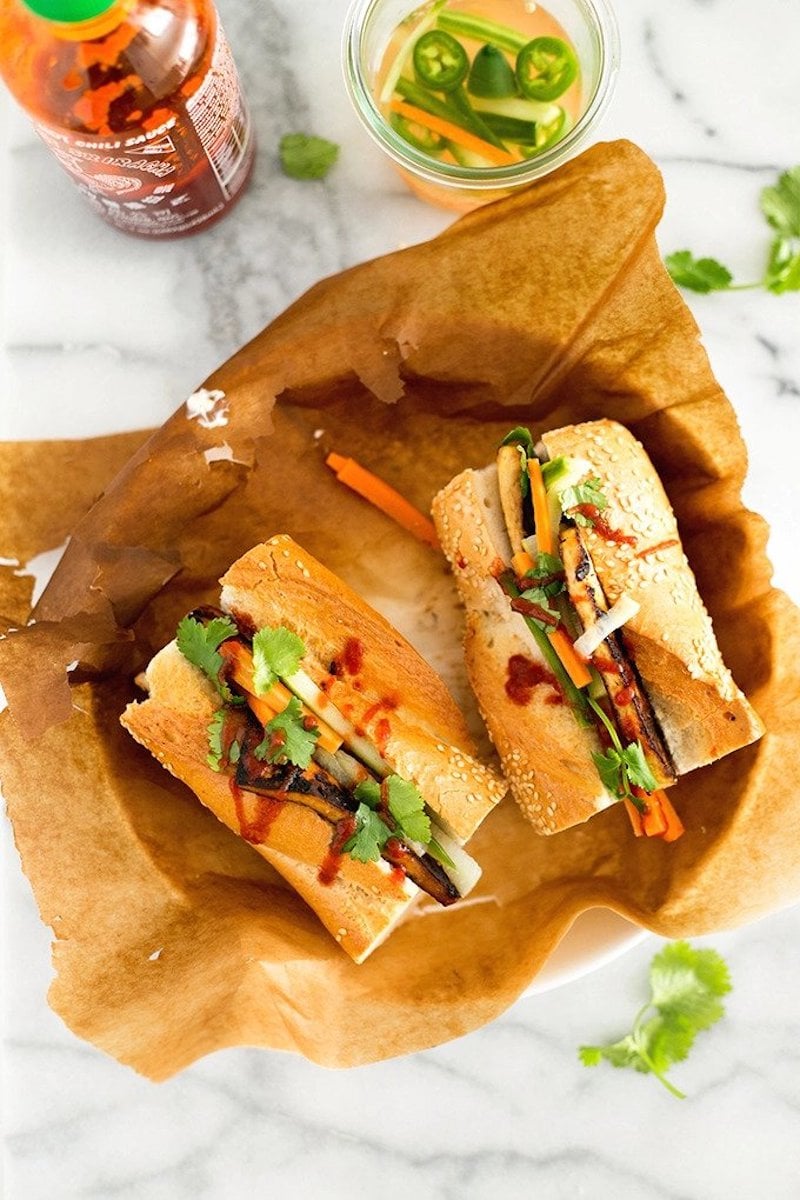 Are Vietnamese Baguettes Vegan? 
Vietnamese baguettes, also known as Banh Mi, are not vegan. The protein source Vietnamese baguettes are mostly pork, chicken, and pate. However, they can be made vegan by using a vegan ingredient such as tofu as a protein source and vegan mayo instead of regular mayo. 
How Do You Store Tofu Banh Mi? 
Once ready, you can't store these sandwiches for long because the bread will become soggy with time. So, if you want to keep them for longer periods, you should store pickled vegetables, Banh Mi sauce, and tofu separately. Store vegetables and sauce in air-tight containers. You can keep tofu for up to 5 days in the refrigerator. 
Tips and Tricks to Make the Best Vegetarian Banh Mi Sandwiches 
Want to get the best taste? Here are some tips for help: 
Always use fresh baguettes for making Banh Mi sandwiches. 

Get firm tofu because it's easier to cut, marinate, cook. It's not easily breakable and effortless to handle. 

Don't forget the sauce is the real hero of this recipe. So, add enough sauce to feel the taste of the Vietnamese Banh Mi in each bite.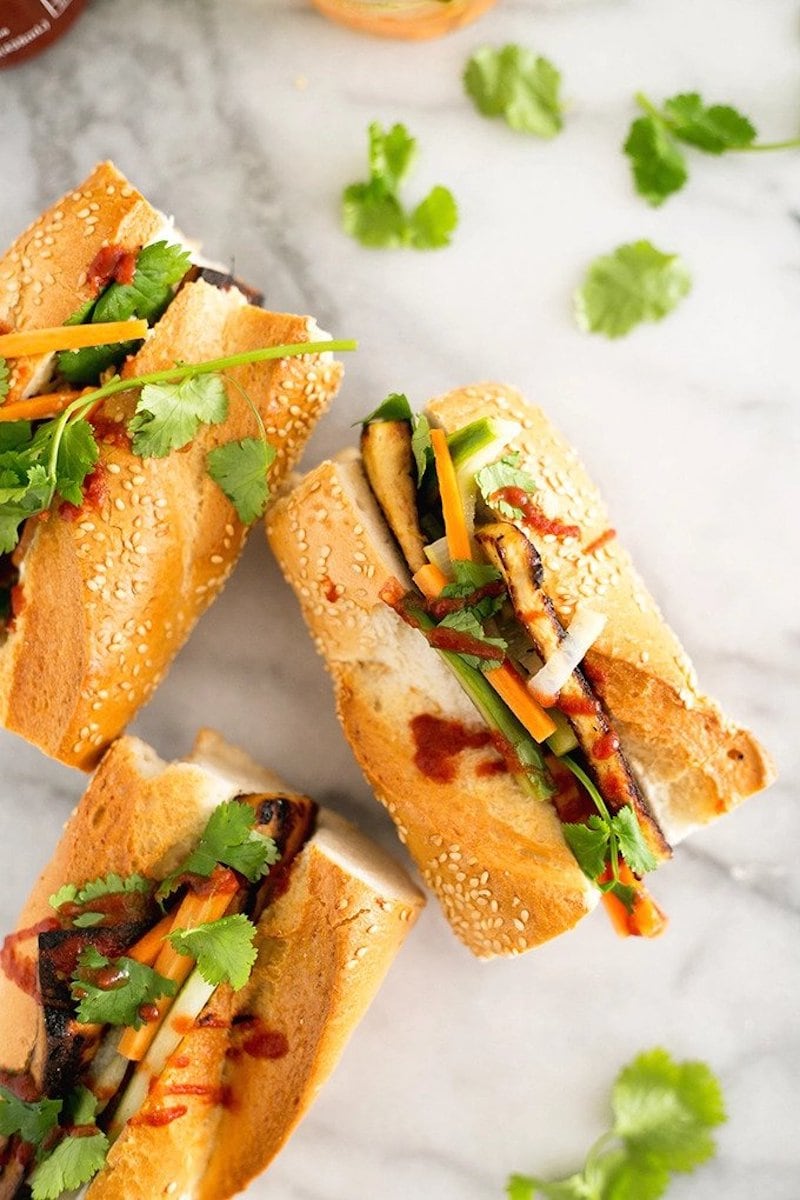 What to serve with Banh Mi sandwiches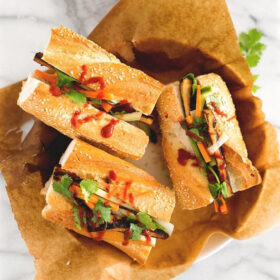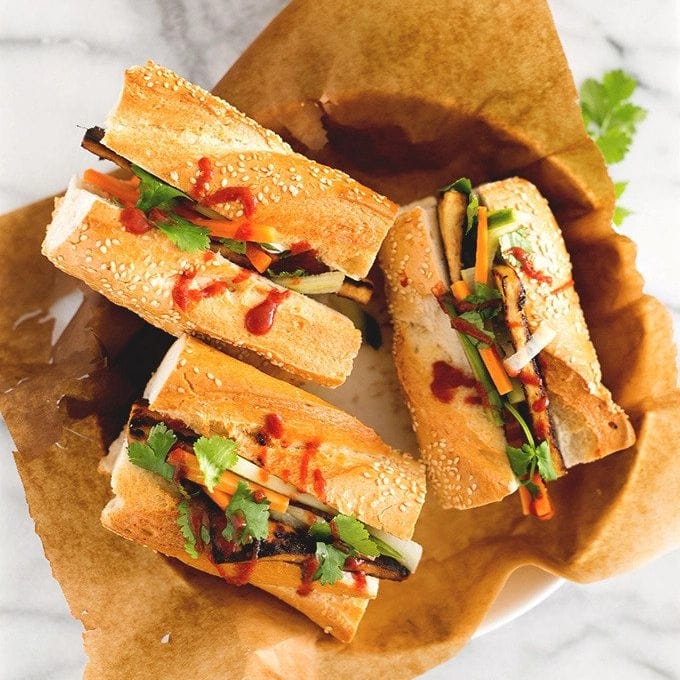 Vegan Banh Mi
Vegan Banh Mi Sandwiches With Seared Tofu and Pickled Vegetables. Simple, Quick, Cheap, Delicious.
Ingredients
For the tofu
1 1/2

tablespoons

Sesame Oil

2

tablespoons

Mirin

1

teaspoon

Lime Juice

1

teaspoon

Sriracha

2 1/2

tablespoons

Tamari

1

teaspoon

Black Pepper

1

teaspoon

Garlic

Minced

1

teaspoon

Ginger

Minced

1

teaspoon

Lemongrass

Minced

8

oz

Firm Tofu
For the pickled vegetables
1/2

large

Carrot

cut into thin matchsticks

1/2

small

Cucumber

cut into thin matchsticks

1/4

Jalapeno

sliced thinly

1/3

cup

Rice Vinegar

2

tablespoons

Water

1 1/2

tablespoons

Sugar

1

teaspoon

Salt

4

small

Baguette

cut into sandwich portions

1/4

cup

Vegan Mayonnaise

1

tablespoon

Sriracha

1/4

cup

Cilantro

to garnish
Instructions
To prepare tofu, whisk Sesame Oil, Mirin, Lime Juice, Sriracha, Tamari, Black Pepper, Garlic, Ginger and Lemongrass in a bowl till well combined. Pour over sliced tofu and make sure to coat all your tofu with this mixture. Cover tofu in plastic wrap and refrigerate overnight.

To make picked vegetables, combine Carrot, Cucumber and Jalapeno in a jar. In a bowl, whisk Rice Vinegar, Water, Sugar and Salt till dissolved. Pour mixture over the vegetables in the jar and make sure all the vegetables are covered in this pickling liquid.

Cover jar with a lid and leave in the refrigerator overnight.

On the next day, heat a frying pan up and sear tofu on high heat. Cook until tofu is charred on both sides. It will splutter!

To assemble, make a pocket in each Baguette slice and slather liberally with Vegan Mayonnaise. Fill with seared tofu, picked vegetables, fresh cilantro and drizzle with Sriracha.
Nutrition
Serving:
1
Banh Mi
Calories:
262
kcal
Carbohydrates:
18
g
Protein:
7
g
Fat:
17
g
Saturated Fat:
2
g
Sodium:
1539
mg
Potassium:
120
mg
Fiber:
1
g
Sugar:
8
g
Vitamin A:
1605
IU
Vitamin C:
6
mg
Calcium:
94
mg
Iron:
1
mg