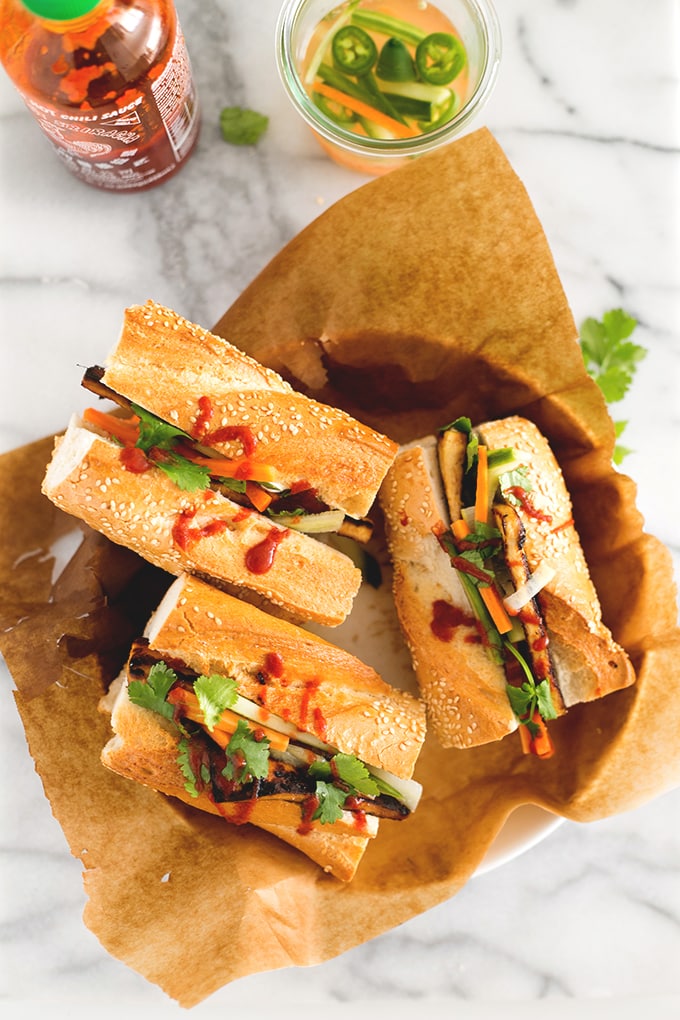 I'm a huge fan of Vietnamese Banh Mi. However, I do hate how they all come with some sort of animal innard ass paste, also known as Pate. I prefer calling it ass paste. Since Banh Mi is relatively simple to make, I thought I'd try my hand out at making my very own Vegan Banh Mi Sandwiches with Seared Tofu and homemade Pickled Vegetables.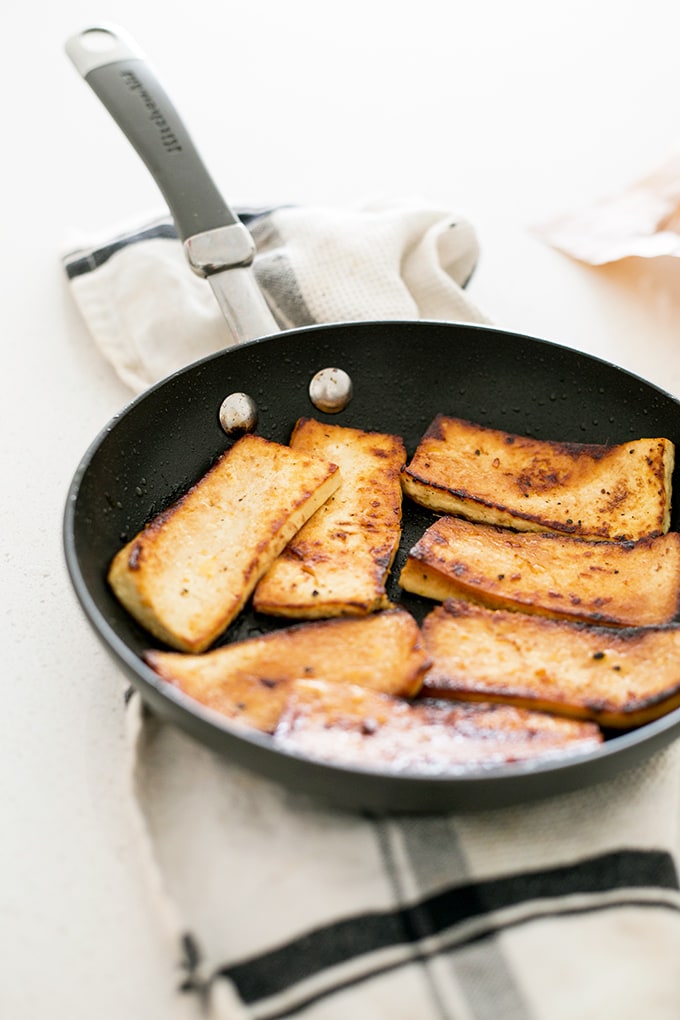 For the Seared Tofu in this Vegan Banh Mi, I marinate Firm Tofu in a mixture of Sesame Oil, Ginger, Garlic, Mirin, Tamari, Lemongrass, Black Pepper and Sriracha. I leave the Tofu to soak this slurry up overnight, along with the Pickled Vegetables which are essentially just Carrots and Cucumbers soaked in Rice Vinegar, Sugar, Water, Salt and Jalapeno! Simple. No ass paste or juice involved here.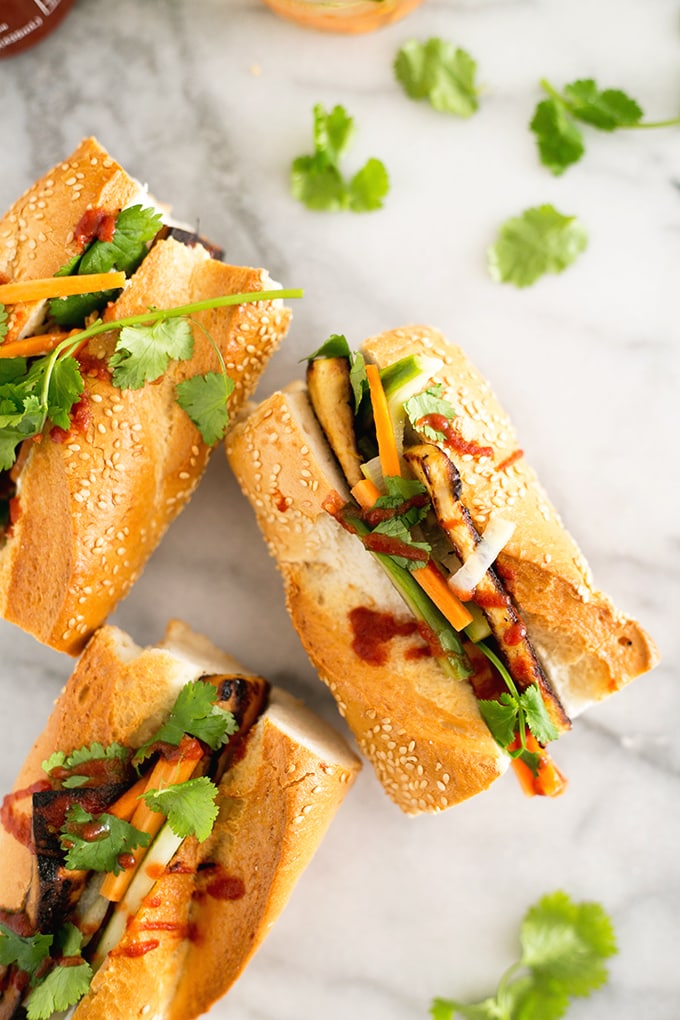 On to the nekk day. You sear your Tofu in a frying pan on high heat until it's almost charred on both sides, and then slide it into a fresh Baguette, top dress with Vegan Mayonnaise, Sriracha, Cilantro and your Pickled Vegetables. Yum. Vegan Banh Mi done right. I like to add a shyt load of Mayonnaise to this because what are calories? I've given up on life anyway.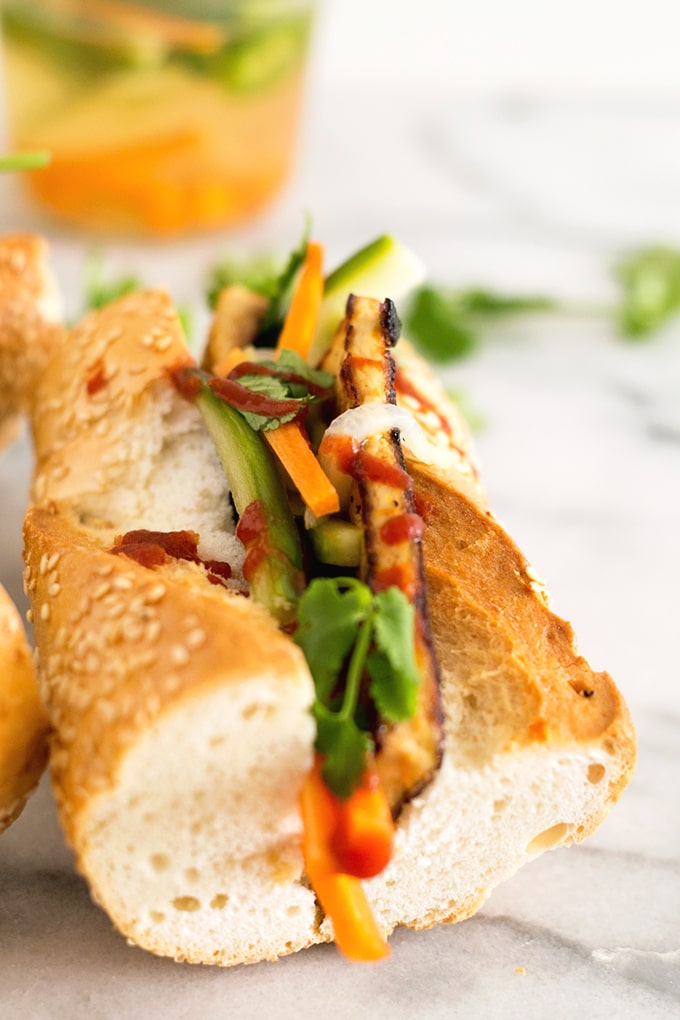 Now, I don't know if my Vegan Banh Mi Sandwiches would be frowned upon in Vietnam or labelled banh-blasphemous – I can't promise you authenticity. What I can promise you is a delicious Vegan Banh Mi sandwich that costs barely anything to make (I'm broke, anyone wanna start a Go Fund Me for me?) and pleases the tastebuds. These sandwiches are pretty messy to eat, so I highly suggest you only eat it in the comfort of your own privacy. I don't have friends, family or a partner so that means I can eat this whenever I fancy. Scroll down to grab the full recipe for these Vegan Banh Mi Sandwiches With Seared Tofu and Pickled Vegetables.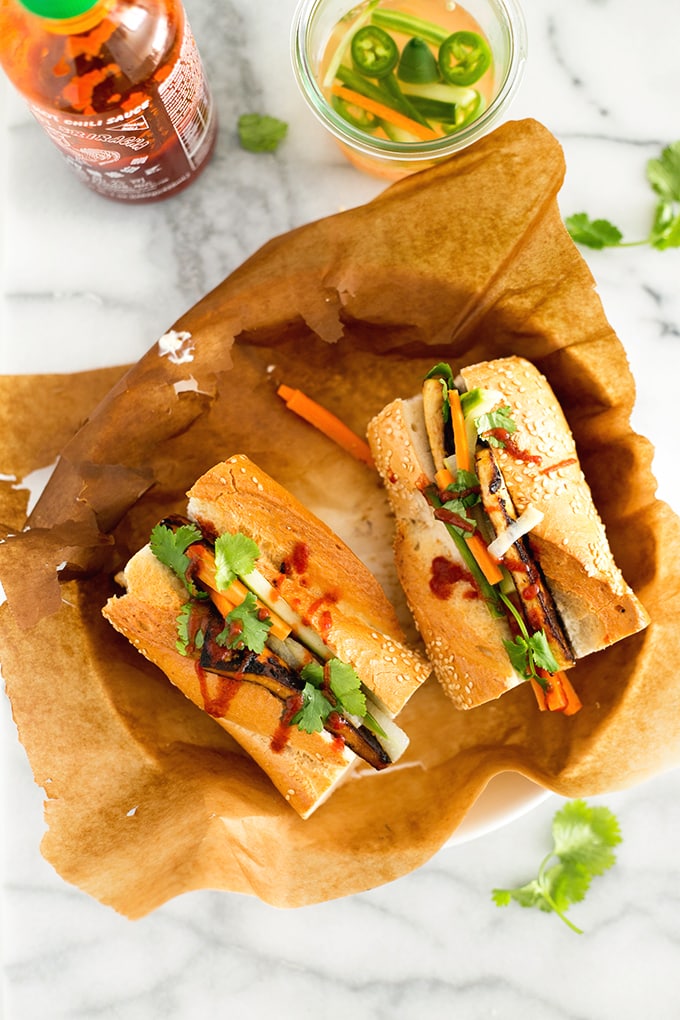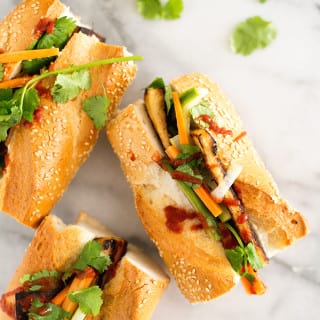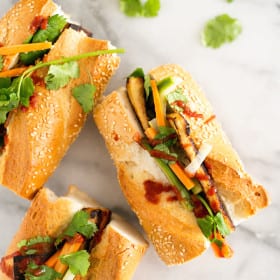 Vegan Banh Mi
Vegan Banh Mi Sandwiches With Seared Tofu and Pickled Vegetables. Simple, Quick, Cheap, Delicious.
Ingredients
Seared Tofu:
1 1/2

tablespoons

Sesame Oil

2

tablespoons

Mirin

1

teaspoon

Lime Juice

1

teaspoon

Sriracha

2 1/2

tablespoons

Tamari

1

teaspoon

Black Pepper

1

teaspoon

Garlic

Minced

1

teaspoon

Ginger

Minced

1

teaspoon

Lemongrass

Minced

8

oz

Firm Tofu
For the pickled vegetables
1/2

large

Carrot

cut into thin matchsticks

1/2

small

Cucumber

cut into thin matchsticks

1/4

Jalapeno

sliced thinly

1/3

cup

Rice Vinegar

2

tablespoons

Water

1 1/2

tablespoons

Sugar

1

teaspoon

Salt

4

small

Baguette

cut into sandwich portions

1/4

cup

Vegan Mayonnaise

1

tablespoon

Sriracha

1/4

cup

Cilantro

to garnish
Instructions
To prepare tofu, whisk Sesame Oil, Mirin, Lime Juice, Sriracha, Tamari, Black Pepper, Garlic, Ginger and Lemongrass in a bowl till well combined. Pour over sliced tofu and make sure to coat all your tofu with this mixture. Cover tofu in plastic wrap and refrigerate overnight.

To make picked vegetables, combine Carrot, Cucumber and Jalapeno in a jar. In a bowl, whisk Rice Vinegar, Water, Sugar and Salt till dissolved. Pour mixture over the vegetables in the jar and make sure all the vegetables are covered in this pickling liquid.

Cover jar with a lid and leave in the refrigerator overnight.

On the next day, heat a frying pan up and sear tofu on high heat. Cook until tofu is charred on both sides. It will splutter!

To assemble, make a pocket in each Baguette slice and slather liberally with Vegan Mayonnaise. Fill with seared tofu, picked vegetables, fresh cilantro and drizzle with Sriracha.
Nutrition
Calories:
262
kcal
Carbohydrates:
18
g
Protein:
7
g
Fat:
17
g
Saturated Fat:
2
g
Sodium:
1539
mg
Potassium:
120
mg
Fiber:
1
g
Sugar:
8
g
Vitamin A:
1605
IU
Vitamin C:
6
mg
Calcium:
94
mg
Iron:
1
mg
Like these Vegan Banh Mi Sandwiches? Don't forget to follow me on Instagram, Pinterest and Facebook!