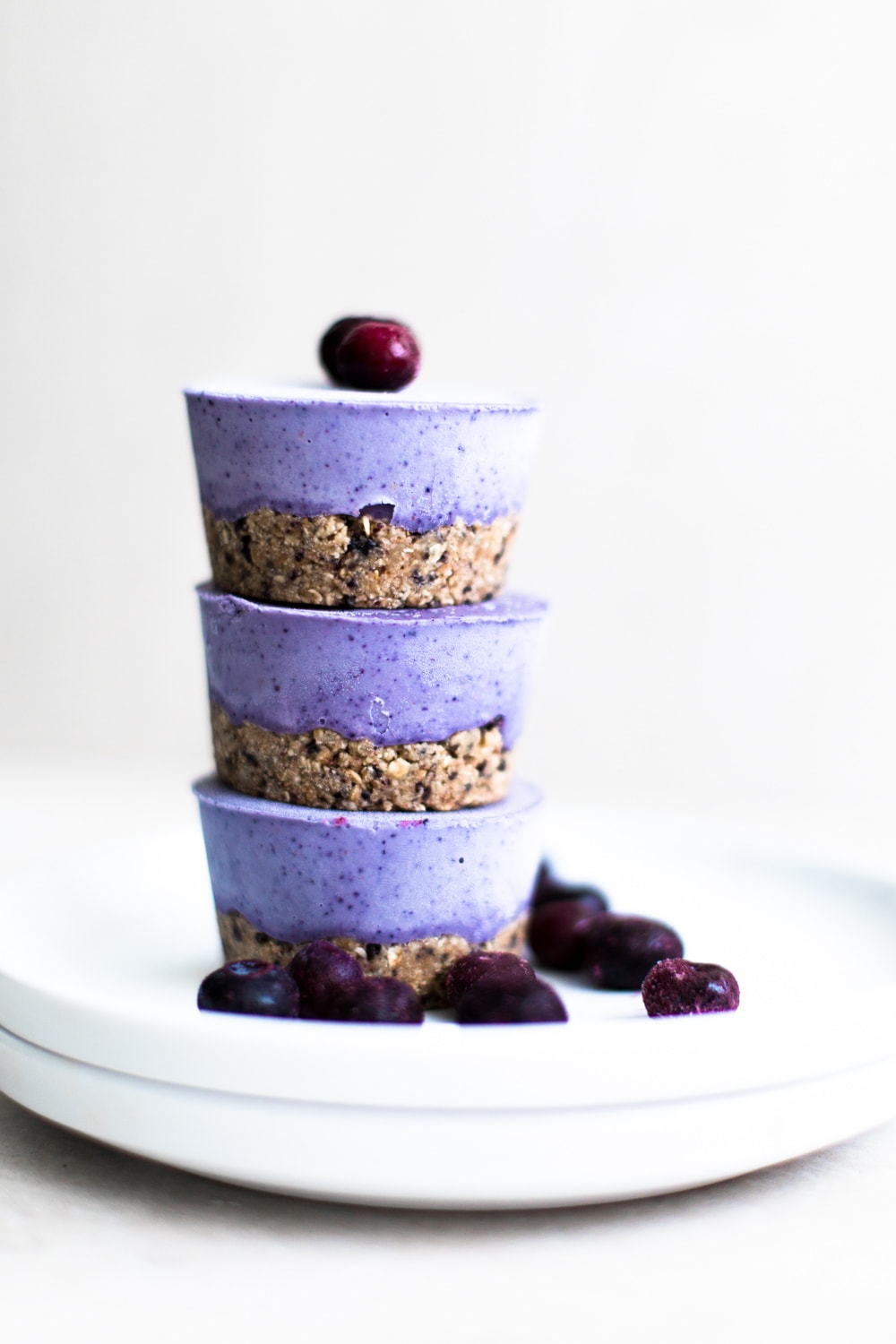 Yo, so who on earth doesn't like Cheesecake? I remember my 10th birthday party when no one showed up so I ate an ENTIRE New York Cheesecake on my own because I was sad, and also because I was probably just a fat ass. You'd think that eating a whole ass motherfucking Cheesecake on your own would be enough to turn you off Cheesecake for the rest of eternity, but I guess not. Now, when it comes to Vegan Cheesecakes, I'm picky. So let me make this clear: here ye, here ye, these here Vegan Blueberry Cheesecake Bites with Oatmeal Crust taste NOTHING like a classic New York Cheesecake. I just had to put it out there. If you're in search of a legitimate Baked Vegan Cheesecake recipe, click here.
Now that that disclaimer is out of the way, we can continue. So, why would I name these little hockey pucks of blended berries and cashews a "CHEESECAKE"? Well, let me be more specific – it's a Raw Cheesecake. So there you go, you fucking internet trolls who like to pick on everything. You can shut the fuck up now. <3
GIMME THE 411 ON THESE VEGAN BLUEBERRY CHEESECAKE BITES:
Well, basically, it's pretty simple. We start off with a fucking god damn easy Oatmeal Crust which is made out of: SURPRISE, OATMEAL + Coconut Oil, Sea Salt, Agave Nectar, Peanut Butter (or Sunflower Butter for those with Peanut allergies), Dried Blueberries and a couple of Dates. Blend these bastards up in a food processor or high spee blender, and woohoo, instant cheesecake crust!
FREE EBOOK SERIES! 5 SECRETS FOR FOOLPROOF VEGAN DESERTS
The base is then pressed into the bottom of a Silicone muffin pan (or whatever the fuck you have lying around your house), and then topped off with a delicious Cashew Based Vegan Blueberry Cheesecake Filling.
What Goes Into The Vegan Blueberry Cheesecake Filling?
Soaked Cashews + Refined Coconut Oil + Frozen Blueberries (or fresh if you're RICH AS FUCK) + Coconut Cream + Agave Nectar all go WHIZZ WHIZZ around and around in a blender, Blueberries bursting and bleeding everywhere, it's like a terrible GRIZZLY MURDER SCENE. (Sorry, had too much Caffeine today).
The final ingredient? Lactic Acid Powder.
What The Fuck Is Lactic Acid Powder?
Lactic Acid, also known as milk acid, is found primarily in sour milk products, such as yoghurt etc etc. Lactic Acid is the reason why casein in fermented milk curdles. Contrary to popular belief, Lactic Acid is actually Vegan and easily available at most specialty stores such as the very high end E-BAY. That's where I got mine from. I've used Lactic Acid previously in my Baked Cheesecake recipe – it gives non-dairy desserts that signature tang that Cream Cheese otherwise would.
Do I Need To Use Lactic Acid?
Not really. It's optional. It will add an added level of cheezy-ness to your Vegan Blueberry Cheesecake bites, but you won't die if you don't use it or anything. It would be worrying if you did actually die though…
Final Thoughts
Lol I just wanted to say final thoughts cos it sounds cool. No one gives a shit about what I think. Anyway, this recipe is easy as shit. Blend the base, blend the filling, pour the filling onto the base and freeze for 4-6 hours, preferably overnight. Simply pop them out of your silicone moulds (alternatively you can just make this in one 6×6 inch square pan lined with parchment paper), leave to that for about 5-10 minutes before eating and WOOOOOOOO CAAAAAAAAKEEEEEEEE. Scroll down for the full recipe and I'll see you next time (or not, since we can't see through the computer screen).
Similar Recipes You May Enjoy:
Raw Vegan Brownies with Raspberry Cheesecake Topping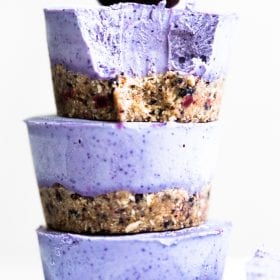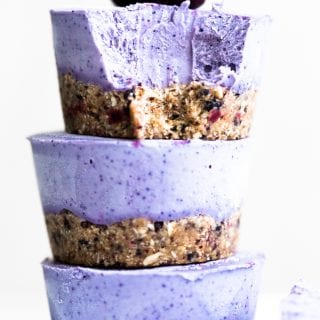 Vegan Blueberry Cheesecake Bites with Oatmeal Crust
Delicious Raw Vegan Blueberry Cheesecake Bites with a fruity Oatmeal Crust. Refined Sugar Free and takes only 20 minutes to prepare.
Ingredients
Oatmeal Crust/Base:
1

cup

Rolled Oats

120g

1/4

cup

Dried Blueberries

30g

1/2

tsp

lemon zest

1/8

tsp

salt

1

Medjool Date

pitted

1/4

cup

Agave Nectar

50-60g

2

tbsp

Peanut Butter

35g

1

tsp

Water
Blueberry Cheesecake Filling:
150

g

Natural Cashews

soaked overnight and drained if you don't have a high speed blender

1

tbsp

Lemon Juice

1/4

cup

Refined Coconut Oil

melted (60g)

1/2

cup

Coconut Cream

125g

1/4

cup

Agave Nectar

50-60g

3/4

cup

Frozen Blueberries

100g

1/4

tsp

Lactic Acid powder

optional
Instructions
If you do not have silicone Muffin tins, line a 6x6 inch square pan with baking paper. Set aside.

In the bowl of a food processor, combine all ingredients for the Oatmeal base. A sticky mixture should form.

Use moistened fingers to press the crust on the bottom of each muffin tin cavity or on the base of your prepared 7x7 inch tin. Leave in the freezer whilst making filling.

To make Blueberry Cheesecake filling, combine all ingredients in a high speed blender.

Blend until 100% smooth. You can use a tamper to help get the ingredients well mixed.

Turn blender off and use a silicone spatula to push ingredients off the blender walls 1 or 2 times and continue blending until entirely smooth.

Pour the filling onto the chilled crust and spread into an even layer.

Freeze until firm enough to pop out of the silicone muffin tin or slice - about 6-8 hours.

Store in the freezer and allow to thaw for 5-10 minutes before enjoying.

Leftovers will keep in an air-tight box in the freezer for up to 1 month.
Notes
TO STORE: Leftovers can be stored in the refrigerator, covered, for up to 2 weeks. TO FREEZE: Place leftovers in a ziplock bag and store them in the freezer for up to 6 months. 
Nutrition
Serving:
1
serving
Calories:
240
kcal
Carbohydrates:
34
g
Protein:
4
g
Fat:
11
g
Saturated Fat:
7
g
Sodium:
77
mg
Potassium:
230
mg
Fiber:
3
g
Sugar:
19
g
Vitamin A:
6
IU
Vitamin C:
2
mg
Calcium:
18
mg
Iron:
1
mg