These vegan stuffed peppers are a quick and easy dish that uses up anything and everything! Filled with plant-based proteins, grains and vegetables, it's affordable and takes seconds to prep.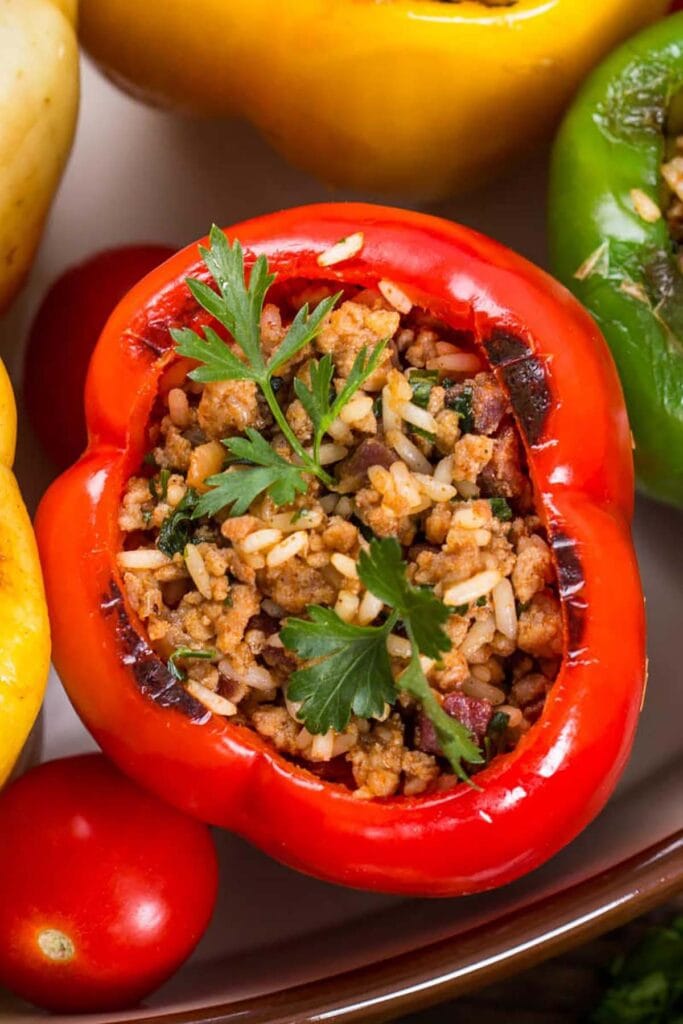 When it comes to satisfying vegan main dishes, I love to incorporate smoky, earthy proteins like seitan. This comes in perfectly when making things like dirty rice and, of course, these wonderful vegan stuffed peppers!
Why you'll love this stuffed peppers recipe
Flavorful and healthy. Stuffed peppers are filled with a delicious mixture of vegetables, grains, and plant-based proteins! They taste great and are a nutrient-packed meal!
Customizable. You can customize the filling with your favorite ingredients, making it easy to cater to different tastes and dietary preferences. They're also a great way to use up leftovers in the fridge!
Easy preparation: These are simple and easy to prepare and can be made in advance, making them a convenient option for weeknight dinners or meal prep.
Ingredients needed
Onions. Gives flavor to the filling mixture. Be sure to slice your onions finely, to ensure they cook evenly.
Vegan ground beef. Any vegan beef substitute can be used, but I prefer using the minced/ground variety.
Cooked rice. Basmati, jasmine or brown rice are all great options! Either make it from scratch or use a shortcut and make microwave rice.
Crushed tomatoes. Also known as diced or canned tomatoes. Use ones with no added sugar in them.
Garlic and onion powder. Some additional savory aromatics.
Salt and black pepper. To taste.
Bell peppers. Use a mix of red, yellow, and green bell peppers. Scoop out the innards so they are ready to be filled.
Vegan cheese. Optional, but fabulous to sprinkle over the top before baking! I prefer vegan parmesan cheese.
How do you make vegan stuffed bell peppers?
Step 1 – Prepare the filling. Place an oiled non-stick large skillet over medium heat. Once hot, add the onion and saute for a minute, before adding the vegan ground beef. Pan fry for 4-5 minutes, until no longer pink. Add the cooked rice, followed by the crushed tomatoes, then the spices. Stir fry everything together for 5-6 minutes.
FREE EBOOK SERIES! 5 SECRETS FOR FOOLPROOF VEGAN DESERTS
Step 2 – Stuff the peppers. Now, place the bell peppers into a greased baking dish. Distribute the filling evenly amongst the bell peppers and sprinkle with vegan parmesan on top.
Step 3 – Bake until tender. Bake for 10-15 minutes, until golden on top and the peppers are nice and tender. Serve immediately.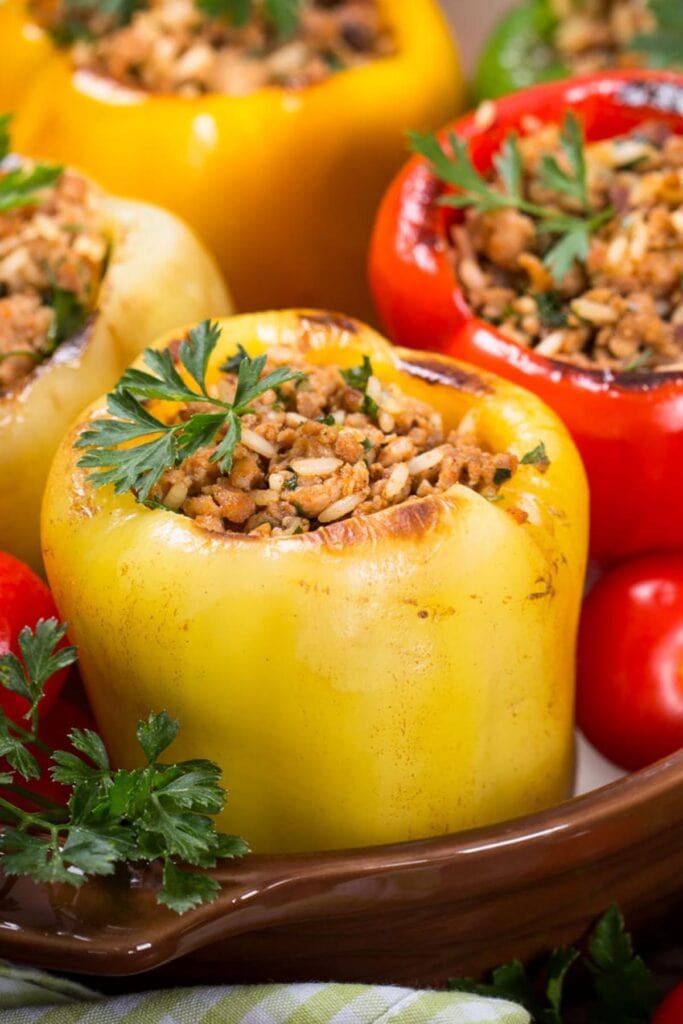 Recipe tips and flavor variations
Select the right peppers. Choose firm and fresh bell peppers with a vibrant color. Red, orange, and yellow peppers are sweeter, while green peppers have a milder flavor. The size should be uniform for even cooking.
Try different proteins and veggies. Swap out the vegan ground beef with sliced vegan chicken or beef. Legumes are also a delicious way to increase this dish's protein count. Adding mushrooms, zucchini, or eggplant can also be a great way to modify this dish.
Season the filling generously. Fresh herbs, spices, and aromatics are the key to this dish. Don't be afraid to experiment with different seasoning combinations to suit your taste. Throw in some parsley, basil and Italian seasoning or for a Mexican kick you could try some cumin, cayenne pepper and smoked paprika. You can also make your own taco seasoning to compliment your peppers.
Storage instructions
To store: Leftover stuffed bell peppers can be stored in the fridge in an airtight container for up to 1 week.
To freeze: Wrap the peppers in foil and place in a large container. Store them in the freezer for up to 2 months.
Reheating: Reheat in a preheated oven for 10 minutes.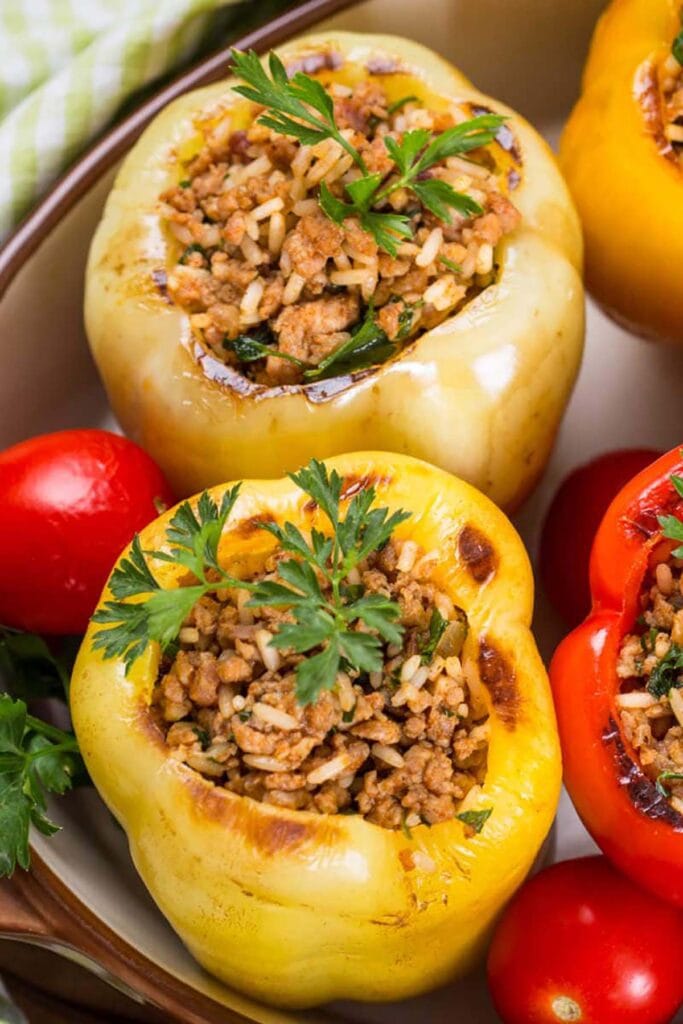 What to serve with stuffed peppers
Frequently asked questions
Should peppers be boiled before stuffing?
Boiling the peppers in advance might lead to overcooking and make them too soft, potentially losing some of their structure and flavor.
Why didn't my rice cook in my stuffed peppers?
Any rice that forms the stuffing for this dish should be cooked in advance in a pot or rice cooker.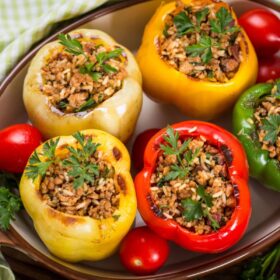 Vegan Stuffed Peppers
These vegan stuffed peppers are a quick and easy dish that uses up anything and everything! Filled with vegan ground beef and leftover rice, it's affordable and takes seconds to prep. 
Ingredients
1

large

onion

sliced

1

lb

vegan ground beef

or vegan crumbles

1

cup

cooked rice

1

lb can

crushed tomatoes

425 grams

1

tsp

salt

1

tsp

garlic powder

4

large

bell peppers

with innards scooped out

1/4

cup

vegan parmesan cheese

optional
Instructions
Preheat the oven to 180C/350F. Line a small baking dish and set aside.

In a non-stick pan, add some olive oil and place it over medium heat. Add the onions and fry for 1-2 minutes. Add the vegan ground beef crumbles and cook until no longer pink. Add the tomatoes, cooked rice, and spices, and stir fry for 4-5 minutes.

Remove the pan from the heat and distribute the mixture amongst the four bell peppers.

Place the filled bell peppers into the baking dish and sprinkle with parmesan cheese. Bake the bell peppers for 10-15 minutes, or until tender.
Notes
TO STORE: Leftover stuffed peppers can be stored in the refrigerator, covered, for up to 1 week. TO FREEZE: Place stuffed peppers in a large container and store them in the freezer for up to 2 months.  TO REHEAT: Reheat in a preheated oven for 10 minutes. 
Nutrition
Serving:
1
serving
Calories:
195
kcal
Carbohydrates:
25
g
Protein:
13
g
Fat:
3
g
Saturated Fat:
1
g
Sodium:
590
mg
Potassium:
424
mg
Fiber:
4
g
Sugar:
9
g
Vitamin A:
5136
IU
Vitamin C:
212
mg
Calcium:
25
mg
Iron:
1
mg