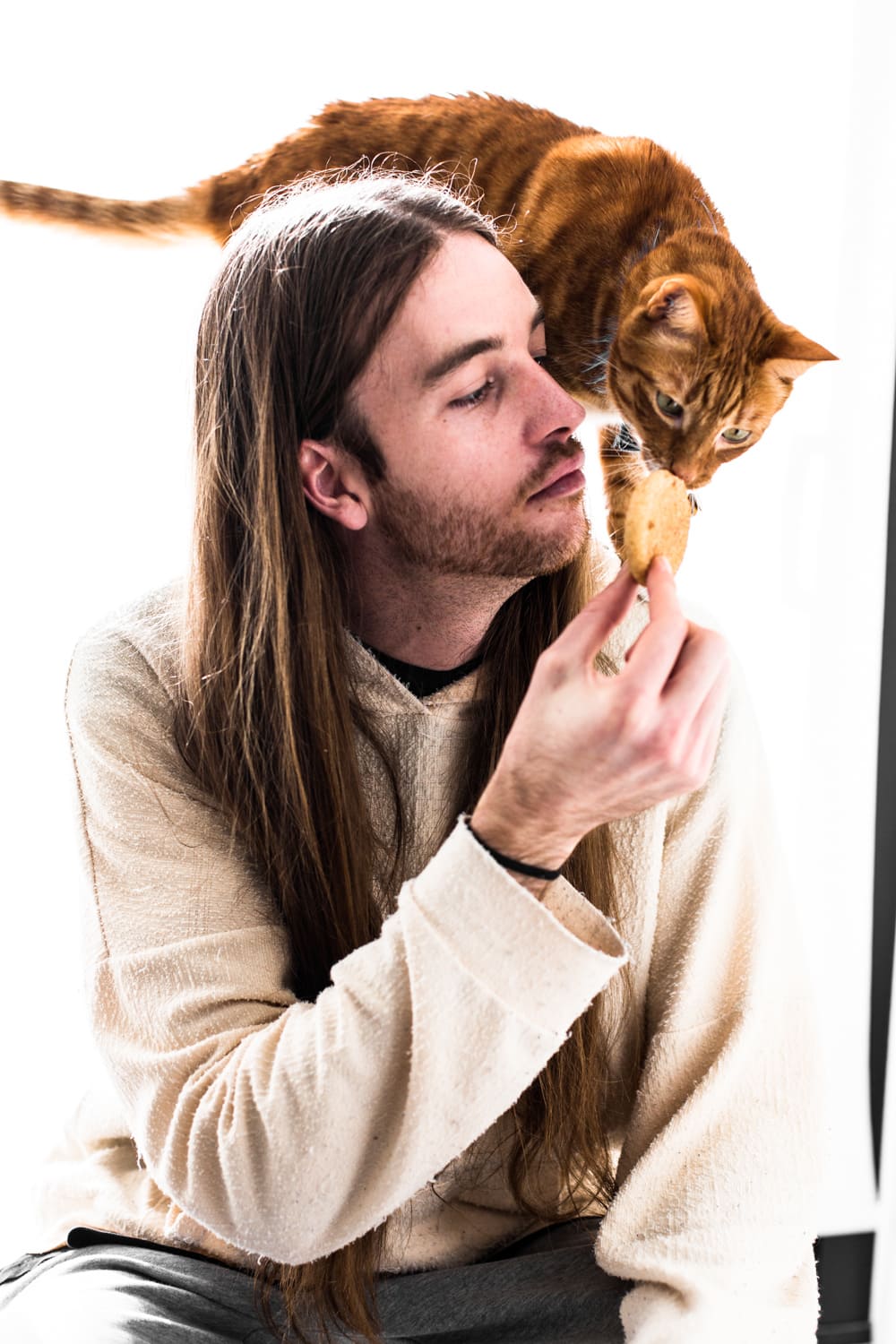 SNICKERDOODLES. What a wonderful fucking name for a cookie. The first time I made Snickerdoodle Cookies would when I purchased my first ever cookbook – Pillsbury's Best Cookies Cookbook. 18 years have passed, and for some reason I never attempted making Snickerdoodles ever again. So, in honour of 12 year old me, today I bring to you these chewy and delicious Vegan Snickerdoodles. Guaranteed to give you a hard on or a lady boner!
WHAT ARE SNICKERDOODLES?
Snickerdoodles are a classic American cookie recipe that consists of a Sugar Cookie dough rolled in Cinnamon Sugar. What gives the Snickerdoodle Cookies their signature tang and chew is the addition of a hefty amount of Cream of Tartar. This is what differentiates it from the standard Sugar Cookie recipe – and I mean who doesn't love an extra chewy motherfucking cookie!
What Ingredients Go Into Vegan Snickerdoodles?
Vegan Snickerdoodles don't differ too much from their non-vegan counterpart. We simply substitude the Butter with Vegan Butter use 1/4 cup of Almond Milk in lieu of an Egg Feel free to use 1 Flax Egg or 1/4 cup of Applesauce instead. I tend to always have Almond Milk on hand, so it's just easier ya know?
The star ingredient however, is Cream of Tartar. You probably don't have this in your pantry unless you're 75, but I highly recommend getting a hold of this stuff. It's great for making Meringue, stabilising Whipped Cream and in this case, adding a nice tangy flavor and delicate chewy texture to your Vegan Snickerdoodle cookies.
Can I Replace Cream of Tartar?
Ideally, um no. Cream of Tartar helps prevent the sugar in the cookie dough from crystallizing so that the cookie stays soft instead of crunchy. It also lends a delicious tang to your cookies. Who doesn't like a tangy cookie 😉
If you really have to, *sighs in disappointment*, I would suggest replacing 2 teaspoons of the Cream of Tartar and Baking Soda in this recipe with 2 teaspoons of Baking Powder. Your resulting cookies will be a little fatter and less chewy, but tasty delicious nonetheless.
Do I Have To Use Brown Sugar?
Quick and simple answer – yes or no. It all depends on you. The first time I made these, I used all white sugar. This time round, I used a mixture of half Brown Sugar and half White Sugar. Both tasted rather similar, but I preferred the slight tan hue the Brown Sugar gave to the second batch. When it comes to the Cinnamon Sugar coating, you'll want to stick to just White Sugar as it will retain its crystalline structure even after baking. Classic Snickerdoodle Snickerdoolyness.
Anything Else I Need TO FKN KNOW?
Not really, I mean Snickerdoodles are pretty fool-proof. You cream Butter and Sugar, add your Non-Dairy Milk into the mix and then fold in Flour, Cream of Tartar and Baking Soda. Roll your cookie dough into balls and then bathe them in a delicious mixture of Cinnamon and Sugar. Into the oven the little bastards go and hey presto, god damn Snickerdoodle Cookies are ready.
PSSSST: I love grinding my Cinnamon fresh in a coffee grinder, it just makes your Vegan Snickerdoodles all that more ciNnAMOnY!
Anyway, enough rambling for today, my fingers hurt from spending 40 minutes trying to open a 4 litre tub of Coconut Oil. Scroll down to grab the full recipe for my delicious chewy Vegan Snickerdoodles, and don't forget to tag me on Instagram if you try this or any of my other recipes out! Adios for now!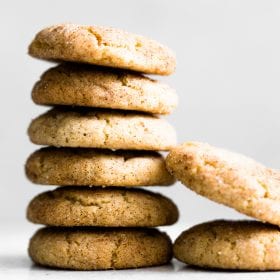 Vegan Snickerdoodles
Delicious Vegan Snickerdoodles that are chewy, coated in liberal amounts of cinnamon sugar and ready in under 1 hour.
Ingredients
1

cup

Vegan Butter

ideally, the stick variety (225g)

1 1/4

cup

Sugar

I used half Brown, half White (250g)

1/4

cup

Non-Dairy Milk

60g

2

tsp

Vanilla Bean Paste

or extract

2 1/2

cups

all purpose flour

340g

1 1/2

tsp

cinnamon

1

tsp

Baking Soda

2

tsp

Cream Of Tartar

1/2

tsp

Salt
Cinnamon Sugar Coating:
1/3

cup

Sugar

1

tbsp

Cinnamon
Instructions
Preheat oven to 375°F (185°C). Line two large cookie sheets with parchment paper and set aside.

In a large bowl, cream your Vegan Butter and Sugar until light and fluffy - around 2-3 minutes. Scrape down the sides and up the bottom of the bowl with a rubber spatula as needed.

Add Non-Dairy Milk and Vanilla Bean Paste to creamed mixture and mix well.

In a seperate bowl, sift Flour, Ground Cinnamon, Baking Soda, Cream of Tartar and Salt.

With your mixer running on low speed, slowly add the sifted dry ingredients to the wet ingredients in a few additions.

Divide your cookie dough into 1 tablespoon portions.

In a small bowl, combine ingredients for Cinnamon Sugar Coating. Roll each cookie dough ball in the Cinnamon Sugar Coating and place each ball on your prepared baking sheet.

Cookies should be placed on the sheet with at least 2 inches of space between them in order to allow room for spreading.

Bake cookies for 8-10 minutes, until just barely golden around the edges. Remove from the oven and allow the cookies to cool on the baking sheet for at least 10 minutes. They will be too soft to remove straight out of the oven.

Enjoy your cookies with friends, family or just binge on them in your dark bedroom under your smelly sheets.

Store uneaten cookies in an air-tight container for up to 1 week.
Notes
If you don't have Cream of Tartar, replace it AND the Baking Soda with 2 teaspoons of Baking Powder.
TO STORE
: Leftovers can be stored in the refrigerator, covered, for up to 2 weeks.
TO FREEZE
: Place leftovers in a ziplock bag and store them in the freezer for up to 6 months. 
Nutrition
Serving:
1
cookie
Calories:
158
kcal
Carbohydrates:
24
g
Protein:
1
g
Fat:
6
g
Saturated Fat:
2
g
Trans Fat:
1
g
Sodium:
157
mg
Potassium:
64
mg
Fiber:
1
g
Sugar:
14
g
Vitamin A:
371
IU
Vitamin C:
1
mg
Calcium:
10
mg
Iron:
1
mg