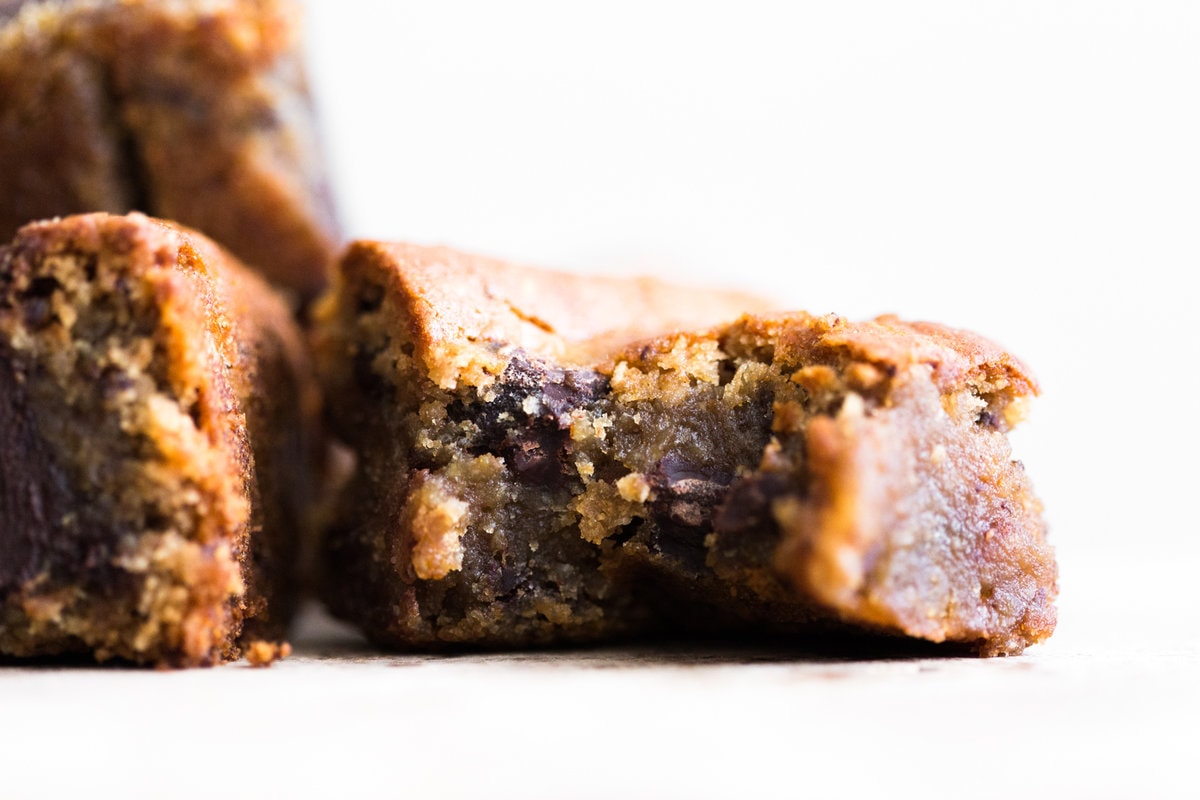 Today's Chewy Vegan Chickpea Blondies are a testament to the magic and divinity of the humble ol' garbanzo bean. So apparently Chickpeas can do everything. They're like the legume version of Cauliflower. Anything you need, chickpeas can probably do it for you. Run out of the birth control pill? Swallow a couple of chickpeas. Out of cash? Place some chickpeas under your pillow and they'll magically turn into gold coins overnight. Want some delicious, ooey gooey Vegan Blondies? Chickpeas to the rescue once again.
What Is A Blondie?
I don't even know why you would ask such a thing, but let me elaborate anyway. Blondies are the paler cousin of the humble Brownie. Blondies are essentially a tender, chewy and soft bar cookie and rarely do you ever find melted chocolate or cocoa used in a Blondie recipe. If you're looking for a regular Vegan Blondie recipe, click here. A blondie can also refer to a male or female who has blonde hair. Wow, you learn new things everyday.
HOW TO MAKE VEGAN CHICKPEA BLONDIES:
Step 1: WELL, first you grab yourself some good ol' tinned Chickpeas. Ideally, at this point, you'll also want to start preheating your oven and lining an 8X8 inch baking tin with parchment paper.
Step 2: Combine your drained and rinsed chickpeas with Almond Butter, Oat Flour, Maple Syrup, Brown Sugar, Sea Salt, Vanilla Extract, Baking Powder and Baking Soda. Blitz these bastards in a food processor until smooth. Once smooth, fold in Vegan Dark Chocolate Chunks and pour your batter into your prepared pan.
Step 3: Bake. IT'S THAT SIMPLE. After baking, you'll want to let your Vegan Chickpea Blondies cool thoroughly before cutting them – that's how you get nice, neat squares.
Will I Taste The Chickpeas?
Quick and simple answer – no. Not unless you're some strange human/cat hybrid that has hypersensitive taste buds. If that's the case, not my problem.
This recipe has enough sweetener to completely mask the taste of chickpeas, whilst at the same time remaining tender, chewy and soft thanks to the high water content of the magical chickpea. The starchy qualities of the almighty chickpea also give these blondies a nice bite to them, so it's win win in my opinion.
You can also adapt this recipe and throw in whatever mix-ins you like. This time, I've used Chocolate Chunks, but you can also use:
Vegan White Chocolate Chips + Dried Cranberries
Chopped Vegan Peanut Butter Cups
Roasted Pecans/Walnuts
How Long Should I Bake My Chickpea Blondies For?
I personally like under baked Brownies and Blondies, but if you prefer a drier, cakier blondie, I'd recommend baking for 35 minutes. For a fudgier blondie, stick to baking them for 25-30 minutes and no longer. They'll continue to cook as they cool, so you won't have to worry about raw batter in the middle (not that I'd care, I'd still stuff my face with them anyway).
Can I Make Vegan Chickpea Blondies Nut-Free?
Of course, simply swap the Almond Butter our for Sunflower Butter or Tahini. Your Vegan Chickpea Blondies may taste slightly different, but they'll still be fucking delicious regardless.
And there you have it – delicious Vegan Chickpea Blondies with Dark Chocolate Chunks, ready to be devoured. I cannot wait for what the Chickpea gods come up with next. Cars made out of chickpeas? BABIES made out of chickpeas? ABSOLUTE WILD TIMES WE LIVE IN. Anyway, scroll down for the full recipe and seeya next time! 🙂 (Pssssst: don't forget to follow me on Instagram!)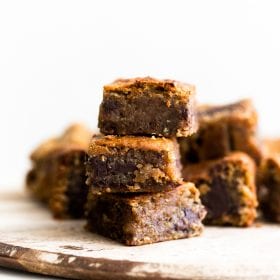 Vegan Chickpea Blondies
Healthy and delicious chewy Vegan Chickpea Blondies with Chocolate Chunks. You won't even know that they're made with Garbanzo Beans! MAD STUFF.
Ingredients
1

tin

Chickpeas

drained and rinsed (420g/14oz Tin)

1/2

cup

Almond Butter

or Sunflower Butter if Nut-Free (135g)

1/4

cup

Maple Syrup

65g

1

cup

Coconut Sugar

200g

1/3

cup

Gluten Free Oat Flour

50g

1/4

tsp

Salt

1 1/2

tsp

Vanilla Extract

1

tsp

Baking Powder

1/2

tsp

Baking Soda

1

cup

vegan chocolate chips
Instructions
Preheat oven to 180c/350F. Line a 8x8 inch baking pan with non-stick parchment and set aside.

In a food processor, combine all ingredients except for the Dark Chocolate Chunk.

Process until smooth - you may need to use a spatula to push the ingredients down once or twice.

Once smooth, fold in Dark Chocolate Chunks.

Transfer the batter into the prepared baking pan and bake for 25-30 minutes for a fudgey Blondie, or 35 minutes for a cakier blondie.

Remove blondies from oven and leave to cool thoroughly before cutting.

Leftovers will store in the freezer in an airtight box for up to 1 month.
Notes
The batter will very thick. Dampen your spatula or hands with water to press the dough out evenly.
*You can make your own Gluten Free Oat Flour by grinding up GF OATS in a food processor until it turns into a flour. Alternatively, use a GF Flour Blend or Brown Rice Flour.
TO STORE:

Leftovers can be stored in the refrigerator, covered, for up to 2 weeks.
TO FREEZE: P

lace leftovers in a ziplock bag and store them in the freezer for up to 6 months.
Nutrition
Serving:
1
serving
Calories:
203
kcal
Carbohydrates:
27
g
Protein:
3
g
Fat:
11
g
Saturated Fat:
3
g
Sodium:
157
mg
Potassium:
94
mg
Fiber:
2
g
Sugar:
20
g
Vitamin A:
1
IU
Vitamin C:
1
mg
Calcium:
83
mg
Iron:
1
mg