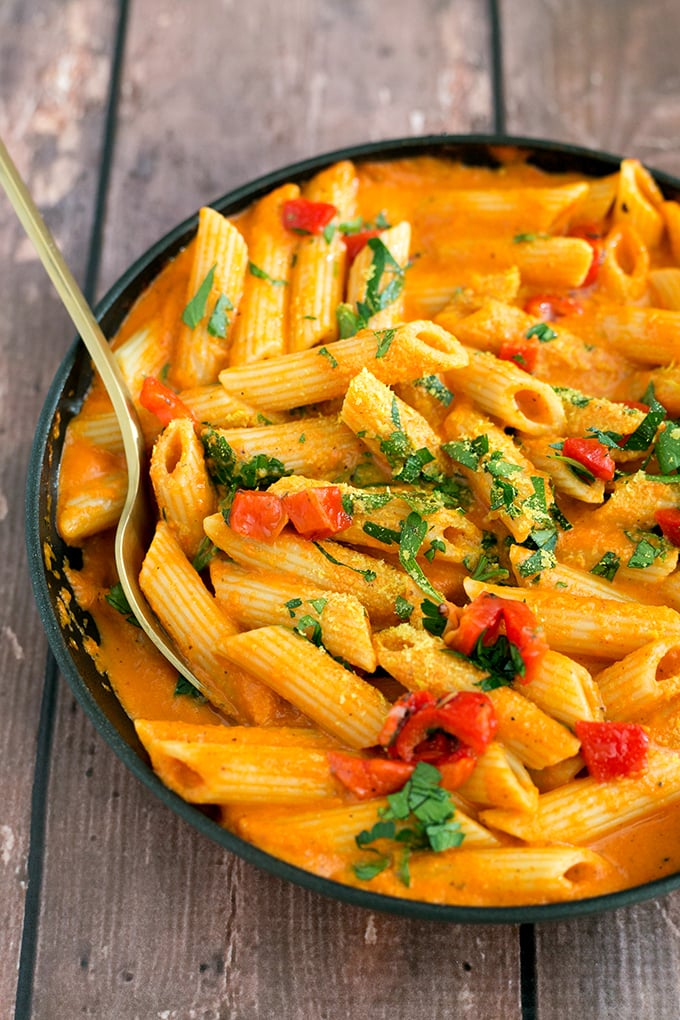 Hello everyone! In case you have been wondering, which you probably haven't, I haven't jumped off a roof or drowned myself in a bathtub – I've just spent the entire week shifting house, thus the lack of food pornography. But hey! I'm back with a brand new recipe – Vegan Roasted Red Pepper Pasta. So yeah, not dead, which may disappoint the haters on here, but hey, let's stop with that and start talking about todays Roasted Red Pepper Pasta recipe.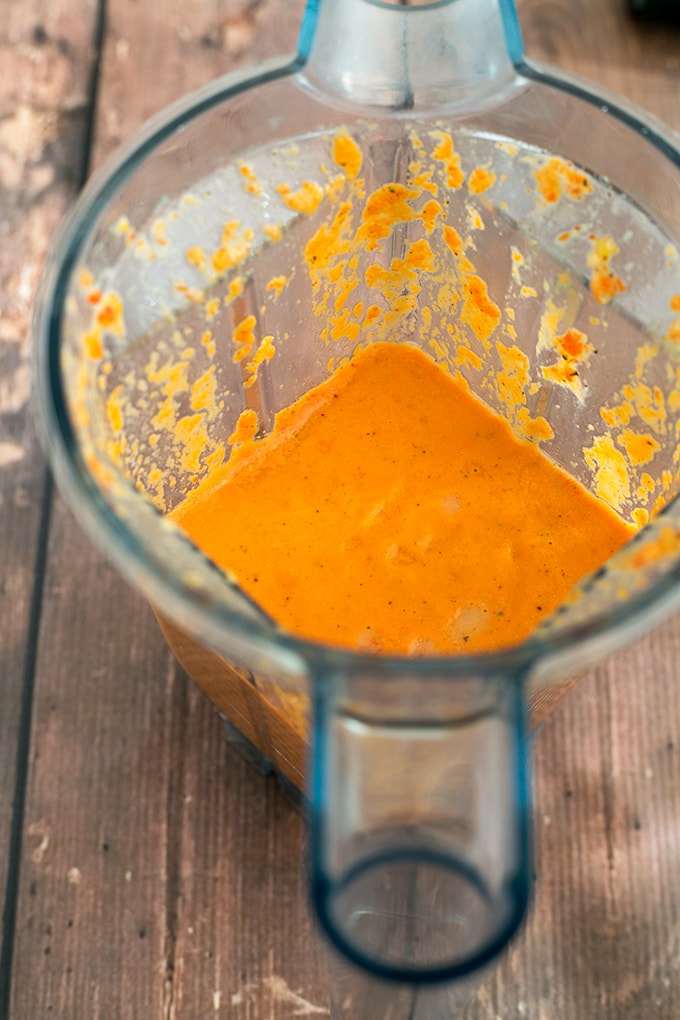 This recipe is super simple, and easily made in under 20 minutes. All you have to do is make a Roasted Red Pepper Sauce whilst your pasta of choice is cooking (this time I used Penne, because it was all I had and I hate walking to the supermarket. The Roasted Red Pepper Pasta Sauce starts off with Olive Oil, 2 lightly sauteed shallots and a clove of minced garlic. Once dat sh*t sorted, pop it into a blender with Macadamia Milk, Roasted Red Peppers, Nutritional Yeast, Tomato Passata, Smoked Paprika and Chilli Flakes.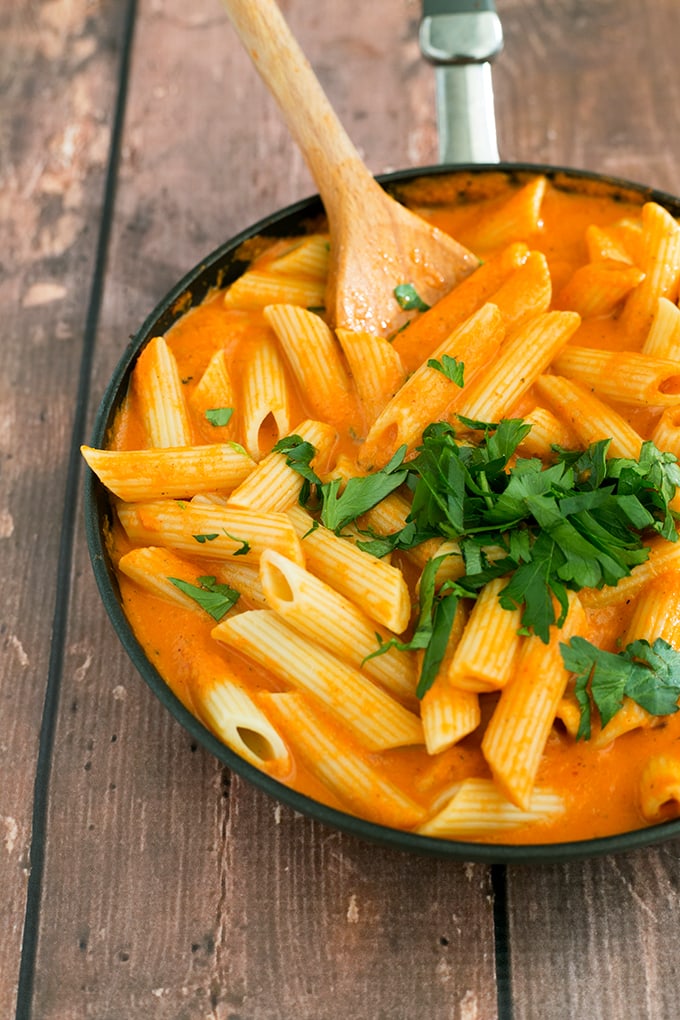 Once you blend all those little fukkers together into a smooth creamy sauce, all you have to do is heat it up in a saucepan till it bubbles and add your ALMOST al dente cooked pasta to it. Cook, stirring for a while to let the pasta soak some of the liquid in the Roasted Red Pepper Sauce up to thicken, season with salt, pepper and chopped flat leaf parsley, and voila, dinner in under 20. Oh, sprinkle some extra Nutritional Yeast on top before tucking in too, if you're one of them Nooch freaks. Vitamin B12, ya'll.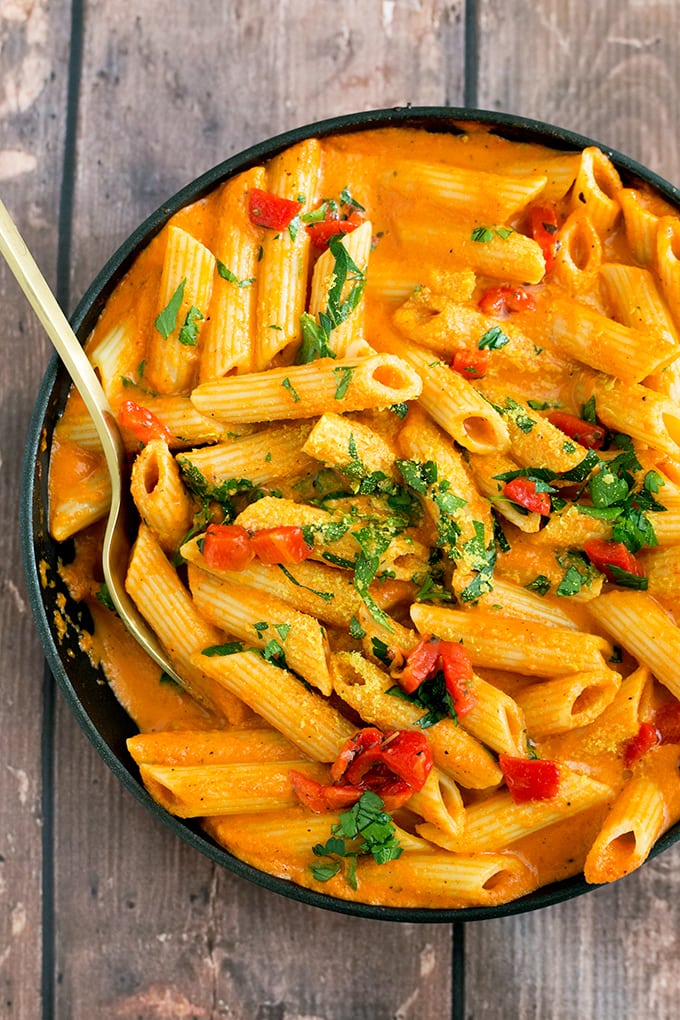 Now, I use store bought, already marinated Roasted Red Peppers, but feel free to char your own peppers at home if you want. If you don't already understand the kind of person I am, let me tell you now. I am lazy, pathetic excuse of a human being and I don't have time to be roasting peppers all day long – I'm sure most of you don't have the leisure of spending all day roasting stuff in the oven too, so feel free to use store bought. I also use Macamadia Nut Milk unlike most other recipes that call for Almond Milk, because it makes it that extra bit creamier. Who doesn't love creamy stuff eh?
Scroll down for the full recipe for my Vegan Roasted Red Pepper Pasta – it's easily made Gluten Free if you use GF Pasta, Low In Fat, Simple, Easy To Make and tastes pretty fu*king good. Bye!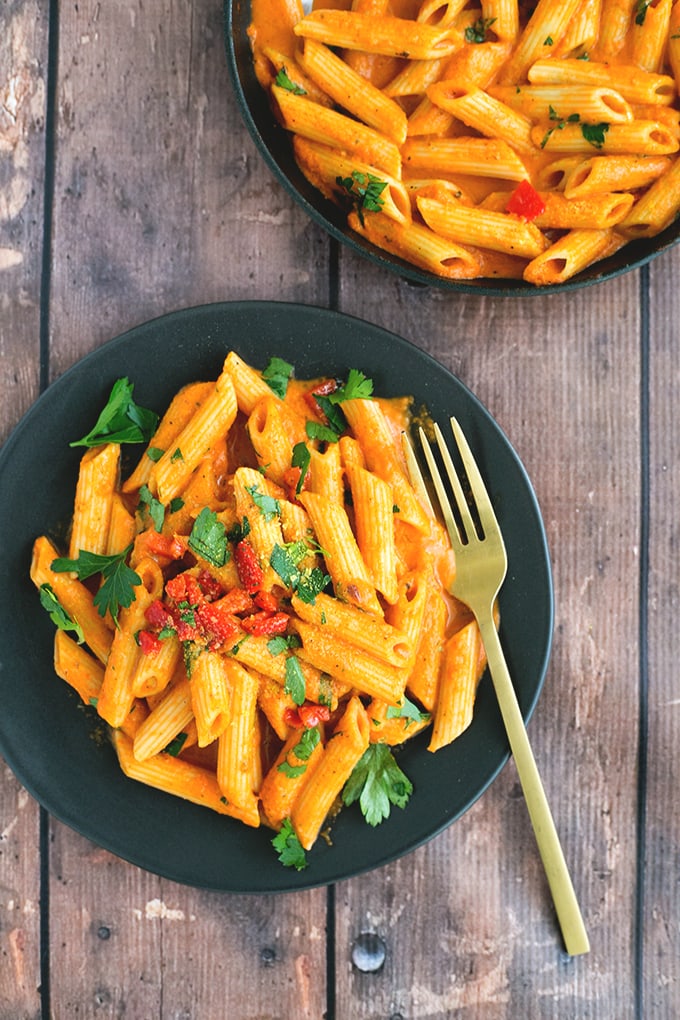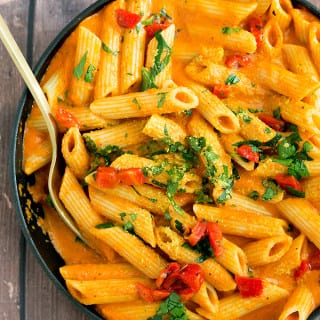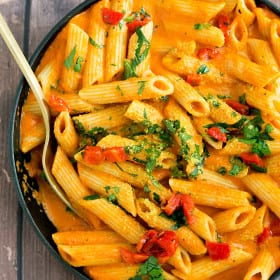 Vegan Roasted Red Pepper Pasta
Vegan Roasted Red Pepper Pasta - a delicious, simple and easy to make Roasted Red Pepper Sauce made in a blender and heated up with cooked Penne Pasta.
Ingredients
1

cup

Penne Pasta

Dry

1

tablespoon

Olive Oil

2

small

Shallots

diced

1

clove

Garlic

minced

3/4

cup

Roasted Red Peppers

chopped

2

tablespoons

Nutritional Yeast

3/4

cup

Macadamia Nut Milk

3

tablespoons

Tomato sauce

1

teaspoon

Smoked Paprika

1/2

teaspoon

Red Chilli Flakes

1

teaspoon

Salt

to taste

1/4

cup

Parsley

chopped Flat Leaf
Instructions
Bring a large pot of water to a boil, and then season liberally with salt before adding dry Pasta to the pot. Once you add pasta in, stir and let cook according to package instructions (8-10 minutes).

You want to cook your pasta until it is almost al dente (firm to the bite), as you will be heating it up and cooking it with the sauce for a few minutes after which will finish the pasta cooking process.

Whilst your pasta is cooking, in a saucepan, heat up Olive Oil over low to medium heat and then sautee diced Shallot and minced Garlic. Cook for 5 minutes, or till lightly golden.

Transfer cooked Shallot and Garlic into a blender and add Roasted Red Peppers, Nutritional Yeast, Macadamia Nut Milk, Tomato Passata and Red Chilli Flakes.

Blend on high until almost completely smooth.

Pour sauce back into saucepan and bring to a simmer. Taste and season with Salt and Pepper.

Drain almost cooked Pasta well and add pasta to simmering Red Pepper sauce. Stir, and cook pasta and sauce together for a minute or two or until the pasta has absorbed some of the sauce and thickened it up.

Turn heat off and add 1/4 cup chopped Flat Leaf Parsley to saucepan. Mix well and dish out.

Garnish with more Flat Leaf Parsley and Nutritional Yeast.
Nutrition
Serving:
1
serving
Calories:
100
kcal
Carbohydrates:
13
g
Protein:
4
g
Fat:
4
g
Saturated Fat:
1
g
Sodium:
1008
mg
Potassium:
242
mg
Fiber:
3
g
Sugar:
2
g
Vitamin A:
822
IU
Vitamin C:
19
mg
Calcium:
27
mg
Iron:
1
mg