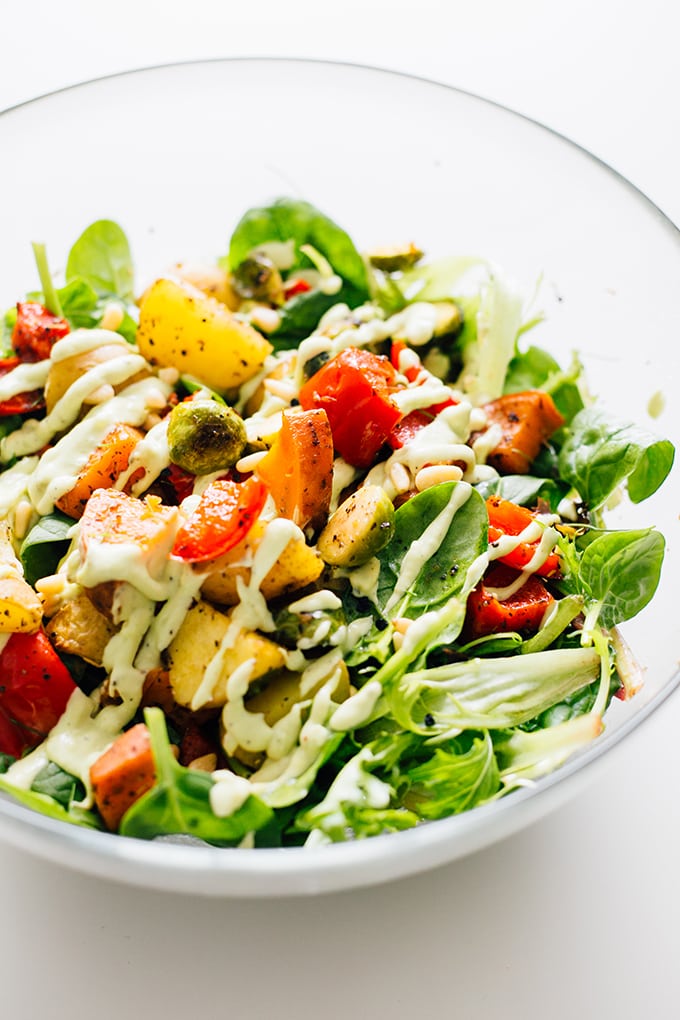 Hi everyone, long time no see. I've been a bit lazy with the blogging, shame on me. My only excuse is, I spend most of my time in bed feeling sorry for myself, and by the time I'm done with that, the sun has set along with my motivation to cook or do anything in general. But hey, good news, I woke up semi depression free today and am here with a yummy Vegan Roasted Vegetable Salad with Avocado Dressing.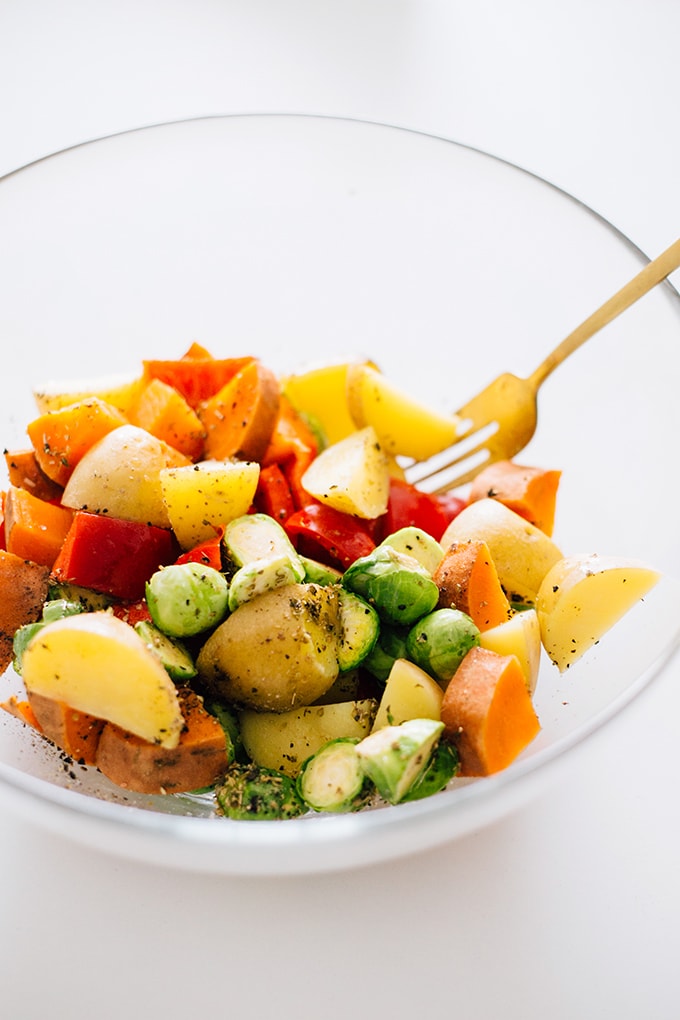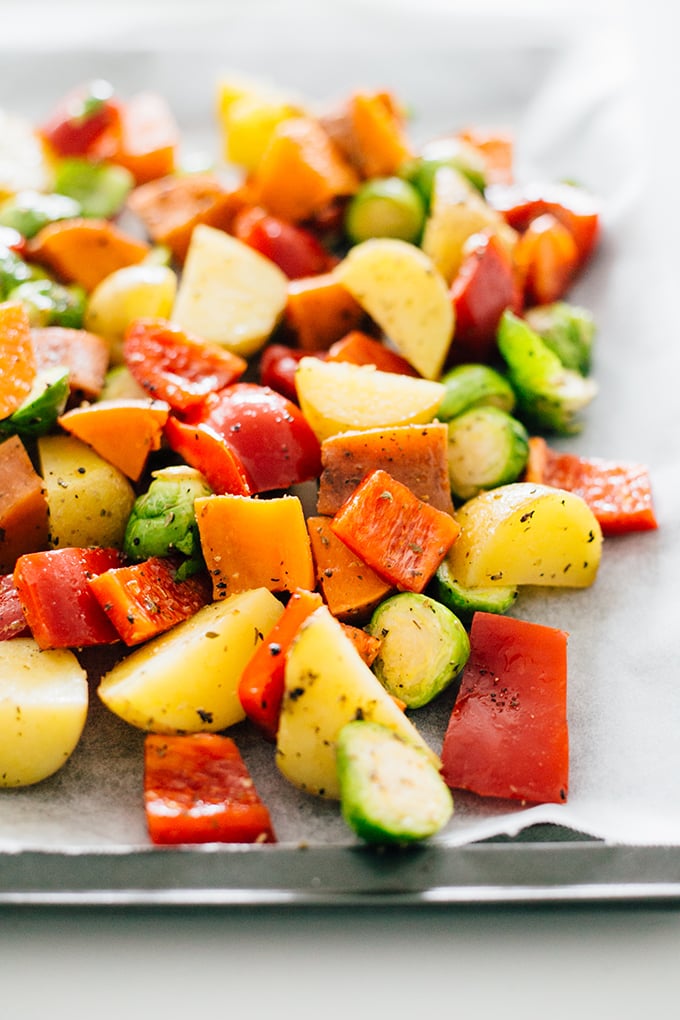 I start this Vegan Roasted Vegetable Salad out with a bunch of inexpensive (I am a cheap ass), easily available and hearty ingredients. I first steam some Salad Potatoes and Sweet Potatoes till almost fork tender, and then combine them with chopped Red Bell Pepper, halved Baby Brussels Sprouts, Olive Oil, Dried Oregano and a generous amount of Salt and Black Pepper. Can't get any fukking simpler than that. Once the veggies are bathed in their dressing, into a preheated oven they go to roast till caramelized and golden.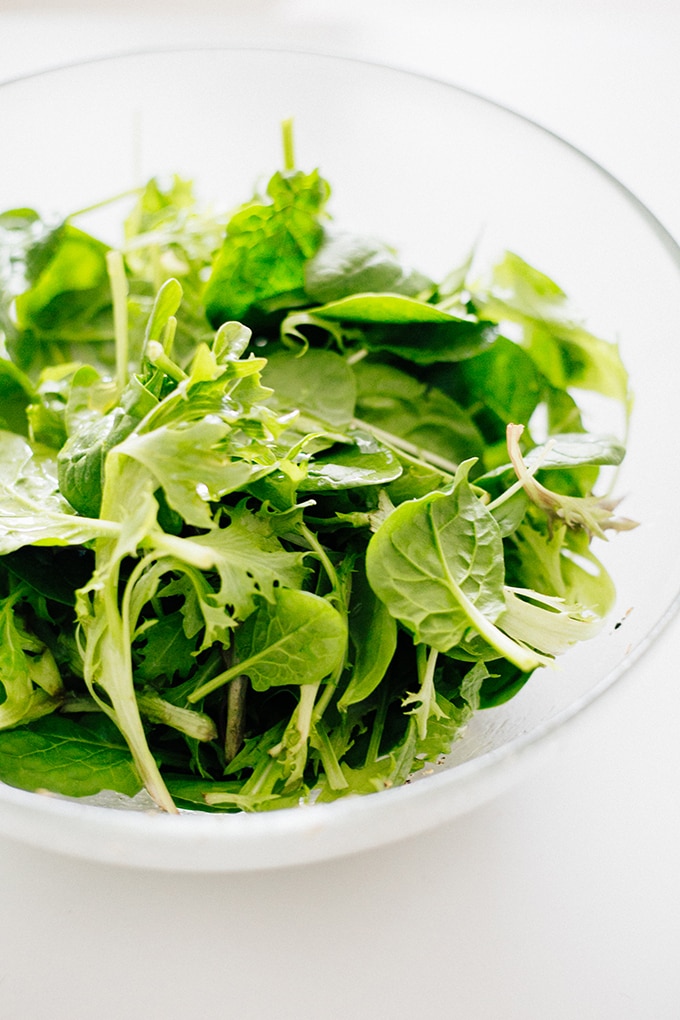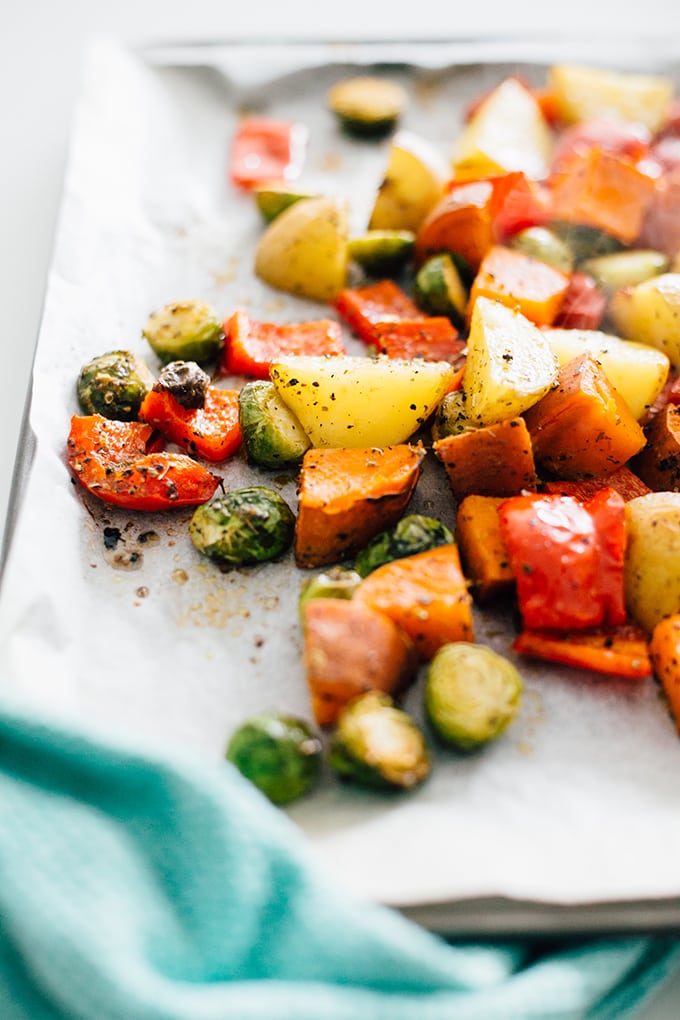 My Vegan Roasted Vegetable Salad sits on a bed of mixed Salad Greens that are sprinkled with some Olive Oil, Salt and Red Wine Vinegar. Why? I'm not sure, it just sounds kind of classy and adds a little extra flavor to the whole dish. I like classy things.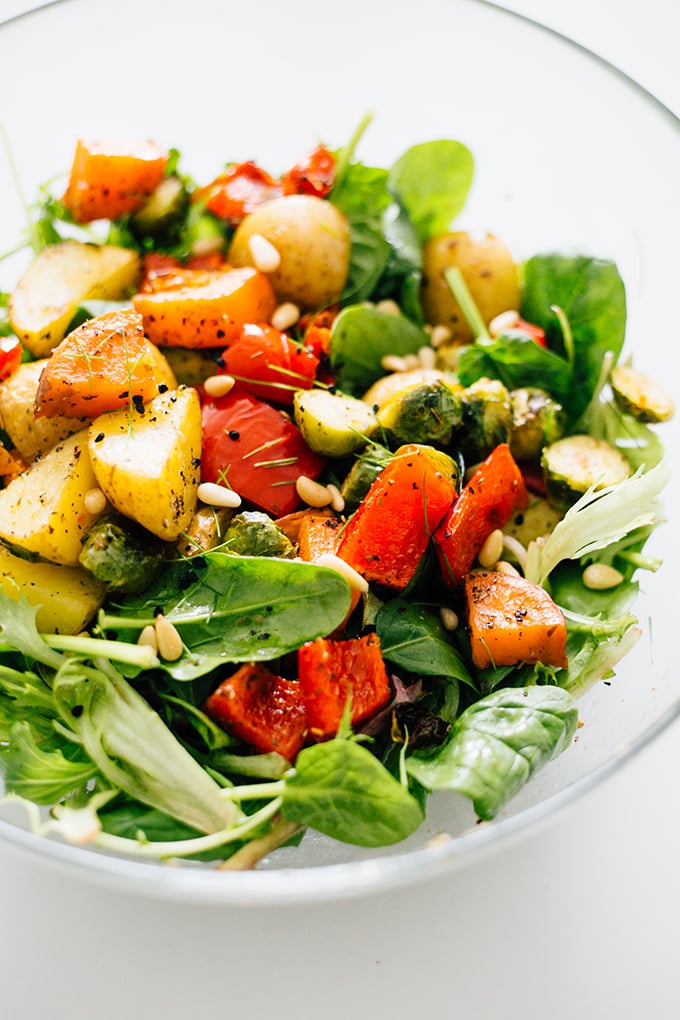 Alright. So your Vegan Roasted Vegetables are done. What oh what do we do now? Well, whilst the veggies are warm, we're going to tumble them into their bed of salad greens. Residual heat will wilt the greens ever so slightly which is what we want. SCIENCE MAN SCIENCE. Oh, chuck in some Pine Nuts too. They're classy.
Now the crowning glory on this Vegan Roasted Vegetable Salad – the creamy Avocado Dressing. Into a little blender/nutribullet or whatever the fuk you have goes half an Avocado, Rice Vinegar, Garlic, Olive Oil, Salt, Pepper and Coconut Water. Why Coconut Water? BECAUSE CLASS. Blend everything up, and you have a delicious, creamy Avocado Dressing that dresses the Roasted Vegetable Salad perfectly. I used a piping bag to drizzle the dressing on. Why? BECAUSE CLASS.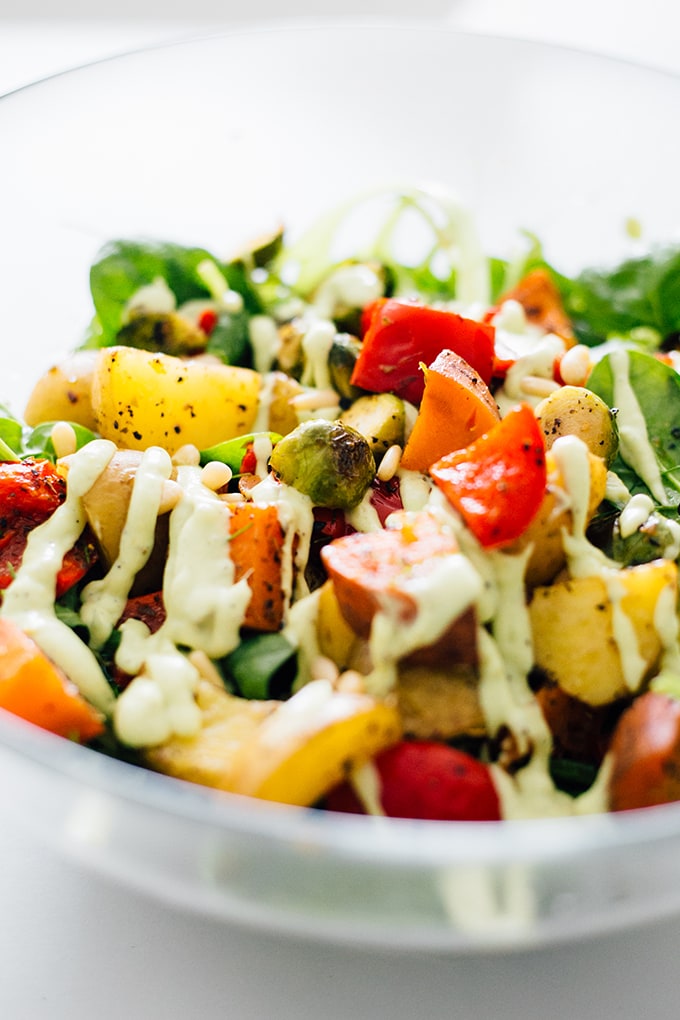 If you're a classy cat who wants to make your very own classy Vegan Roasted Vegetable Salad with Avocado Dressing (AKA OVEN COOKED VEGETABLES AND SALAD WITH SAUCE), scroll down and grab the full recipe. Perhaps you'll come across an ad or two, don't let it annoy you, girl's gotta eat man. Cheers x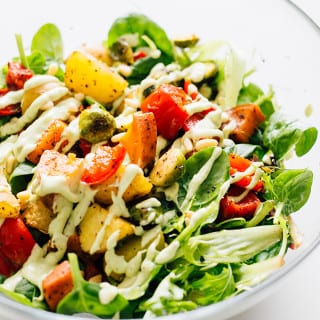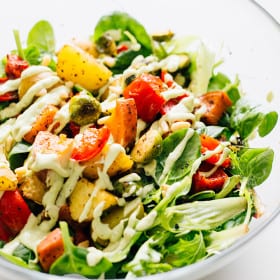 Roast Vegetable Salad
Dressed Greens with Roasted Vegetables (Sweet Potato, Potato, Red Bell Pepper and Brussels Sprouts) with a creamy Avocado Dressing.
Ingredients
2

small

Potatoes

cubed

1

medium

Sweet Potato

cubed

1

large

Red Bell Pepper

chopped

1

cup

Brussels Sprouts

halved

3

tablespoons

Olive Oil

1

tablespoon

Oregano

Dried

1

teaspoon

salt

4

cups

Mixed Salad Greens

1

tablespoon

Red Wine Vinegar

1

tablespoon

Olive Oil

1/4

cup

Pine Nuts

1

teaspoon

Salt
For the dressing
1/2

large

Avocado

3

tablespoons

Olive Oil

2

teaspoons

Rice Vinegar

1

clove

Garlic

5

tablespoons

Coconut Water

1

teaspoon

Salt

to taste
Instructions
Preheat oven to 180 degrees Celcius. Steam your Potato and Sweet Potato Cubes until almost fork tender.

Once steamed, drain potatoes and place into a large mixing bowl.

Add chopped Red Bell Pepper and halved Baby Brussels Sprouts to the bowl, along with Olive Oil, Dried Oregano and Salt/Pepper. Toss to combine.

Place vegetables on a lined baking sheet and roast in oven for 20-25 minutes or until caramelized and tender.

Whilst veggies are roasting, combine Salad Greens with Red Wine Vinegar, Olive Oil, Pine Nuts, Salt and Pepper in a salad bowl. Toss to combine. Set aside.

To make dressing, combine Avocado, Olive Oil, Rice Vinegar, Garlic, Coconut Water, Salt and Pepper in a blender and blend till smooth. You want the dressing to be thick and not too watery or runny. If it is too thick, add a little more Coconut Water and blend.

Once the Roasted Vegetables are cooked, combine with Mixed Greens and drizzle with Avocado Dressing.
Nutrition
Serving:
1
serving
Calories:
280
kcal
Carbohydrates:
23
g
Protein:
5
g
Fat:
20
g
Saturated Fat:
2
g
Sodium:
1787
mg
Potassium:
701
mg
Fiber:
4
g
Sugar:
4
g
Vitamin A:
1908
IU
Vitamin C:
98
mg
Calcium:
36
mg
Iron:
2
mg
Like this classy ass Salad? Don't forget to follow me on Instagram, Pinterest and Facebook!