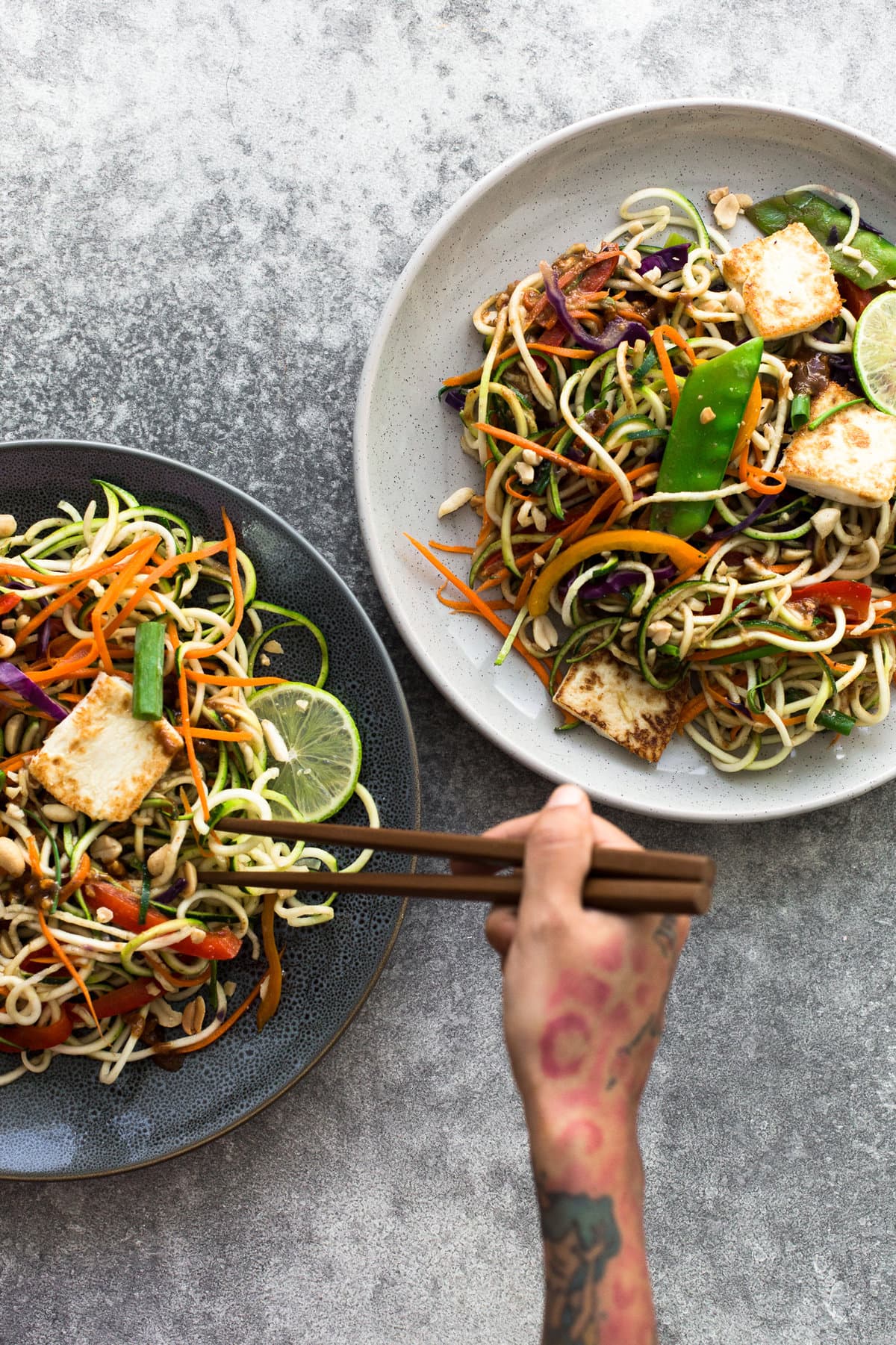 In case anyone still reads this blog, I'm back with another recipe! Amidst the stresses of daily life, I've found myself totally falling off the blogging bandwagon. Posts have been sporadic, to say the least. Life gets hectic, and motivation levels seem to drop, but in a bid to jumpstart the whole blogging thing, I'm back with a recipe for my favourite Asian Rainbow Zucchini Noodles with Fried Tofu. I've been eating a heap of Zucchini Noodles/ZOODLES recently, because I'm on one of my "let's not try to eat too many carbs during meals, so that I can eat cake after" diets. A success so far, I must say!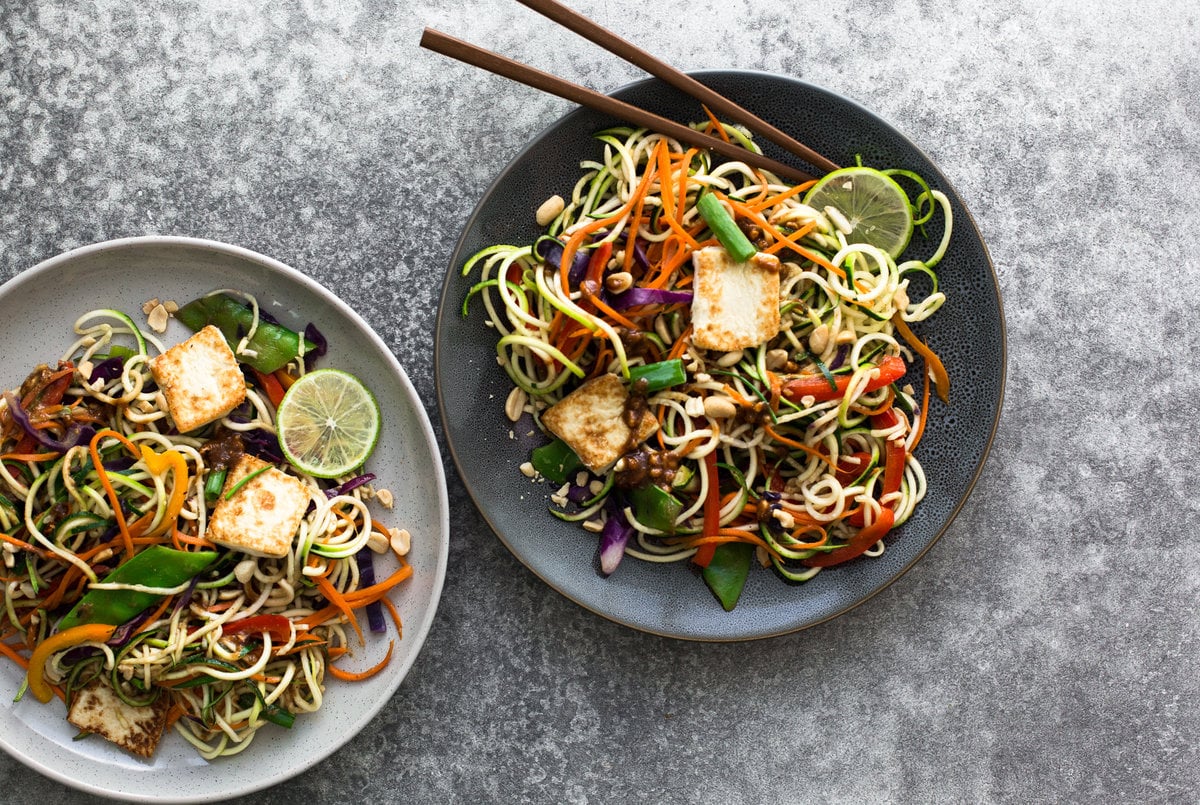 These Asian Rainbow Zucchini Noodles with Fried Tofu are low in carbohydrates, loaded with Vitamins and Minerals, and a breeze to prepare. You probably already have all the ingredients you need in the pantry (I know I did), so all you have to do is pop to the shops and purchase some veggies, then you're all set to make this delicious Zoodle dish that comes together in under 25 minutes.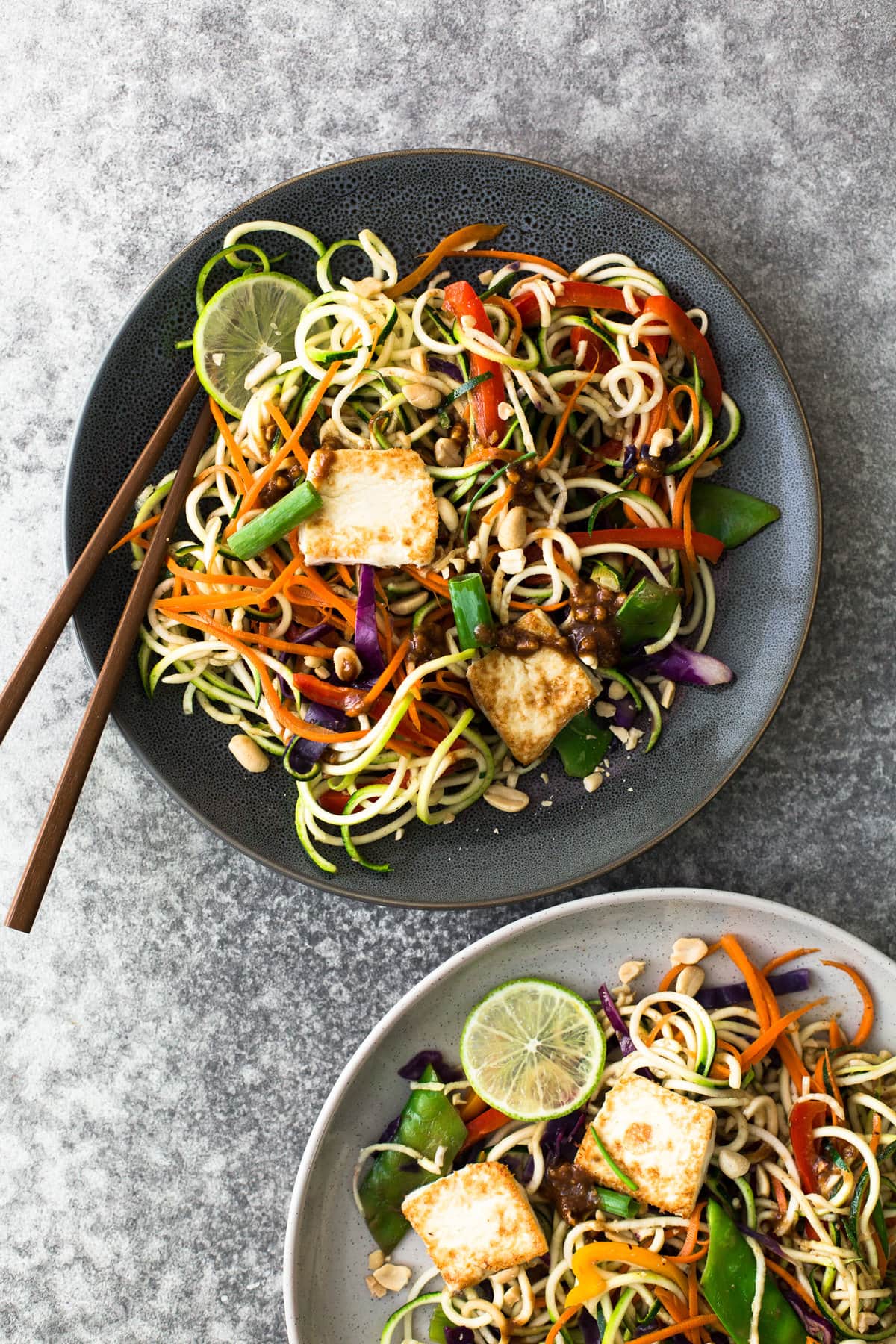 I love adding crisped up Tofu to any Zucchini Noodle recipe as it adds a good hunk of protein to an otherwise veggie-based dish. To crisp your Tofu up, you simply pan fry cubes of it in a little vegetable oil for a few minutes. I know many people use the oven for this, but I'm all about conserving electricity due to my dwindling monthly income, so the stove is my best bet if I don't want to get evicted!
FREE EBOOK SERIES! 5 SECRETS FOR FOOLPROOF VEGAN DESERTS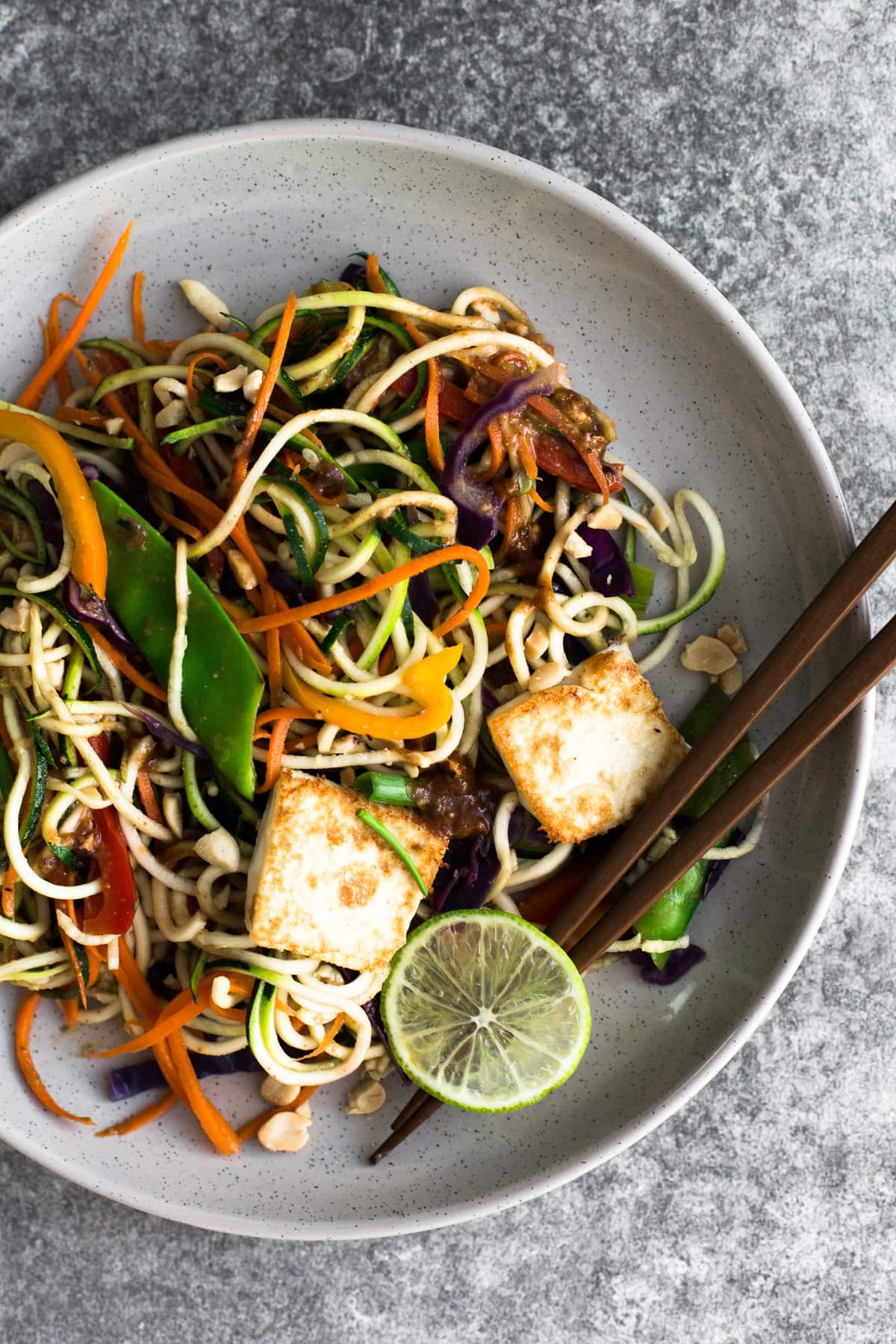 The vegetables I use for this dish are of course, the main star – Zucchini, and a bunch of other crisp and fresh veggies including Red and Yellow Bell Pepper, Red Cabbage, Julienned Carrot, Green Onion and some cute ass little Snow Peas. For the dressing which ties everything together, I simply made a delicious concoction of Almond Butter, Soy Sauce, Garlic, Ginger, Sriracha Agave Nectar, Sesame Oil and Lime Juice. Can't quite go wrong with these motherf*ckers, in my opinion. Last but not least, I garnish with some chopped Roasted Peanuts, just for a little crunch. Nom nom nom.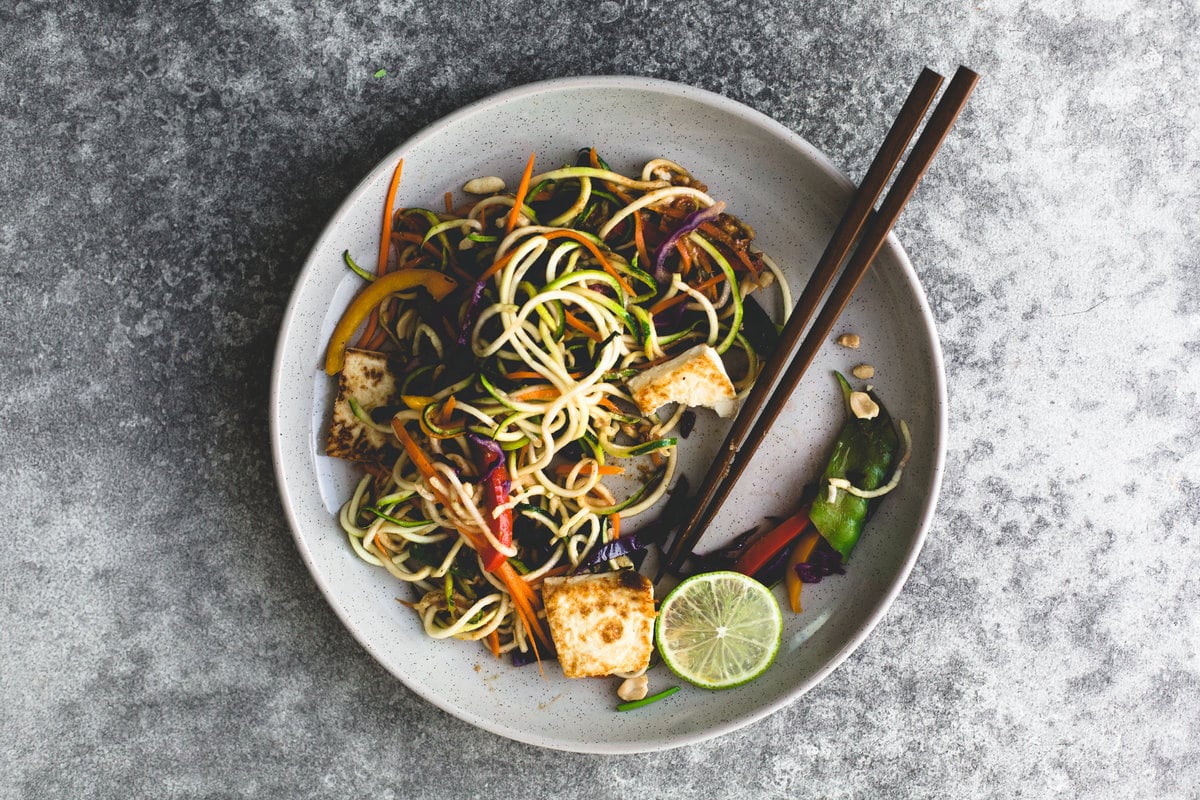 So my dudes, if you're looking for a delicious, light and filling meal, look no further than these Asian Rainbow Zucchini Noodles with Crispy Fried Tofu and Almond Butter Dressing. Eat this and enjoy some cake after. Life's all about that fu*king balance, I say. Scroll down to grab the full recipe, and don't forget to tag me on Instagram of you make any of my recipes!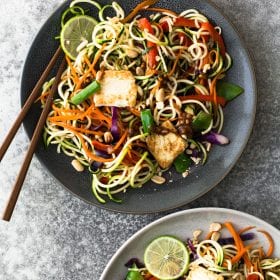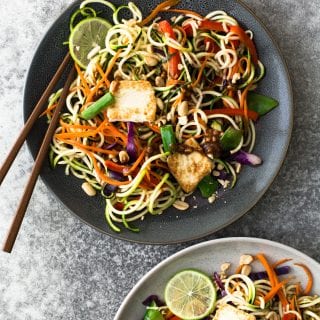 Asian Zucchini Noodles
Delicious, healthy and light Asian Rainbow Zucchini Noodles with Crispy Tofu and an Almond Butter Dressing. Vegan, Gluten Free, Ready in Under 25 minutes.
Ingredients
6

oz

Firm Tofu

180g

1

tablespoon

Vegetable Oil

3

Medium

zucchini

spiralized

1/2

Red Bell Pepper

julienned

1/2

Yellow Bell Pepper

julienned

1

cup

Snowpeas

trimmed

3

Green Onions

chopped into small pieces

1

cup

Julienned Carrots

1

cup

chopped Red Cabbage
Almond Butter Dressing:
1/4

cup + 1 Tablespoon

Almond Butter

1

teaspoon

Minced Garlic

1

teaspoon

Minced Ginger

1

teaspoon

Sriracha

1 1/2

tablespoons

Agave Nectar

2 1/2

tablespoons

Soy Sauce

1

tablespoon

Lime Juice

1

teaspoon

Sesame Oil

1/4

cup

Hot Water

1

teaspoon

Red Pepper Flakes

1

tablespoon

Chopped Peanut

for garnish

1

tablespoon

cilantro

chopped, for garnish
Instructions
First, prepare tofu. Cut tofu into cubes or squares. Heat a frying pan with 1 tablespoon of Vegetable Oil and pan fry tofu on all sides until crisp and golden. Set aside.

Prepare dressing by whisking all ingredients together.

In a large pan, combine your julienned Red and Yellow Bell Pepper, Green Onion, Carrot, Red Cabbage and Snowpeas. Heat through and fry for a few minutes until tender.

Add Zucchini Noodles to the pan and toss for 1 minute, or until heated through. You don't want to over cook this as the Zucchini Noodles will start to wilt and release too much water. You simply want to heat the veggies up.

Transfer cooked Veggies to a large bowl, and add in your crispy Tofu cubes. Pour dressing over your veggie mixture, and toss to disperse.

Serve noodles topped with Chopped Peanut and Coriander/Cilantro.

These noodles are best served immediately. If you want to store for later, I recommend keeping the veggies and the dressing seperate, and only combining before eating. This is to ensure the veggies don't get watery as they sit in the dressing - no one likes soggy noodles!
Nutrition
Serving:
1
serving
Calories:
258
kcal
Carbohydrates:
19
g
Protein:
11
g
Fat:
17
g
Saturated Fat:
4
g
Sodium:
681
mg
Potassium:
650
mg
Fiber:
5
g
Sugar:
11
g
Vitamin A:
1038
IU
Vitamin C:
76
mg
Calcium:
155
mg
Iron:
2
mg