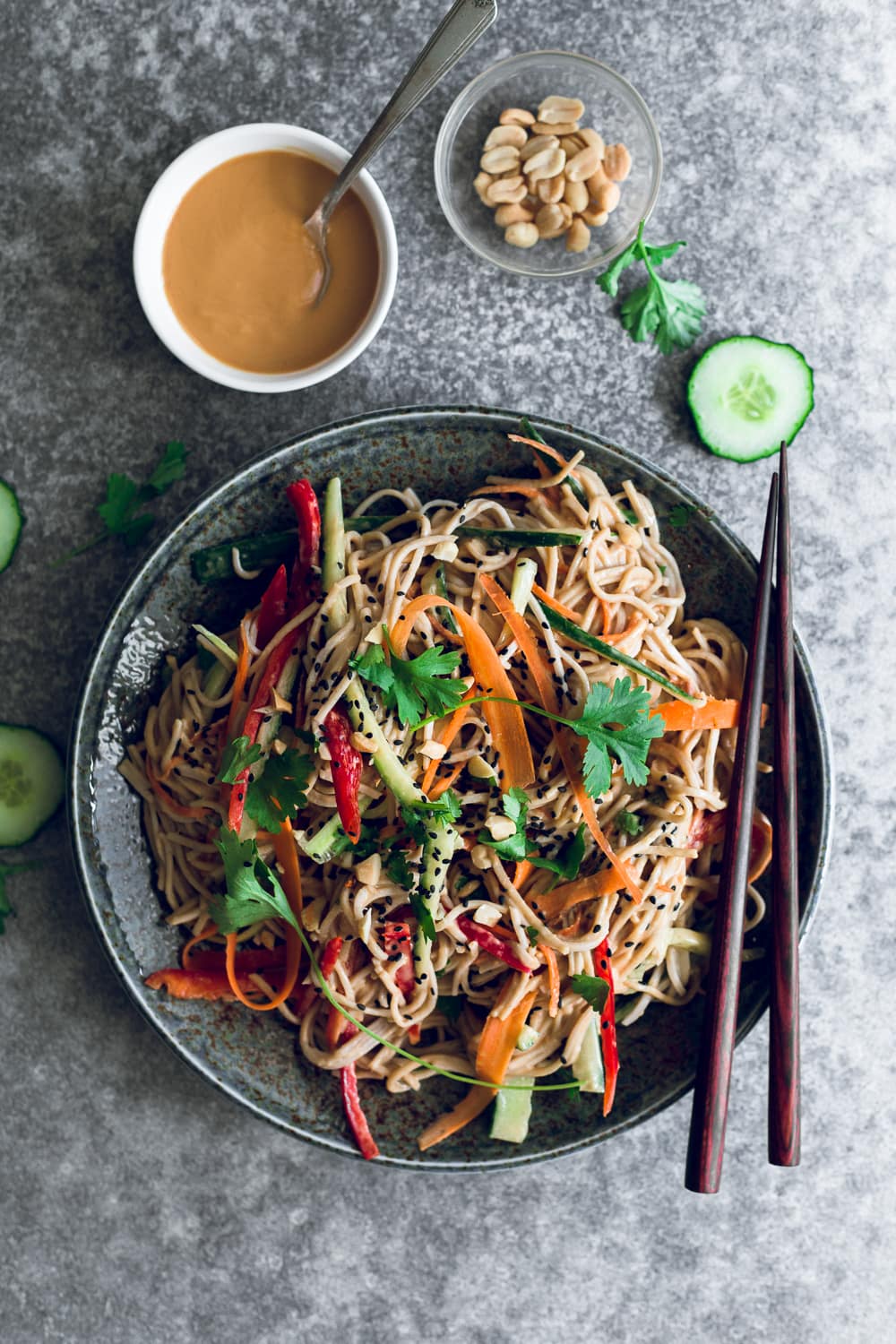 Summer has been pretty crazy in Australia, so all I've really been wanting to shove down my fat gob are dishes that don't require me to stand in front of a stove for too long and can be kept in the fridge to eat over a couple of days because fu*ck cooking too often in this heat! Today I present to you one of my Summer time favourites, my Healthy Peanut Soba Noodle Salad. Yeah, I know what you're thinking – Soba Noodles need to be boiled. Well, yeah, BUT they only take under 5 minutes to cook, and 5 minutes of cooking is really nothing, so stop complaining!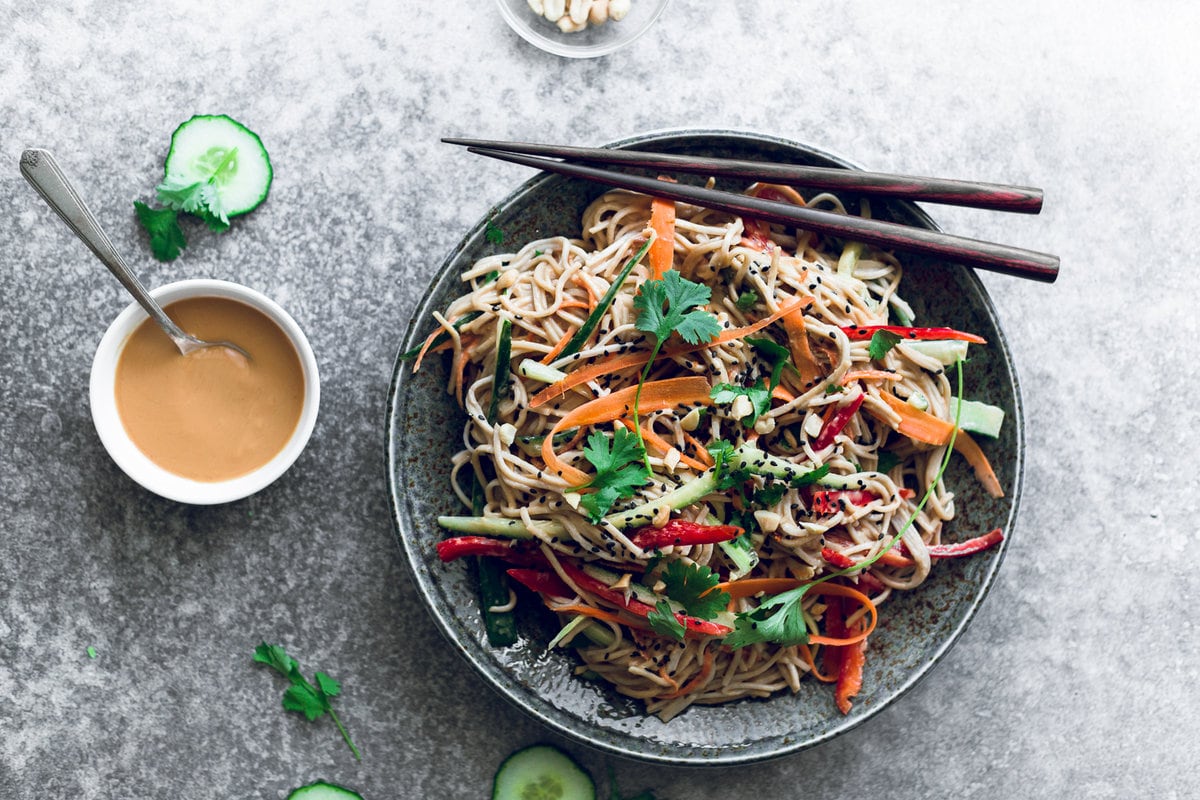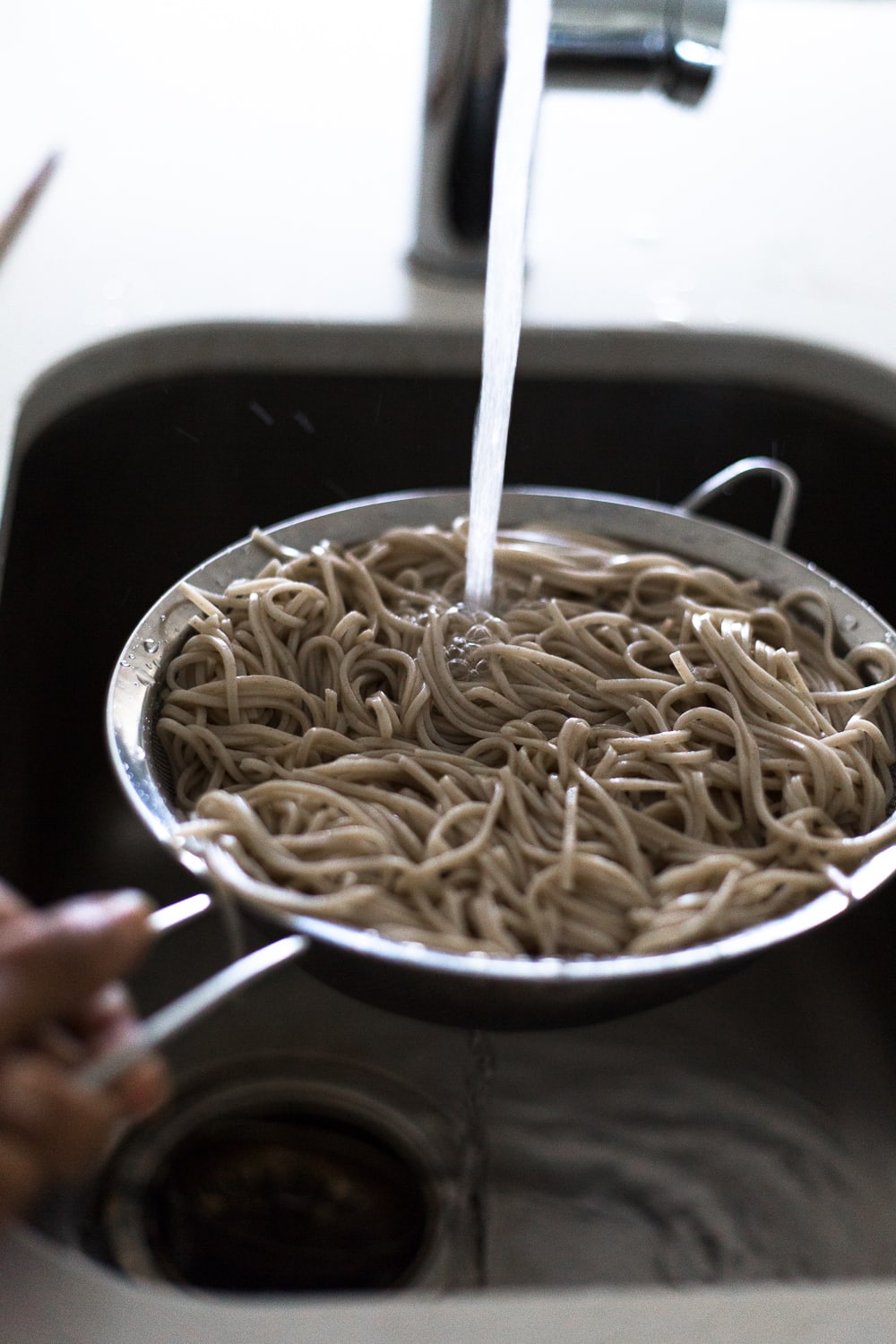 I have another Soba Noodle Salad recipe on the blog if you're interested (or peanut avoidant), but today's recipe for this Healthy Peanut Soba Noodle Salad contains a mixture of fresh, crisp veggies, Soba Noodles and a delicious Peanut Dressing. Now, a little thing about Peanut Butter – I frickin hate how it is overused in "Asian" inspired dishes all over the internet. For example, why the fu*ck do people use Peanut Butter in Pad Thai recipes? PEANUT BUTTER BELONGS NO WHERE NEAR PAD THAI! I COULD WRITE A 5000 WORD ESSAY ABOUT HOW LIVID I GET WHEN I READ RECIPES FOR PAD THAI THAT CALL FOR PEANUT BUTTER. PSA: NO PEANUT BUTTER IN PAD THAI. Take that PB and shove it up your ass. However, Peanut Butter in this Soba Noodle recipe is acceptable.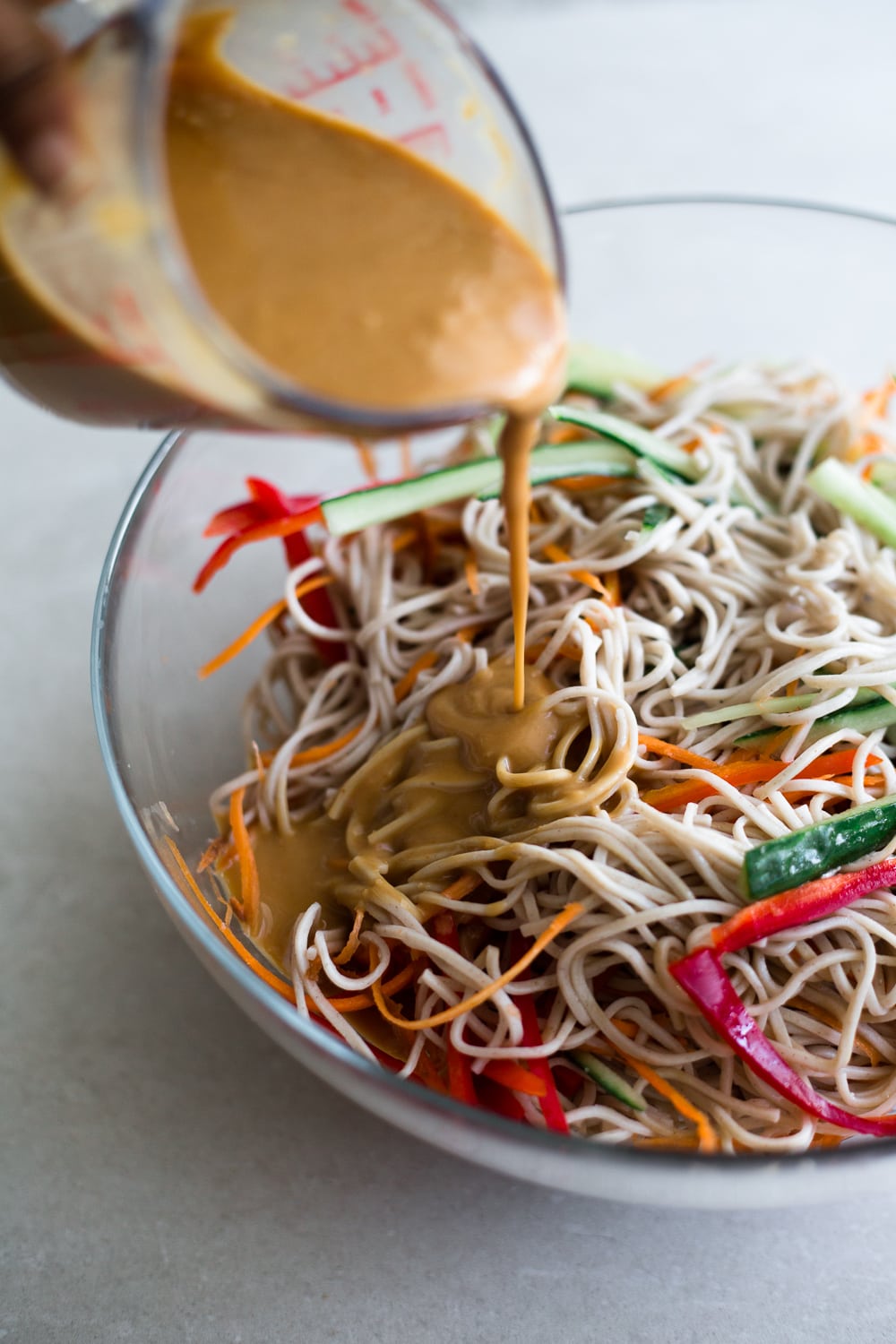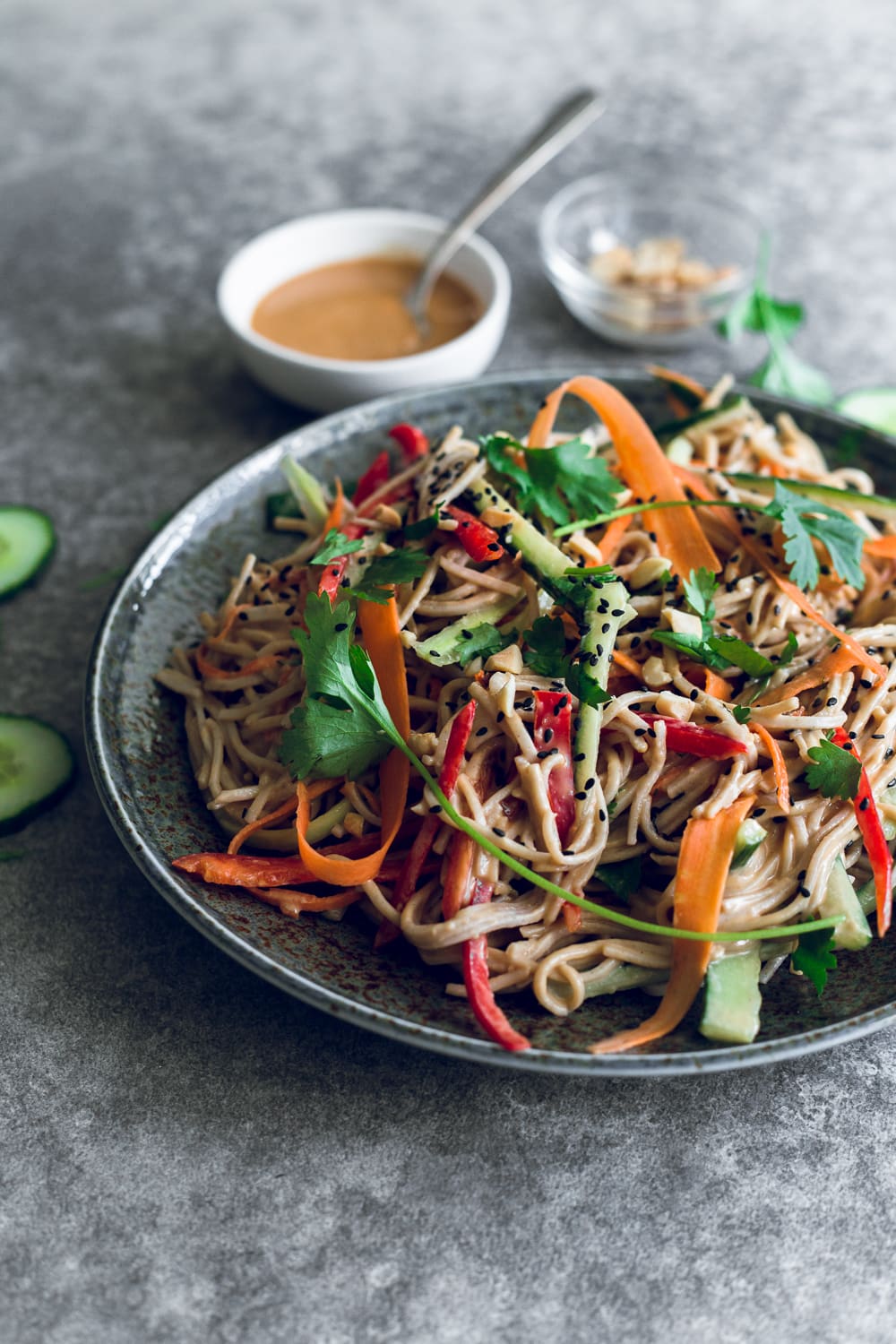 This Peanut Soba Noodle Salad is super easy to make – you just cook and drain some Soba Noodles, toss with julienned Carrot, Cucumber, Red Bell Pepper and Cilantro, and then dress with a delicious Peanut Dressing which contains some Peanut Butter, fresh Ginger, Garlic, Maple Syrup, Soy Sauce, Sesame Oil, Rice Vinegar and Warm Water. Last but not least, adorn with some more fresh Cilantro (just leave it out if you don't like it, okay?) and toasted Sesame Seeds. Et Voila! Peanut Soba Noodle Salad!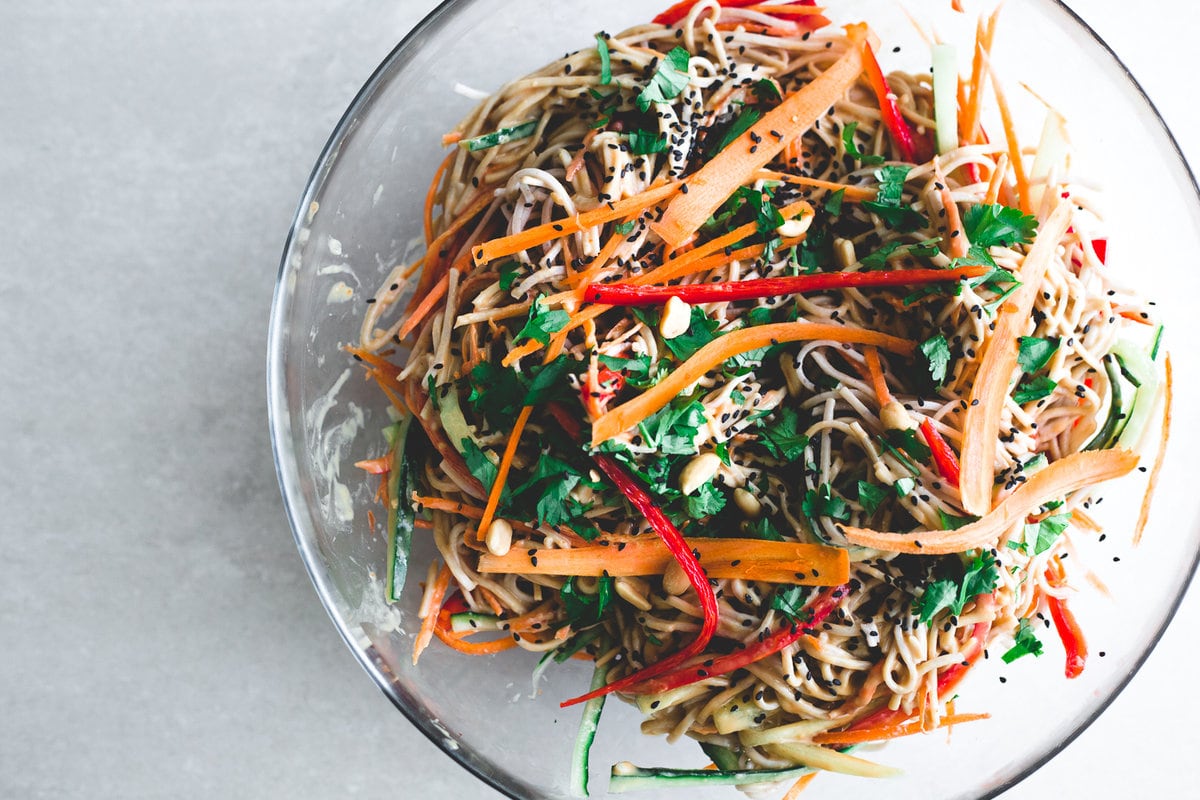 Scroll down to grab the full recipe for my Healthy Peanut Soba Noodle Salad, and tag me on Instagram if you make it! Follow me too. Get your parents and grandparents to do that too whilst you're at it. I need more followers because I'm broke as fu*ck these days. Thank you! See you next time!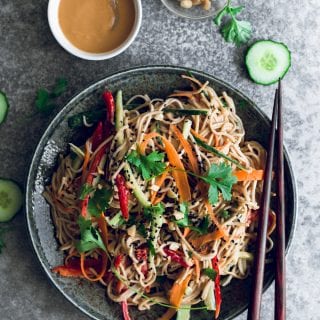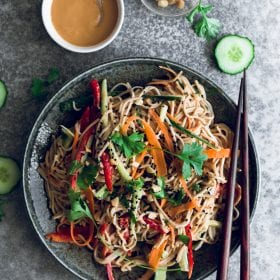 Peanut Soba Noodles Salad
A delicious and healthy Vegan Peanut Soba Noodle Salad Recipe. Soba Noodles and Colorful Veggies dressed in an easy and delicious Peanut Sauce.
Ingredients
8 oz

packet

Soba Noodles

240 grams

2

large

Carrots

Julienned (with a vegetable peeler or spiralizer)

1

large

Red Bell Pepper

Julienned

1

large

Cucumber

Julienned (leave seeds in the middle out)

3/4

cup

Cilantro

chopped
For Peanut Dressing:
1/2

cup

Peanut Butter

smooth

1 1/2

tablespoons

Rice Vinegar

1 1/2

teaspoon

Garlic

Minced

2

teaspoons

Ginger

Freshly Grated

2

teaspoons

Hot Sauce

1

tablespoon

Maple Syrup

2 1/2

tablespoons

Soy Sauce

1/3

cup

Warm Water

extra if needed

1

tbsp

Black Sesame Seeds

Toasted, for garnish

1

tbsp

Cilantro

for garnish
Instructions
Bring a large pot of water to boil. Cook Soba Noodles according to directions, and then drain and rinse under cold water immediately. Set aside.

Once you have julienned all your vegetables, combine with the cool Soba Noodles and chopped Cilantro in a large bowl.

In a seperate bowl, combine all ingredients for your Peanut Dressing and whisk to combine. If it is too thick, add more warm water as necessary.

Test for seasoning and adjust according to personal preference.

Pour dressing over your Noodles/Vegetables and toss gently to thoroughly coat your noodles in the sauce.

Serve sprinkled with Black Sesame Seeds and extra chopped Cilantro.

Leftovers can be stored in an air tight box for up to 3 days and eaten cold.
Nutrition
Serving:
1
serving
Calories:
179
kcal
Carbohydrates:
14
g
Protein:
7
g
Fat:
12
g
Saturated Fat:
2
g
Sodium:
584
mg
Potassium:
389
mg
Fiber:
3
g
Sugar:
7
g
Vitamin A:
5041
IU
Vitamin C:
40
mg
Calcium:
47
mg
Iron:
1
mg