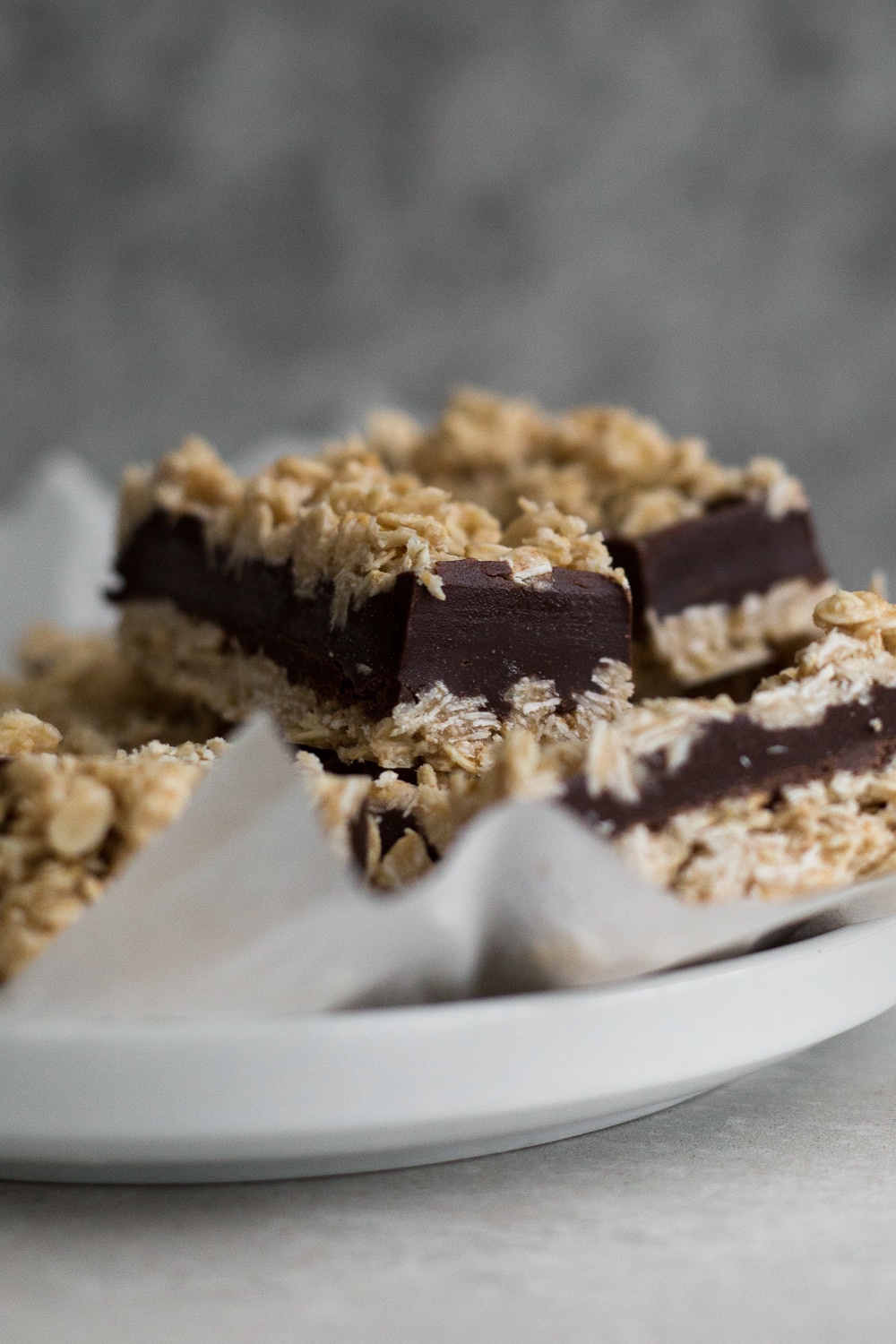 WOOP WOOP here I am, risen from the ashes once again, to provide you amazing folk with a glorious new recipe! Enter the Vegan Freezer Oatmeal Fudge Bars! As you probably have been able to tell, I've been on a bit of an accidental blogging hiatus. Accidental meaning, I've just been so freaking lazy as of recent and blogging has really taken a backseat in my life. (TOO STRESSED TO BLOG WHEN I'M BUSY CRYING OVER HOW I CAN'T PAY MY BILLS!). Long and never ending mope aside, here I am, attempting to revive my blogging "career" with a brand new recipe for some no-bake fudgy goodies.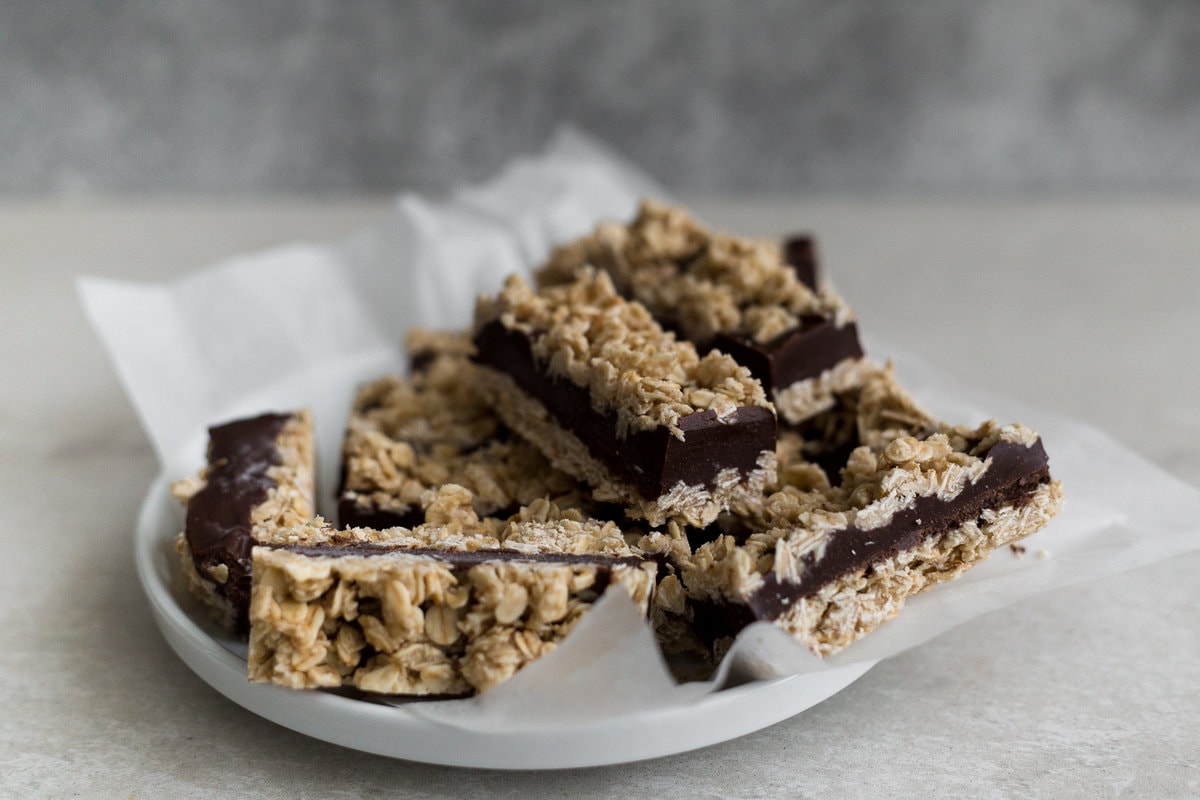 Since it's the first blog post in seemingly millennia, I'll keep it simple – and it doesn't get any simpler than these Freezer Oatmeal Fudge Bars. All you need is a handful of ingredients – Oatmeal, Coconut Oil, Maple Syrup/Agave, Dark Chocolate and Tahini are the main stars here. The Oatmeal, combined with Oat Flour (which you can make by simply whizzing Rolled Oats in a food processor), Coconut Oil, Agave/Maple, Sea Salt and Vanilla Extract form a delicious granola bar-esque base and topping for these Oatmeal Fudge Bars.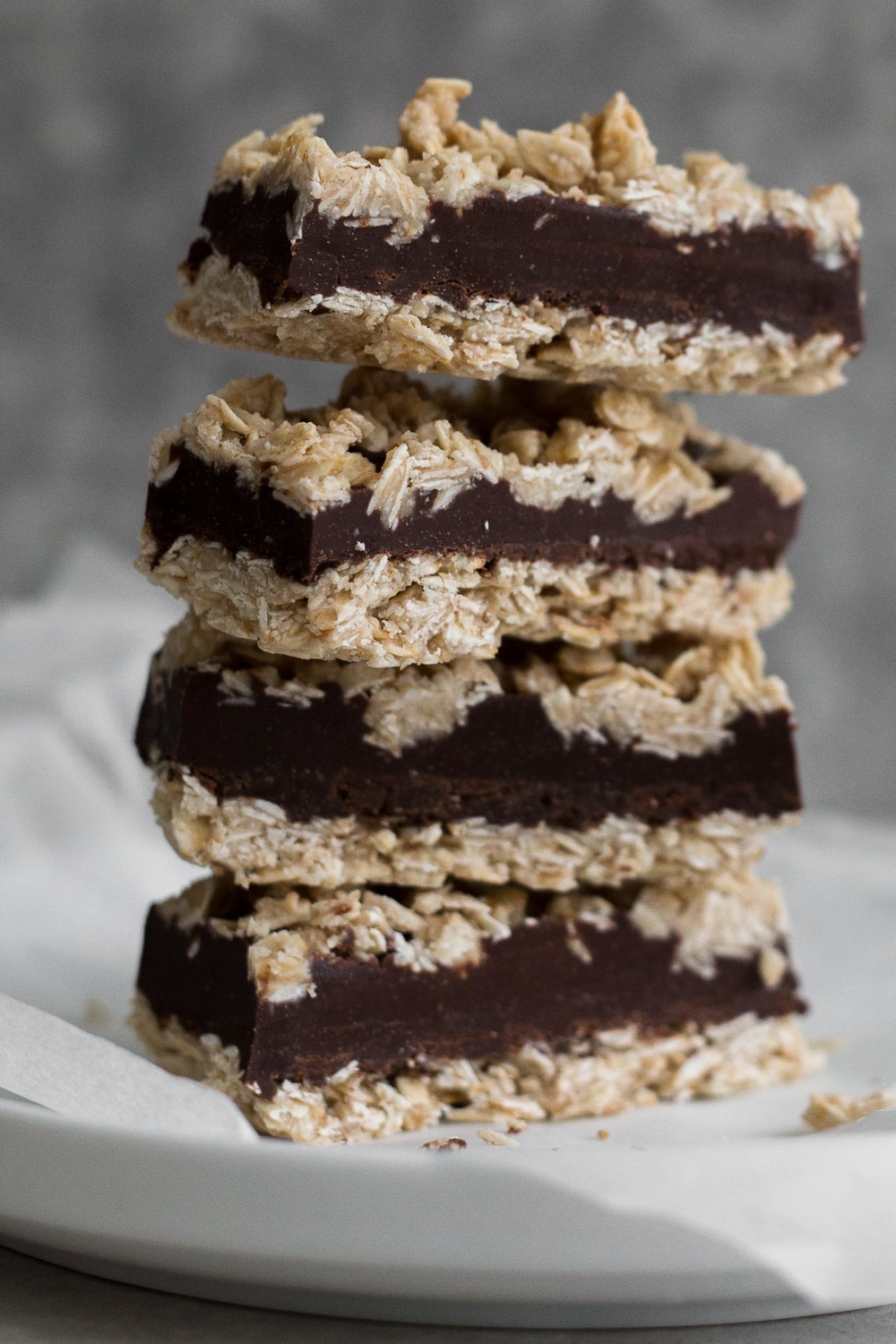 The Chocolate Fudge Filling is possibly even simpler – a simple mixture of Dark Chocolate, Tahini, Instant Espresso, Sea Salt, Agave/Maple and Coconut Oil. Some sort of alchemical process happens when all these ingredients melt (in the microwave woohoo!) together and you end up with a delicious, almost healthy fudge mixture that'll food even the little kids (not that I would truly know, I am a Heifer – a cow yet to bear a calf).
FREE EBOOK SERIES! 5 SECRETS FOR FOOLPROOF VEGAN DESERTS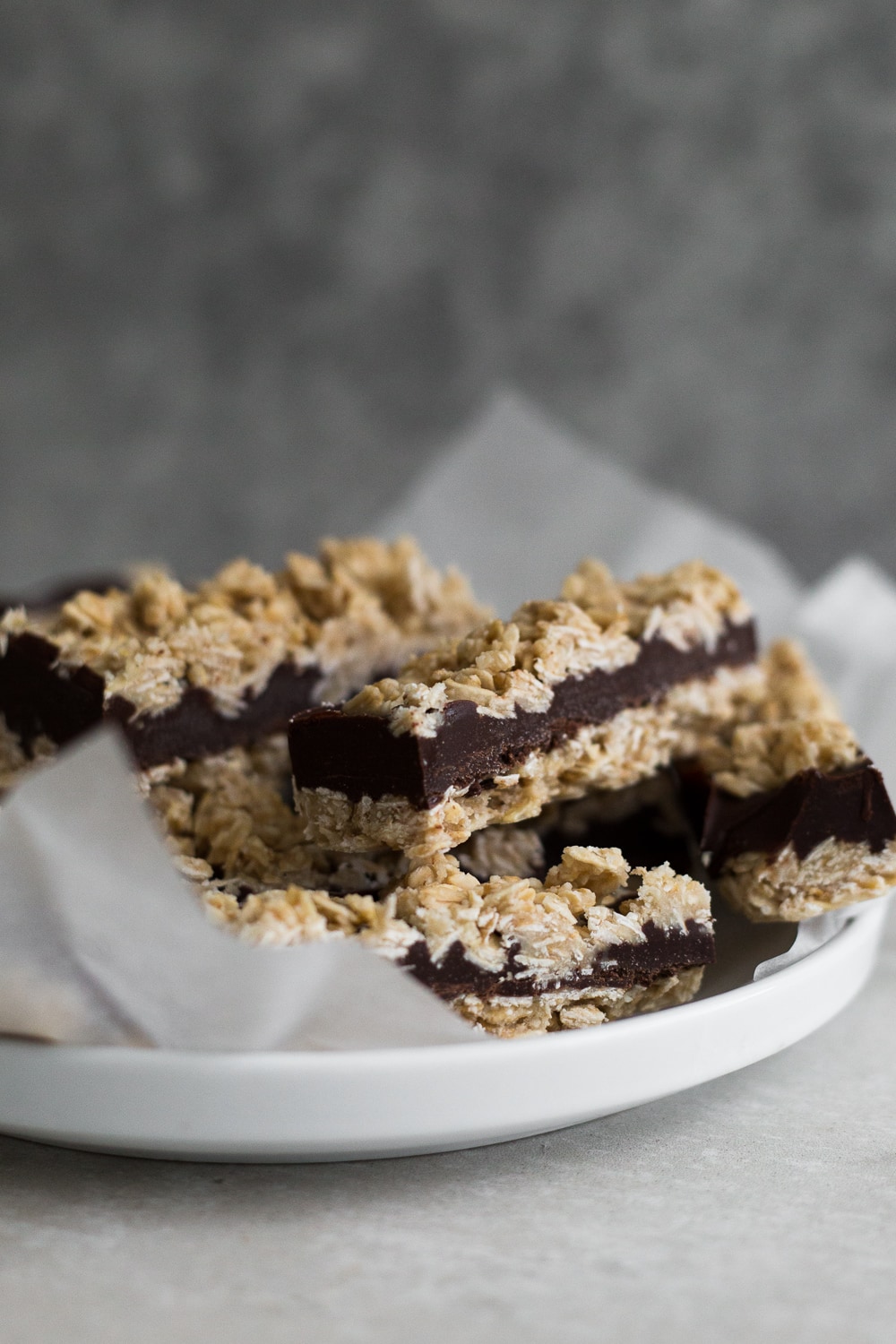 As mentioned before, and in the title of this blog post, these Vegan Oatmeal Fudge Bars require no baking whatsoever – just an hour or so in total in the freezer and Bob's your uncle. Or whatever your actual uncle's name is. Scroll down to grab the full recipe for these Oatmeal Fudge Bars…I mean why the f*ck not? You can prepare them before going to bed and eat your "healthy" result in the morning for breakfast. WAHOO. Seeya next time mi amigos! Also, please follow me on Instagram if you don't already do so, I'm losing followers faster than James Charles lol.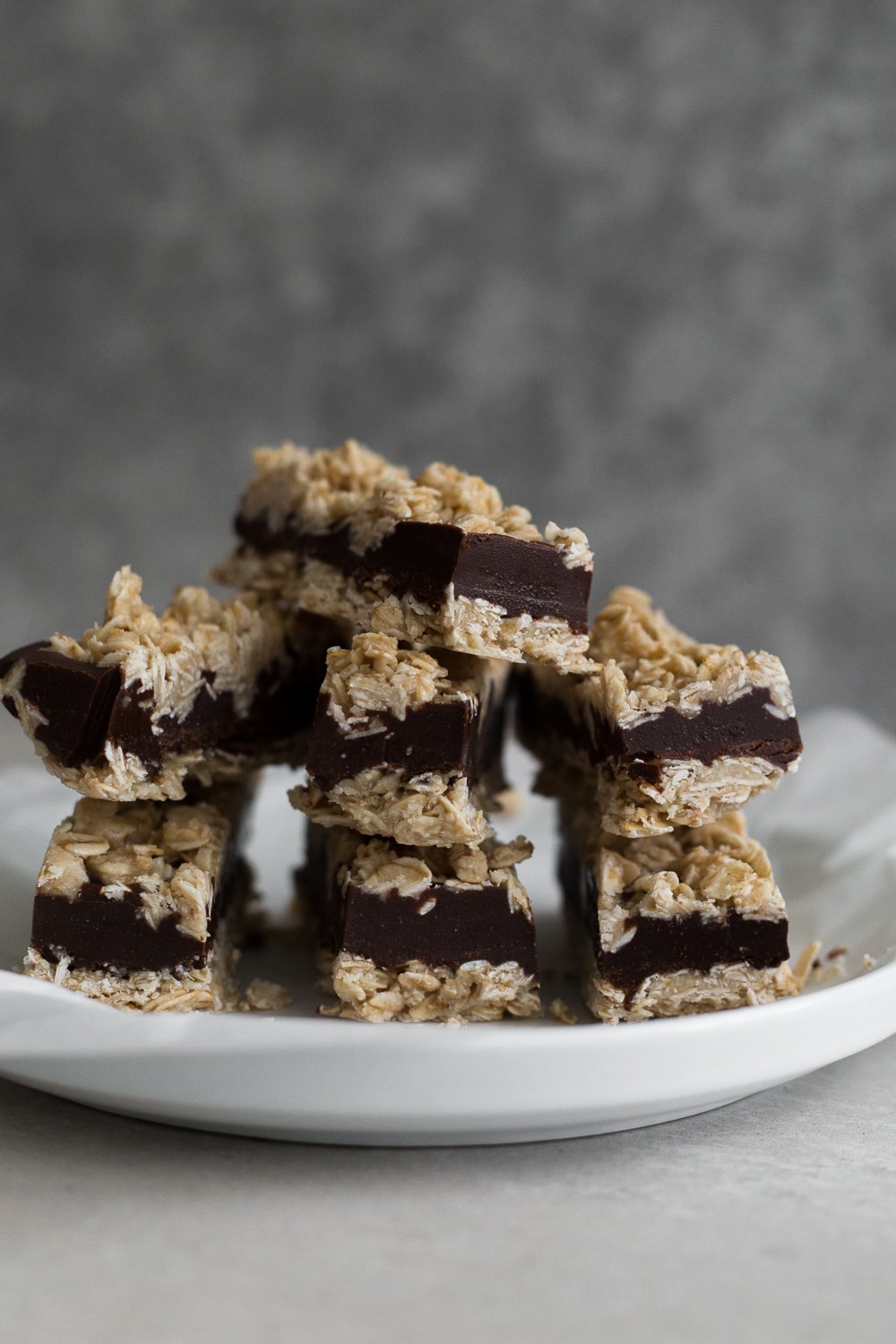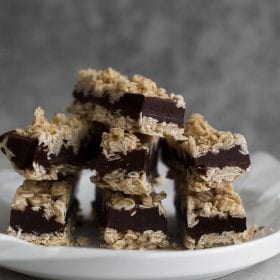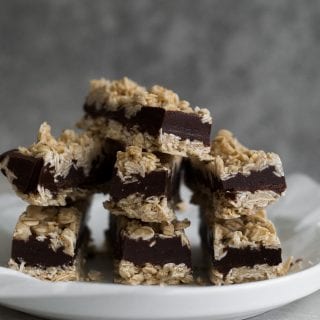 Oatmeal Fudge Bars
Delicious No-Bake Vegan Freezer Oatmeal Fudge Bars. Oatmeal Crust/Topping with a Chocolate Tahini Fudge Center. Ready in 1 hour.
Ingredients
Oatmeal Crust and Topping:
1

cup

Oat Flour

made by blending Rolled Oats in a food processor

1 1/2

cups

Rolled Oats

1/4

teaspoon

Salt

1/2

teaspoon

Vanilla Extract

3

tablespoons

Agave Nectar

or Maple Syrup

1/2

cup

Coconut Oil

Melted
Chocolate Fudge Filling:
180

grams

Vegan Dark Chocolate

6 ounces

2

tablespoons

Agave Nectar

or Maple Syrup

1/2

tsp

Sea Salt

1/4

teaspoon

Instant Espresso

1

tablespoon

Coconut Oil

Melted

1/2

teaspoon

Vanilla Extract
Instructions
Line a 8x8 inch baking tray with non-stick parchment paper.

In a large bowl, combine all the ingredients for the Oatmeal Crust and Topping. Once well mixed, press 2/3 of the mixture into the base of your lined tin.

Make sure to press the mixture in firmly so it doesn't crumble when you attempt to cut the final product.

Place in the freezer for 20 minutes. Keep the remaining 1/3 of the mixture aside.

In a microwave safe bowl, combine Dark Chocolate, Agave/Maple, Sea Salt, Instant Espresso and Melted Coconut Oil. Microwave in 30 second increments, stirring between each, until everything is smooth and melted.

Add Vanilla Extract to chocolate mixture and stir to combine.

Pour Chocolate Fudge mixture onto your chilled Oatmeal Crust, and then sprinkle the remaining Oatmeal mixture evenly on top.

Place in freezer for 1 hour.

Remove from the freezer and cut into squares or bars. Bars can be kept in the fridge in an air tight container for up to 1 week, or in the freezer for up to 1 month.
Nutrition
Serving:
1
bar
Calories:
195
kcal
Carbohydrates:
20
g
Protein:
3
g
Fat:
12
g
Saturated Fat:
9
g
Sodium:
148
mg
Potassium:
75
mg
Fiber:
2
g
Sugar:
6
g
Calcium:
11
mg
Iron:
1
mg