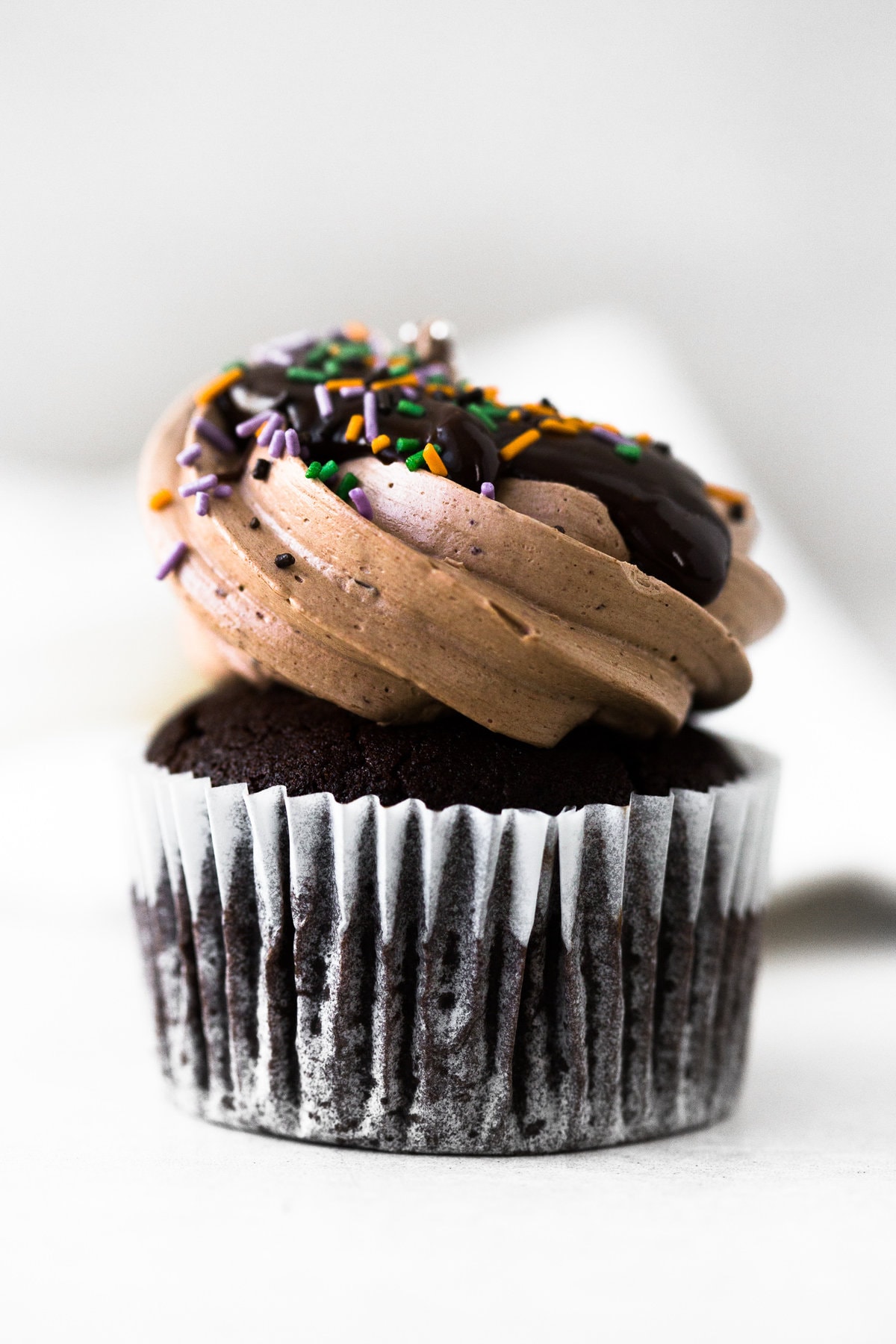 Cupcakes. Ah, remember when they were all the rage like 10 years ago? Sadly, too many businesses jumped on the cupcake bandwagon with limited baking knowledge (in my opinion), which thus begun the demise of the ubiquitous cupcake. With so many bakeries producing dry bits of turd with gritty icing, it was no surprise that the cupcake craze left as soon as it arrived. BAD VIBES. Well, let me tell you that I'm going to re-awaken your love for cupcakes with these Ultimate Vegan Chocolate Cupcakes.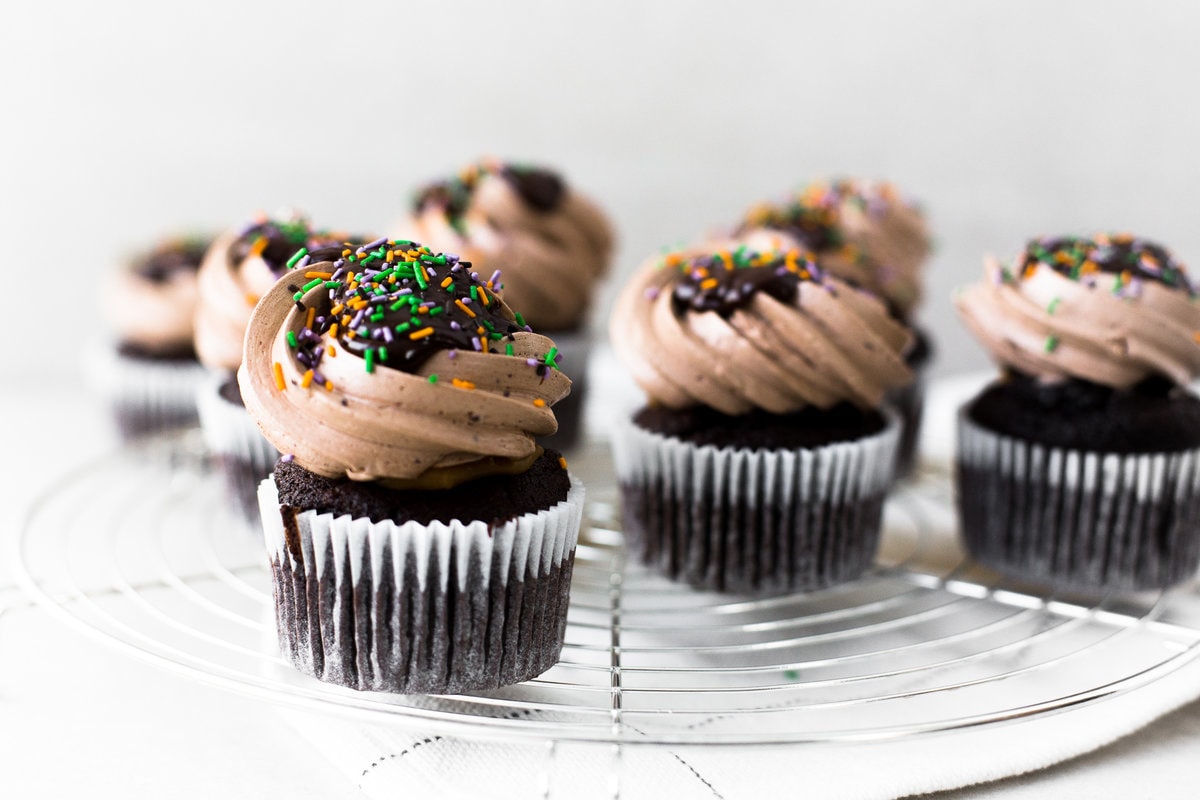 Cupcakes need to be moist. In my opinion, they should have a filling on top of frosting, because a lump of cake with a mound of frosting on top just doesn't cut it. My Vegan Chocolate Cupcakes have a tender crumb (thanks to Cake/Pastry Flour), are filled with a luscious Chocolate Ganache and topped with generous helpings of Vegan Chocolate Buttercream.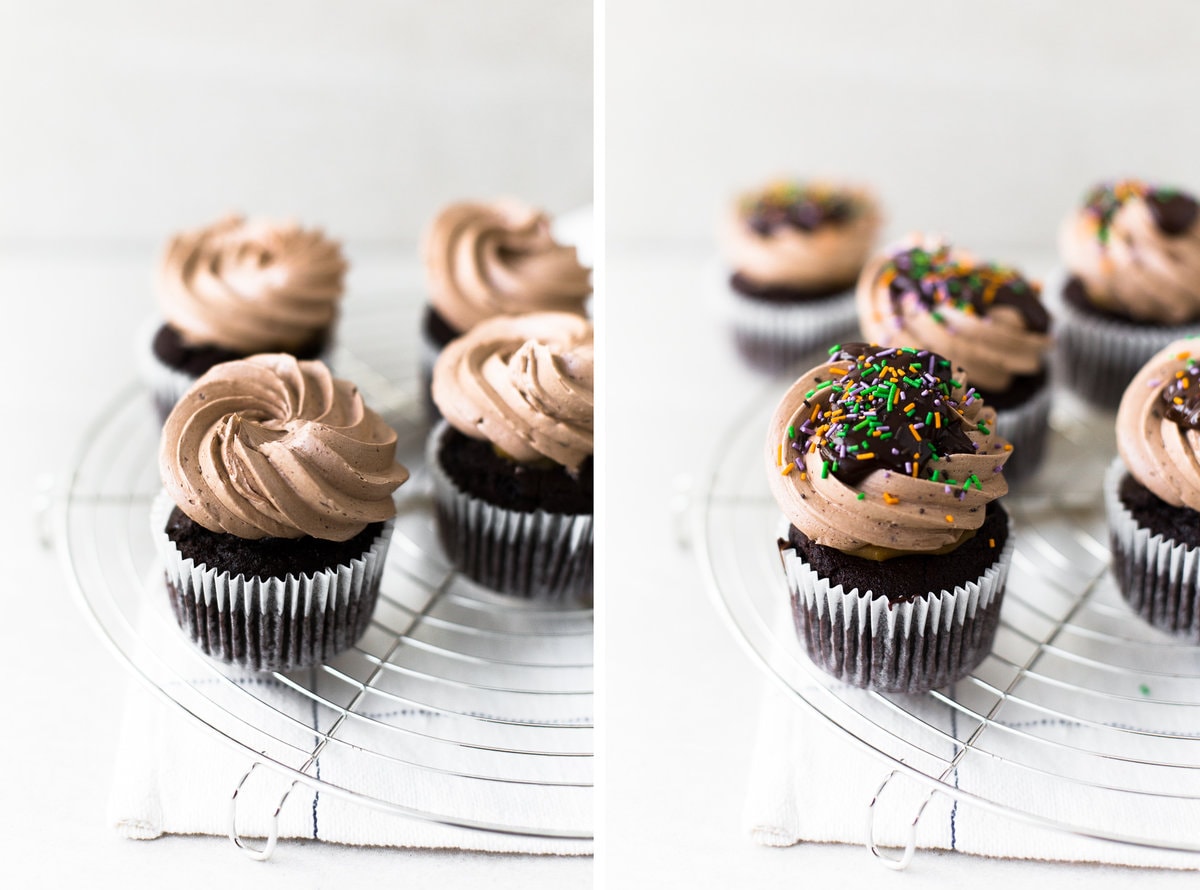 The cake base is pretty simple to prepare – all you need is your usual cake making ingredients. Pastry Flour, Cocoa, Vegetable Oil, yadda yadda. Let me stress, you're going to want to use Pastry or Cake Flour because it produces a more tender crumb. I use Oil instead of Butter so that your cupcakes don't turn rock hard in the fridge. Dicks should be hard, cupcakes shouldn't. The whole process is pretty easy…mix dry, add in wet, dispense into cupcake liners and bake.
FREE EBOOK SERIES! 5 SECRETS FOR FOOLPROOF VEGAN DESERTS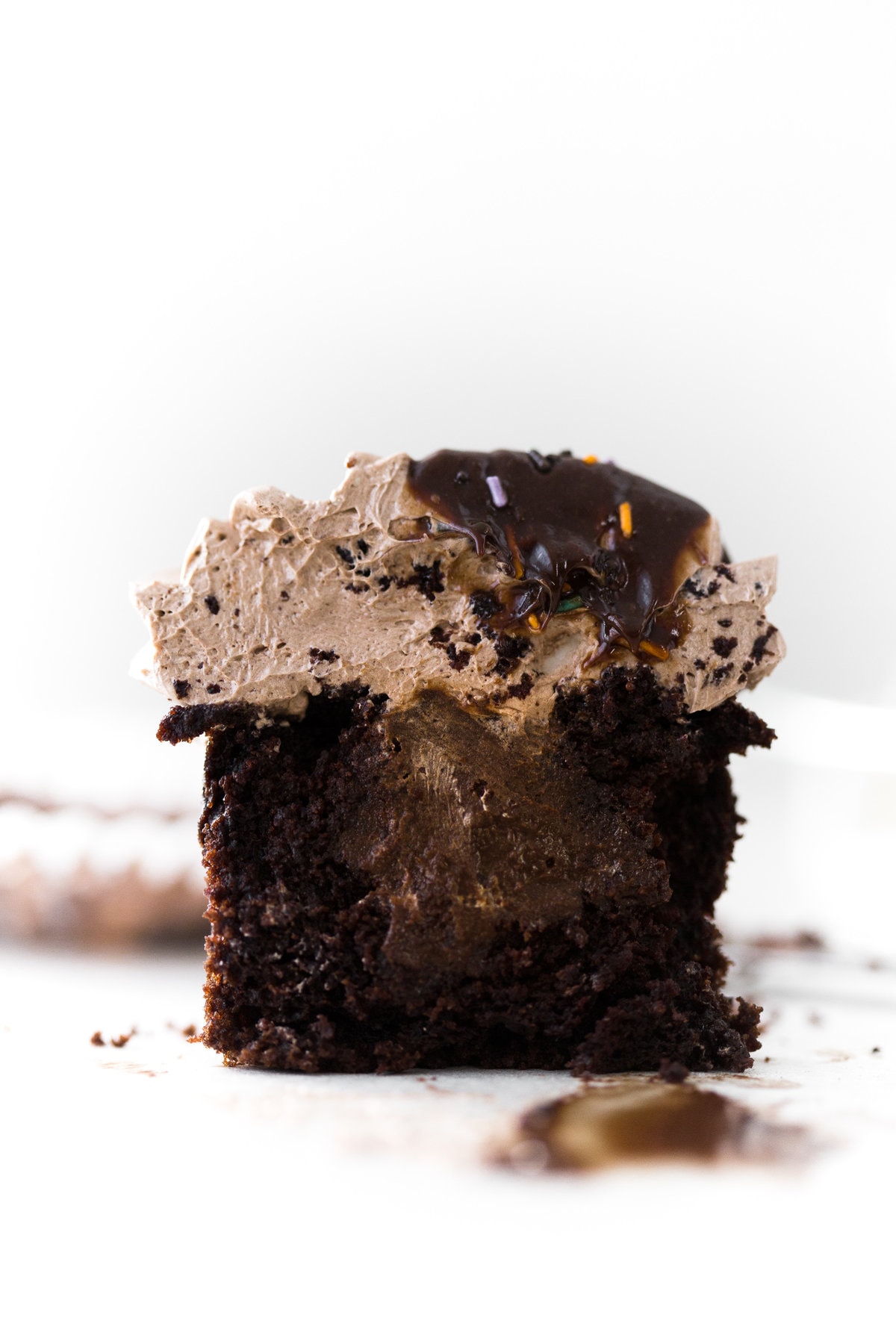 Now, the Chocolate Ganache filling for these Vegan Chocolate Cupcakes. I use Dark Chocolate, Coconut Milk, Instant Espresso and a dash of Sea Salt. Melt everything up in the microwave (or over a double boiler if you can be fu*cked), leave to cool for a bit and you end up with a silky and luscious Chocolate Ganache filling. Lastly, the Vegan Chocolate Buttercream! This one is so simple too. Using an electric or stand mixer, whip Vegan Butter, Shortening, Icing Sugar, Cocoa Powder, Sea Salt and Bob's your uncle.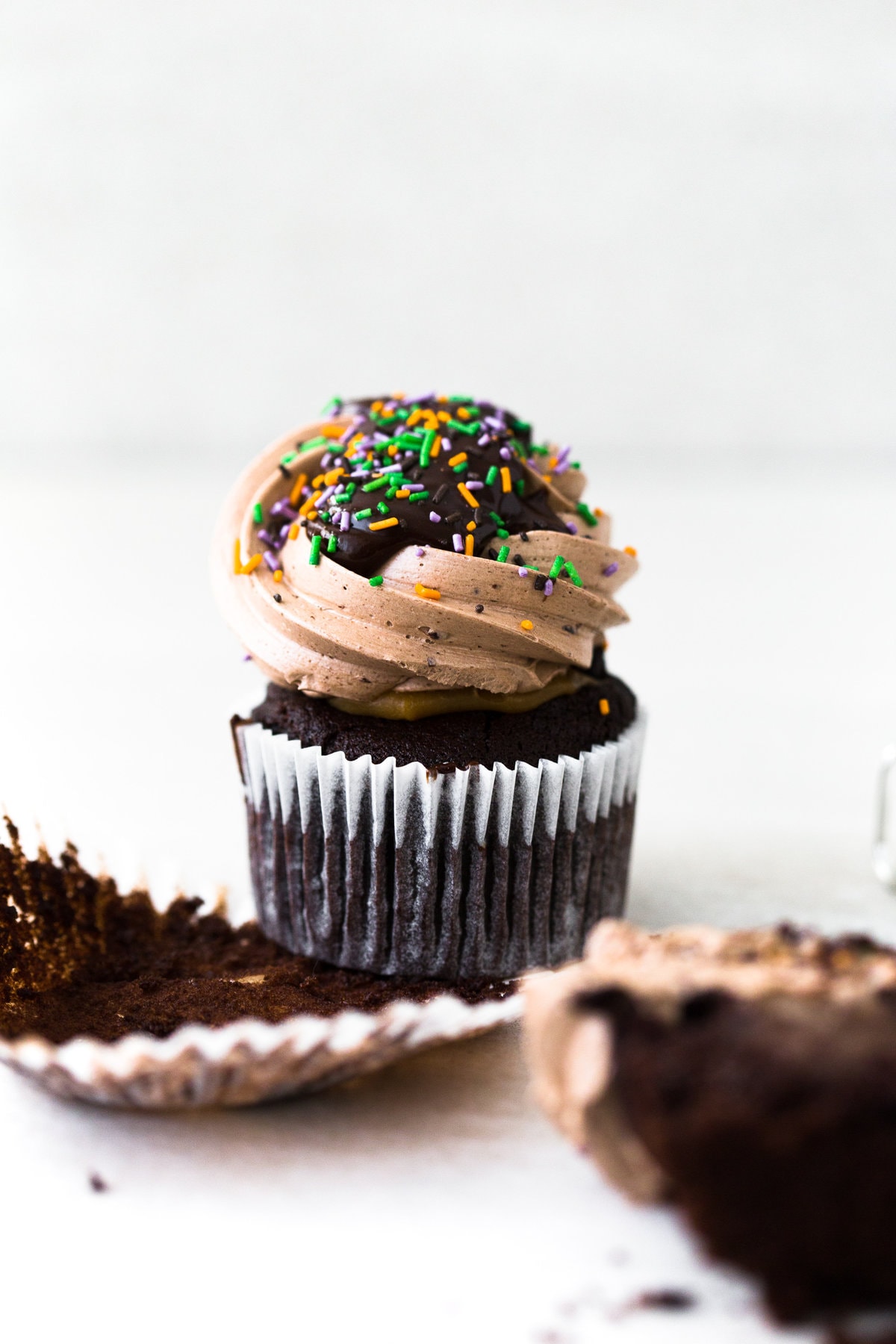 All you have to do now is assemble your Vegan Chocolate Cupcakes. I like to cut a conical portion in the middle of the cupcake out and fill it with Chocolate Ganache. You can spoon this in or use a piping bag, depending on how fancy you are feeling. Once you've done that, using a star tip in a piping bag, pack on that FROSTING! Lastly (I swear this is really the last bit), melt some leftover Chocolate Ganache that you have and drizzle it on the top of your buttercream. SO FANCY. AMAZING! And there you have it, ultra moist Vegan Chocolate Cupcakes that won't make you choke or harden into little turds in the refrigerator. Scroll down to grab the full recipe (MY HANDS HURT FROM TYPING), and drop a comment to let me know what you think!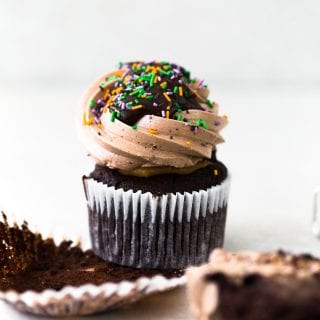 Vegan Chocolate Cupcakes
The Ultimate Vegan Chocolate Cupcakes. Tender Chocolate Cake filled with Chocolate Ganache and loaded with Vegan Chocolate Buttercream Frosting.
Ingredients
For Vegan Chocolate Cupcakes:
1

cup

Almond Milk

1

teaspoon

Apple Cider Vinegar

1/3

cup + 1 tablespoon

Vegetable Oil

2

teaspoons

Vanilla Extract

3/4

cup

Sugar

1

cup

Cake Flour

1/3

cup

Cocoa Powder

Dutch Processed

1/2

teaspoon

Baking Powder

3/4

teaspoon

Baking Soda

3/4

teaspoon

Instant Espresso

1/4

tsp

Salt
For Chocolate Ganache Filling:
4

ounces

Vegan Dark Chocolate

120grams

1/2

cup

Coconut Milk

1/4

teaspoon

Instant Espresso

1

Pinch

Salt
For Vegan Chocolate Buttercream:
10

oz

Vegan Butter

300grams

1

oz

Vegetable Shortening

30g

1/4

cup

Cocoa Powder

1

oz

Vegan chocolate

30g

1 1/2

cup

Icing Sugar
Instructions
Preheat oven to 175 degrees Celsius/350F. Line a 12 cavity muffin tray with cupcake liners and set aside.

To make cupcakes, in a bowl, combine Almond Milk and Apple Cider Vinegar. Leave to sit for 10 minutes before proceeding.

After 10 minutes, add Vegetable Oil, Vanilla Extract and Sugar to your Almond Milk. Whisk well to combine.

In another large bowl, sieve Flour, Cocoa, Baking Powder, Baking Soda , Instant Espresso and Salt. Add this dry mixture to your wet mixture in 2 additions and whisk till combined. Be careful to not over mix.

Fill liners 3/4 of the way with your batter and bake for 18-20 minutes or until a skewer inserted into each cupcake comes out clean. Remove tray from oven and leave to cool to room temperature.

Whilst the cupcakes are baking, prepare Chocolate Ganache by combining Chocolate, Coconut Milk, Instant Espresso and Salt in a microwave safe bowl. Microwave in 30 second increments, stirring after each increment. Continue to do this until Ganache is smooth and silk. Leave to cool to room temperature or until thick and fudgy.

To prepare Chocolate Buttercream, combine Vegan Butter and Shortening in a large bowl or a stand mixer bowl. Either using electric beaters or your stand mixer with the whisk attachment, beat Butter and Shortening together until light and fluffy.

Add Cocoa Powder and Salt to your Butter/Shortening mix. Whisk on high for 30 seconds.

Add Melted Chocolate and mix on High for another 30 seconds. Finally, add your Icing sugar and mix on High until you have a fluffy, delicious Chocolate Buttercream (around 2-3 more minutes).

To assemble cupcakes, cut a conical shape out of the middle of each cupcake.

Vill the cavity with your prepared Chocolate Ganache (use a spoon or a piping bag).

Once all your cupcakes are filled, top with generous amounts of Chocolate Buttercream (use a palette knife or simply pipe buttercream on with a start tip attached to a piping bag).

Let frosted cupcakes chill in the fridge for half an hour.

Re-melt your leftover ganache so that it is runny, but not hot. Drizzle leftover ganache on the top of your frosted cupcakes and return to fridge for 15 minutes to allow ganache to set before devouring.

Enjoy!
Notes
TO STORE
: Leftovers can be stored in the refrigerator, covered, for up to 2 weeks.
TO FREEZE
: Place leftovers in a ziplock bag and store them in the freezer for up to 6 months. 
Nutrition
Serving:
1
cupcake
Calories:
187
kcal
Carbohydrates:
23
g
Protein:
2
g
Fat:
11
g
Saturated Fat:
9
g
Sodium:
167
mg
Potassium:
99
mg
Fiber:
2
g
Sugar:
13
g
Vitamin A:
1
IU
Vitamin C:
1
mg
Calcium:
44
mg
Iron:
1
mg