This grain free granola is crunchy, perfectly sweet, and takes minutes to make! No oats or grains needed, it's perfect for a gluten-free diet.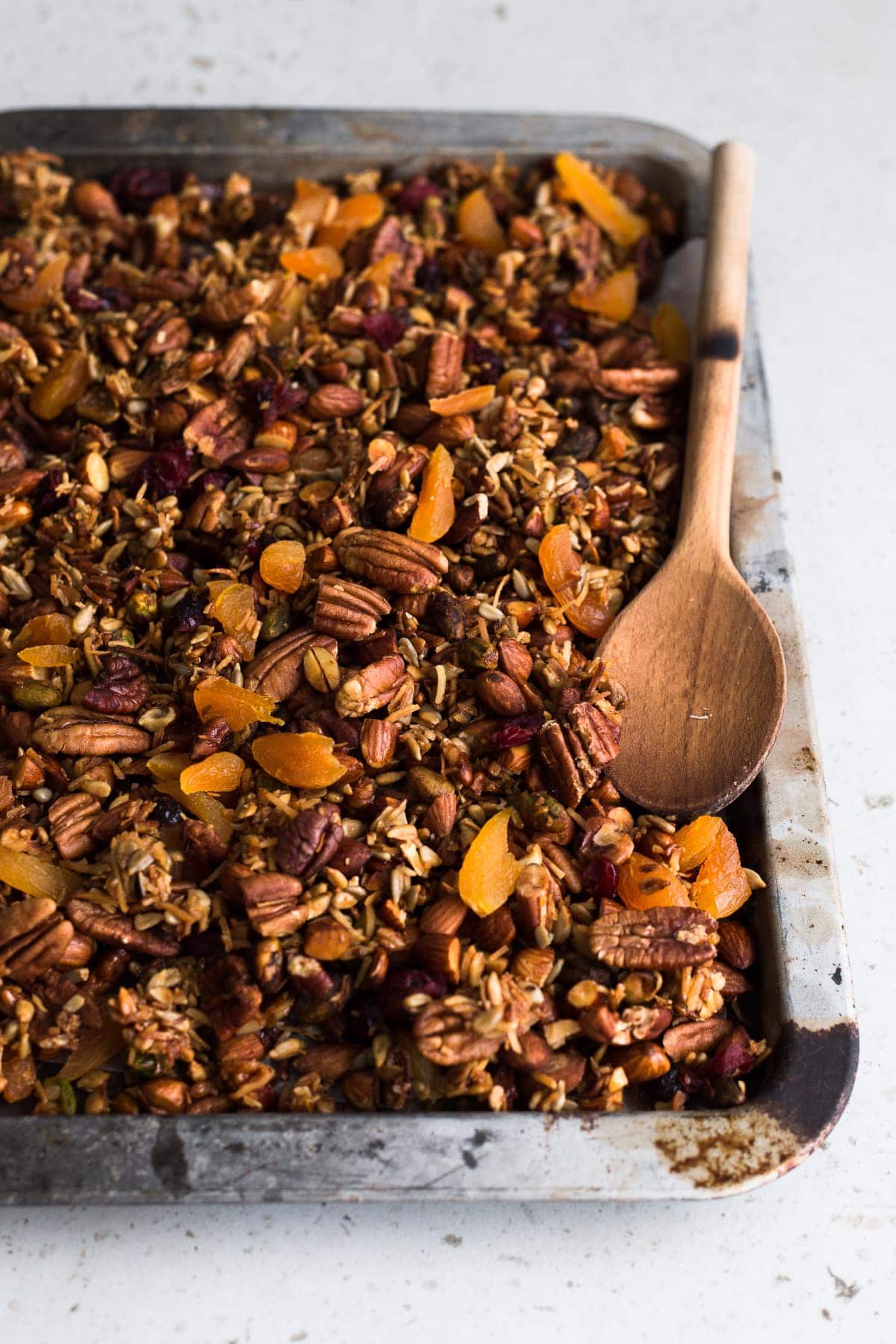 We are a family of granola lovers. If you have tried our chocolate granola and vanilla granola, you'll love this grain-free version too! 
Why this recipe works
Nutritious.

Grain-free granola is rich in

protein, healthy fats, and vitamins. It's also lower in carbs than traditional granola.

Cost-effective.

It saves you big bucks in comparison to store-bought granola.

Easy to make.

This recipe is simple to make and requires minimal ingredients and prep time.

Versatile.

This grain-free granola can be eaten as a breakfast cereal, used as a topping for yogurt or oatmeal, or enjoyed as a snack on its own.
What I love most about this recipe is that unlike store-bought granola and cereals, there are no added sugars or preservatives, so I enjoy my breakfast without compromising my health.
FREE EBOOK SERIES! 5 SECRETS FOR FOOLPROOF VEGAN DESERTS
What is grain-free granola made of?
Get the following ingredients to enjoy this quick and easy grain-free granola:
Nuts.

Almonds, pistachios, and pecan chopped up.

Sunflower seeds.

You can use flax seeds too.

Coconut.

Shredded and unsweetened.

Coconut oil.

Or melted butter.

Vanilla.

Pure extract

Orange zest.

For rich tangy flavor.

Maple syrup.

To sweeten

Salt.

To taste.

Apricots.

Diced.

Cranberries.

Dried.
How to make granola without grains?
This recipe calls for simple pantry staple ingredients that you'll likely already have on hand. Here is what you'll need:
Step 1: Prepare oven and baking tray
Prepare your baking tray by lining it with baking paper and set the oven to preheat to 165 C/325 F.
Step 2: Mix dry ingredients
Add the shredded coconuts, sunflower seeds, almonds, pecans, and pistachios to a large bowl and mix them all up.
Step 3: Prepare the wet ingredients
Using a saucepan on low heat, melt the butter and coconut oil before adding in the maple syrup, vanilla, salt, water, and orange zest. Mix them well and turn off the heat once it starts to simmer.
Step 4: Mix dry and wet ingredients
Add the melted mixture to the nuts and seeds in the dry mixture bowl and mix to combine all the ingredients.
Step 5: Bake the granola
Spread out the mixture onto your lined baking tray in an even layer and pop it in the oven to bake for 20 minutes. Take out the baking tray to stir the granola thoroughly before letting it return to bake for another 20 to 25 minutes.
Step 6: Add apricots and cranberries
After baking till golden, let it cool for 10 minutes before adding in and mixing the apricots and cranberries.
Step 7: Cool and store
After allowing it to completely cook, serve or move to your food containers of choice before refrigerating.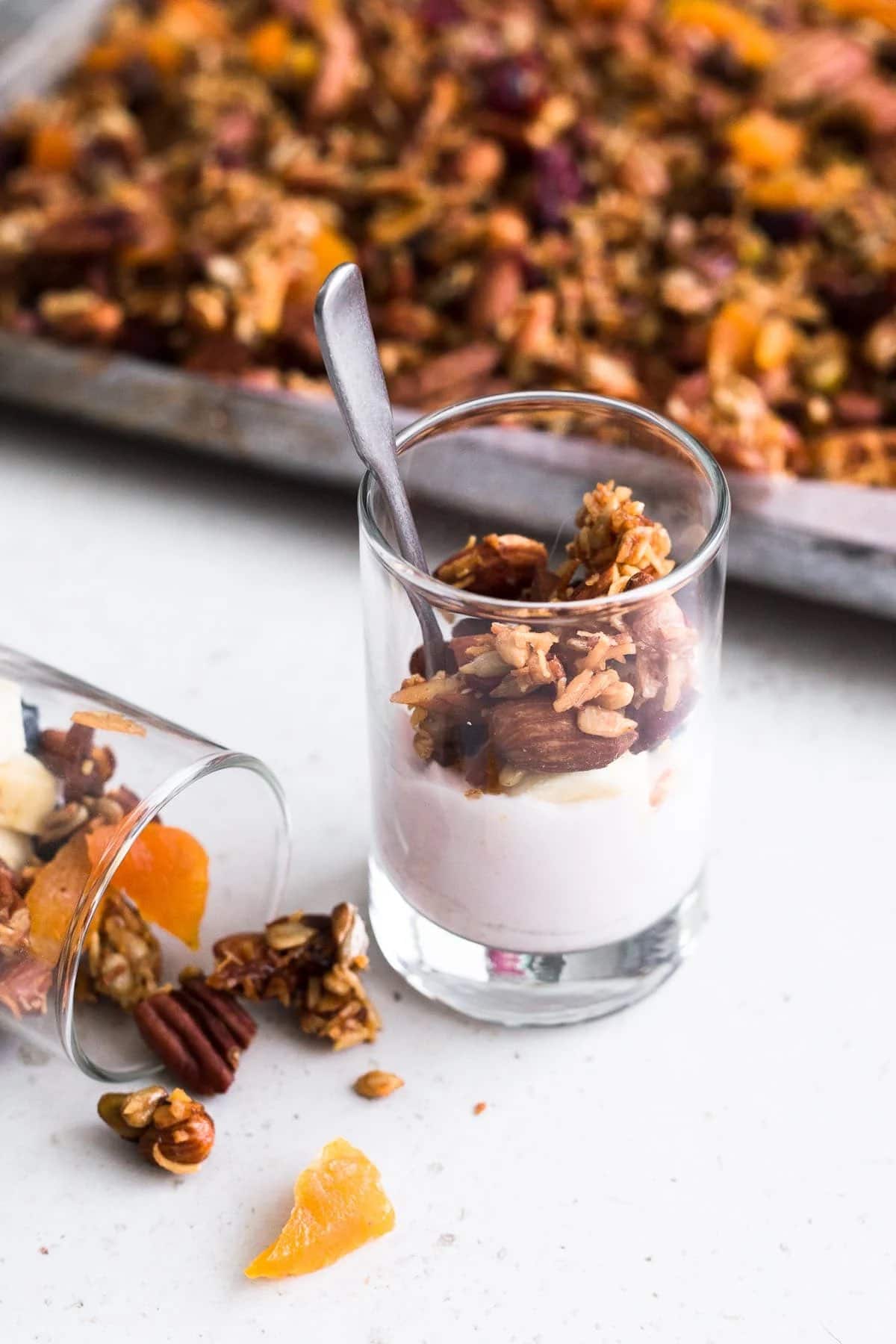 Tips to make the best recipe
Toasting the seeds and nuts before adding them to the recipe will give your granola a deeper, more complex flavor.

To keep from sogging, allow the granola to cool completely before adding any additional ingredients or storing it.

Add your favorite mix-ins to it, like chocolate chips or candy buttons.
Storage instructions
To store. Leftover granola can be stored at room temperature, covered, for up to one month.
To freeze. If you'd like to keep your granola longer, store it in the freezer in a ziplock bag for up to 6 months.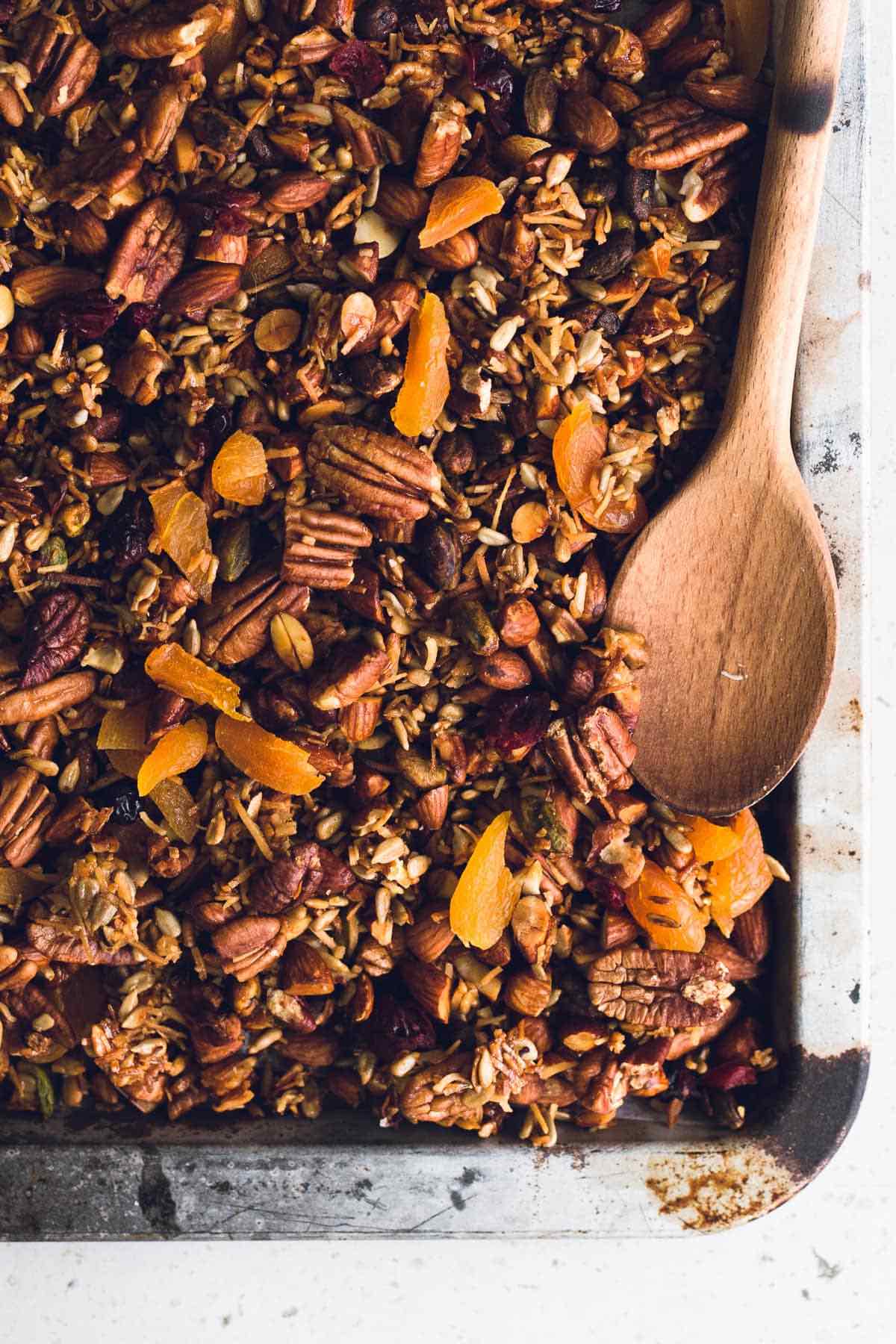 More sweet breakfast recipes to try
Frequently asked questions
Is grain-free granola good for you?
Yes, grain-free granola can be a healthier alternative to traditional granola, as it is usually lower in calories and sugar. Because it doesn't use oats or wheat, it's also lower in carbs.
Is grain-free granola gluten-free? 
Yes, this is a gluten-free recipe, as there is no wheat based ingredients in it.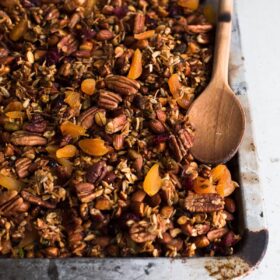 Grain Free Granola
This grain free granola is crunchy, perfectly sweet, and takes minutes to make! No oats or grains needed, it's perfect for a gluten-free diet.
Ingredients
2

cups

Raw Almonds

chopped

1/2

cup

Pistachios

1

cup

Raw Pecans

choppes

1

cup

Shredded Coconut

unsweetened

1

cup

Sunflower Seeds

1/3

cup

Coconut Oil

melted

1 1/2

teaspoons

Pure Vanilla Extract

1

zest

Orange

2

tablespoons

Water

6

tablespoons

Maple Syrup

1

tsp

salt

1

cup

Apricots

chopped

1

cup

Cranberries
Instructions
Preheat oven to 165 degrees Celsius/325F. Line a baking tray with non-stick baking paper and set aside.

In a large bowl, combine Almonds, Pistachios, Pecans, Shredded Coconut and Sunflower Seeds. Mix to combine.

In a small saucepan, combine Coconut Oil, Vanilla, Orange Zest, Water, Maple Syrup and Sea Salt. Warm slightly until bubbles just start to form and remove from heat.

Pour mixture onto your Nut and Seed Mix. Stir to combine.

Spread Granola on your prepared baking sheet in a single layer and bake in the oven for 20 minutes.

After 15 minutes, give the Granola a stir. Return to oven for another 20-25 mins or until evenly golden.

Let cool on tray for 10 minutes before stirring in your Dried Apricots and Cranberries.

Once fully cooled down, transfer to containers or jars to store. Store in refrigerator if possible.
Notes
TO STORE
: Leftovers can be stored at room temperature, covered, for up to 2 months. 
TO FREEZE
: Place leftovers in a ziplock bag and store them in the freezer for up to 6 months. 
Nutrition
Serving:
1
serving
Calories:
170
kcal
Carbohydrates:
16
g
Protein:
4
g
Fat:
11
g
Saturated Fat:
3
g
Sodium:
216
mg
Potassium:
214
mg
Fiber:
2
g
Sugar:
12
g
Vitamin A:
281
IU
Vitamin C:
3
mg
Calcium:
29
mg
Iron:
1
mg