It's been a while since I've gone on a Granola craze. The last time I did, I churned out these fkn bad boys: Vegan Nutella Granola and Vanilla Almond Granola. Whilst they were delicious as Satan, I did want to try my hand out at creating a Granola that was not just Vegan but also Grain and Gluten Free. Now, I'm not Coeliac or anything but I do enjoy experimenting with Gluten Free recipes because why the fu*k not!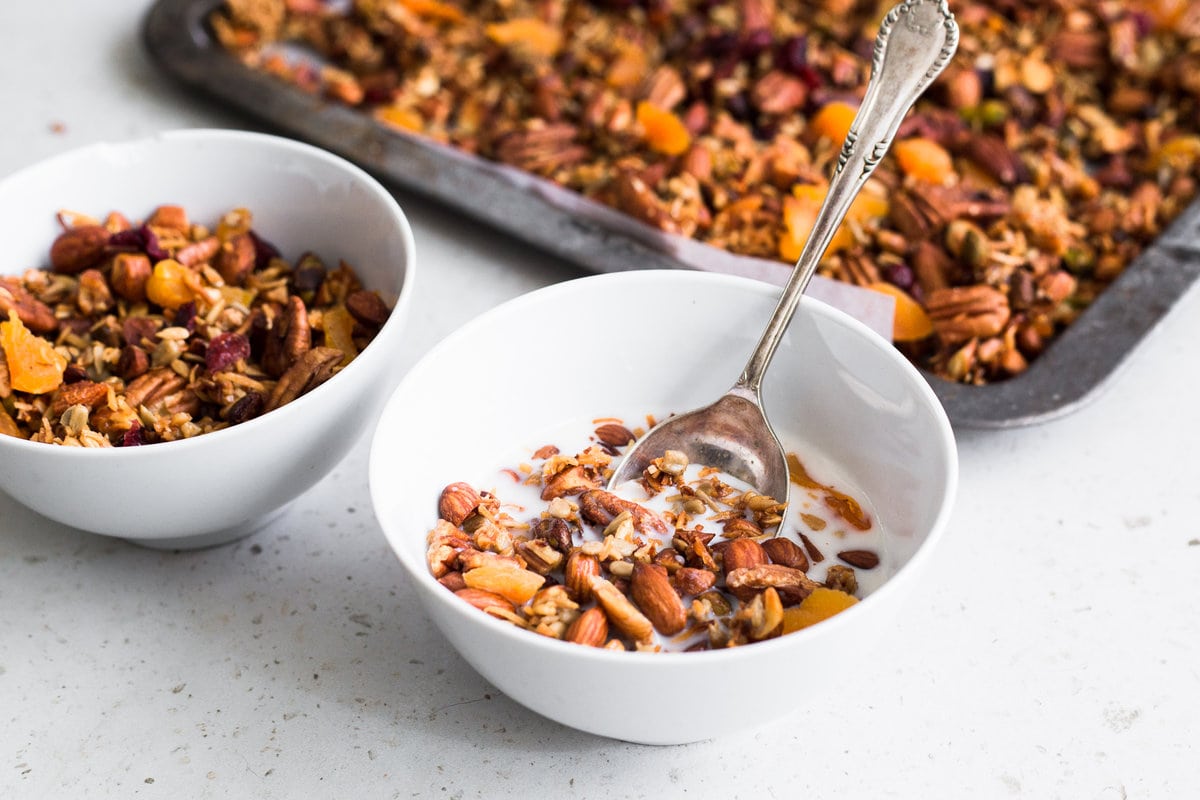 Enter the Vegan Grain Free Granola or Grainless Granola or I DON' REALLY CARE WHAT YOU CALL IT, JUST MAKE IT AND FUNNEL IT INTO YOUR GOB. The bulk of this Grain Free Granola is a mixture of various Nuts – Almonds, Pecans and Pistachios. I also add some Shredded Coconut, Sunflower Seeds and Dried Cranberries and Apricots into the mix. Obviously, you can omit the last few additions if you're looking for a Fruit Free Granola, but since I'm feeling a little fruity and slutty these days, I thought I'd add a burst of tart sweetness into every mouthful with some dried fruit.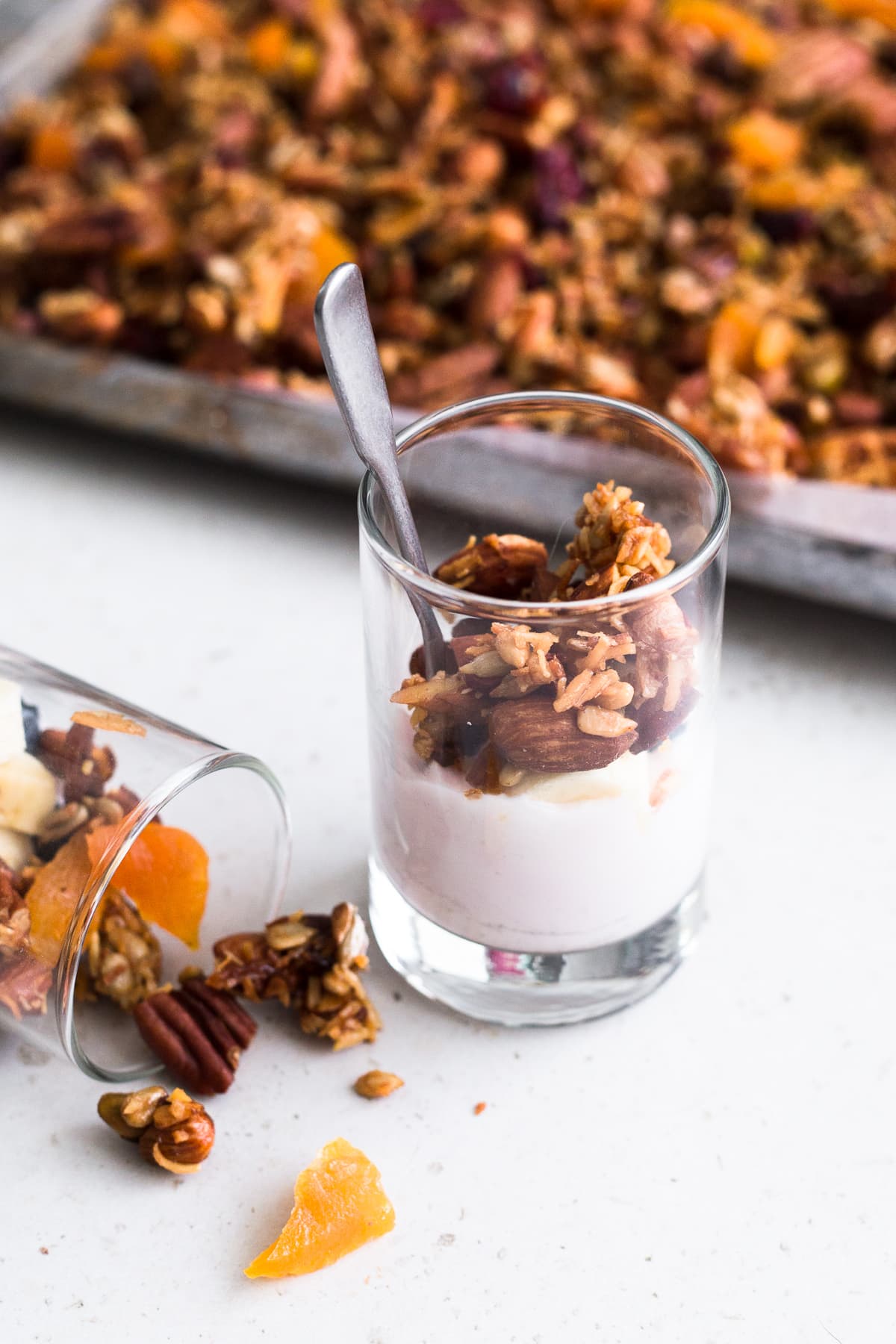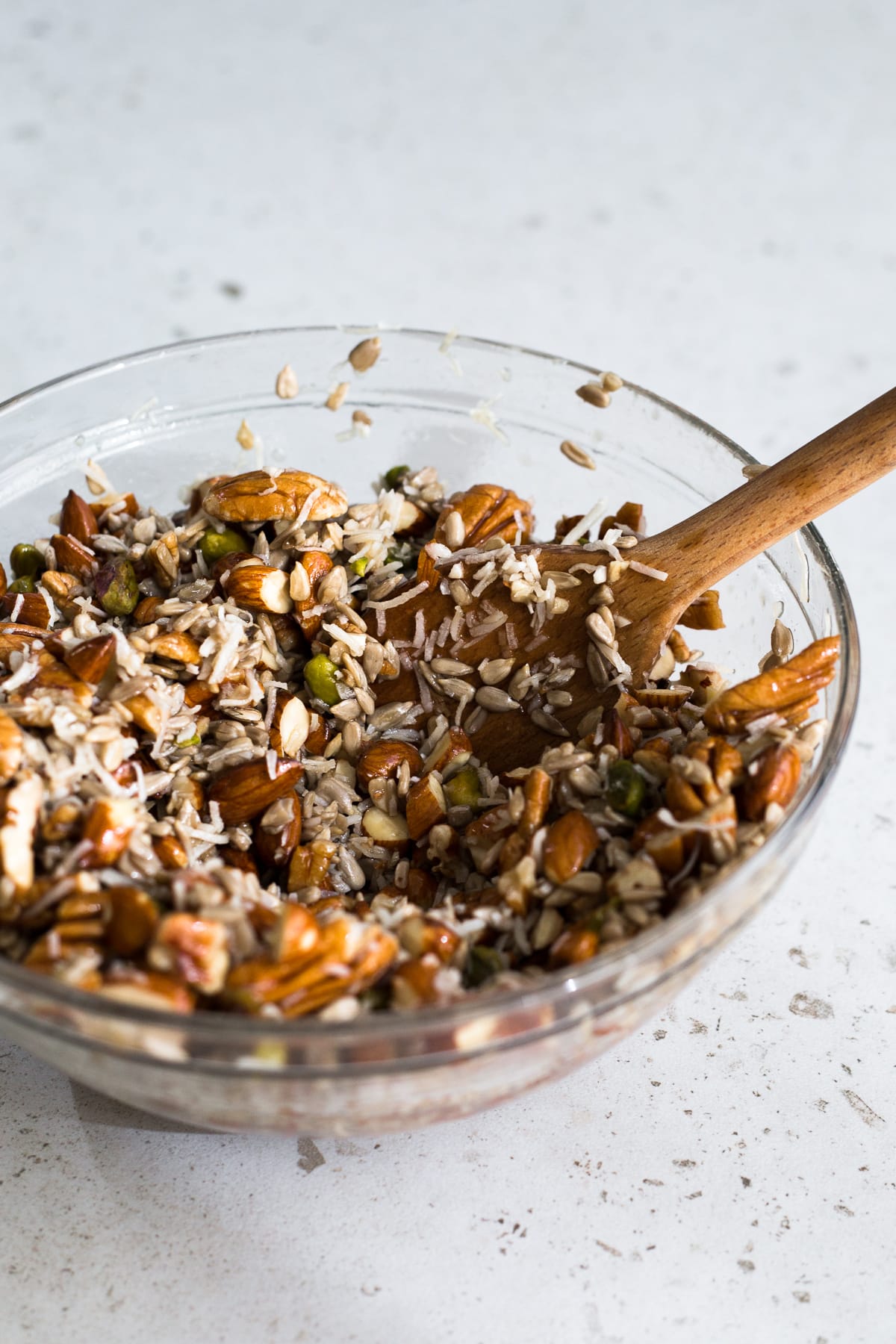 When it comes to "seasoning" your Granola, the world is your oyster. This time around, I decided to use some Coconut Oil, Maple Syrup, Vanilla Extract, Orange Zest and a touch of Sea Salt to really round all the flavors out. Obviously, if you're not a fan of Orange, go ahead and add a teaspoon of Ground Cinnamon or whatever else your heart desires. Why not try some Almond Extract? How about the blood of your enemies? The possibilities are endless because it is YOUR Grain Free Granola after all!
This Vegan Grain Free Granola comes together in under an hour (under half an hour if you are speedy in the kitchen, but don't worry it's not a competition), is completely Gluten Free, Grain Free (duh) and Dairy Free. It stores perfectly in a jar for up to a week (make sure you keep it in a cool area so that the Nuts don't go rancid – ideally the refrigerator) and is goddamn delicious when served with some Almond or Soy Milk, depending on whichever floats you boat. The Granola is also pretty groovy with some Dairy Free Yogurt and Fruit – so fetch, so versatile. Anyhoo, scroll down to grab the full recipe and enjoy, my dear Granola Gremlins.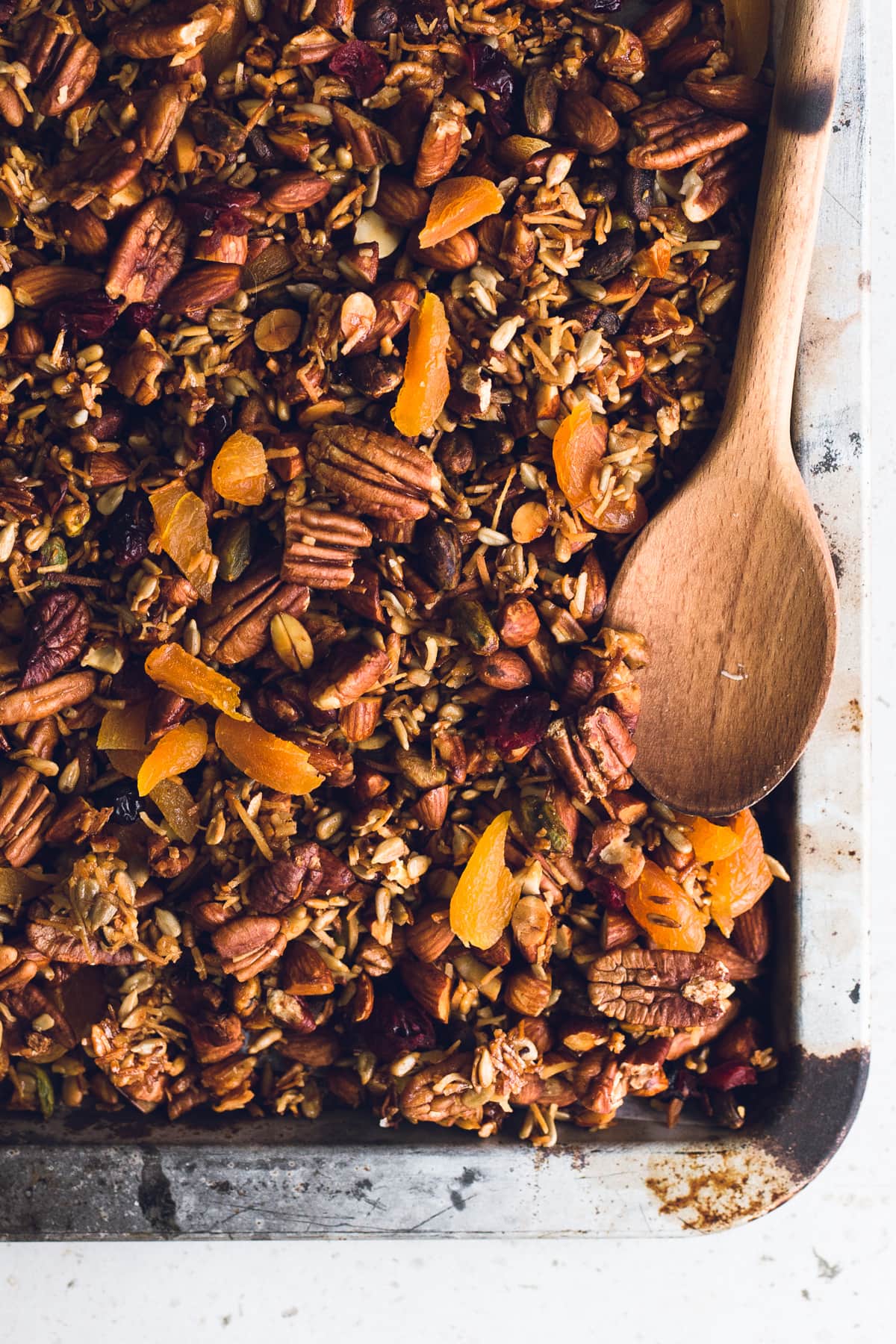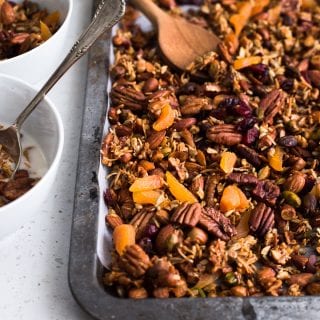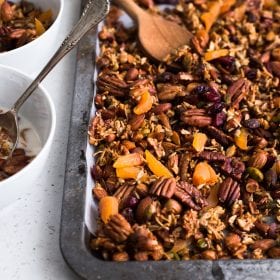 Grain Free Granola
A delicious Grain Free Granola made with Mixed Nuts, Coconut Oil, Vanilla and Orange Zest. Gluten Free, Dairy Free and ready in under 1 hour.
Ingredients
2

cups

Raw Almonds

chopped

1/2

cup

Pistachios

1

cup

Raw Pecans

choppes

1

cup

Shredded Coconut

unsweetened

1

cup

Sunflower Seeds

1/3

cup

Melted Coconut Oil

1 1/2

teaspoons

Pure Vanilla Extract

1

zest

Orange

2

tablespoons

Water

6

tablespoons

Maple Syrup

1

tsp

salt

1

cup

Apricots

chopped

1

cup

Cranberries
Instructions
Preheat oven to 165 degrees Celsius/325F. Line a baking tray with non-stick baking paper and set aside.

In a large bowl, combine Almonds, Pistachios, Pecans, Shredded Coconut and Sunflower Seeds. Mix to combine.

In a small saucepan, combine Coconut Oil, Vanilla, Orange Zest, Water, Maple Syrup and Sea Salt. Warm slightly until bubbles just start to form and remove from heat.

Pour mixture onto your Nut and Seed Mix. Stir to combine.

Spread Granola on your prepared baking sheet in a single layer and bake in the oven for 20 minutes.

After 15 minutes, give the Granola a stir. Return to oven for another 20-25 mins or until evenly golden.

Let cool on tray for 10 minutes before stirring in your Dried Apricots and Cranberries.

Once fully cooled down, transfer to containers or jars to store. Store in refrigerator if possible.
Notes
TO STORE
: Leftovers can be stored in the refrigerator, covered, for up to 2 weeks.
TO FREEZE
: Place leftovers in a ziplock bag and store them in the freezer for up to 6 months. 
Nutrition
Serving:
1
serving
Calories:
170
kcal
Carbohydrates:
16
g
Protein:
4
g
Fat:
11
g
Saturated Fat:
3
g
Sodium:
216
mg
Potassium:
214
mg
Fiber:
2
g
Sugar:
12
g
Vitamin A:
281
IU
Vitamin C:
3
mg
Calcium:
29
mg
Iron:
1
mg