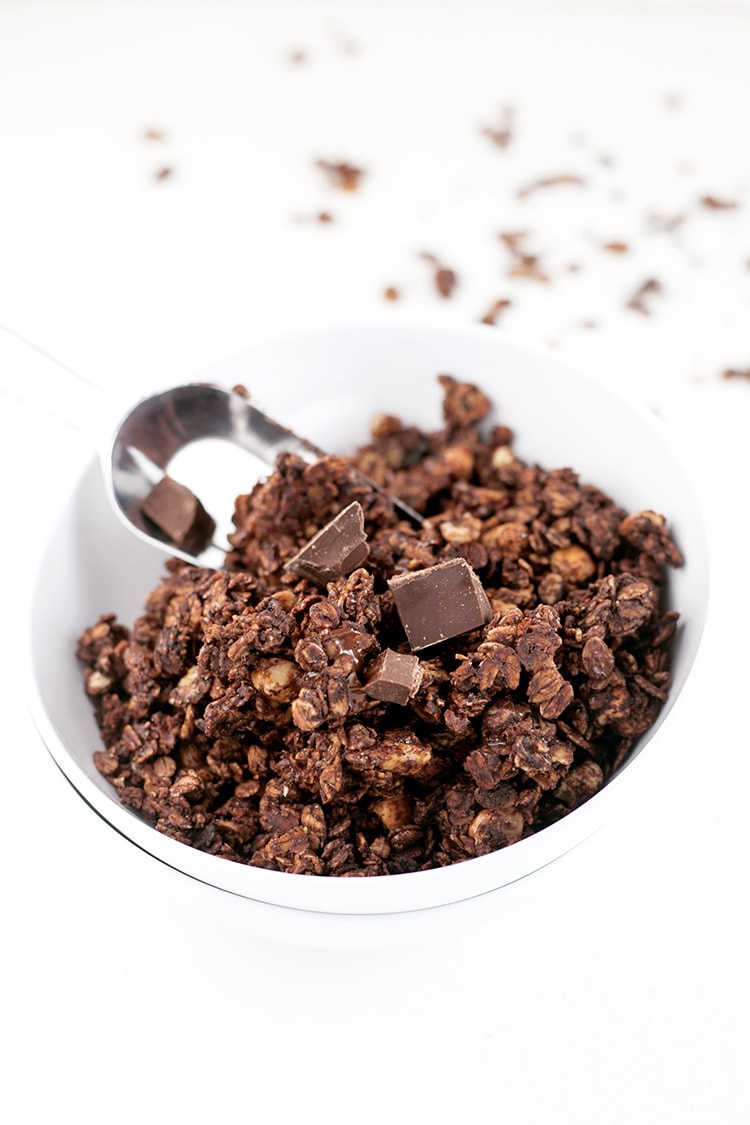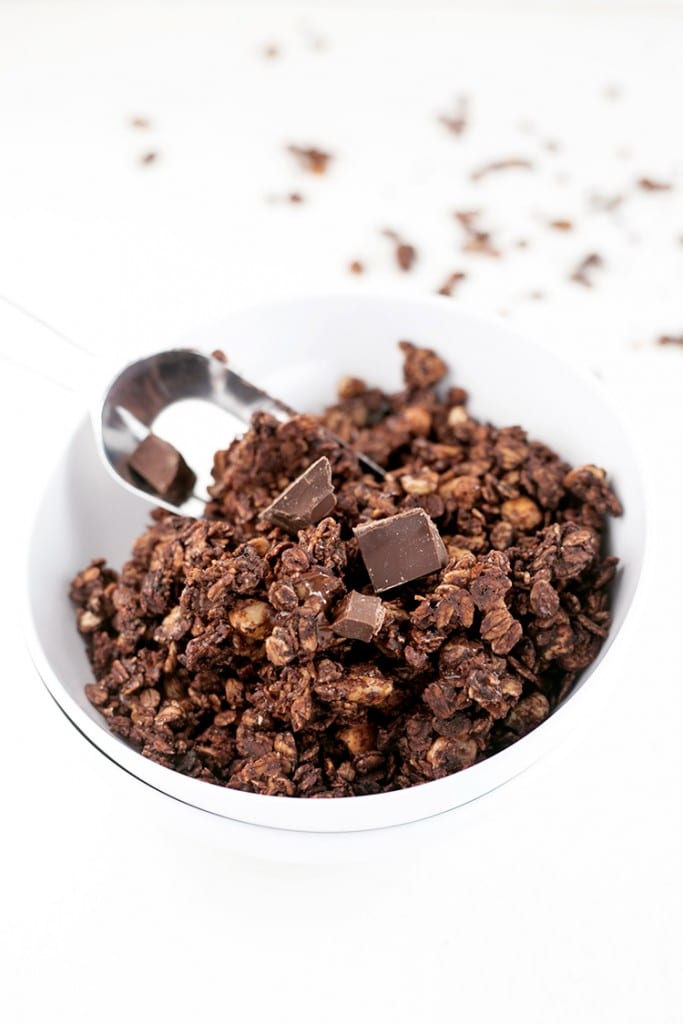 Yay! Another Granola post! After breaking my gra-ginity in one of the last posts, I got a first class ticket on the Granola train. My brain is coming up with so many ideas on different flavors to make, and it's hard to find the time and negated calories to fit all of them in. To be honest, I was channel surfing when I came up with the idea to make a Vegan Chocolate Hazelnut Granola recipe. A Nutella commercial came up and something in my head went "DING! Make a Chocolate Hazelnut variety!".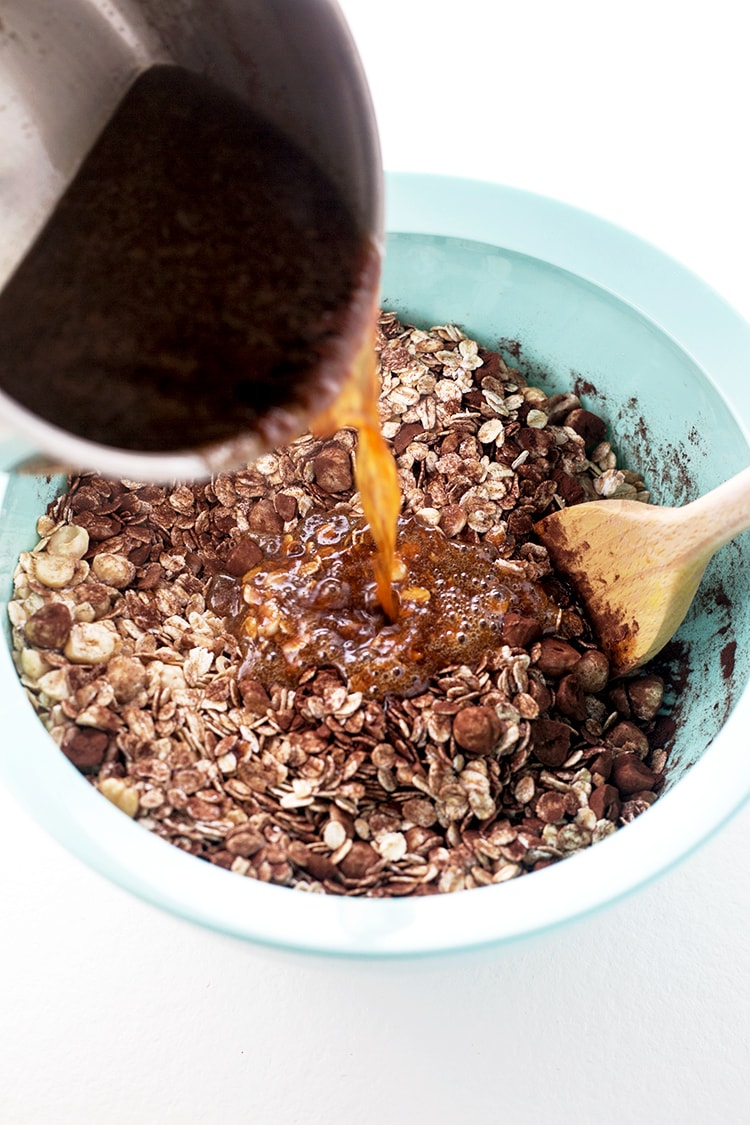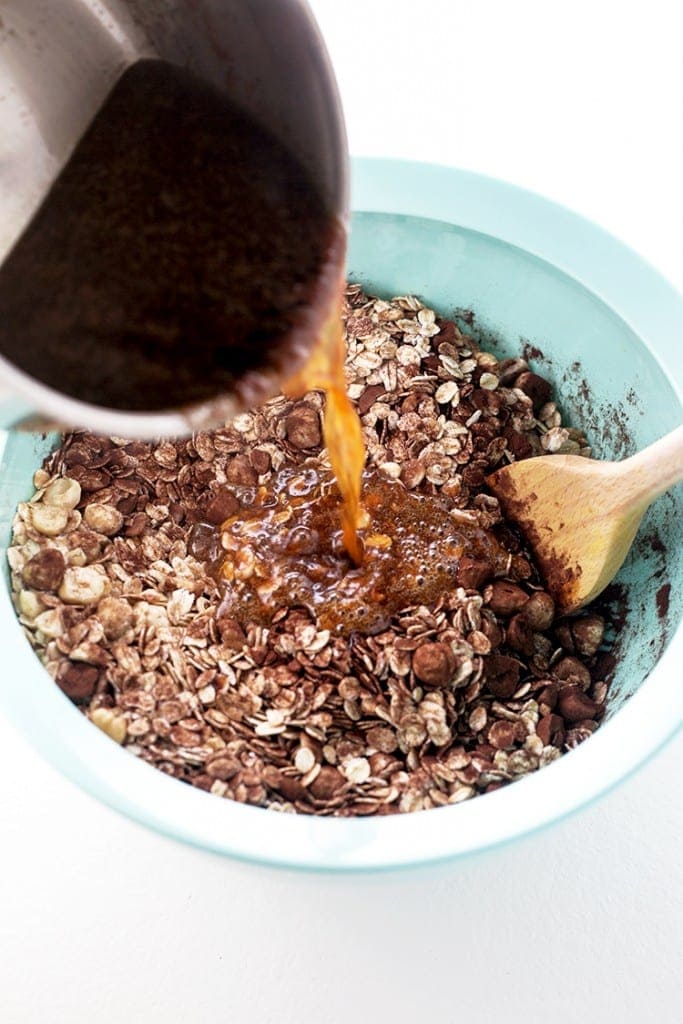 Funny thing is, I have never been a fan of Nutella. I always found it way too sweet and cloying, even as a child. I do, however, love the combination of Chocolate and Hazelnut, and I figured it would pair pretty damn well with Vegan Granola. I used my basic Vegan Granola recipe and added to it some Dutch Processed Cocoa Powder, Chopped Hazelnuts, Praline Paste and Hazelnut Extract. Don't worry if you don't have Praline Paste (first world problems) – you can just use Hazelnut Butter instead. It's not exactly the same thing, but it will suffice.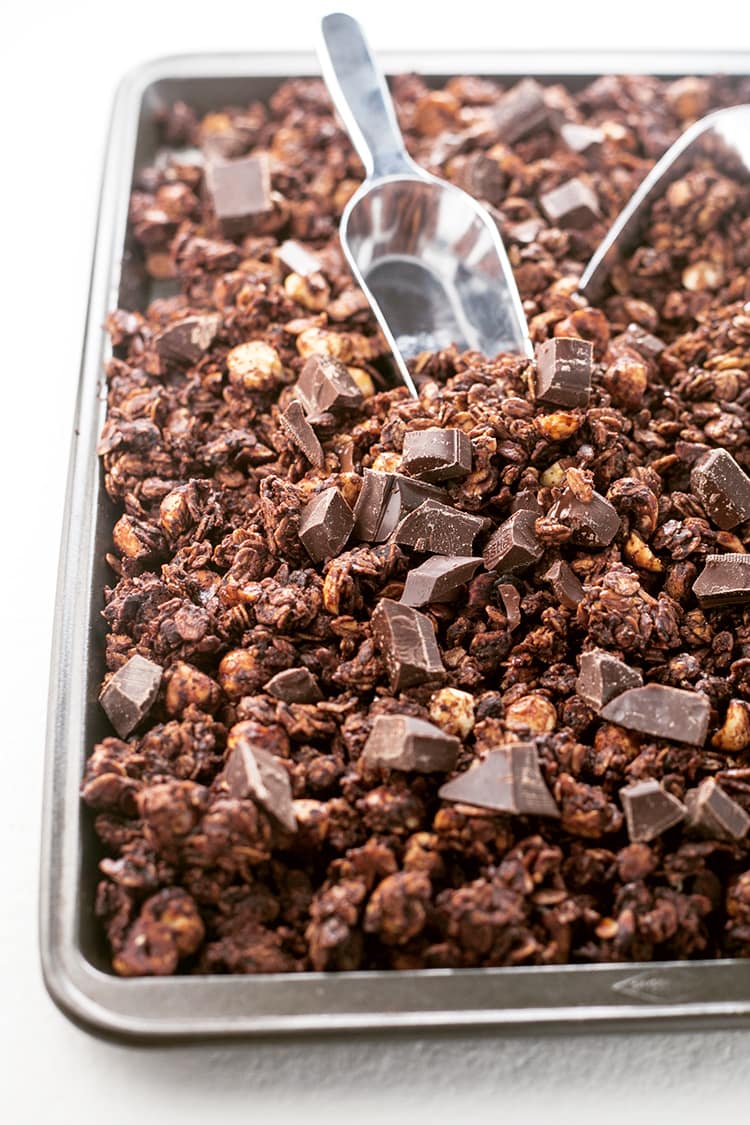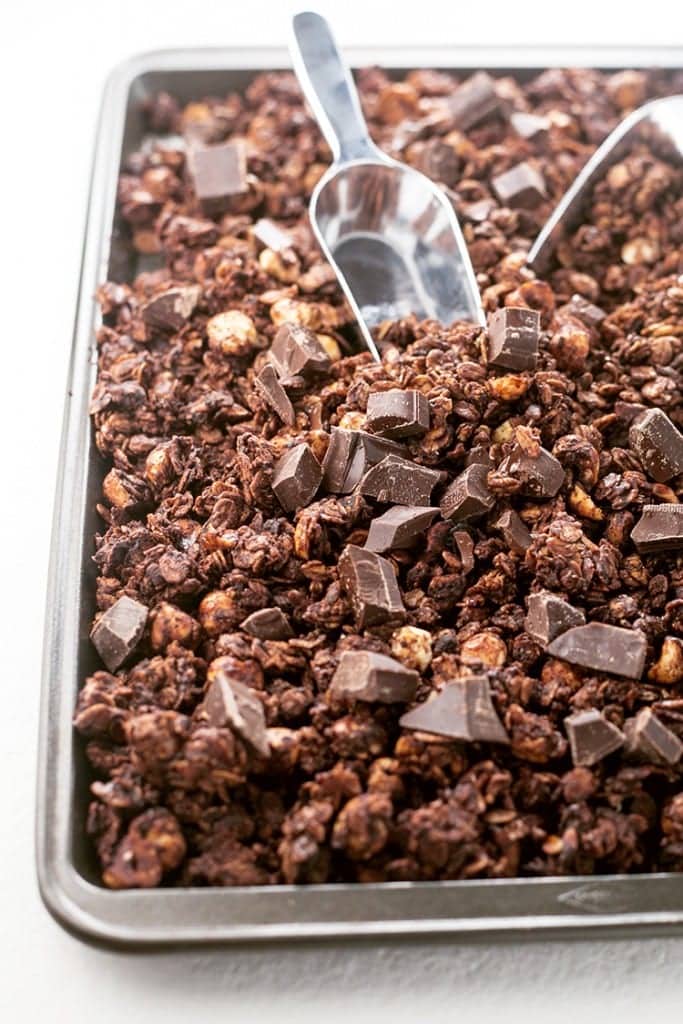 After baking for an hour with one stir at the 30 minute mark, your delicious Chocolate Granola is ready. All you have to do is wait for it to cool down, stir in some chopped Dark Chocolate (I use 70%) and you're set. Your perfect bittersweet Chocolate Granola is ready to chow down on.
You know what the best bit of eating chocolate cereal is? I'm sure you do – it turns your white girl milk into Rnb chocolate milk. And that is exactly what this Vegan Chocolate Hazelnut Granola does. It's magic!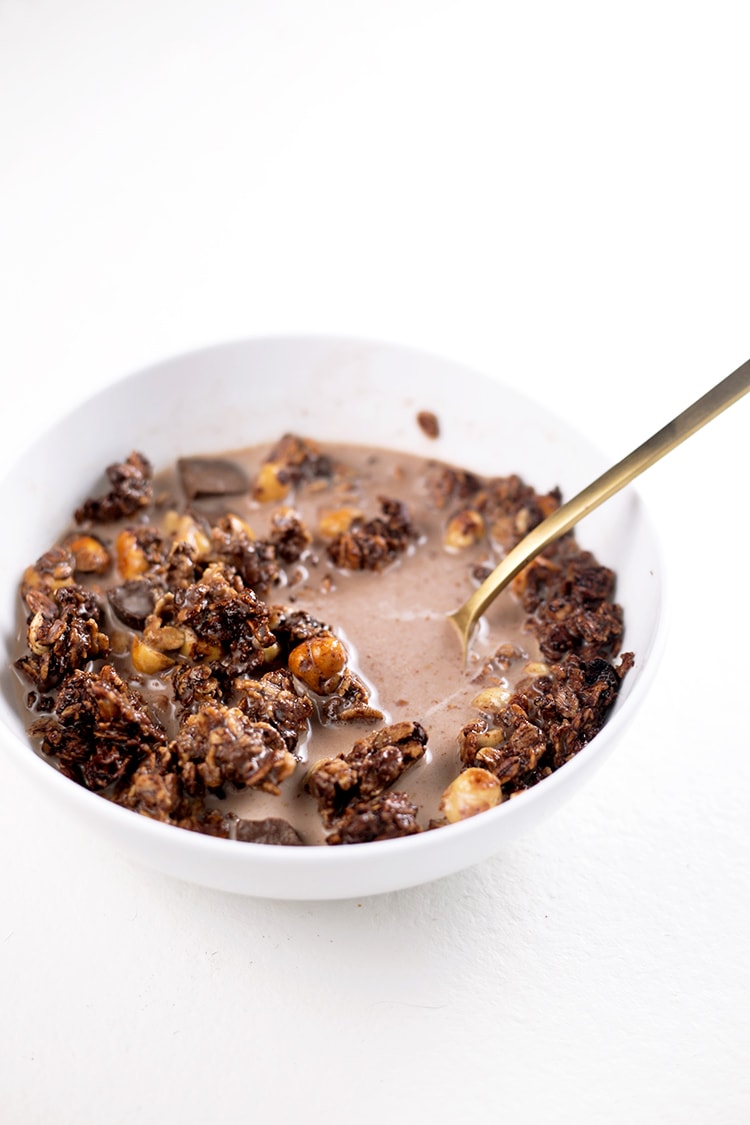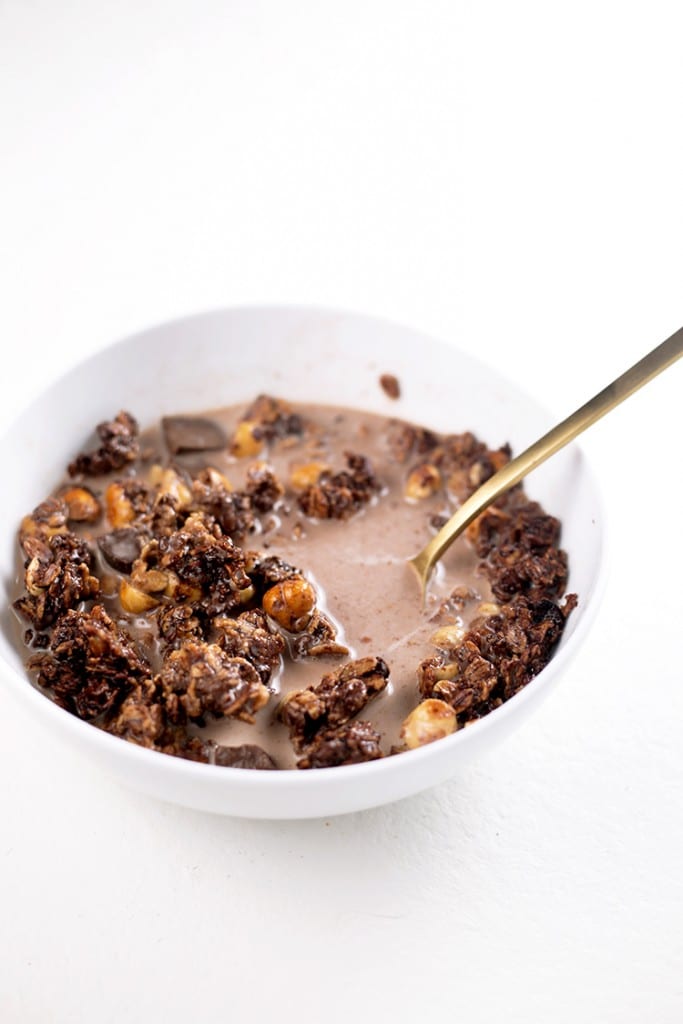 Scroll down for the full recipe for my Chocolate Hazelnut Granola. It is Vegan, Gluten Free and perfect for either breakfast or as a late night dessert binge. It's pretty stellar on Vegan Yogurt Parfaits too. Maybe even sprinkled on some Vegan Vanilla Ice Cream? Or maybe soaked in some Red Wine? Or how about stirred into a soup or stew? Okay, you get the picture 🙂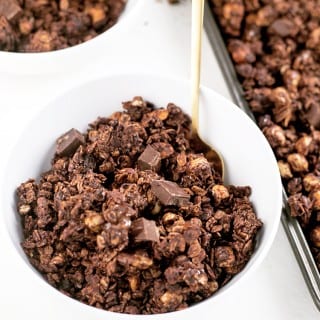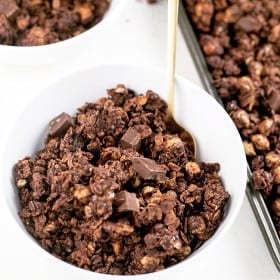 Hazelnut Granola
Chocolate Hazelnut Granola - a delicious dessert granola made with cocoa, praline paste/hazelnut butter and oats. V/GF
Ingredients
4

cups

Rolled Oats

1/2

teaspoon

Sea Salt

1/4

cup

Cocoa Powder

1

cup

Hazelnuts

Chopped

1/3

cup

Canola Oil

1/2

cup

Maple Syrup

1/2

cup + 2 Tablespoons

Brown Sugar

packed

2

tablespoons

Hazelnut Butter

1/3

cup

Water

1/2

teaspoon

Hazelnut Extract

1/2

cup

dark chocolate

chopped
Instructions
Preheat oven to 160 celsius and have a cookie sheet on hand.

Mix Rolled Oats, Salt, Cocoa Powder and Hazelnuts in a large mixing bowl. Set aside.

In a small saucepan, combine Maple Syrup, Brown Sugar, Sea Salt, Praline Paste, Oil and Water. Whisk, bring to a boil, take off the heat and pour into Oat mixture.

Add Hazelnut extract and stir well till all of your oats and nuts are coated with the mixture and spread out on baking tray in a single layer.

Bake for 30 minutes, and then stir mixture. Bake for another 30 minutes.

Once baked, removed from oven and let cool thoroughly. Once cooled, stir in chopped Chocolate.

Store in an airtight container.
Nutrition
Serving:
1
serving
Calories:
263
kcal
Carbohydrates:
34
g
Protein:
4
g
Fat:
13
g
Saturated Fat:
2
g
Trans Fat:
1
g
Cholesterol:
1
mg
Sodium:
79
mg
Potassium:
219
mg
Fiber:
4
g
Sugar:
17
g
Vitamin A:
4
IU
Vitamin C:
1
mg
Calcium:
44
mg
Iron:
2
mg