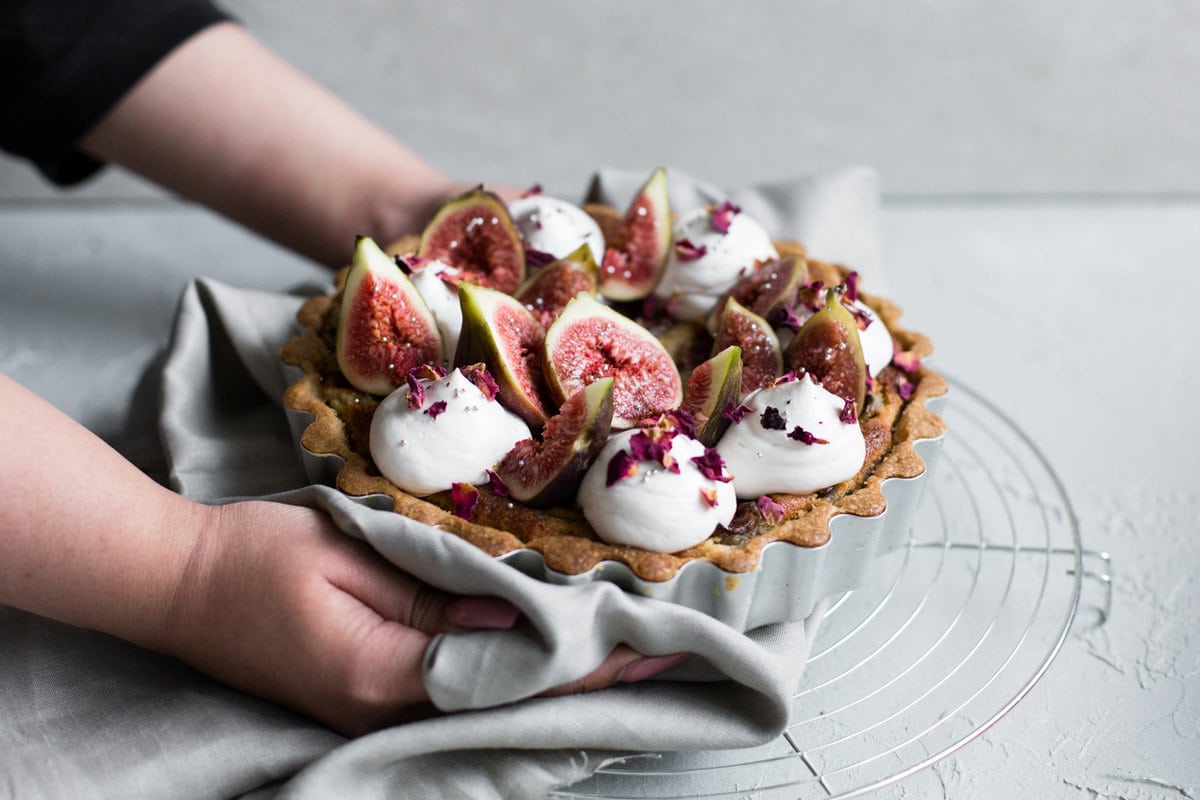 Because I'm a tart, by default, I love tarts. Whether they are savory or sweet, tarts have always been my guilty pastry pleasure. Another one of my favourite sweet treats is Fig Jam, so it only made sense that I combine my two vices and create a magnificent Vegan Fig Tart with Almond Frangipane. Think sweet pastry crust, almond a generous layer of fig jam, delicious almond frangipane filling and finally, a generous lashing of vegan whipped cream and fresh figs as the pièce de résistance.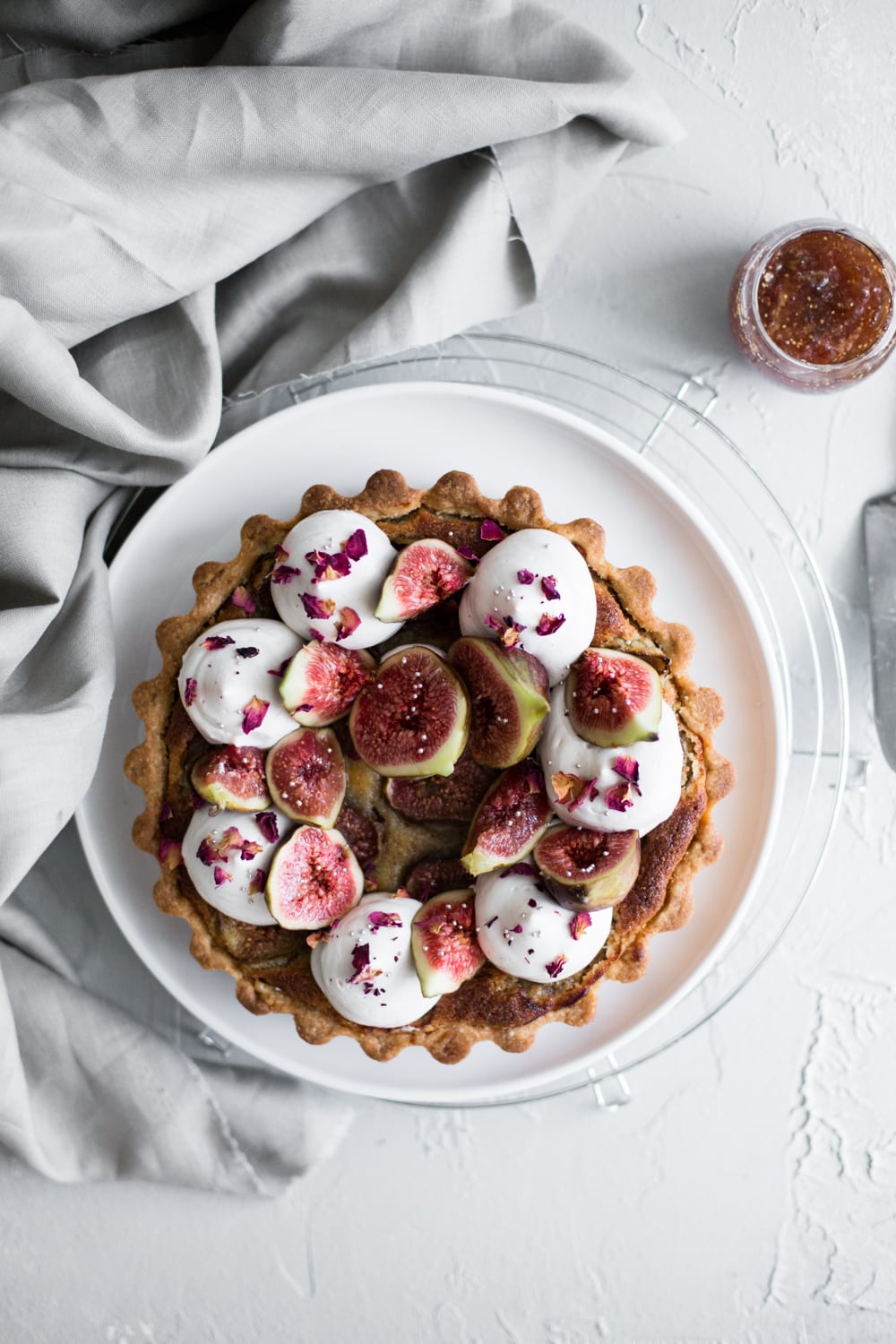 To start off the sweet pastry, you simple combine some Vegan Butter (the stick kind, not the tub variety), Sugar, a dash of Salt and All Purpose Flour. Once your dough is made, you chill it in the fridge for about an hour before rolling it out into a tart tin. Next up, a generous layer of Fig Jam – it is a Vegan Fig Tart after all. I make my own, but feel free to purchase a jar and go crazy.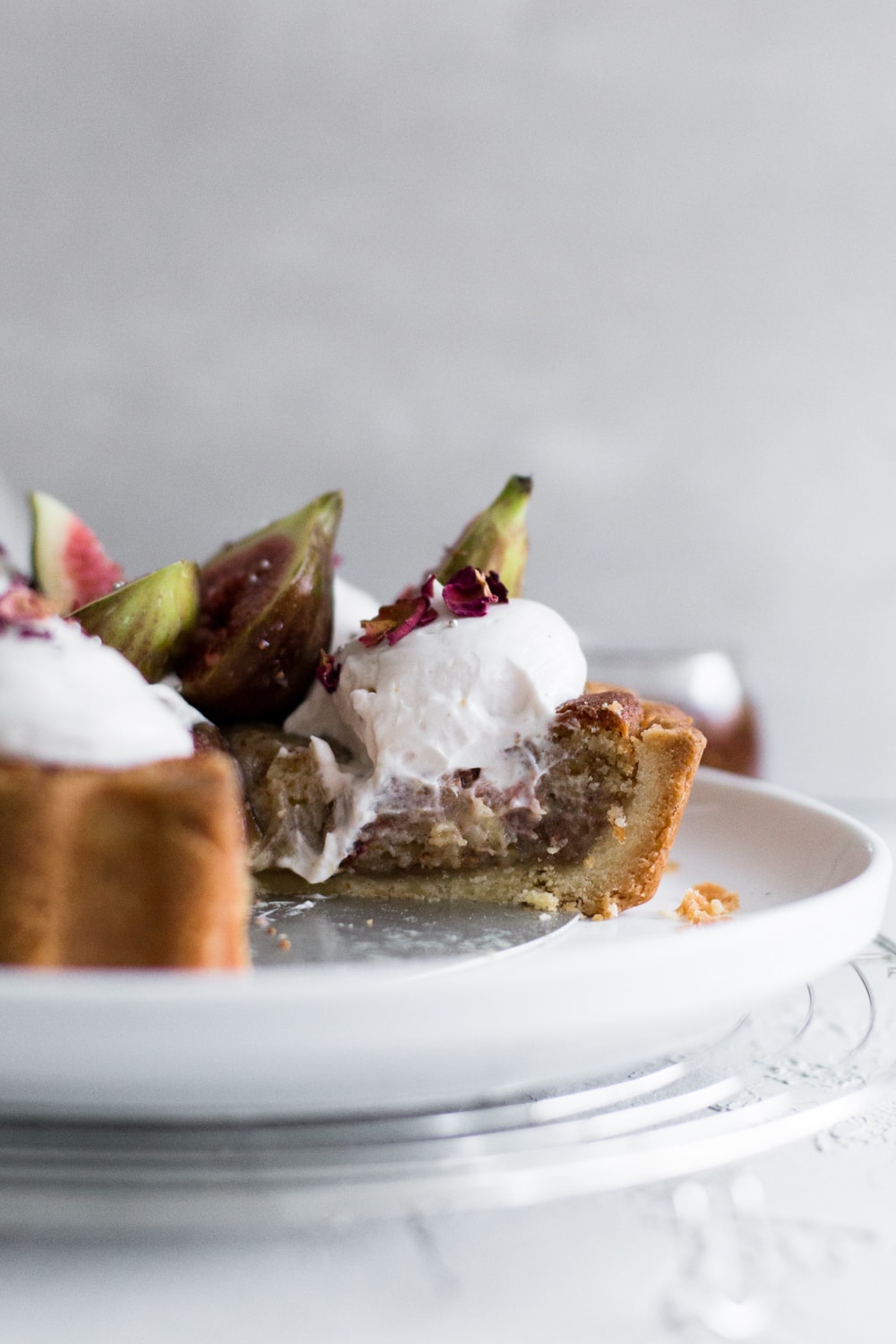 The last component of this Vegan Fig Tart is a veganized Almond Frangipane filling that is made with Vegan Butter, Sugar, Flour, Cornstarch, Aquafaba, Ground Almonds and Vanilla Extract. This tart doesn't require any blind baking (YAS), so you just bake the entire thing in the oven for 35-45 minutes until your Almond Frangipane is evenly browned and cooked through.
FREE EBOOK SERIES! 5 SECRETS FOR FOOLPROOF VEGAN DESERTS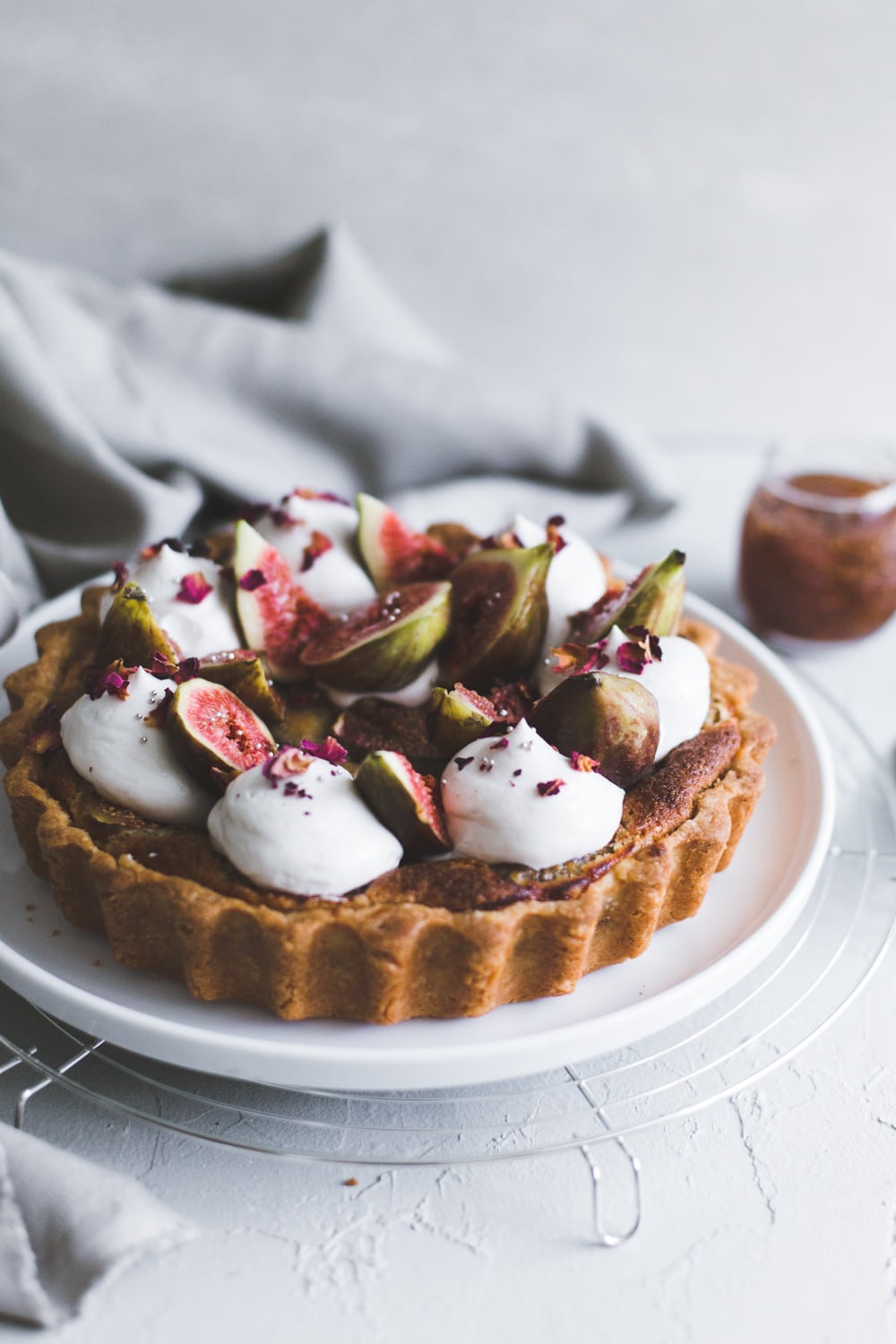 Lastly, top this bad boy off with some Vegan Whipped Cream and slices of fresh Fig (I use SoyaToo, feel free to use Coconut Whipped Cream – you do you!). I love this tart served at room temperature but I especially love it cold, so do as you please. You may also replace the Fig Jam and fresh Figs with other Fruit Jams/Fruit of your choice – the tart world is your Oyster! Don't let me tell you what to do. Scroll down to grab the full recipe, and I'll see you next time.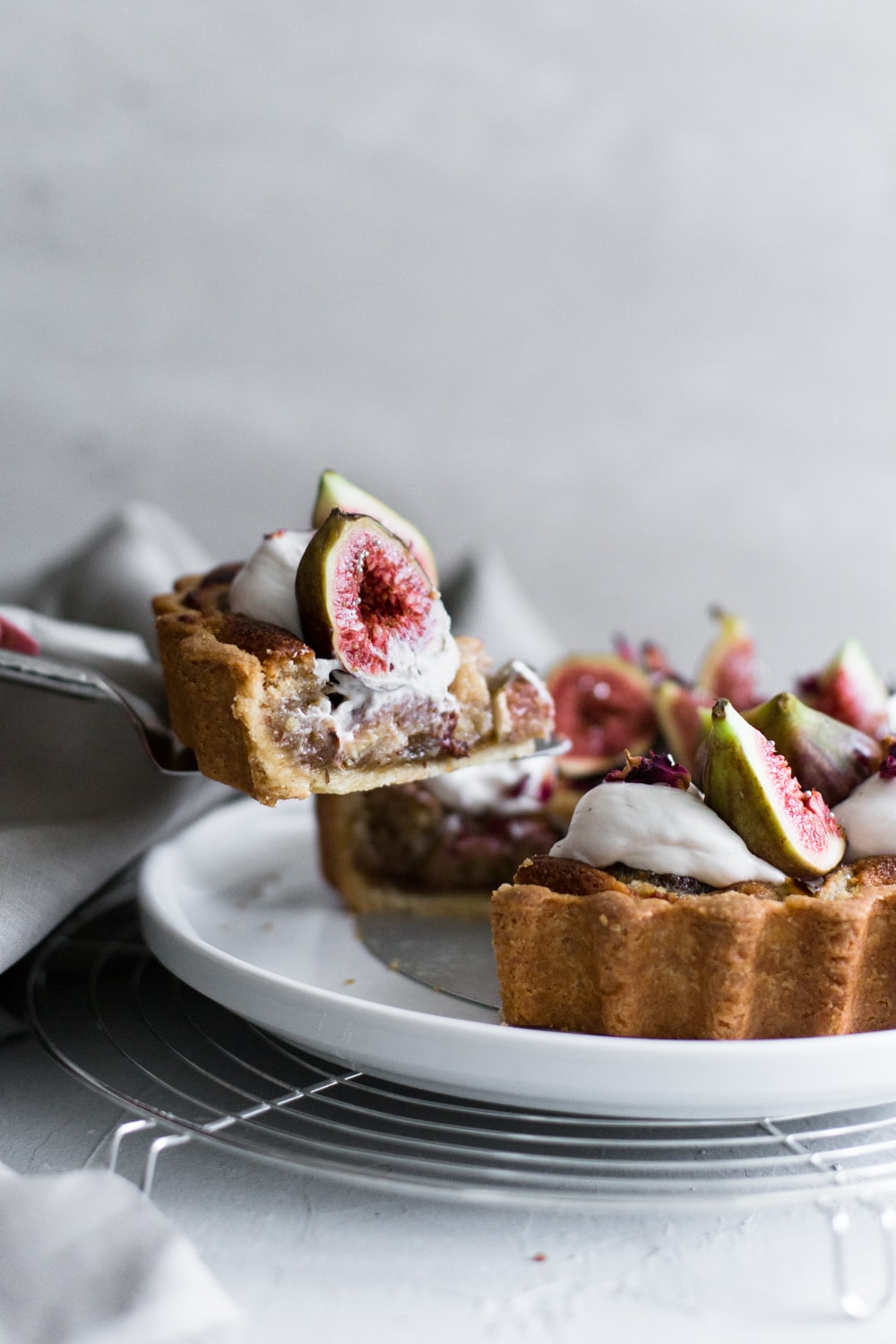 Similar Recipes You May Enjoy:
6 Ingredient Vegan Chocolate Tart
Hazelnut Raspberry Cupcakes
Vegan Oreo Peanut Butter Pie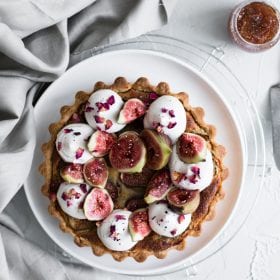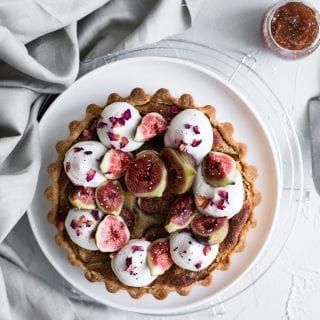 Vegan Fig Tart with Almond Frangipane
A delicious Vegan Fig Tart with a sweet pastry crust filled with Fig Jam, Vegan Almond Frangipane and topped with Vegan Whipped Cream.
Ingredients
Vegan Sweet Pastry Crust:
115

g

Vegan Butter

from a stick

60

grams

Sugar

1

tsp

Vanilla Extract

170

grams

All Purpose Flour

1/4

tsp

Salt
For Vegan Almond Frangipane:
80

grams

Vegan Butter

softened

115

grams

Sugar

40

grams

All Purpose Flour

1

tbsp

Cornstarch

85

grams

Aquafaba

1/3 cup

175

grams

almond flour

1/2

tsp

Baking Powder

2

tsp

Vanilla Extract
Extras:
3/4

cup

Fig Jam

* See notes

Vegan Whipped Cream

Fresh Figs

sliced ** See notes
Instructions
To prepare sweet pastry crust, combine softened Vegan Butter and Sugar in a bowl. Whisk till light and creamy. Add Vanilla Extract and whisk well.

Add sifted All Purpose Flour and Salt to your creamed butter and using a fork or pastry cutter, "cut" the flour into the butter until a soft dough forms. Don't overwork it.

Transfer dough to worktop and knead no more than 3-4 times, until the dough comes together.

Flatten slightly and wrap entirely in cling wrap, then let sit in the fridge to rest for 2 hours.

Meanwhile, make Vegan Almond Frangipane.

In a bowl, cream Vegan Butter and Sugar until light and creamy. Whisk in Flour, Cornstarch, Baking Powder, Vanilla Extract, Aquafaba and Ground Almonds.

Once your dough is fully chilled, preheat oven to 175 Celsius/350 F. Remove dough from fridge and dust your counter top with a thin layer of flour.

Roll your dough out until it is slightly larger than a 9 inch tart tin and then line your tin with the dough. Trim off excess and freeze the tart tin for 15 minutes.

After 15 minutes, remove from freezer and spread a generous layer of Fig Jam in the bottom of your lined tart tin.

Pour Vegan Almond Frangipane into tart case until it is filled to the brim. Even almond cream out and stud with small pieces of chopped Fresh Fig.

Bake tart in oven for 45-50 minutes or until golden and cooked through.

When tart has cooled down, remove from tin. I like to chill it for 4-6 hours to let the Almond Frangipane set up, but this is optional.

Decorate with Vegan Whipped Cream and more Fresh Fig pieces.
Notes
* You can replace Fig Jam with any other Jam, and the fresh Figs for any other fruit. I love Raspberry Jam + Raspberries or Blueberry Jam and Fresh Blueberries as an alternative.
TO STORE
: Leftovers can be stored in the refrigerator, covered, for up to 2 weeks.
TO FREEZE
: Place leftovers in a ziplock bag and store them in the freezer for up to 6 months. 
Nutrition
Serving:
1
serving
Calories:
220
kcal
Carbohydrates:
29
g
Protein:
2
g
Fat:
11
g
Saturated Fat:
3
g
Trans Fat:
1
g
Sodium:
172
mg
Potassium:
25
mg
Fiber:
1
g
Sugar:
15
g
Vitamin A:
621
IU
Calcium:
13
mg
Iron:
1
mg