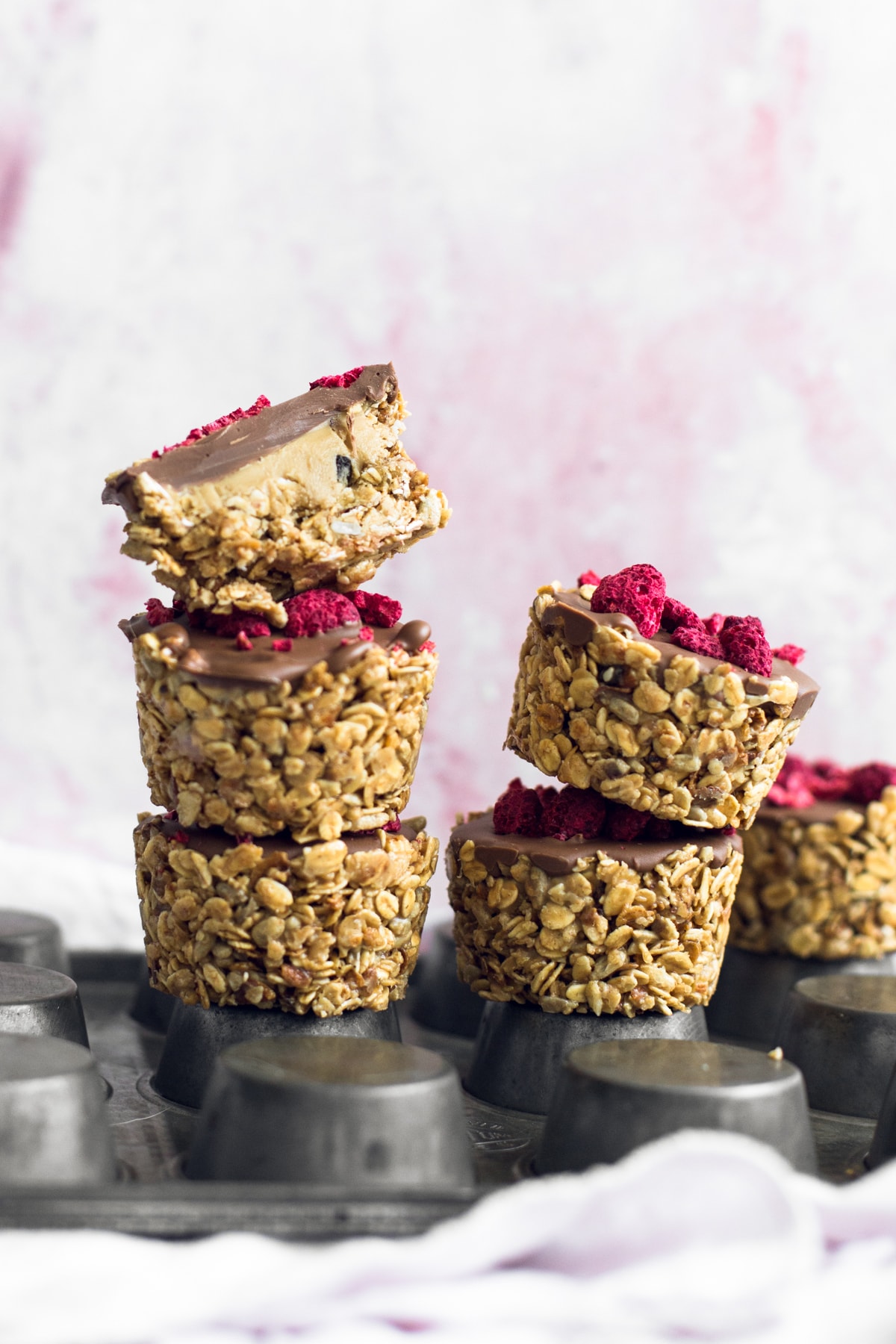 I've been all about the no-bake recipes recently mainly because it's Summer here in Australia but more importantly, simply because I'm a lazy lard ass who likes instant gratification. These No-Bake Vegan Granola Cups fit perfectly into my hedonistic sloth life, and I'm sure it will fit perfectly into yours too. If you're someone who likes making everything from scratch (aka you're someone with self respect unlike yours truly), then feel free to make a batch of my Vanilla Almond Granola for these Vegan Granola Cups. If you cant be arsed, then go out to your grocery store and purchase a box of inexpensive Granola. Either will work!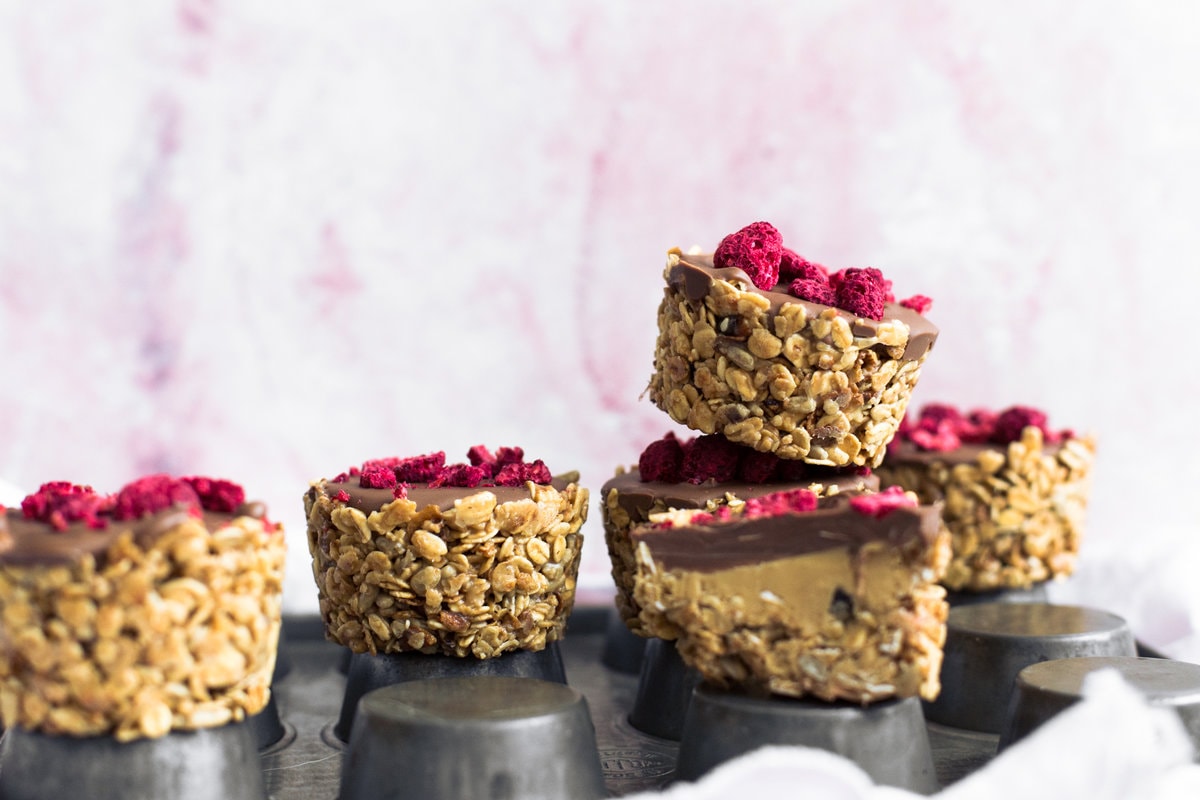 Since this is a no-bake recipe, it comes together in under an hour give or take, depending on how fast your Granola Cups set up. The base of the Vegan Granola Cups is simply some Granola, a mixture of Seeds of your choice (I used Sesame and Sunflower), some Agave Nectar/Maple Syrup, Almond Butter, Coconut Oil and a generous splash of Sea Salt. Once you combine these ingredients, you'll end up with a MOIST RUBBLE which you then press into muffin cups.
Now, to make these Granola Cups and not Granola Pucks, you're going to have to use your hands or a spoon to make an indent in the middle of each Granola mound. Once you've done that, fill the cavity with a Nut Butter of choice (I used Peanut because I'm cheap), and then freeze for about an hour or till firm. The last step is to top these Vegan Granola Cups off with some Melted Vegan Chocolate.  I used Vegan Milk Chocolate (Sweet William), but feel free to use Dark!
FREE EBOOK SERIES! 5 SECRETS FOR FOOLPROOF VEGAN DESERTS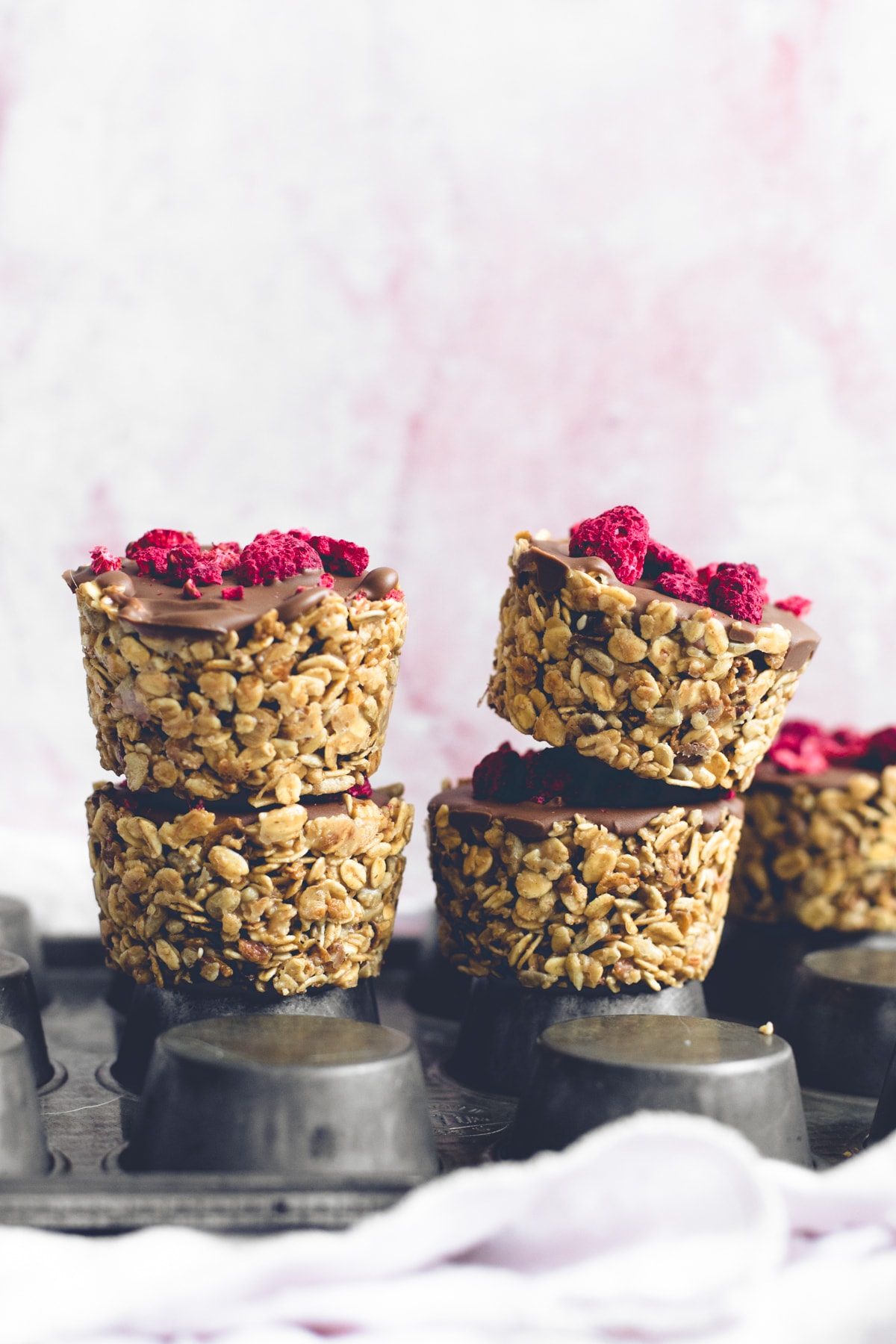 Let these bad boys set up in the fridge for a few minutes and hey presto, your No-Bake Vegan Granola Cups are done. TOLD YOU IT WAS SIMPLE! Of course, you can always make variations of these little fuc*kers by adding some berries in with the nut butter…I personally don't earn enough money to purchase BERRIES, but if you're privileged enough, go ahead. As always, tag me on Instagram if you try any of my recipes and seeya next time!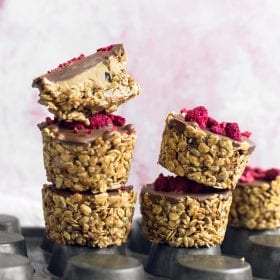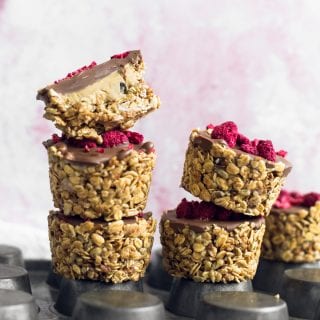 Vegan Granola Cups
Simple No-Bake Vegan Granola Cups filled with Nut Butter of your choice and topped off with Chocolate. Read in under an hour.
Ingredients
2

cups

Granola

homemadeif you're so inclined

1/4

cup

mixed Seeds

Sunflower, Sesame, Poppy

3

tbsp

Maple Syrup

3

tbsp

Peanut butter

or any nut butter

2

tbsp

Coconut Oil

Melted

1/4

tsp

Sea Salt

1/3

cup

Peanut Butter

or any nut butter

6

oz

vegan chocolate

for topping
Instructions
In a large bowl, combine Granola, Seeds, Maple Syrup, Almond Butter, Melted Coconut Oil and Sea Salt. Mix well to combine. If some granola chunks are too large, break them up with a spoon.

Grease a cupcake tin or use a silicone muffin mould with 6-8 cavities.

Divide your Granola mixture evenly into each cavity. Using your fingers, press the mixture up the sides and into the base of each cavity.

Using the back of a spoon, create an indent in each mound of granola.

Fill these indents with your 1/3 cup of Peanut or Almond Butter and then freeze for 1 hour. After 1 hour, the Nut Butter should be firm.

Melt your Vegan Dark Chocolate and top each granola cup with a generous amount before placing into the refrigerator for 5-10 mins to allow the chocolate to firm up.

Enjoy! Granola Cups will last up to 1 week in an air-tight box kept in a cool area.
Notes
TO STORE
: Leftovers can be stored in the refrigerator, covered, for up to 2 weeks.
TO FREEZE
: Place leftovers in a ziplock bag and store them in the freezer for up to 6 months. 
Nutrition
Serving:
1
cup
Calories:
194
kcal
Carbohydrates:
19
g
Protein:
5
g
Fat:
12
g
Saturated Fat:
4
g
Sodium:
107
mg
Potassium:
163
mg
Fiber:
2
g
Sugar:
8
g
Vitamin C:
1
mg
Calcium:
28
mg
Iron:
1
mg