Learn how to prepare these granola cups; they are quick, easy and delicious! Made using simple ingredients, it's a perfect on the go snack or breakfast!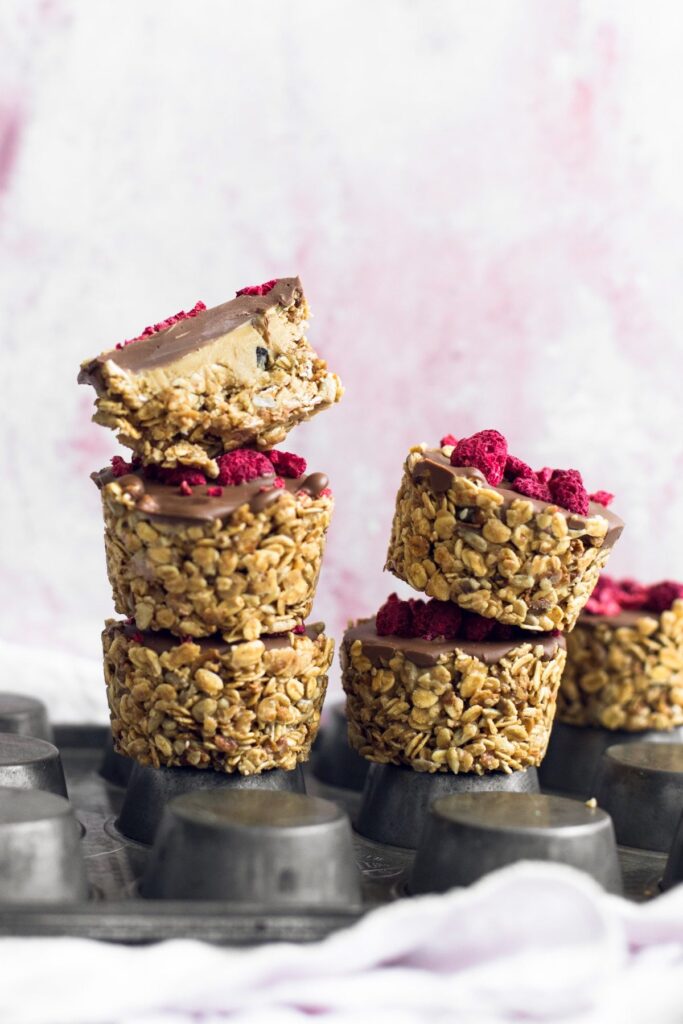 Who says healthy can't be tasty? Our oatmeal bars and these granola cups prove this. These are a healthy and delicious way to satisfy your sweet tooth!
Why you'll love this recipe
Easy. From prep to plate, the recipe just uses simple ingredients and 4 easy steps to prepare.
Delicious. All the ingredients combine to create a flavor that no one can resist.
Healthy. Packed with healthy fats, proteins, vitamins, and fiber, these are super nutritious.
Kid-friendly. These granola cups' flavour and texture make them a go-to snack even for your picky eaters.
Convenient. What I love the most about these granola cups is that they can be made ahead of time and are are an easy on the go snack or breakfast option!
Ingredients needed
Granola. Homemade or store-bought, this is the base ingredient that will help define the texture of the cups. Check out my own recipe for homemade vanilla granola, chocolate granola or grain free granola.
Mixed seeds. Sesame, poppy and sunflower seeds add crunch, protein, and healthy fats to the granola cups.
Maple syrup. Adds sweetness and acts as a natural binder for the cups.
Peanut butter. Or any nut butter to compliment the textures of the granola.
Coconut oil. Melted for a rich flavor and additional binding.
Sea salt. To taste.
Vegan chocolate. For a sweet topping to compliment the existing flavor profile.
How to make Granola cups
Step 1 – Prepare granola mixture. Mix granola, almond butter, maple syrup, seeds, melted coconut oil, and sea salt in a large bowl. Combine everything well with a spoon until there are no large granola chunks.
FREE EBOOK SERIES! 5 SECRETS FOR FOOLPROOF VEGAN DESERTS
Step 2 – Transfer the mixture to a muffin tray. Grease the muffin tray and divide the granola mixture evenly in the cavities of muffin tray. Press the mixture firmly into each cavity using your fingers. Now, create an indent in each mound of granola using a spoon. Fill it with almond or peanut butter.
Step 3 – Chill. Put the muffin tray in the freezer for an hour or until the nut butter becomes firm.
Step 4 – Serve. To serve the granola cups, top them with melted vegan chocolate and put them in the refrigerator for 5-10 minutes to firm up the chocolate. Serve and enjoy!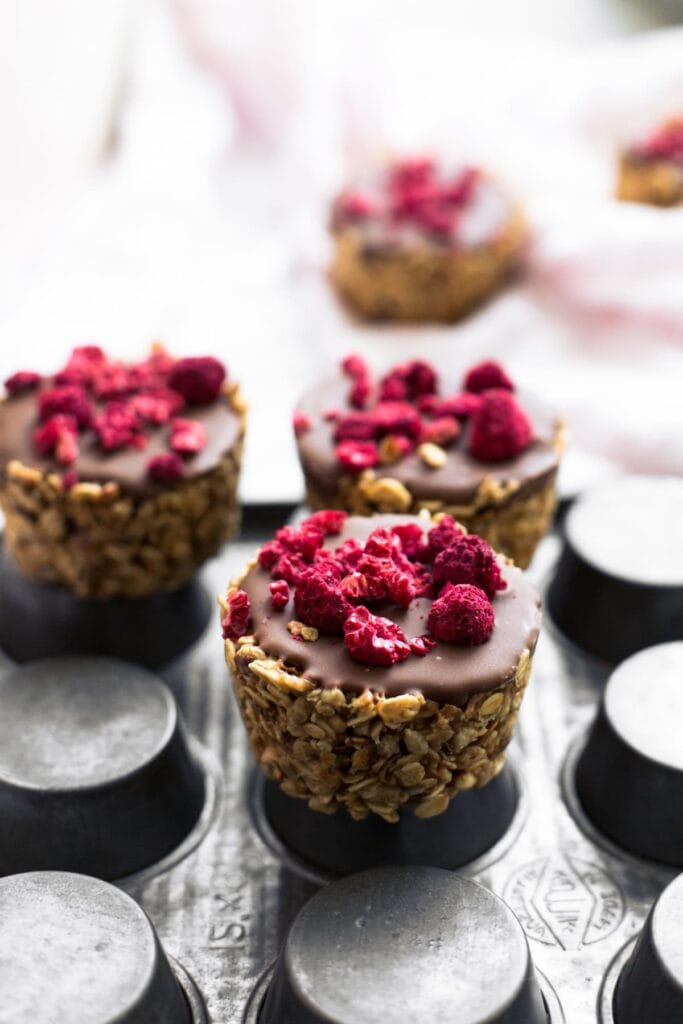 Tips to make the best recipe
No-sticking. Use a non-stick muffin tin or line it with parchment paper to prevent the granola cups from sticking.
Chilled. Let the cups chill completely before removing them from the muffin tin to avoid breaking them.
Check consistency. If you find that your granola cups are crumbling, try adding more binding agent or pressing the mixture more firmly into the muffin tin.
Variations
Want to experiment with the flavor of your granola cups? Here are some flavor ideas that you'll surely love:
Use different nuts and seeds. You can experiment with different types of nuts and seeds to give your granola cups a different flavor. For example, try using chopped almonds, walnuts, or pecans.
Try different extracts. Adding a few drops of vanilla, almond, or coconut extract can give your granola cups a subtle and distinct flavor.
Experiment with different sweeteners. Instead of using maple syrup, try using agave nectar, brown rice syrup, or molasses to sweeten your granola cups. Each sweetener has a unique flavor that can change the taste of your granola cups.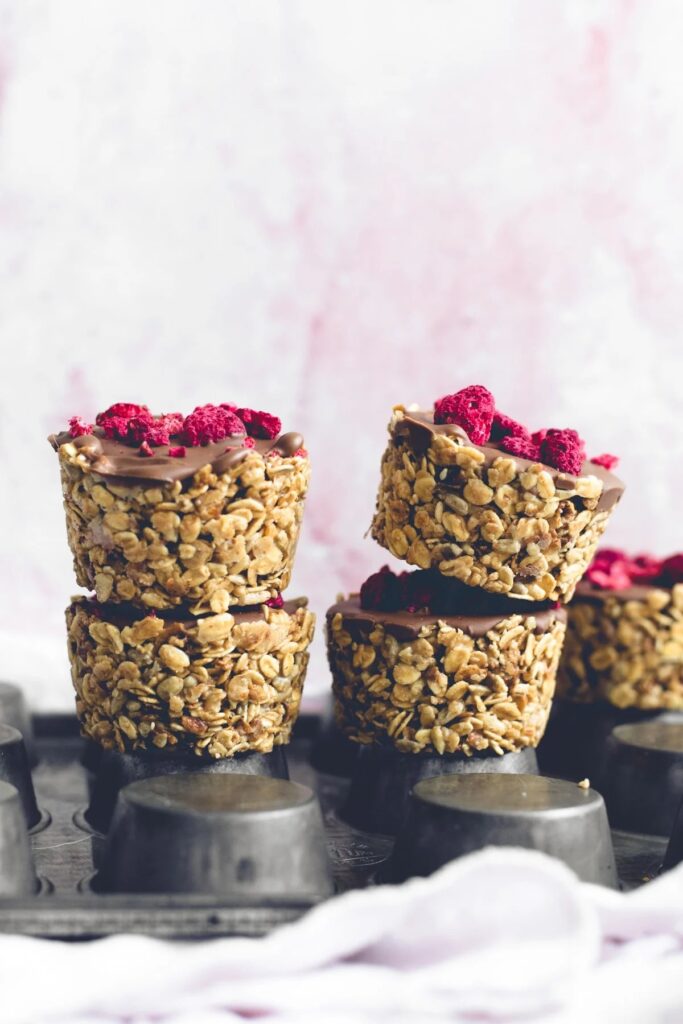 Storage instructions
To store: Place them in an airtight container, cover and store in the refrigerator for up to 2 weeks.
To freeze: Put them in a freezer-safe container or ziplock bags to place them in the freezer to freeze for up to 6 months.
More snack recipes to try
Frequently asked questions
Are these gluten free?
These can be gluten-free if made using gluten-free ingredients, such as certified gluten-free oats, nuts, and seeds. Not all the oats are completely gluten-free, so you should check the packaging labels.
Can I substitute the oats?
Yes, you can substitute the oats. Some great alternatives are chia seeds, quinoa flakes, chopped nuts and seeds.
Can I make these without using nuts?
Absolutely! If you have nut allergies, you can still enjoy vegan granola cups by omitting the nuts and using alternative ingredients like seeds (such as pumpkin or sunflower seeds) and additional dried fruits to maintain texture and flavor.
Granola Cups
Learn how to prepare these granola cups; they are quick, easy and delicious! Made using simple ingredients, it's a perfect on the go snack or breakfast! 
Ingredients
2

cups

granola

homemade or store-bought

1/4

cup

mixed seeds

sunflower, sesame, poppy

3

tablespoons

maple syrup

3

tablespoons

peanut butter

or any nut butter

2

tablespoons

coconut oil

melted

1/4

teaspoon

sea salt

1/3

cup

peanut butter

for filling

6

ounces

vegan chocolate

for topping
Instructions
In a large bowl, combine granola, seeds, maple syrup, peanut butter, melted coconut oil and sea salt. Mix well to combine. If some granola chunks are too large, break them up with a spoon.

Grease a cupcake tin or use a silicone muffin mould with 6-8 cavities.

Divide your granola mixture evenly into each cavity. Using your fingers, press the mixture up the sides and into the base of each cavity.

Using the back of a spoon, create an indent in each mound of granola.

Fill these indents with peanut butter (or nut butter equivelant) and then freeze for 1 hour. After 1 hour, the nut butter should be firm.

Melt your vegan chocolate and top each granola cup with a generous amount before placing into the refrigerator for 5-10 mins to allow the chocolate to become firm.

Enjoy! Granola cups will last up to 1 week in an air-tight box kept in a cool area.
Notes
TO STORE

: Leftovers can be stored in the refrigerator, covered, for up to 2 weeks.
TO FREEZE

: Place leftovers in a ziplock bag and store them in the freezer for up to 6 months. 
Nutrition
Serving:
1
cup
Calories:
284
kcal
Carbohydrates:
29
g
Protein:
6
g
Fat:
18
g
Saturated Fat:
7
g
Polyunsaturated Fat:
3
g
Monounsaturated Fat:
5
g
Sodium:
104
mg
Potassium:
168
mg
Fiber:
3
g
Sugar:
15
g
Vitamin A:
0.3
IU
Vitamin C:
0.02
mg
Calcium:
77
mg
Iron:
3
mg