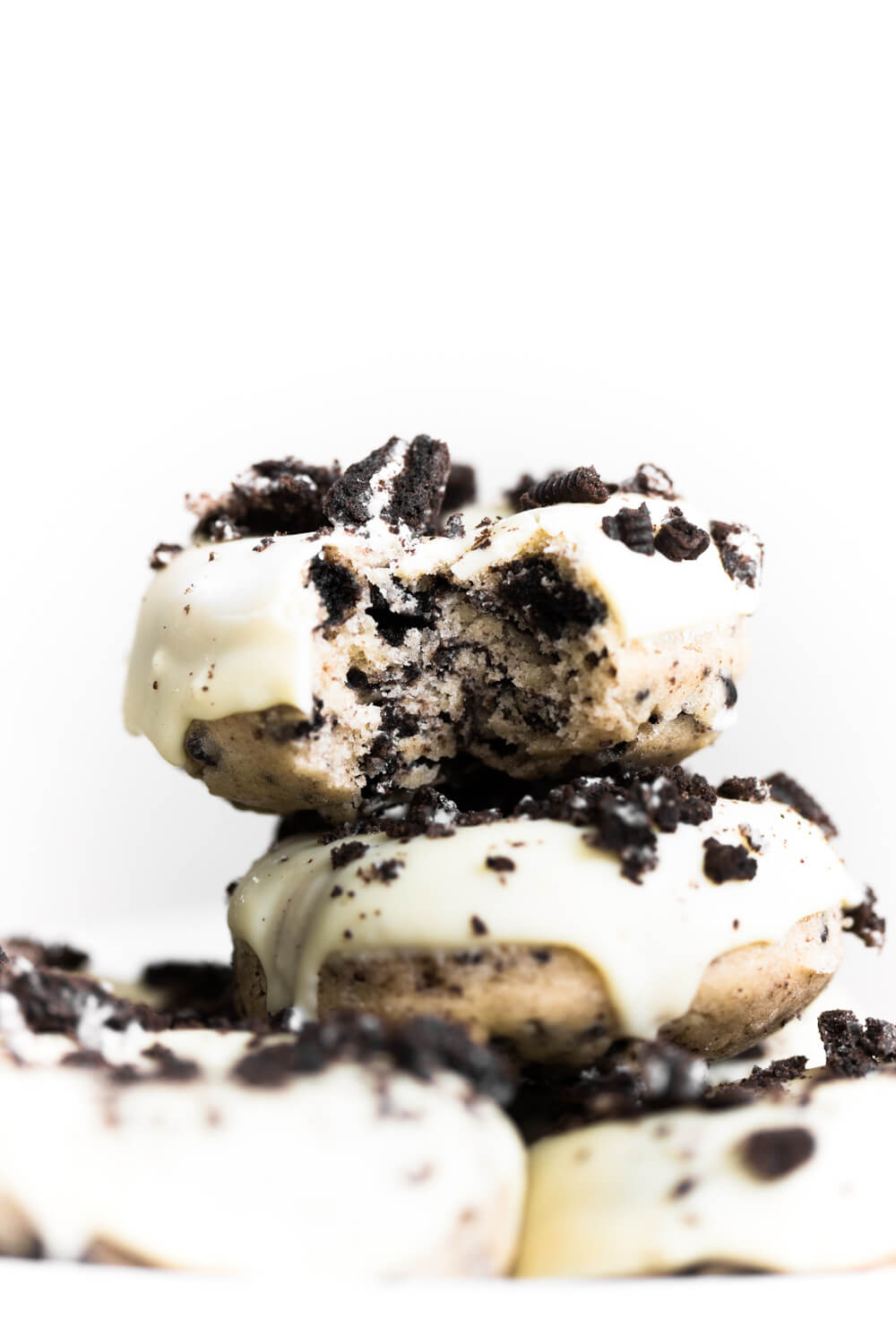 Hey ho, let's go. I've been pretty absent from this blog as of recent (gotta thank those two jobs I have keeping me busy), so I figured why not hop on and grace your presence with some good ol' Donuts. Vegan Oreo Donuts, to be exact. And baked, not fried – because ain't nobody got enough money to purchase 3 gallons of oil. Or maybe that's just me living my poverty lifestyle and everyone is actually out there pampering themselves with Costco sized barrels of Vegetable Oil. Lest I digress.
So, I've got another Vegan Baked Donut recipe on this humble little site, so if you're looking for a Chocolate Baked Donut base, click here! So, why Oreos this time round? Simple, they're on special at the Supermarket. I'll do anything to save a dollar because unlike most bloggers, I don't have a husband who fills my wallet, neither do I have the perfect picket fenced home. Martha Stewart is screaming.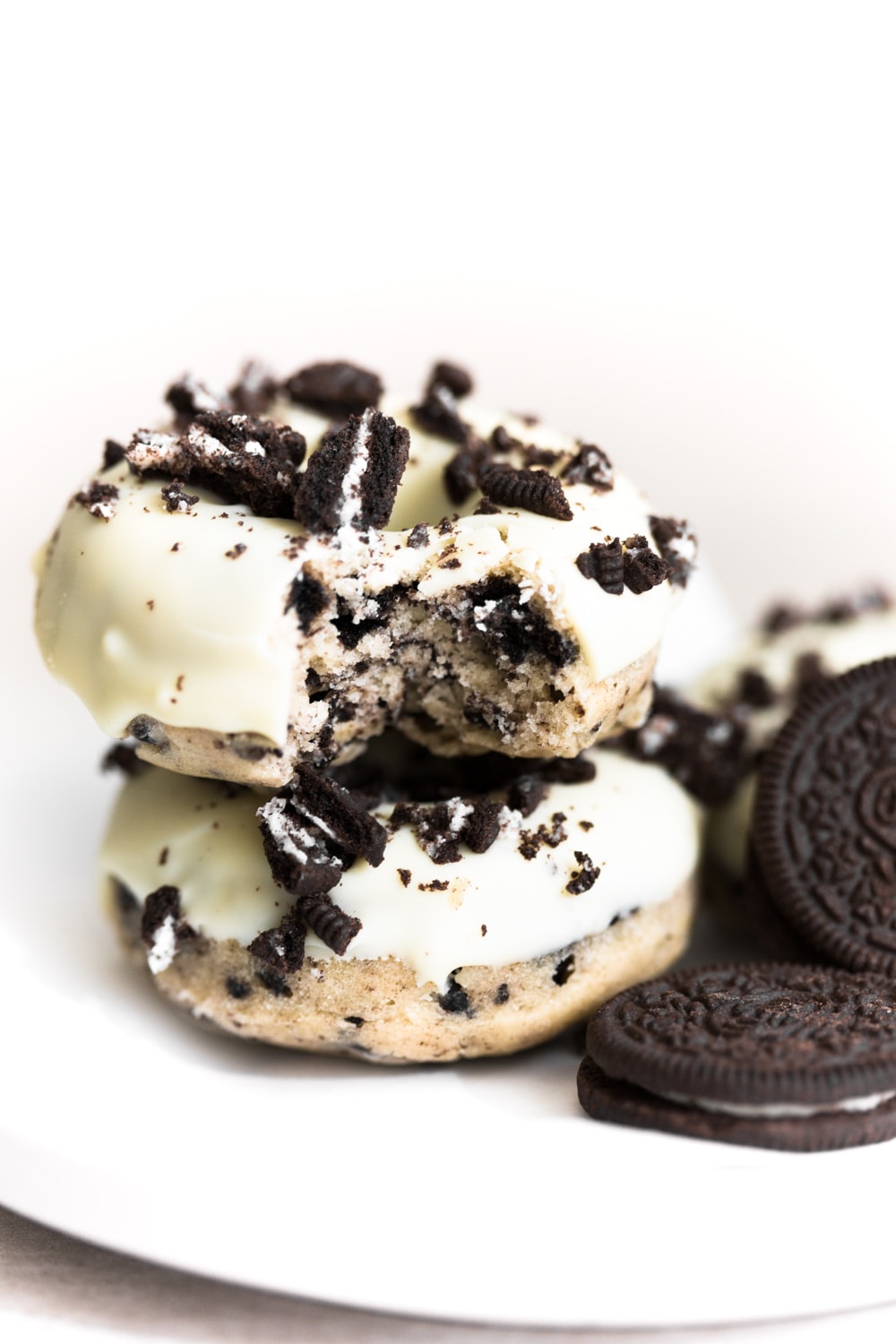 My Vegan Oreo Donuts come together pretty easy, and are ready in under an hour if you're a slowpoke. I run like Speedy Gonzales in the kitchen so I had these done in under 40 minutes. Hussein Bolt, cry your eyes out. The base of this recipe is a Vanilla Donut batter with bits of Oreos folded in.
FREE EBOOK SERIES! 5 SECRETS FOR FOOLPROOF VEGAN DESERTS
What are vegan oreo donuts?
Simple. All purpose Flour, Sugar, Baking Powder, Salt, Almond Milk, 1 Chia Egg, Vanilla, Oil and Oreos! You could use Flax Egg, but I think Chia works really well in this recipe and you don't have to worry about weird black spots in your batter because the ashy crumbles of Oreo have got that covered.
Can I Make These Vegan Oreo Donuts Gluten-Free?
I guess you could if you can get your hands on a quality All Purpose Gluten Flour mix.
What Is The Icing On These Vegan Oreo Donuts?
Melted Vegan White Chocolate, and literally just that. I initially wanted to use a Vegan Cream Cheese bases frosting but I figured it wouldn't set up the way White Chocolate would, and no one likes a soggy donut. So, melted Vegan White Chocolate will do the trick. As soon as you dip the baked and cooled Donuts into its glaze, quickly top off with more Crushed Oreos so that they stick to your Oreo Donuts before the chocolate sets.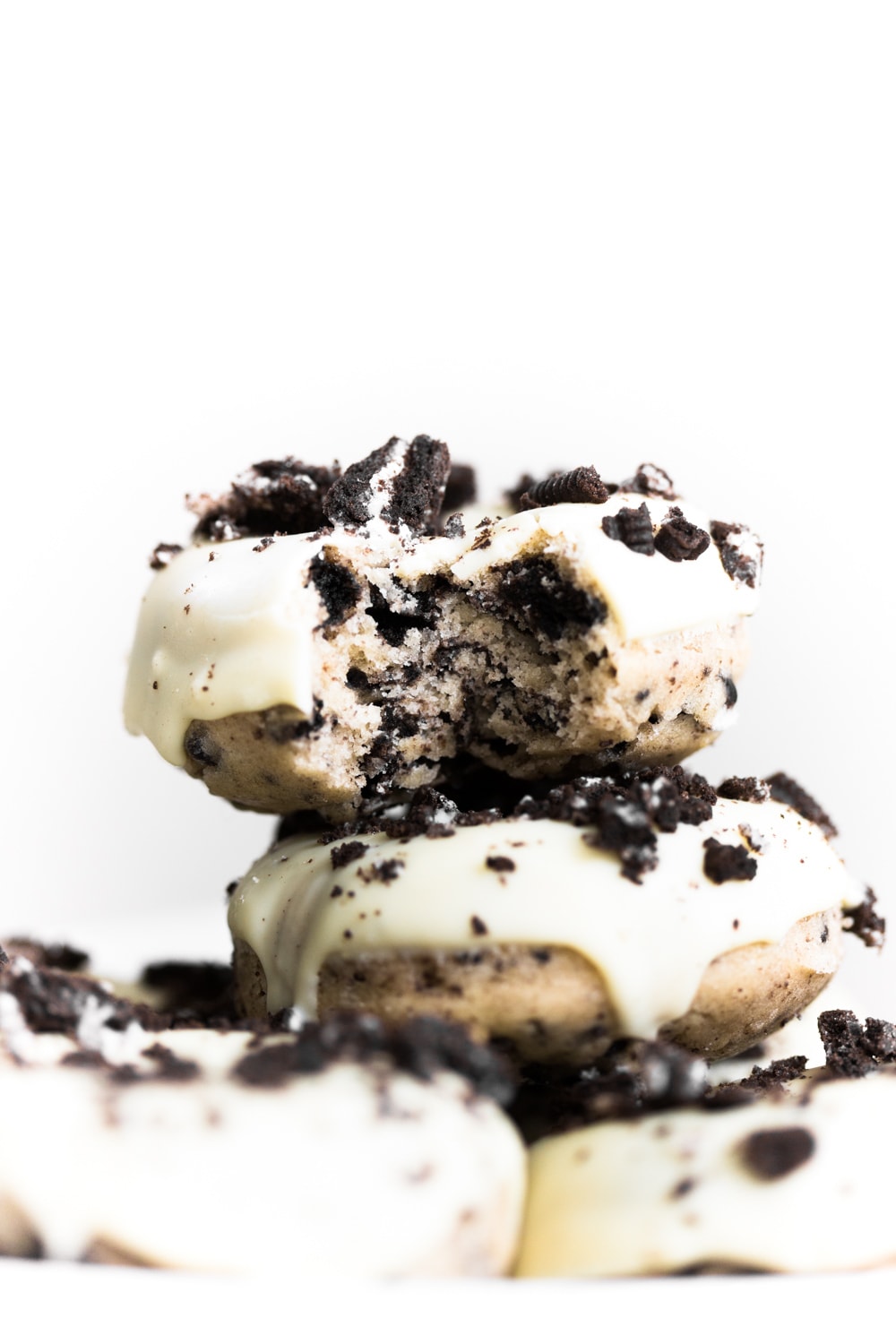 What If I Don't Have A Donut Pan?
You can find one on Amazon, how simple is that? You could probably make these in muffin tins but you would lose the signature donut shape.
And there you have it, everything you need to know to make these super basic Vegan Oreo Donuts!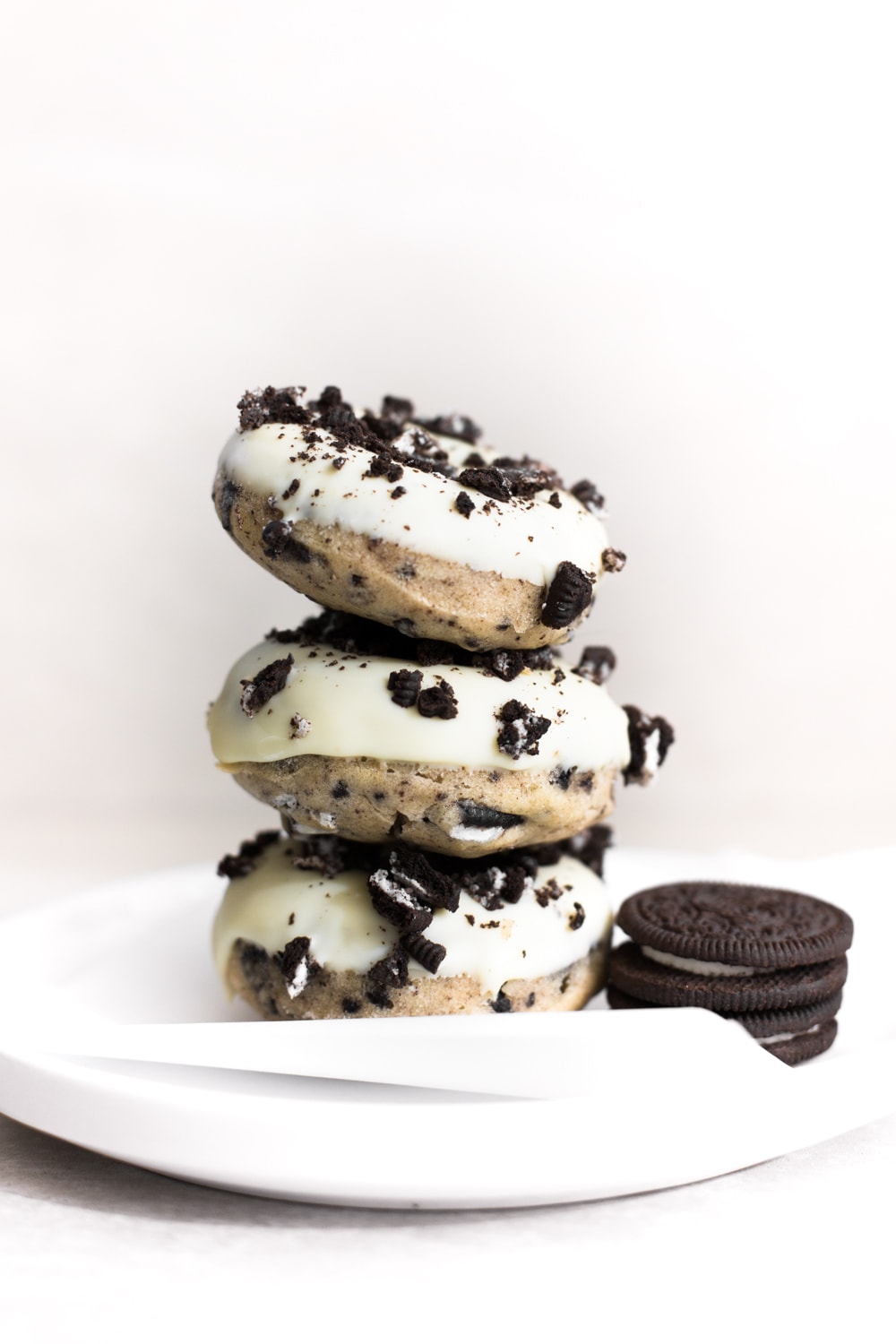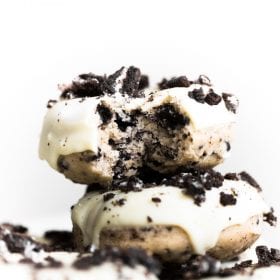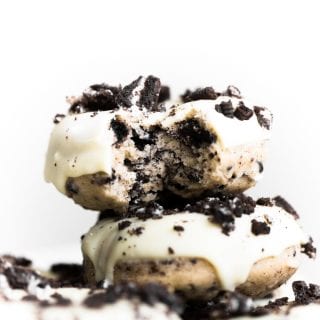 Oreo Donuts
Ingredients
Donut Batter:
1

cup

All Purpose Flour

125g

3

tablespoons

Sugar

40g

1

teaspoon

Baking Powder

1/2

teaspoon

Salt

1

tablespoon

Ground Chia Seeds

3

tablespoons

Water

6

tablespoons

Almond Milk

1

teaspoon

Pure Vanilla Extract

3

tablespoons

Vegetable Oil

9

Oreos

finely chopped
Icing:
150

g

Vegan White Chocolate

Extra crushed Oreos

for garnishing
Instructions
Preheat the oven to 325F/165C. Spray a 6 cavity donut pan with cooking spray and set aside.

In a small bowl, combine Ground Chia and Water. Whisk well and leave for 10 minutes to gel.

In a larger bowl, combine the Flour, Sugar, Baking powder and Salt.

In YET another bowl, combine the Almond Milk, Chia Goop, Vanilla and Oil. Whisk well.

Make a well in the the dry ingredients and pour in the wet mixture. Gently stir until just combined.

Finely chop the Oreos, making sure the pieces will be small enough to fit through the piping bag. Stir Oreos into the batter and mix to combine. Transfer mixture to a piping bag and pipe batter into each donut cavity.

Bake the donuts for 12-15 minutes, or until a toothpick comes out clean. Remove from the oven and let the donuts sit in the pan for 10 minutes before releasing from the pan and transferring them to a wire rack to cool completely.

Once cooled, melt White Chocolate in a bowl (don't overheat as it will seperate), and dip the top of each donut so that it is liberally coated. Before the chocolate sets, garnish with more chopped Oreos.

Allow the chocolate to set before chowing down!

Donuts will keep for up to 3 days in an air-tight box stored in room temperature.
Notes
Vegan Oreo Donuts made in under 1 hour. The perfect Baked Vanilla Donuts studded with chunks of Oreo and iced with Vegan White Chocolate. YUMMEH.
Nutrition
Calories:
313
kcal
Carbohydrates:
50
g
Protein:
5
g
Fat:
12
g
Saturated Fat:
6
g
Polyunsaturated Fat:
1
g
Monounsaturated Fat:
2
g
Trans Fat:
0.01
g
Sodium:
355
mg
Potassium:
66
mg
Fiber:
3
g
Sugar:
25
g
Vitamin A:
0.4
IU
Calcium:
97
mg
Iron:
5
mg