This vegan paella is an authentic Spanish dish loaded with fresh vegetables and plenty of saffron! Ready in minutes and so delicious!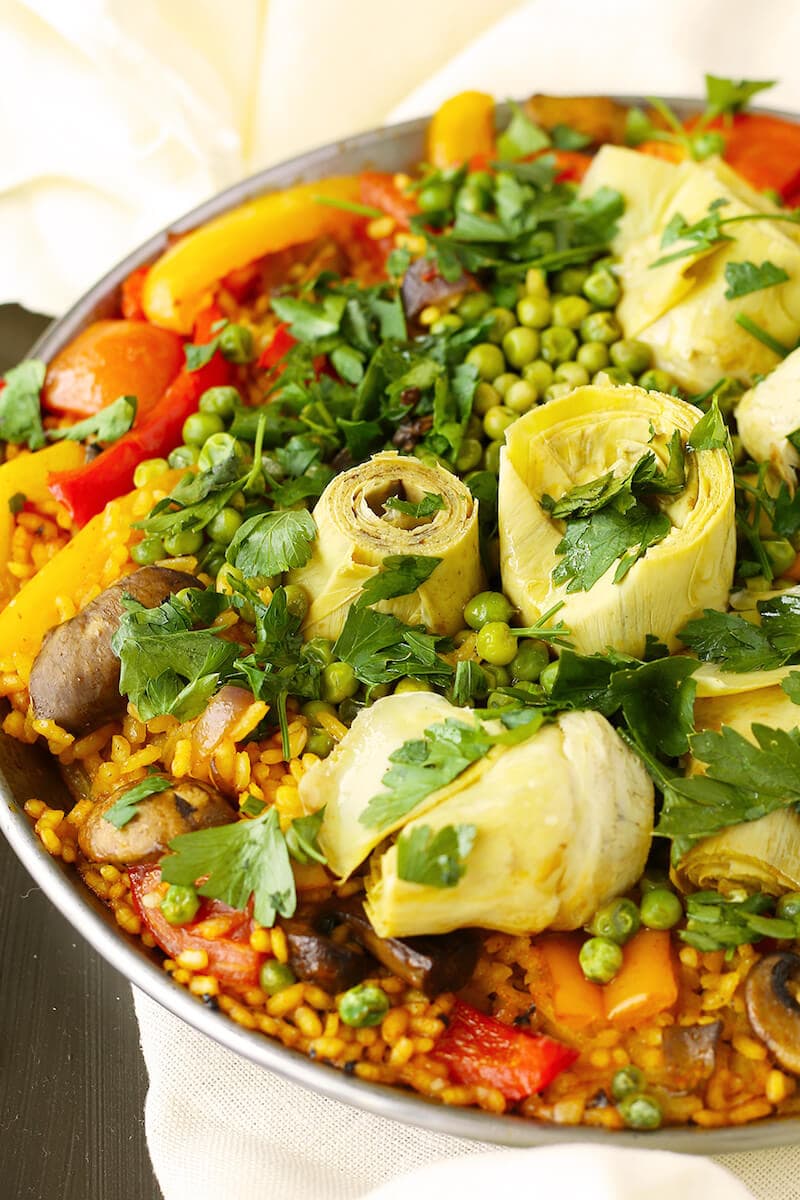 When it comes to delicious international vegan dinners, my favorite would have to be a paella!
Vegan paella is a super tasty recipe to make if you're a vegetarian or on a vegan diet. This vegan version of the famous Spanish paella is a meat-less one-pot recipe that won't disappoint your taste buds. 
FREE EBOOK SERIES! 5 SECRETS FOR FOOLPROOF VEGAN DESERTS
What is paella?
Paella is a Spanish dish that is considered one of the best dishes in Spanish cuisine. For non-Spaniards, it's the national dish of Spain, but for Spaniards, it's a dish that belongs to the Valencian region of Spain.
Paella gets its name from a Valencian word derived from a Latin term which means "pan." It's called this because Valencian paella is cooked and served in a big shallow pan. The primary ingredients of paella include rice, saffron, chicken, and seafood. 
What goes in a vegan paella?
The ingredients used in the vegan paella version are different than those used in the famous Spanish paella. The things used to make vegan paella include:
Vegetable stock – Adds flavor to vegan paella. Avoid using low sodium stock.
Saffron threads – Give paella a distinct golden color plus an earthy and floral flavor.
Olive oil – For cooking and enhances the taste. You can use any oil of your choice.
Red onion – Gives flavor and color to paella.
Yellow and red bell pepper – Add vibrant color and a sweet flavor profile.
Brown mushrooms – Adds a meaty flavor and serves as a great replacement to meat in vegan paella.
Garlic – Serves as a flavoring agent.
Bomba rice – Spanish locals use it in the original Spanish paella. It absorbs liquid and flavor better than other types of rice without becoming sticky.
Roma tomatoes – With a meaty texture and fewer seeds and water content, they make paella more chewable and remove excess moisture.
Smoked paprika – Enhance color and depth of flavor.
Salt/ pepper – For seasoning and spicing, salt enhances the flavor, and pepper adds flavor to paella.
Green peas – Adds color and their natural sweetness perfectly complements the spicy and salty flavors of paella.
Artichoke Hearts – Gives paella a creamy texture without adding moisture.
Parsley – For garnishing the paella, it adds bright color and unique flavor.
How do you make vegan paella?
Once you get all the ingredients for vegan paella, follow the simple steps below to make this delicious paella recipe.
Sautee the vegetable stock and cook paella
Start with adding vegetable stock and saffron threads in a saucepan and boil at high flame. When bubbles appear, reduce the flame and cook at low heat. In a paella pan, add olive oil or any other oil as per your choice. Add onion, red and yellow pepper, and stir-fry until softened. Once done, add mushrooms and garlic and sauté them for at least 5 minutes. Season with salt and pepper according to your taste.
Add Bomba rice and adjust the heat 
Add Bomba rice, tomato, and smoked paprika a mix all the ingredients properly. Adjust the heat to medium-low and wait to add one-third of saffron-filled stock until liquid starts getting absorbed. Cook the paella for some time without covering the pan. Then gradually add the remaining vegetable stock when the liquid is almost absorbed. Allow the paella to cook for 5 to 10 minutes.
Assemble and serve
In the end, add peas and artichoke hearts to paella and cover with tin foil. Cook, it covered for 10-12 minutes, and then turn off the heat. Don't uncover the paella pan 10 minutes after turning off the heat. After 10 minutes, remove the foil, garnish paella with parsley, and your vegan paella is ready to serve.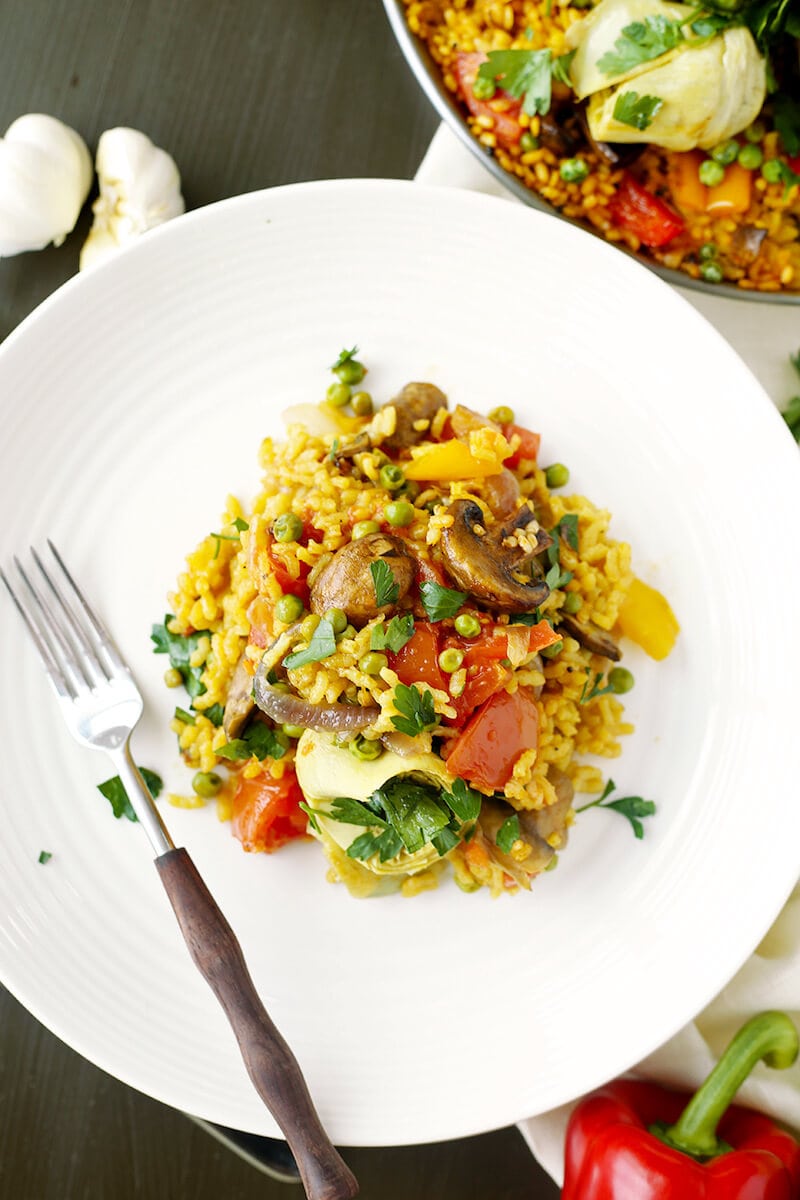 What kind of rice do I need for a vegan paella?
If you want to enjoy the flavor of the Spanish paella in vegan style, then the best rice option is Bomba rice. It is grown in Spain and often used in the Spanish Paella. Bomba rice is also known as the Calasparra Rice because it is grown in the Calasparra region of Spain. So, if you find it in the store as Calasparra Rice, don't get confused. 
Bomba rice is the best option because it's excellent at absorbing flavors. It doesn't stick together, even if you cook them a bit longer than usual. So, your paella looks really nice instead of becoming spongy, which can happen with other rice.
However, it's possible that you don't get Bomba rice. In that case, you'll need a substitute for Bomba rice for your vegan paella. Some of the best replacements for Bomba rice are Risotto (Arborio rice), Senia, and Bahia rice.
Do you need to use a paella pan to make this dish?
No, it's not mandatory to use a paella pan to make this dish. You can cook this dish in different pans and pots. However, you must ensure that the pot is wide and have enough space to cook the rice evenly. Generally, a 12–14-inch frying pan or skillet will be a good alternative. 
Paella pans are typically made of two types- carbon steel and enamel. But the regular pots used in homes are primarily stainless steel or cast iron. So, you have to keep in mind that there will be some cooking differences. In terms of the material of the pan, here are some of the best replacements for paella pans: 
Tips and tricks to get the best taste of vegan paella 
Once you've added the rice and the vegetable stock, you shouldn't stir paella at all, as itt keeps the rice separate. To stop the rice from sticking to the pan, you can shake the pan instead of stiring. 
Cook paella over a heat source that can provide even heat under the whole pan. If you don't have big burners in your home, you can cook paella outdoors or a large gas or charcoal grill. 
If you're using rice other than Bomba rice, make sure you check the cooking time required by that rice. 
How do you store paella?
Unlike seafood paella, vegan paella can be stored in the fridge for 4-5 days or up to a week. Always use sealed containers to keep the paella as fresh and moist as possible.
Can you freeze paella?
Yes, you can freeze paella without affecting the flavor. However, once you defrost it after freezing, the rice can become a bit spongy.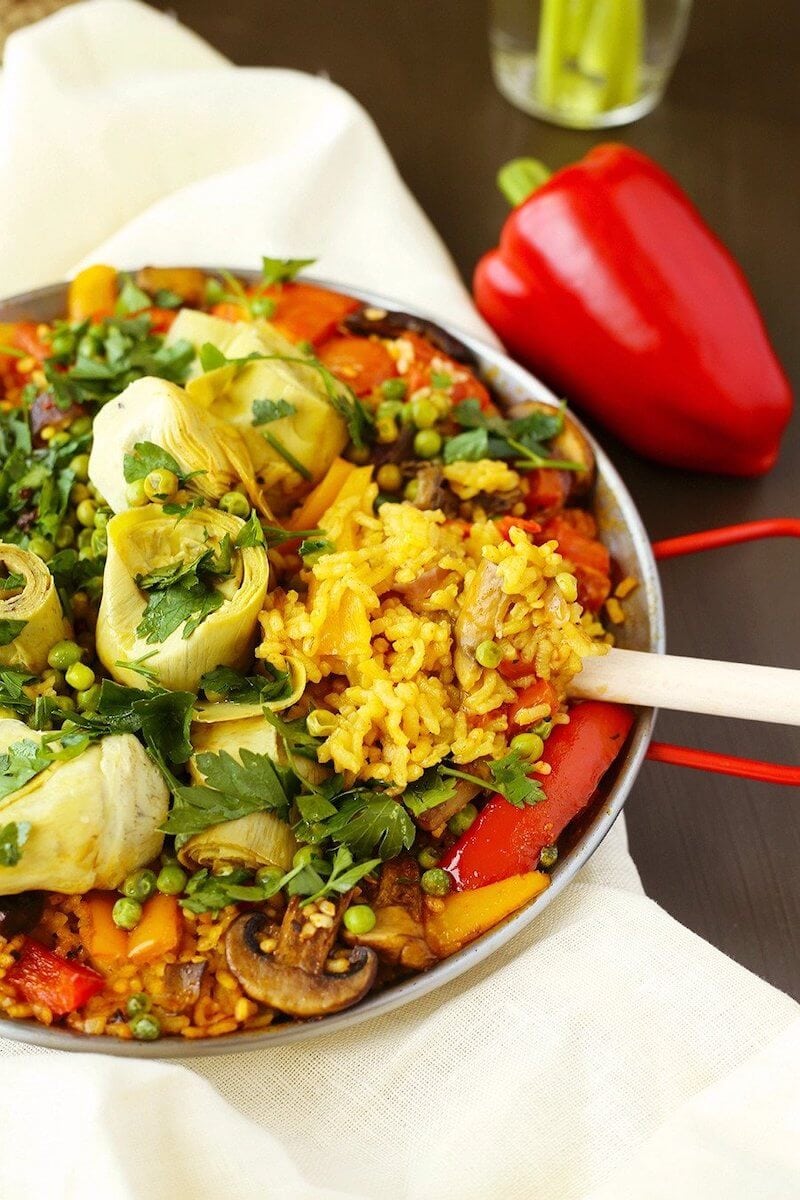 More vegan dinner recipes to try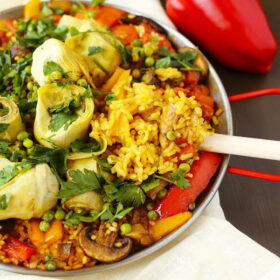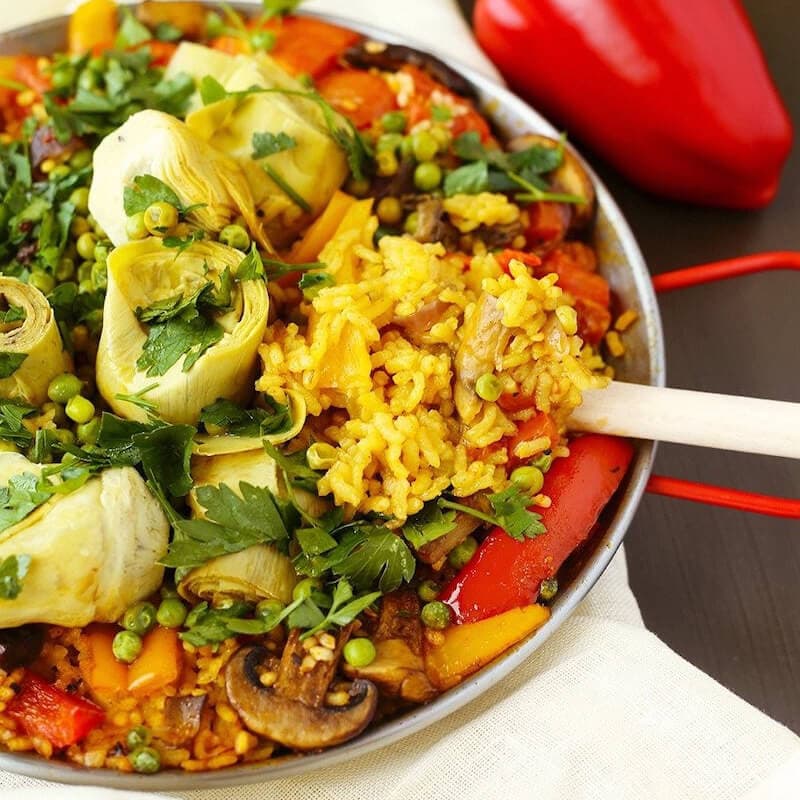 Vegan Paella
Ingredients
2 1/2

cups

Vegetable Stock

1/2

teaspoon

Saffron Threads

1 1/2

Tablespoons

Olive Oil

1

large

Red Onion

Sliced

1

large

Yellow Bell Pepper

Sliced

1

large

Red Bell Pepper

Sliced

1

cup

Brown Mushrooms

Sliced

3

cloves

Garlic

minced

1

cup

Bomba Rice

2

large

Roma Tomatoe

chopped

1 1/2

teaspoons

Smoked Paprika

1

teaspoon

Salt

1

cup

Green Peas

1

can

Artichoke Hearts

drained and chopped

1/2

cup

Parsley

chopped
Instructions
Combine the stock and saffron threads in a medium saucepan and bring to the boil over high heat. Reduce heat to low and maintain a simmer. Meanwhile, heat paella pan on the stove with oil.

Add Onion to Paella Pan and sautee for 2 minutes. Add sliced red and yellow pepper and continue to saute till softened, about 5 minutes. Add the mushrooms and garlic and sautee for 5 minutes or until it has softened slightly. Season liberally with salt and pepper.

Increase heat to medium-high. Add Bomba rice, tomato and smoked paprika and cook, stirring, for 1 minute until well mixed through. Reduce heat to medium-low. Add one-third of the saffron infused stock and stir until just combined. Let simmer uncovered for 5 minutes or until liquid is almost absorbed.

Add the next third of the stock and cook for 5 minutes uncovered or until almost absorbed. Add remaining third of stock and cook for 5-10 minutes uncovered.

Sprinkle surface of paella with peas and artichoke hearts. Cover entire pan in tin foil and leave to cook on a low heat for 12 minutes. After 12 minutes, turn heat off but leave the paella pan covered with tin foil for another 10 minutes.

Remove tin foil after 10 minutes and garnish with parsley.
Notes
STORAGE TIPS
Unlike seafood paella, vegan paella can be stored in the fridge for 4-5 days or up to a week. Always use sealed containers to keep the paella as fresh and moist as possible.
FREEZING TIPS
Yes, you can freeze paella without affecting the flavor. However, once you defrost it after freezing, the rice can become a bit spongy.
Nutrition
Serving:
1
serving
Calories:
200
kcal
Carbohydrates:
21
g
Protein:
5
g
Fat:
6
g
Saturated Fat:
1
g
Polyunsaturated Fat:
1
g
Monounsaturated Fat:
4
g
Sodium:
1404
mg
Potassium:
536
mg
Fiber:
6
g
Sugar:
8
g
Vitamin A:
3227
IU
Vitamin C:
169
mg
Calcium:
46
mg
Iron:
2
mg