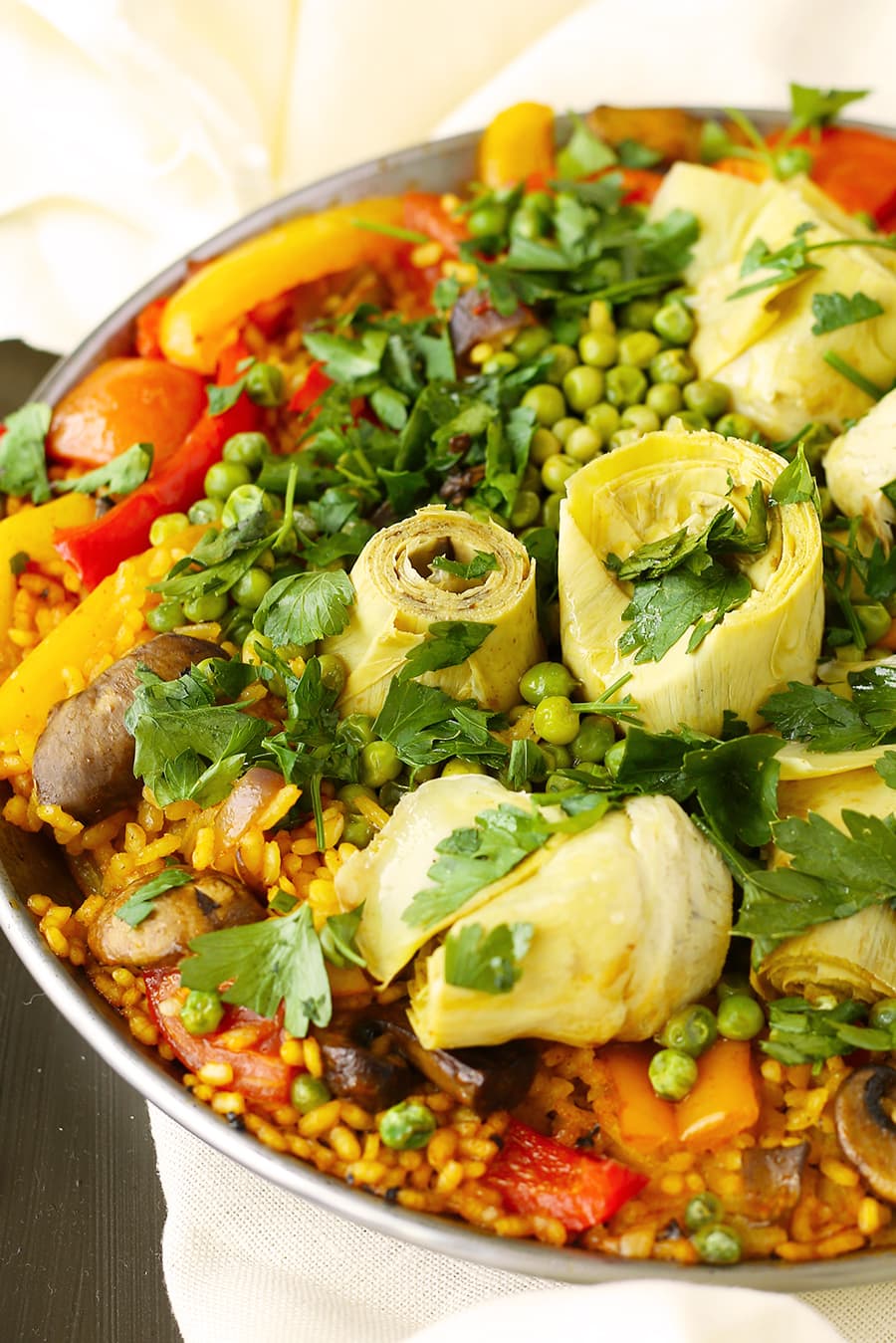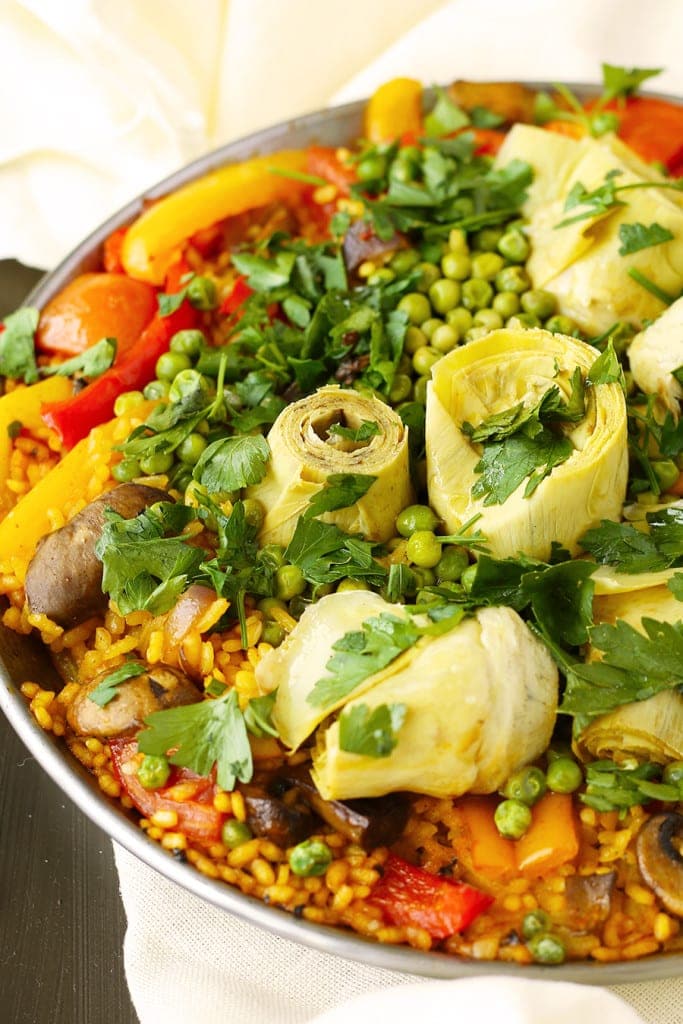 Hello! Long time no see! I haven't died… sadly. Life is too long a journey. -end of depressive moping-  I've been pretty busy recently… but… I'm back! Today I've come to tease you with a recipe for my favourite Vegan Paella. Some may say it's blasphemous to create a Vegan Paella recipe but…. I don't really care now do I?! To me, Paella is all about the plump little grains of saffron infused rice, and everything else is just secondary.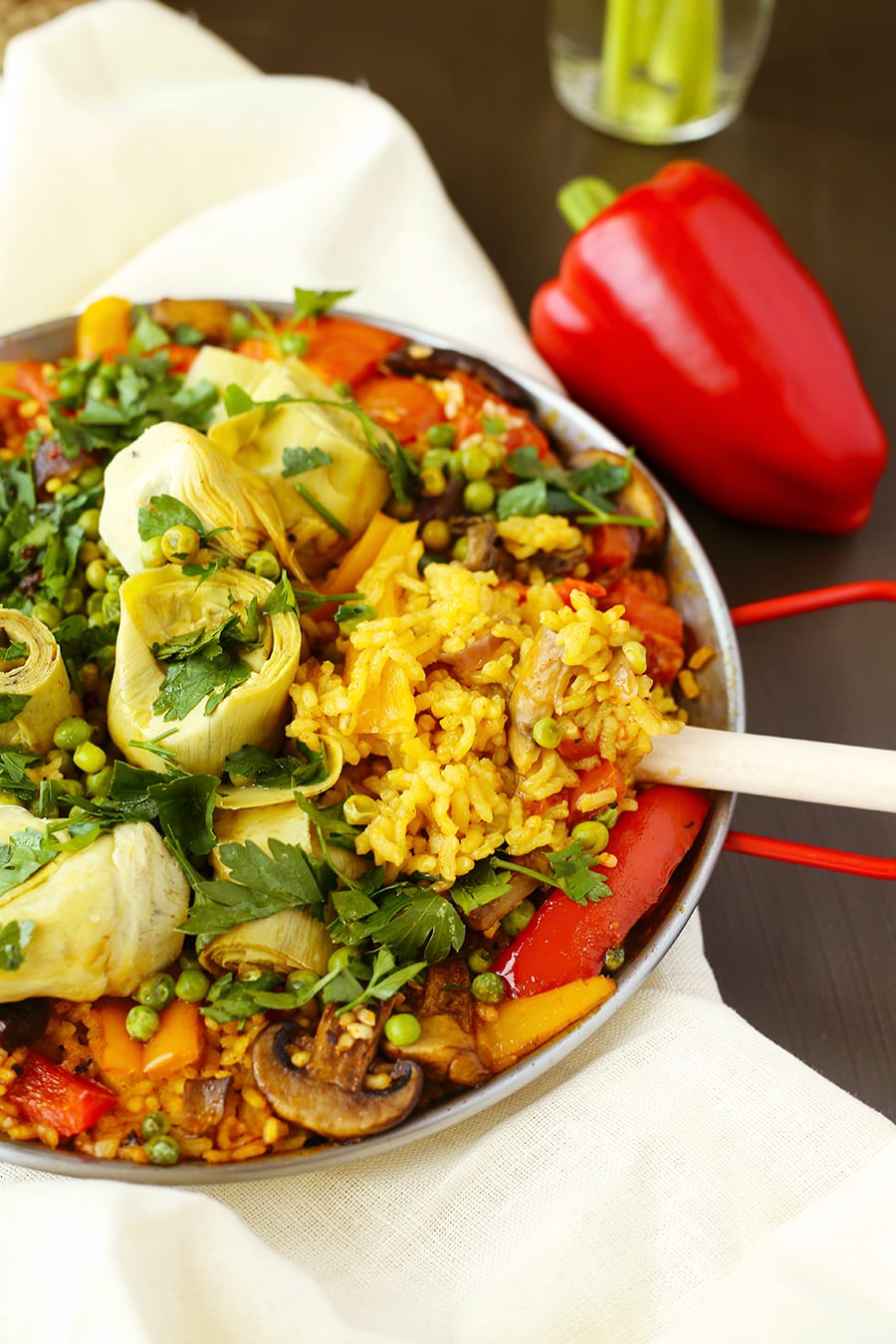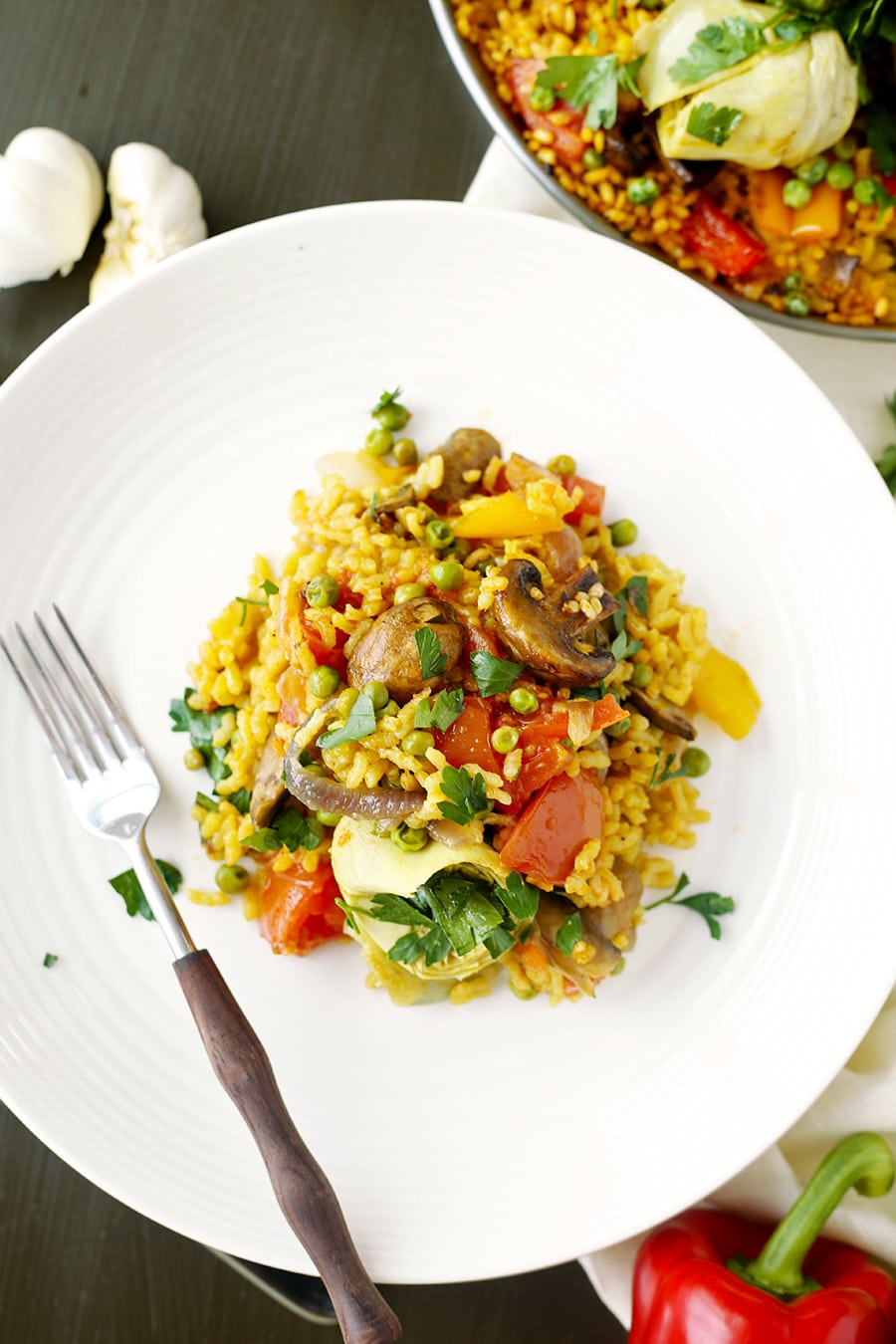 Our Vegan Paella is loaded with mushrooms, artichoke hearts (first time trying this for us, it's weird! In a good way though), red and yellow bell pepper, roma tomatoes and sweet little green peas. I was going to add Vegan Chicken bits to it but I completely forgot to get some at the grocery store so that plan went down the drain. THIS VEGAN PAELLA WAS YUM! Not even kidding, I don't usually toot my own horn. I have better things to do than indulge in self praise.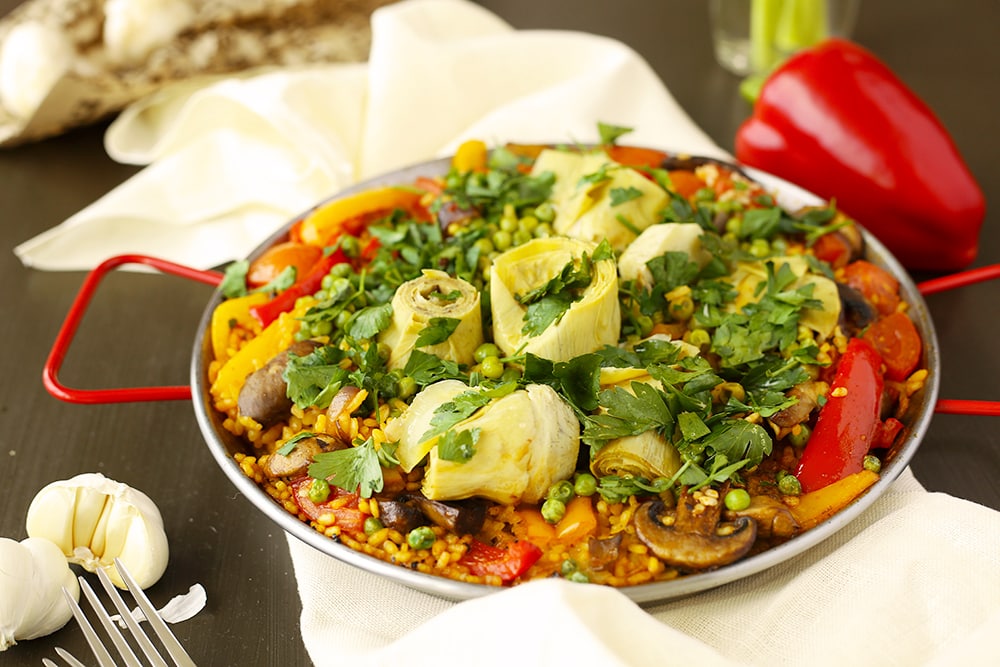 The first thing to note about making Paella, whether Vegan or not is: get a proper Paella pan! This really makes all the difference – paella pans help to form that amazing crust (socarrat) at the bottom, which adds the finishing taste / texture touch to any good paella recipe. Another thing to note is to use Bomba Rice which is absolutely the perfect type for making Paella. I've left you two Amazon links below if you're interested in using the exact same stuff I used in making my vegan paella recipe. Trust me – these products really did make a difference!
Disclaimer: The above are Amazon affiliate links, which means I earn a small commission if you purchase anything through those links, at no extra cost to you. I recommend these products based on my 100% first-hand experiences.
Well…. with all of that said, the neigbours in the opposite apartment are creating a drunken ruckus outside the house so I'm going outside now to give them a piece of my mind. And perhaps a molotov cocktail. I hate them, they spilled chips all over the communal garden. I feel like smashing the pan of Vegan Paella on their faces, but thou shalt not waste GOOD FOOD. ARGH. Anyway, I'll leave you with our scrummy, simple recipe for Vegan Paella. And remember guys, DON'T STIR YOUR PAELLA! EVIL!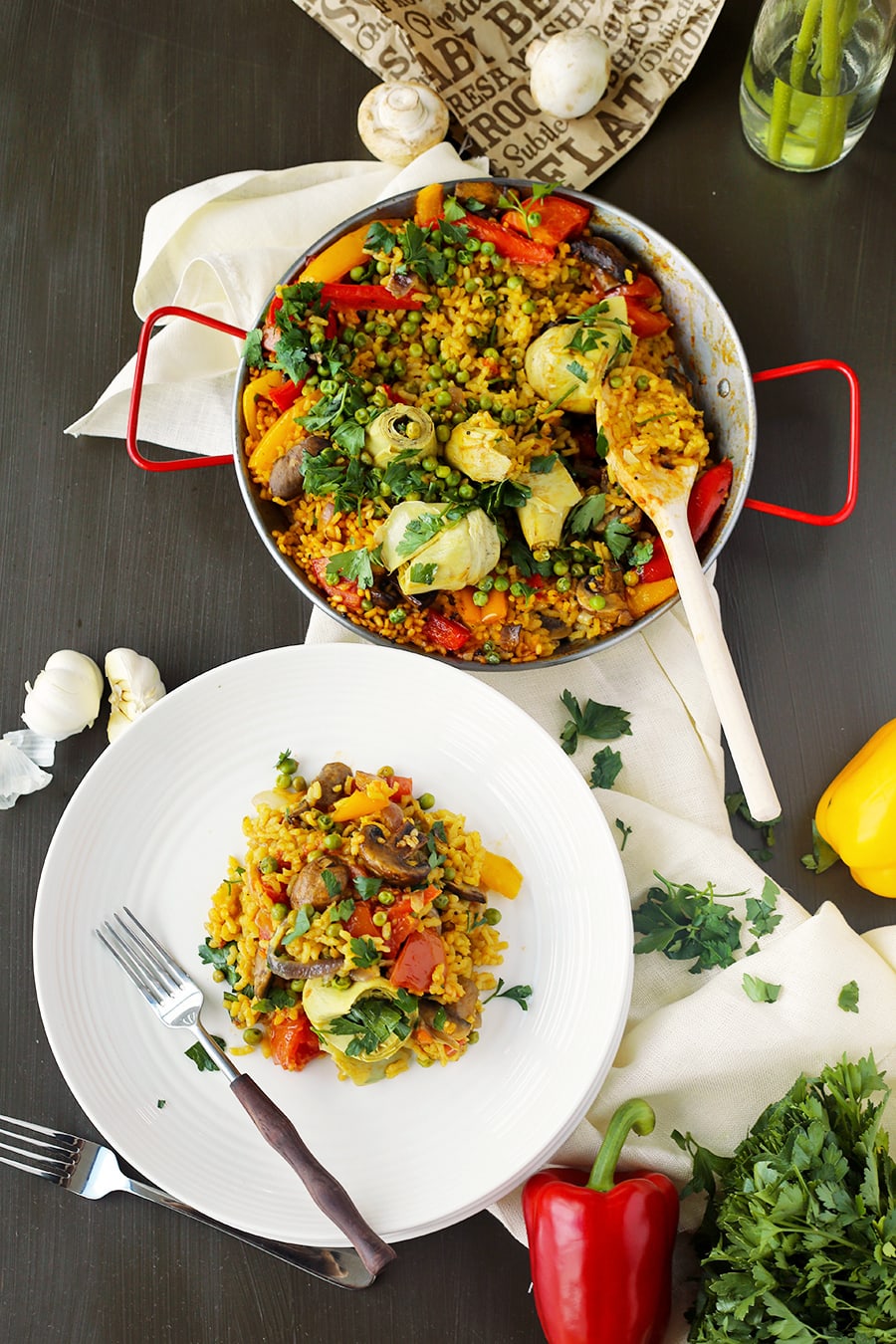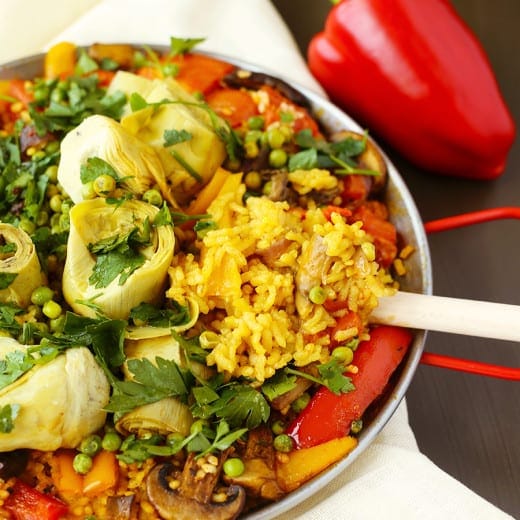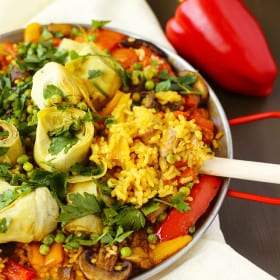 Vegan Paella
Ingredients
2 1/2

cups

Vegetable Stock

1/2

teaspoon

Saffron Threads

1 1/2

Tablespoons

Olive Oil

1

large Red Onion

Sliced

1

Yellow Bell Pepper

Sliced

1

Red Bell Pepper

Sliced

1

cup

Brown Mushrooms

Sliced

3

cloves

Garlic

minced

1

cup

Bomba Rice

2

Roma Tomatoes

chopped

1 1/2

teaspoons

Smoked Paprika

Salt/Pepper

1

cup

Green Peas

1

can Artichoke Hearts

drained and chopped

1/2

cup

Parsley

chopped
Instructions
Combine the stock and saffron threads in a medium saucepan and bring to the boil over high heat. Reduce heat to low and maintain a simmer. Meanwhile, heat paella pan on the stove with 1 1/2 tablespoons Olive Oil.

Add Onion to Paella Pan and sautee for 2 minutes. Add sliced red and yellow pepper and continue to saute till softened, about 5 minutes. Add the mushrooms and garlic and sautee for 5 minutes or until it has softened slightly. Season liberally with salt and pepper.

Increase heat to medium-high. Add Bomba rice, tomato and smoked paprika and cook, stirring, for 1 minute until well mixed through. Reduce heat to medium-low. Add one-third of the saffron infused stock and stir until just combined. Let simmer uncovered for 5 minutes or until liquid is almost absorbed.

Add the next third of the stock and cook for 5 minutes uncovered or until almost absorbed. Add remaining third of stock and cook for 5-10 minutes uncovered.

Sprinkle surface of paella with peas and artichoke hearts. Cover entire pan in tin foil and leave to cook on a low heat for 12 minutes. After 12 minutes, turn heat off but leave the paella pan covered with tin foil for another 10 minutes.

Remove tin foil after 10 minutes and garnish with parsley.