This is a recipe for my favourite Vegan Cinnamon Scones! Yummy in my tummy! I used to make this ALL the time a couple of years ago because they are made in under an hour, a simple recipe you can make at home when you're craving Cinnamon Rolls and can't be bothered to wait 5 frickin hours for bread to prove. Try it out!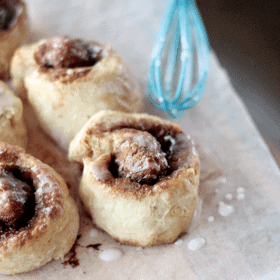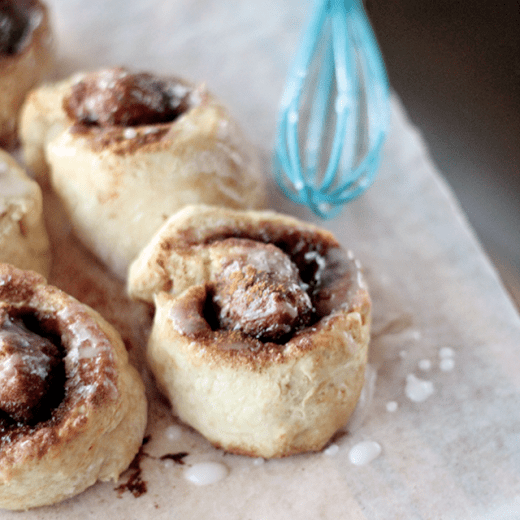 Vegan Cinnamon Scones!
Ingredients
Dough:

125

grams

Soy Milk

1

teaspoon

Apple Cider Vinegar

1

teaspoon

Vanilla Extract

45

grams

Vegetable Oil

1 1/2

cups

Pastry Flour

1 1/2

Tablespoons

Caster Sugar

1/4

teaspoon

baking soda

3/4

tsp

baking powder

3/8

tsp

fine salt

Filling:

2

Tablespoons

Softened Nutellex

or other vegan margarine

2

Tablespoons

Caster Sugar + 1 Tablespoon Ground Cinnamon mixed together

Glaze:

1/2

cup

Icing sugar

Enough water to make a glaze
Instructions
Preheat oven to 205 degrees celsius and line a baking ban with silicone paper.

First, combine the soy milk and apple cider vinegar in a bowl. Mix and leave to sit for 15 minutes. It will look curdled at this point, but don't worry.

Whisk in vanilla extract and oil, then set aside.

In a large bowl, sieve flour, sugar, baking powder, baking soda and salt. Create a well in the center and pour in wet mixture. Combine gently to form a soft dough. Use a little more flour if it is too wet.

Flour your counter and place dough onto it. Roll into a small rectangle, about 9x6 inches. Spread softened Nutellex all over the surface of the dough and sprinkle liberally with your cinnamon sugar mixture.

Roll your dough jelly roll style, and then seal the ends. Cut into 5 small cinnamon roll scones and place about an inch apart on your prepared baking tray. Don't worry if some of the cinnamon sugar falls out whilst cutting. Bake for 16 minutes.

Once you remove it from the oven, drizzle with your icing sugar glaze immediately. Let cool a little and enjoy.
FREE EBOOK SERIES! 5 SECRETS FOR FOOLPROOF VEGAN DESERTS