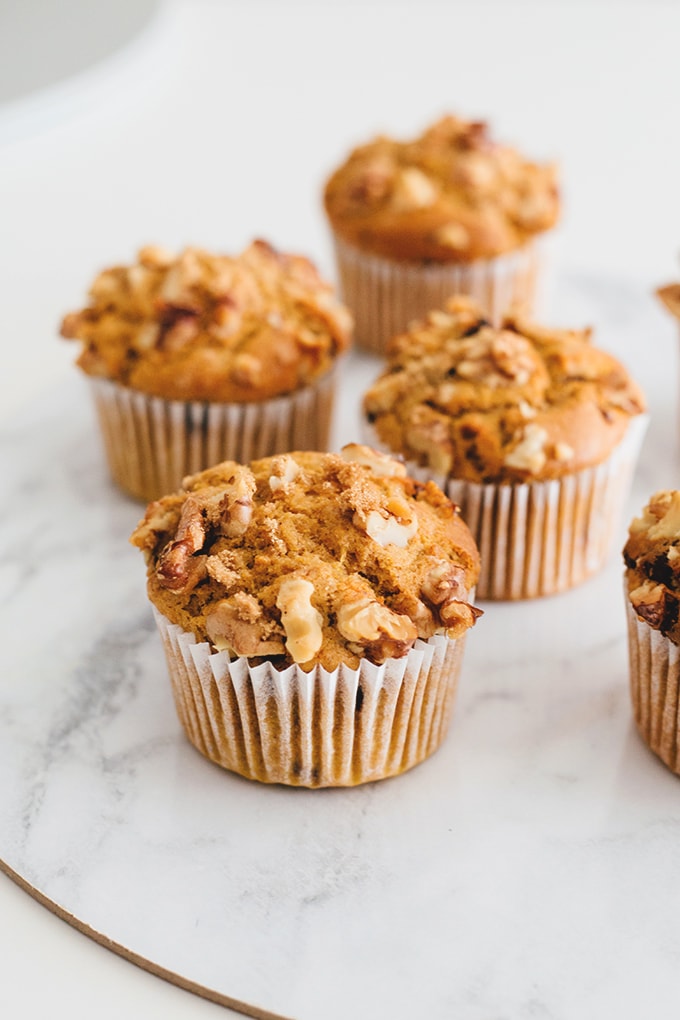 Hey ho, how's everyone doing today? Recently, I purchased a Japanese/Kabocha Pumpkin in hopes of making a f*ck ton of soup and surviving on a liquid crash diet in order to lose a couple of pounds. Well, unfortunately, said Japanese Pumpkin is still in the fridge, and I am in no mood to be slurping on soup of any kind. In a bid to use the Pumpkin in the fridge up, I decided that I'd do the very opposite of crash diet – I'd make Vegan Pumpkin Muffins with Dark Chocolate and Walnuts instead. If it has a vegetable in it, it's considered diet food right?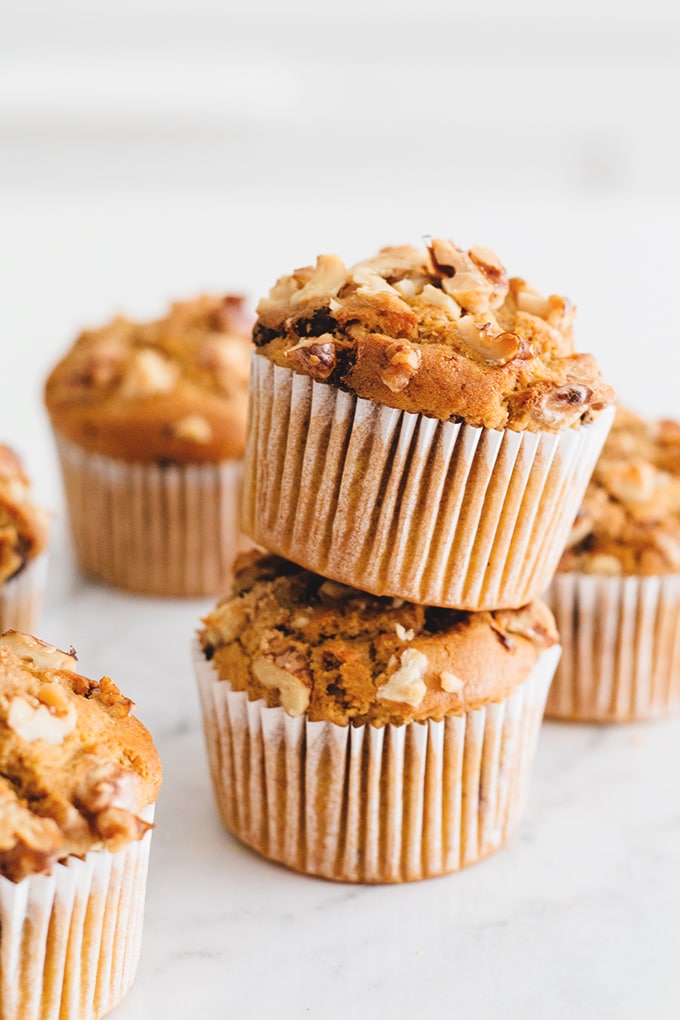 Well, whether or not this can be classified under "Diet Food" is completely dependent on what diet you are on. I'm currently on the Vegan Pumpkin Muffin diet, so these muffins fit right into my rigorous regiment of shoveling baked goods down my face. On to the recipe – these tender Vegan Pumpkin Muffins are SO easy to make and come together in under 45 minutes.  The batter consists of a simple but delicious mixture of Flour, Brown Sugar. White Sugar, Pureed Pumpkin. Ground Spices (optional – but me likey), Soy Milk, Vanilla, Vegetable Oil and Vegan Dark Chocolate Chips. Once everything is mixed up, all you have to do is spoon this luscious terra-cotta batter into muffin cups, top with chopped Walnuts, a sprinkle of Brown Sugar and BAKE.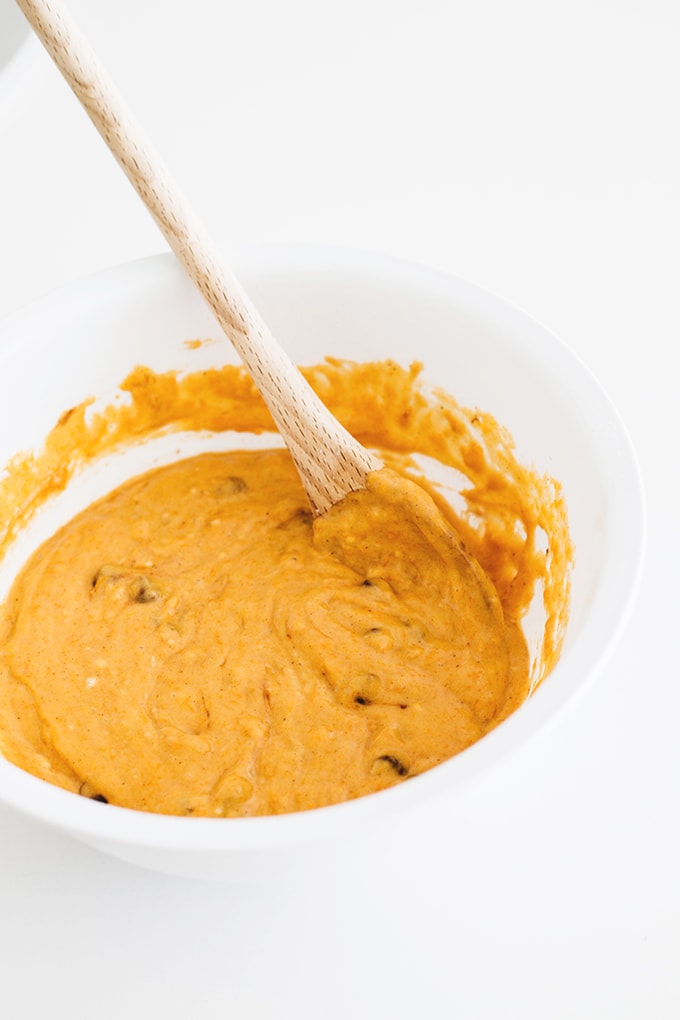 20 minutes later and hey presto, Vegan Pumpkin Muffins with Dark Chocolate and Walnuts – the neighbors will be swooning at the delicious f*cking aromas wafting into their homes from your vegan kitchen. Not a f*cking bowl of miserable soup in sight. Chow down on your muffins as soon as they come out of the oven if you want to burn your tongue and tastebuds off, or wait and let them cool for 10-15 minutes before enjoying. The choice is up to you. I will not be held responsible for anyone's burnt tongue.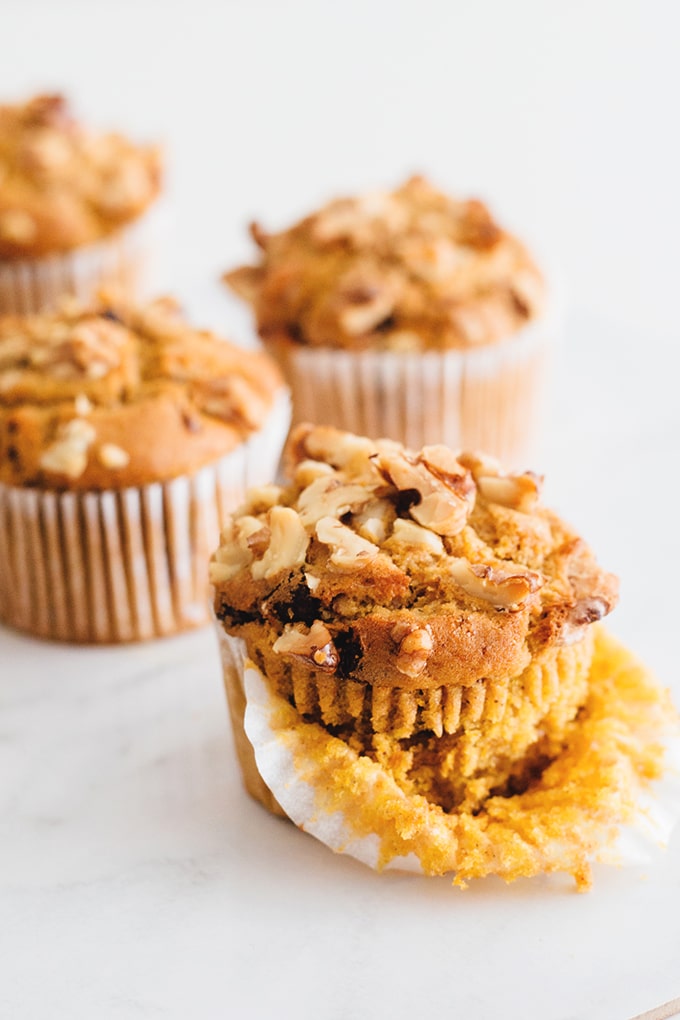 Crunchy on top, lightly spiced and loaded with pockets of Dark Chocolate, these Vegan Pumpkin Muffins with Dark Chocolate and Walnuts are sure to be a hit. This particular recipe makes 6 muffins (just because if I made 12, I'd eat all 12), but feel free to double the recipe to make a dozen delicious Pumpkin Muffins. Scroll down for the full recipe and enjoy.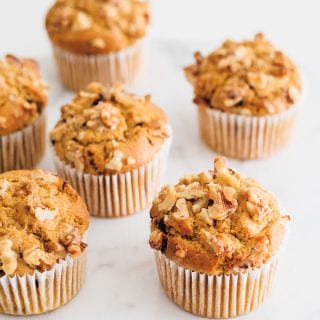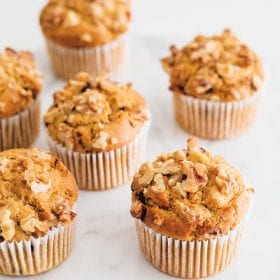 Vegan Pumpkin Muffins
Delicious and easy to make lightly spiced Pumpkin Muffins studded with Dark Chocolate Chips and topped with Walnuts and Brown Sugar.
Ingredients
1

cup

Self Raising Flour

1/2

teaspoon

Baking Powder

1/4

teaspoon

Salt

1

teaspoon

Ground Cinnamon

1/2

teaspoon

Ground Ginger

1/4

teaspoon

Ground Cloves

1/2

cup

vegan chocolate chips

1/4

cup

Caster Sugar

1/4

cup

Brown Sugar

packed

1/2

cup

Soy Milk

1/4

cup + 2 tablespoons

Vegetable Oil

1

teaspoon

Vanilla Extract

1/2

cup

Kabocha Pumpkin

pureed

1/2

cup

Walnuts

chopped

1

tbsp

Brown Sugar

for sprinkling
Instructions
Preheat the oven to 180 degrees Celsius and line a 6 cup muffin tin with muffin liners. Set aside.

In a large bowl, combine the Self Raising Flour, Baking Powder, Salt, Cinnamon, Ginger and Cloves, Whisk to combine and then stir in Dark Chocolate Chips and ensure chocolate is well coated with flour.

In another large bowl, combine Caster Sugar, Brown Sugar, Soy Milk, Vegetable Oil, Vanilla and pureed Pumpkin. Whisk till smooth.

Make a well in the middle of your dry ingredients and pour your wet contents in. Stir to combine batter, but do not over-mix. A few lumps in the batter is totally fine.

Fill each muffin liner 3/4 of the way full with batter and sprinkle some Walnuts and Brown Sugar on top of each muffin.

Bake for 15 minutes or until a skewer inserted into the middle of the muffin comes out clean. Do not over bake!

Cool for 10 minutes and then enjoy on its own or with a drizzle of maple syrup.
Notes
1. If you can't find Kabocha Pumpkin, ordinary Pumpkin will work just as well.
2. Store muffins in an air-tight container for up to 3 days - I personally think they taste even better on the second day.
Nutrition
Serving:
1
serving
Calories:
258
kcal
Carbohydrates:
27
g
Protein:
3
g
Fat:
16
g
Saturated Fat:
12
g
Sodium:
146
mg
Potassium:
69
mg
Fiber:
1
g
Sugar:
11
g
Vitamin A:
79
IU
Vitamin C:
1
mg
Calcium:
64
mg
Iron:
1
mg