These vegan pumpkin muffins are soft, moist, and bursting with flavor. Ready in minutes, they are the most satisfying fall treat you've ever had!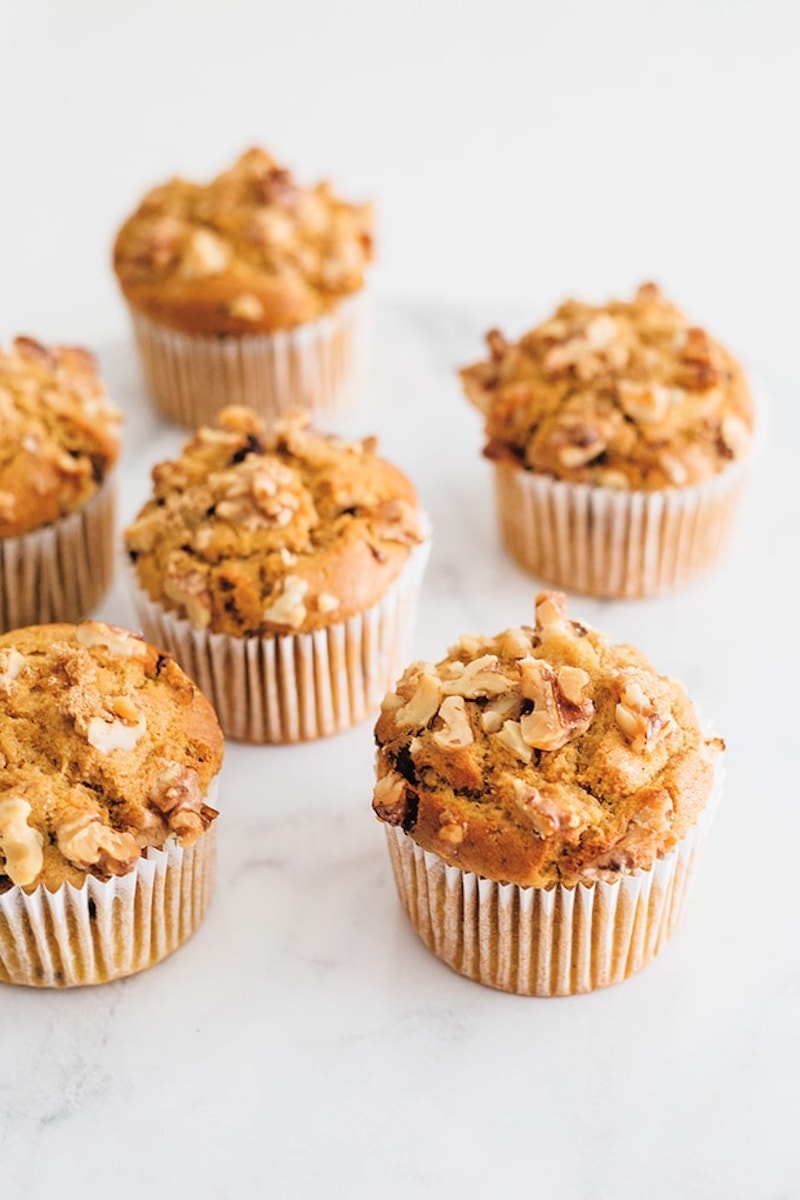 Muffins should be their own group.
Seriously, we love muffins so much that we make them almost weekly. Our favorites include blueberry muffins, banana muffins, and these pumpkin muffins.
FREE EBOOK SERIES! 5 SECRETS FOR FOOLPROOF VEGAN DESERTS
Why this recipe works
Quick.

A simple mix of the ingredients and your hands-on time is less than a minute.

Full of fall flavor.

With pumpkin season in full swing, these are perfect for all your baking needs.

Simple ingredients.

N

o egg substitutes or hard-to-find ingredients are needed.
What I love about this recipe is just how easy they are to customize. Fold through some chocolate chips, add some frosting, or even make it a loaf!
Ingredients needed
Self-rising flour.

A combination of flour, salt, and baking powder. I prefer to make my own

Baking powder.

Although the flour already has baking powder in it, this addition helps them rise better.

Salt.
Spices.

We use cinnamon, ginger, and cloves for these muffins.

Vegan chocolate chips.

Optional, but I love the pumpkin and chocolate chip combination

Caster sugar.

Brown sugar.

Both sugars are used to give the muffins a super moist middle and a tender crumb.

Soy milk.

Or any other plant-based milk.

Vegetable oil.

Vanilla extract.

A must for any baked good.

Kabocha pumpkin.

I like blending down my own pumpkin, but canned pumpkin puree works. Just be sure to use unsweetened pumpkin, not pumpkin pie filling.

Walnuts.

Or any other nuts.
How to make vegan pumpkin muffins?
Follow these simple instructions below to make the best muffins:
Step 1: Prep the gadgets
Preheat the oven to 180C and line a muffin tray. Set aside.
Step 2: Make the batter
In a large bowl, mix baking powder, self-rising flour, ginger, salt, cloves, and cinnamon. Then, add the dark chocolate chips and mix well to coat the chocolate with flour.
Take another bowl and mix vegetable oil, brown sugar, caster sugar, soy milk, vanilla, and pureed pumpkin. Mix until a smooth mixture forms. Now, combine the dry and wet ingredients to make the batter. Avoid overmixing because a few lumps in the batter are completely fine.
Step 3: Transfer the batter to the muffin tray
Fill ¾ of each muffin liner with the batter and top it with brown sugar and muffin. Bake for 15 minutes or until done.
Step 4: Bake and enjoy
Bake for 15 minutes or until done. Cool the muffins for 10 minutes and enjoy plain or drizzle maple syrup over them.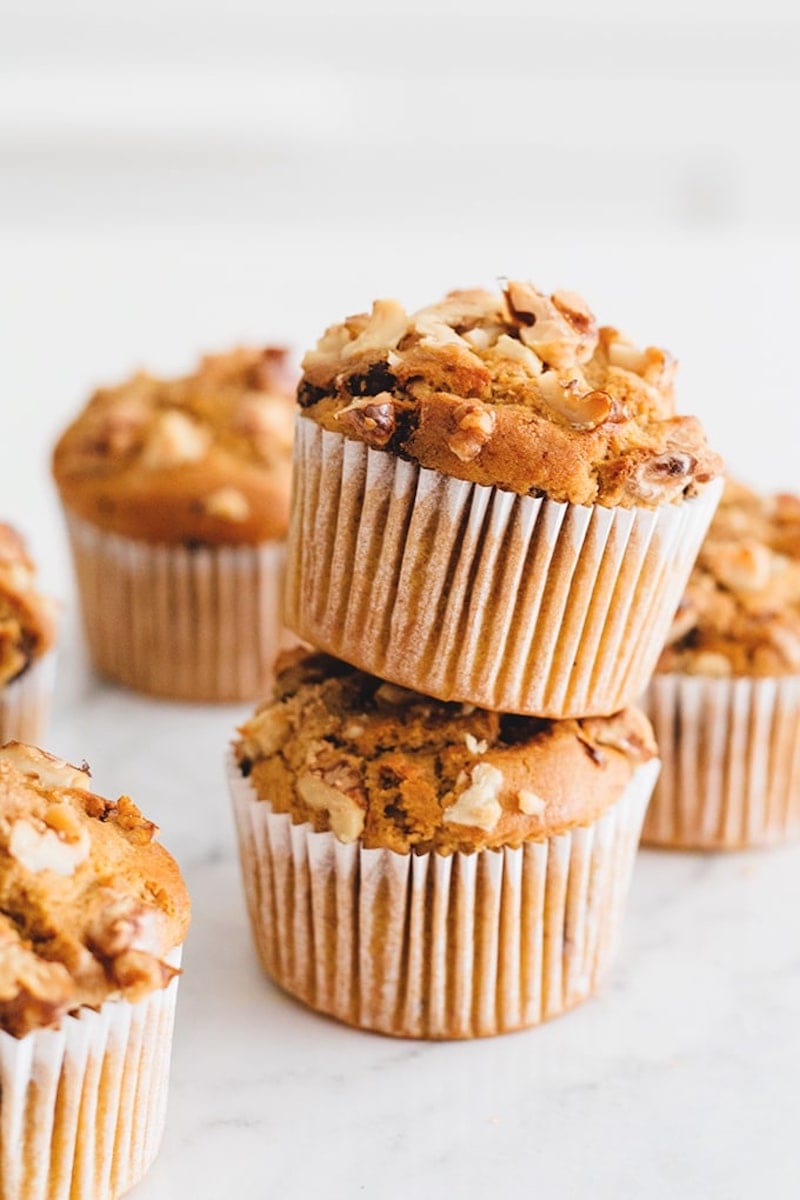 Tips to make the best recipe
Always use pumpkin puree for a better flavor because pumpkin pie filling doesn't taste as good as puree.

To ensure your muffins rise well, use fresh baking powder because the old or expired baking powder will not make fluffy and dense muffins.

Avoid overmixing the muffin batter, as it will make your muffins dense.
Storage instructions
To store.

Pack them in airtight bags or containers and keep them in the refrigerator for up to a week.

To freeze.

Use freezer-safe bags or containers to freeze muffins for up to three months.
More dessert recipes to try
Frequently asked questions 
Are vegan muffins healthy? 
At the end of the day, muffins are muffins and should be enjoyed in moderation, including vegan ones.
Is this recipe gluten-free? 
When made with gluten-free self-rising flour, these muffins are suitable for celiacs.
What temperature is best to bake muffins?  
The best temperature for baking muffins is 180C/350F. This ensures the muffins rise and cook inside completely.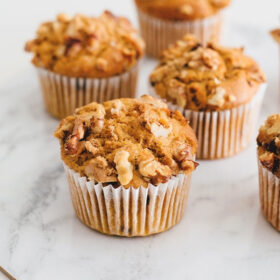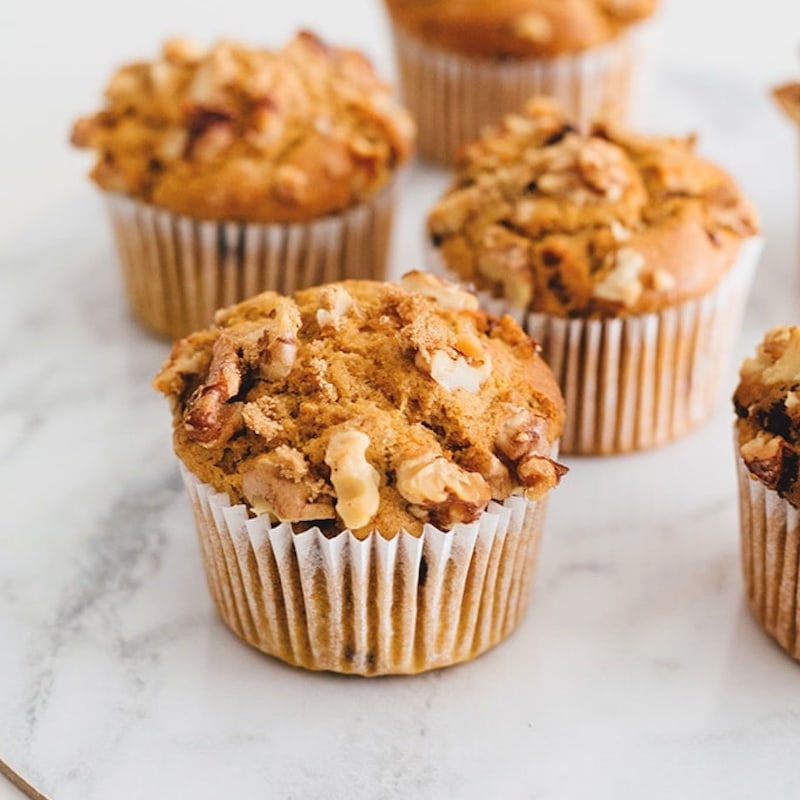 Vegan Pumpkin Muffins
These vegan pumpkin muffins are soft, moist, and bursting with flavor. Ready in minutes, they are the most satisfying fall treat you've ever had! 
Ingredients
1

cup

Self Rising flour

1/2

teaspoon

Baking Powder

1/4

teaspoon

Salt

1

teaspoon

Ground Cinnamon

1/2

teaspoon

Ground Ginger

1/4

teaspoon

Ground Cloves

1/2

cup

vegan chocolate chips

1/4

cup

Caster Sugar

1/4

cup

Brown Sugar

packed

1/2

cup

Soy Milk

1/4

cup + 2 tablespoons

Vegetable Oil

1

teaspoon

Vanilla Extract

1/2

cup

Kabocha Pumpkin

pureed

1/2

cup

Walnuts

chopped

1

tbsp

Brown Sugar

for sprinkling
Instructions
Preheat the oven to 180 degrees Celsius and line a 6 cup muffin tin with muffin liners. Set aside.

In a large bowl, combine the Self Raising Flour, Baking Powder, Salt, Cinnamon, Ginger and Cloves, Whisk to combine and then stir in Dark Chocolate Chips and ensure chocolate is well coated with flour.

In another large bowl, combine Caster Sugar, Brown Sugar, Soy Milk, Vegetable Oil, Vanilla and pureed Pumpkin. Whisk till smooth.

Make a well in the middle of your dry ingredients and pour your wet contents in. Stir to combine batter, but do not over-mix. A few lumps in the batter is totally fine.

Fill each muffin liner 3/4 of the way full with batter and sprinkle some Walnuts and Brown Sugar on top of each muffin.

Bake for 15 minutes or until a skewer inserted into the middle of the muffin comes out clean. Do not over bake!

Cool for 10 minutes and then enjoy on its own or with a drizzle of maple syrup.
Nutrition
Serving:
1
serving
Calories:
258
kcal
Carbohydrates:
27
g
Protein:
3
g
Fat:
16
g
Saturated Fat:
12
g
Sodium:
146
mg
Potassium:
69
mg
Fiber:
1
g
Sugar:
11
g
Vitamin A:
79
IU
Vitamin C:
1
mg
Calcium:
64
mg
Iron:
1
mg