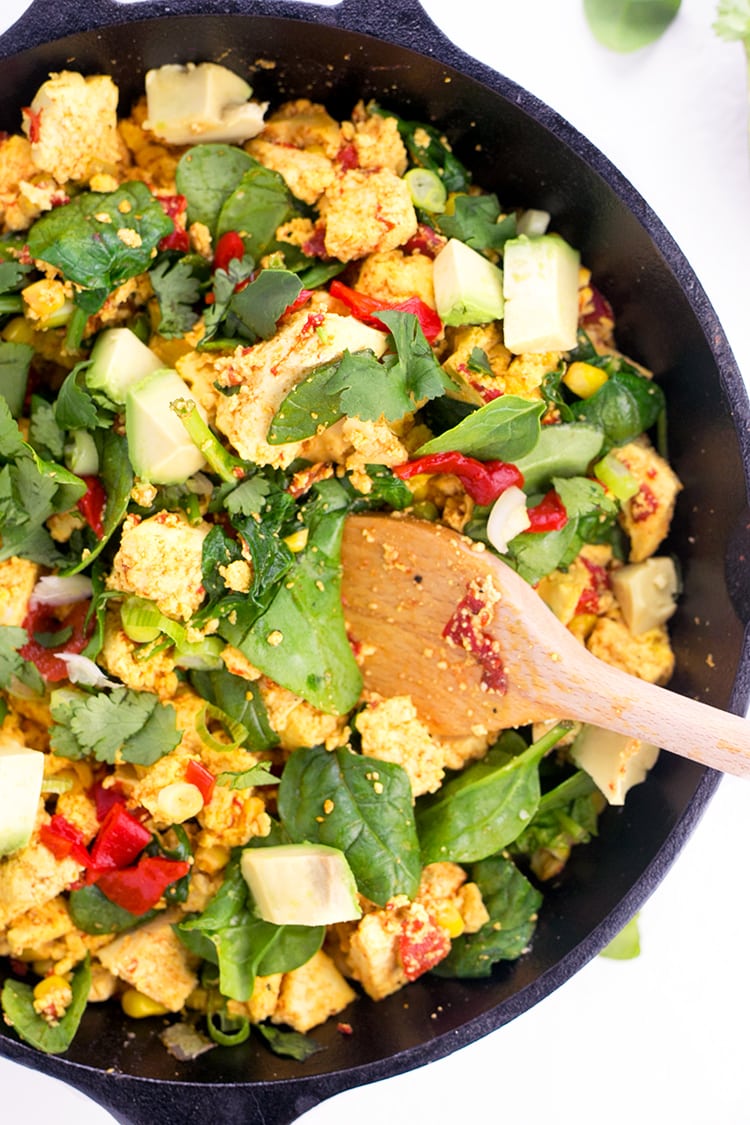 Howdy ho, everyone. You know when you've had a rough night due to alcohol poisoning and you just can't be fu*ked to make yourself anything fancy the morning after? Well, in comes this quick and easy Tofu Scramble – something that can be whipped up in just a few minutes, which is perfect for my reckless lifestyle of late nights, partying and booze. Okay, no, I don't go to parties, neither do I drink alcohol that often – too many empty calories – but I do love Tofu Scramble, so that makes be pretty damn badass in my books.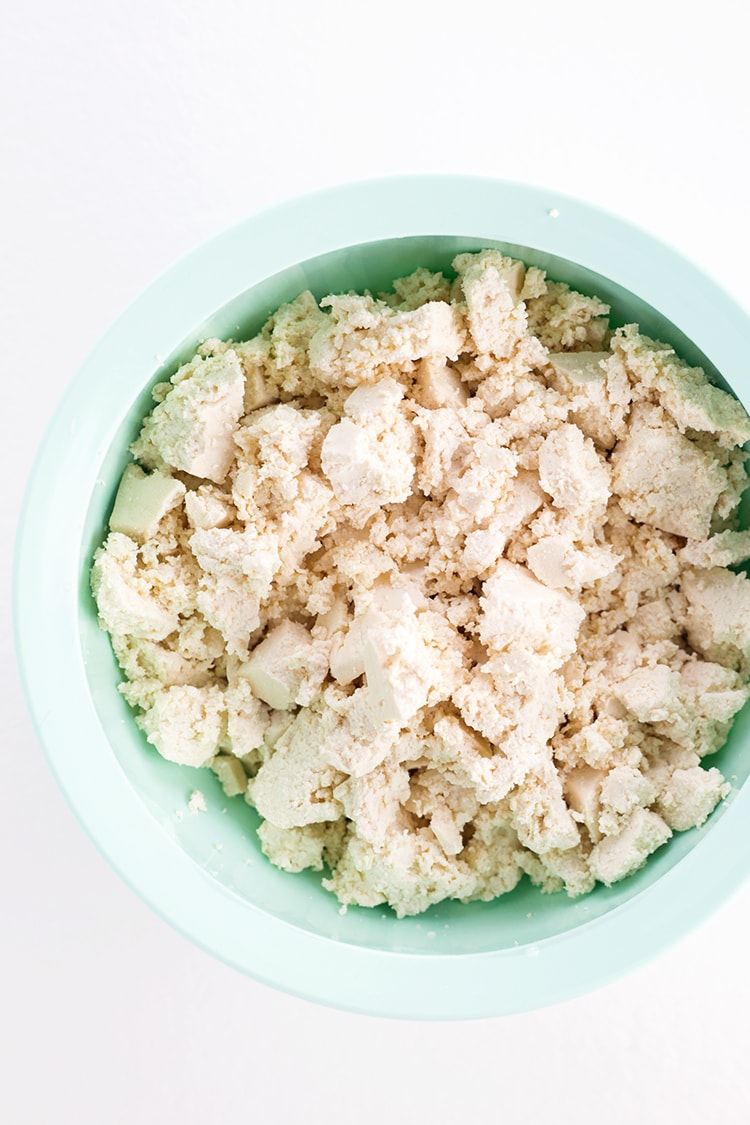 I've been itching to use my new cast iron pan
 ever since I received it in the mail, so this Tofu Scramble just had to be made in it. Don't worry, you can use any other pan if you don't own a cast iron. There is only one rule when it comes to making Tofu Scramble: Use firm tofu. Not silken, not soft, not momen – firm. And for the love of God, please don't use the nasty stuff that comes in cardboard boxes on the shelves. That sh!t is not tofu, it' s a science experiment. Gross. Now other than this one important rule, the rest of the Tofu Scramble is completely adaptable to your taste and liking.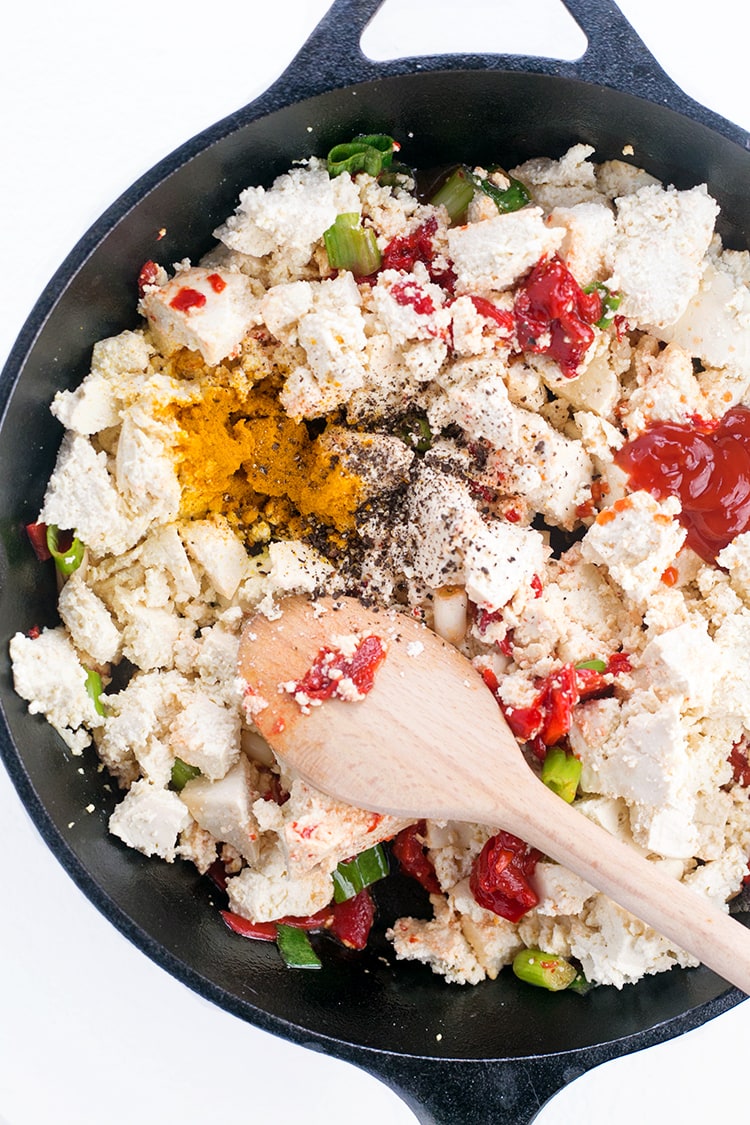 I like to use turmeric for a splash of sunshine, along with Baby Spinach, Roasted Piquillo Peppers, Green Onion, Sweet Corn and a dash of one of my favourite products: The Vegg
 (insert juvenile laughter). For those who don't know what The Vegg
 is, it is basically Vegan Egg Yolk powder/flavor, and it instantly adds an eggy flavor to anything it is used in. They even had a special range for baking. Check it out. Alternatively, you can just use Black Salt/Kala Namak in your Tofu Scramble, if you want to impart a real eggy flavor to it.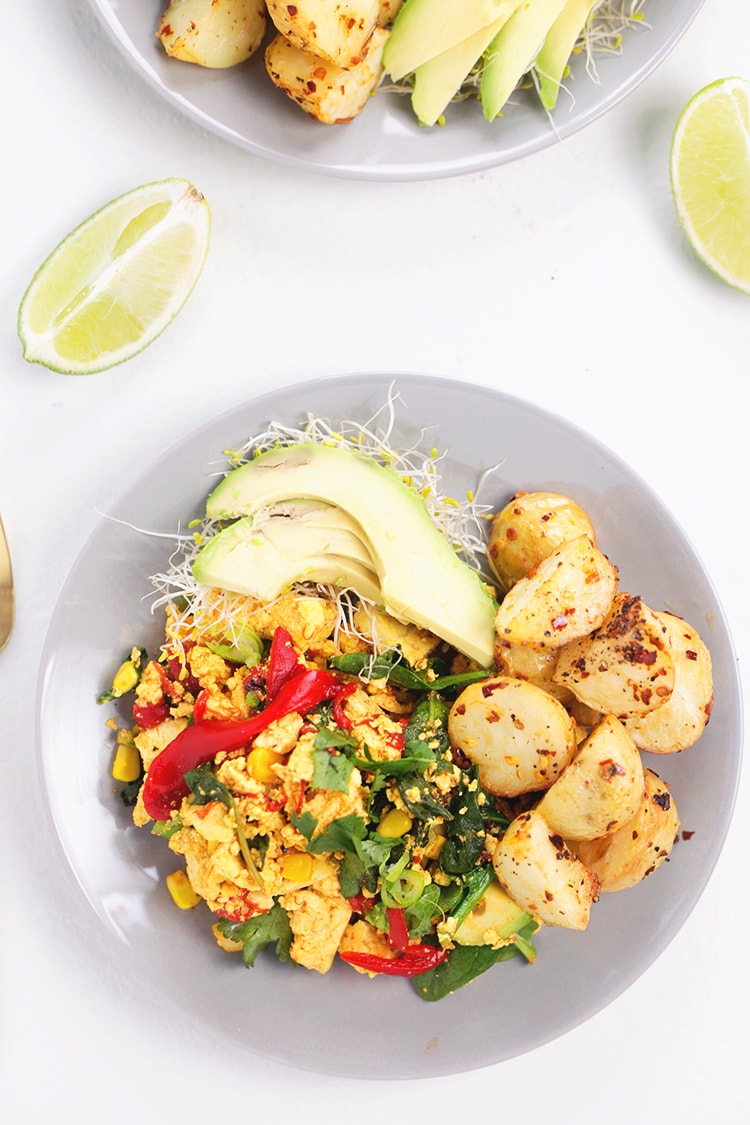 Now lets talk about Tofu based Vegan dishes. You know how sometimes people say "oh but it doesn't taste like tofu"…and then you try it and it actually does indeed, TASTE LIKE TOFU. This is a problem for those of us who aren't exactly over the moon with the stuff. I personally find the taste of tofu overwhelming sometimes, unless cooked by a grand master chef from a prestigious province in China. Unfortunately I don't often meet the likes of such people, so I have to settle with cooking sh!t myself. Well, good news – this Tofu Scramble, with the addition of either Black Salt or vegan egg yolk product, hardly tastes of tofu at all. I say hardly because tofu will always fuc*ing somehow taste like tofu. So try the damn recipe out. Good stuff.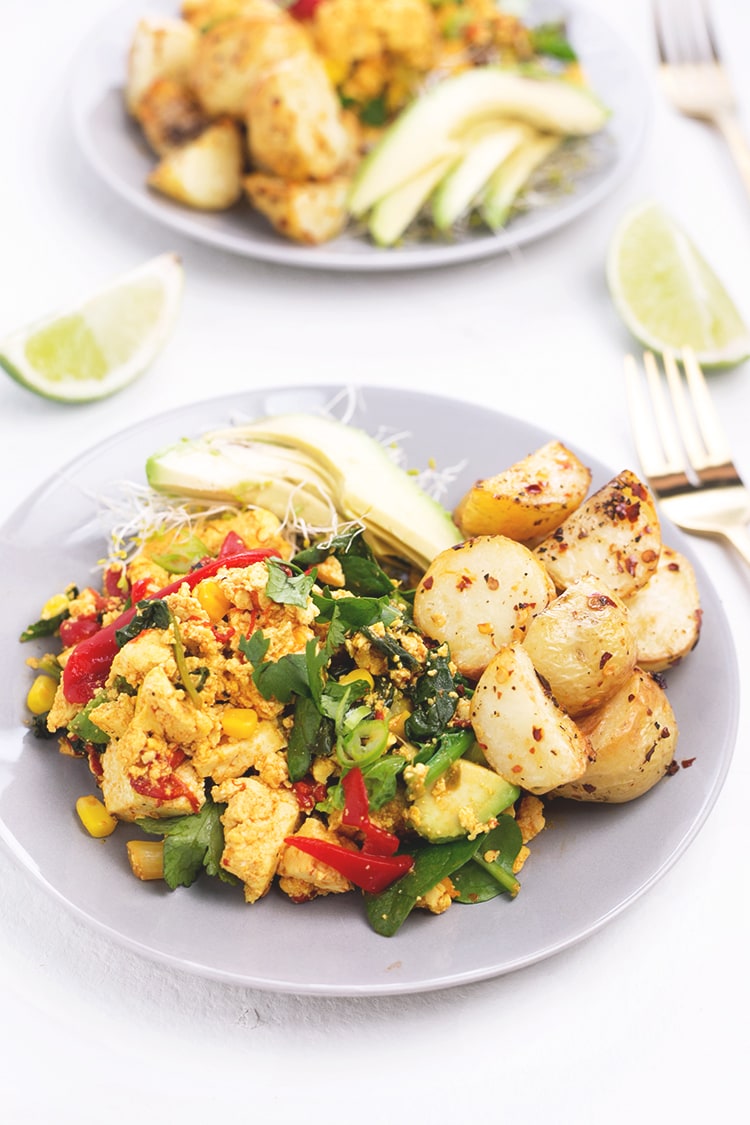 This recipe is Vegan/Gluten Free, yadda yadda, you know the drill. Tofu Scramble is also loaded with a sh!t ton of protein – but you probably also already know that. Perfect for you Paleo peeps out there. I personally find Paleo quite repulsive (to each his own!), so if you're in the "rather die than go Paleo" boat like me, load up on the sides. I serve my Tofu Scramble with a side of Avocado and Roasted Baby Potatoes. I also sometimes drizzle Sriracha on my Tofu Scramble. It really depends on my mood. Anyway, I'll leave you with the full recipe below!
(Don't forget to Like my Facebook page. Remember to scroll over the Like button a second time and select 'See First' so that my new recipes will always appear at the top of your feed!)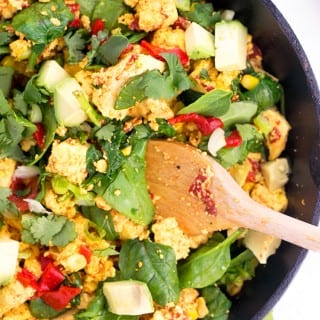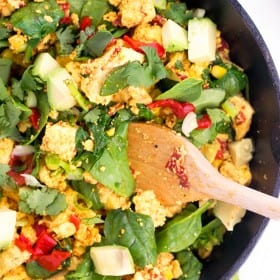 Simple Tofu Scramble
Simple Tofu Scramble - Vegan, Gluten Free, Protein Packed and simple to make.
Ingredients
1

teaspoon

Vegetable Oil

3

Green Onions/Spring Onions

chopped

2

teaspoons

Minced Garlic

1

cup

Corn Kernels

1/2

cup

chopped Roasted Piquillo Peppers

from a jar

16

oz

Firm Tofu crumbled

1

teaspoon

Turmeric

1

tablespoon

Organic Ketchup

1 1/2

teaspoons

The Vegg

or a sprinkling of Black Salt

Salt/Pepper

to taste

2

cups

Baby Spinach

1/4

cup

chopped Cilantro
Instructions
In a large pan, heat vegetable oil. Sautee spring onions for a few minutes, and then add minced garlic and corn kernels into the pan. Sautee till warmed through and then add in chopped Piquillo peppers. Cook for a minute or two.

Add crumbled tofu to the pan and toss to combine. Add turmeric, ketchup, The Vegg/Black Salt and season with salt and pepper.

Stir all ingredients well to evenly distribute turmeric.

Once hot and cooked through, add baby spinach to the pan and cook till just wilted. Turn heat off and stir in chopped cilantro.

Served with a side of Potatoes and Avocado,or just one its own!
*this post contains Amazon affiliate links – I only recommend tried and tested products that I truly love.