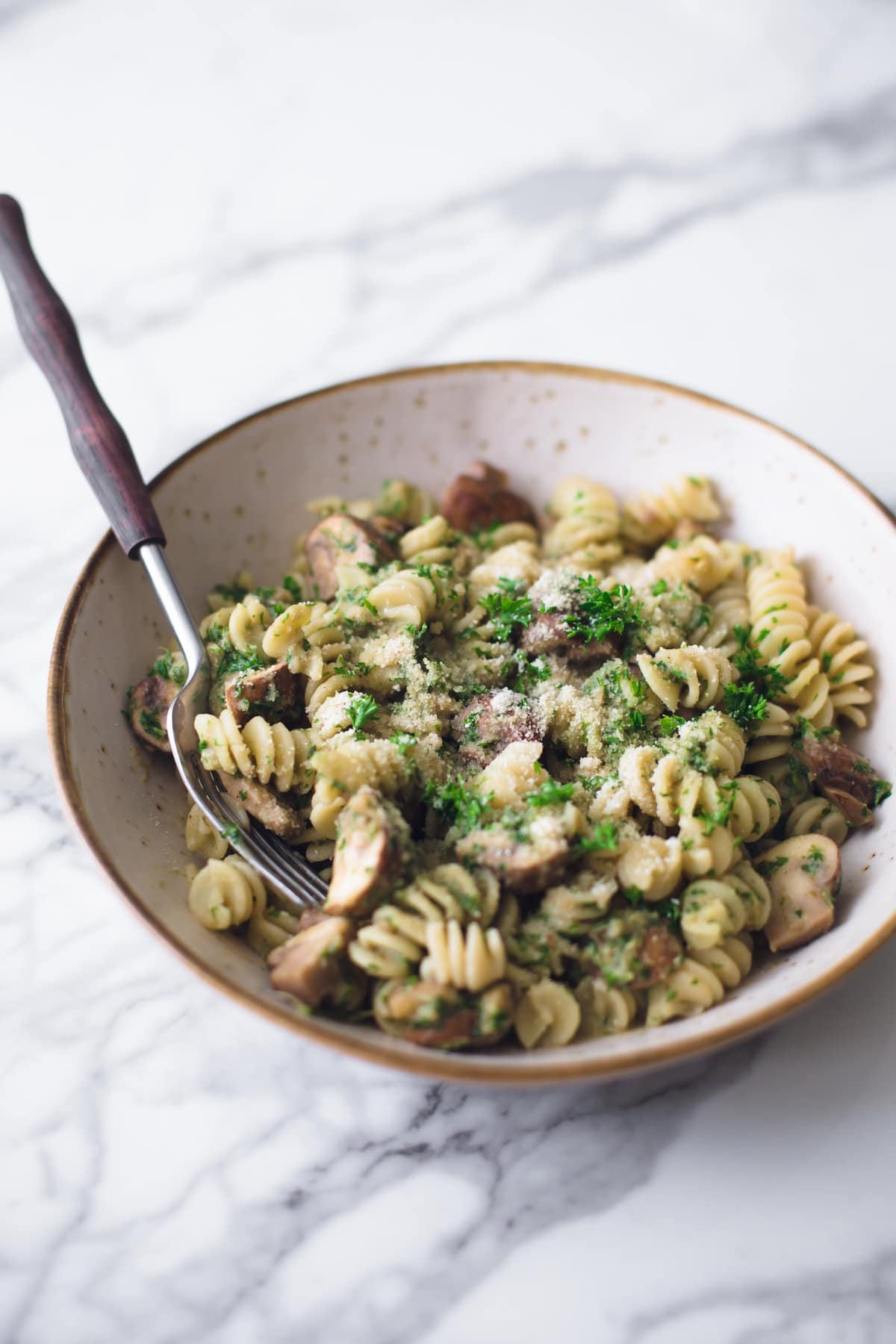 Christmas is around the corner, and that also means that Chestnuts are on the menu literally everywhere. Since I was born in Asia, and also because my family does not celebrate Christmas, I'm quite the stranger to many Christmas dishes (probably why I haven't posted many if not any up on the blog in past years). The idea of eating Nut Roasts, Stuffing and so forth is completely foreign and rather unappealing to me, so I thought I'd come up with a dish that I would actually want to eat, and add a little Christmas twist to it. Enter the Vegan Mushroom Pasta with Parsley Chestnut Pesto.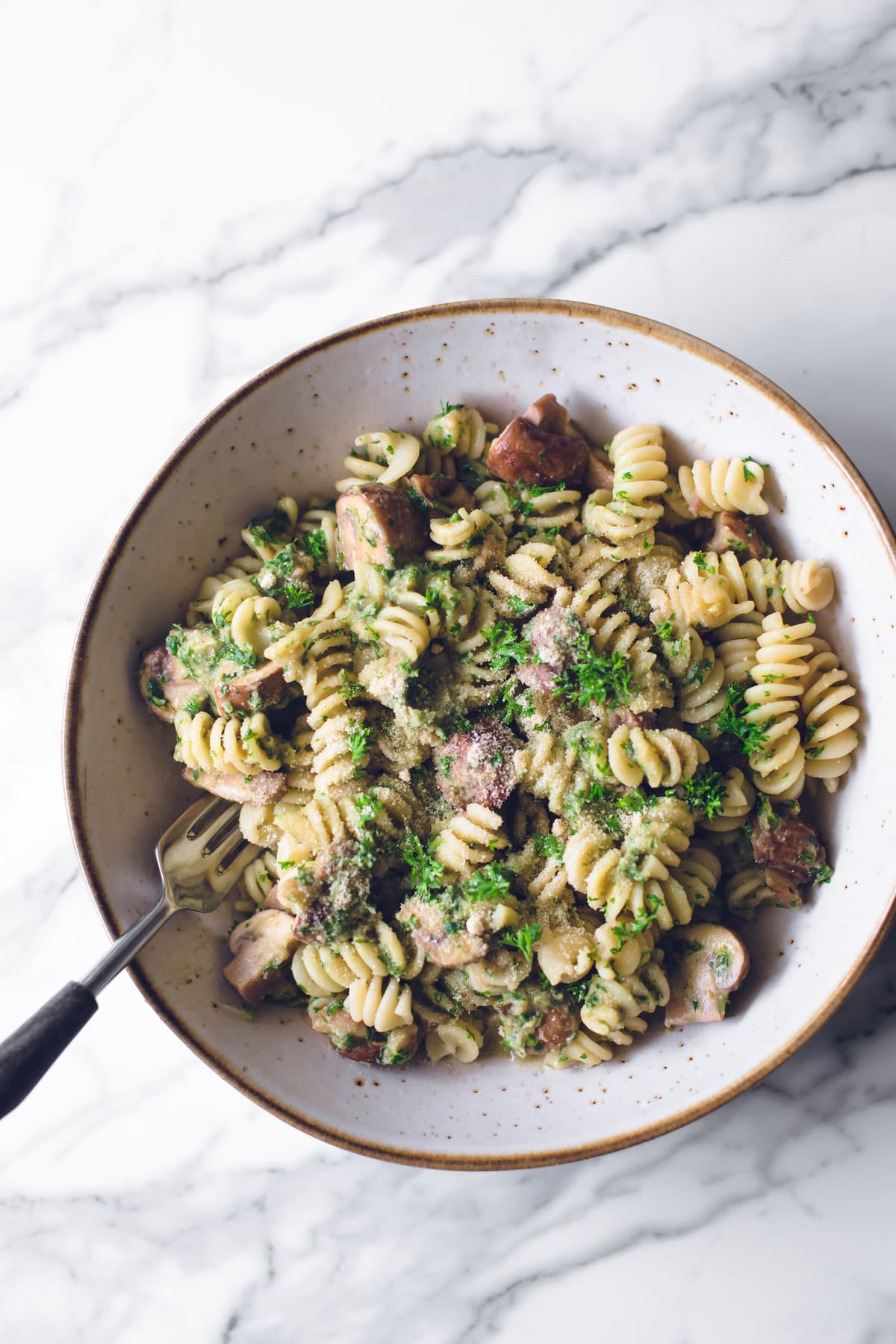 Pasta is always a winner. It's not something anyone would turn their nose up at and I'm certain that this Vegan Mushroom Pasta with Parsley Chestnut Pesto will be a fun addition to any Christmas spread. This dish seriously couldn't be simpler to make. Boil up some pasta, and whilst that is cooking, you'll process some pre-cooked Chestnuts, Garlic, Parsley, Lemon Juice, Nutritional Yeast, Olive Oil and a touch of Miso (Miso adds a Cheesy flavour like in my Basil Pesto recipe) to form your Parsley Chestnut Pesto.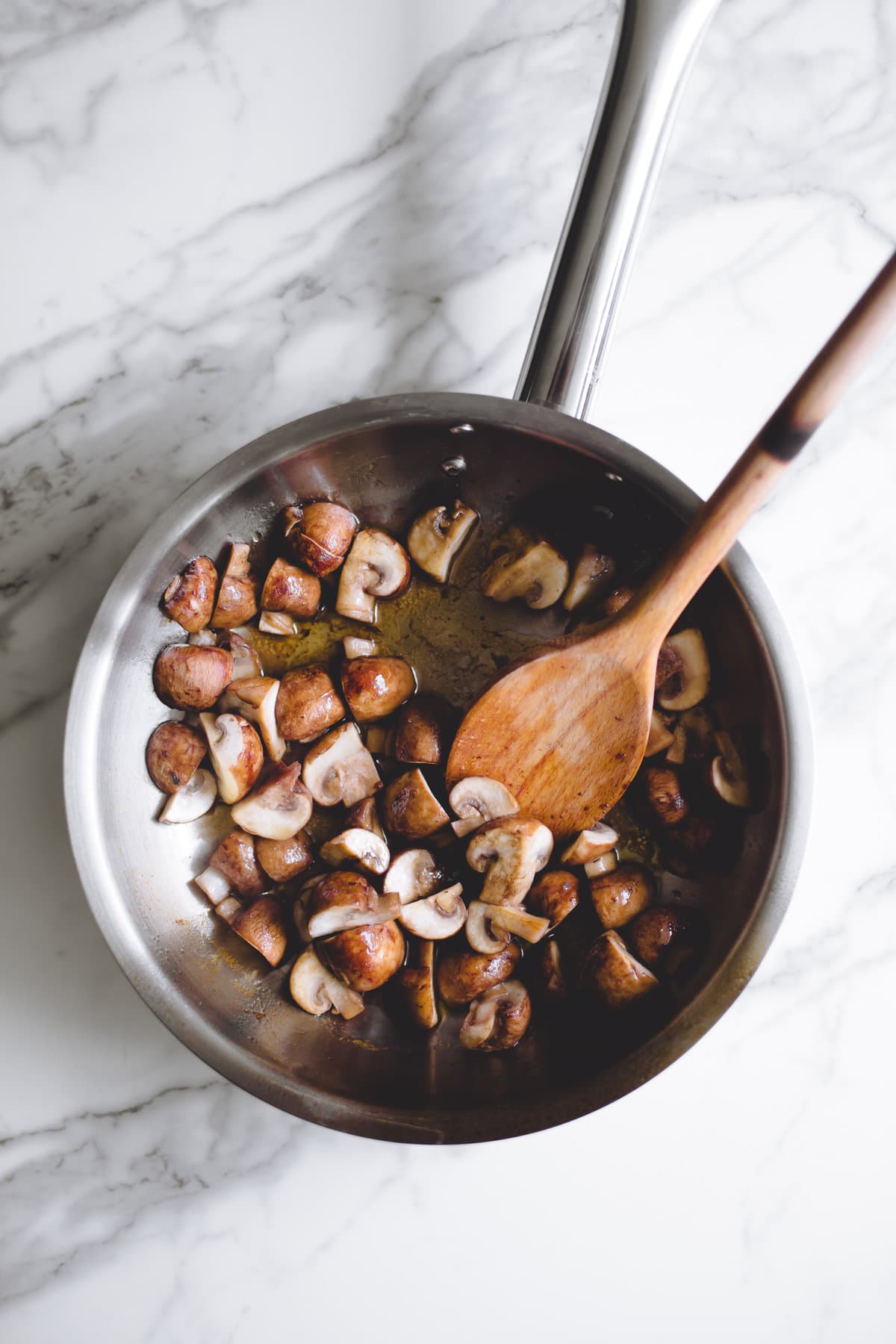 Once your Vegan Chestnut Pesto is done and your pasta is cooked, it's time for those goddamn Mushrooms. In this recipe I use Swiss Brown Mushrooms cooked in Vegan Butter, but feel free to use your preferred variety of Mushrooms. Once all three components of this dish are complete, it's just a matter of mixing them together (you'll probably need some of the pasta cooking water to loosen things up), and there you have it, Vegan Mushroom Pasta with Parsley Chestnut Pesto.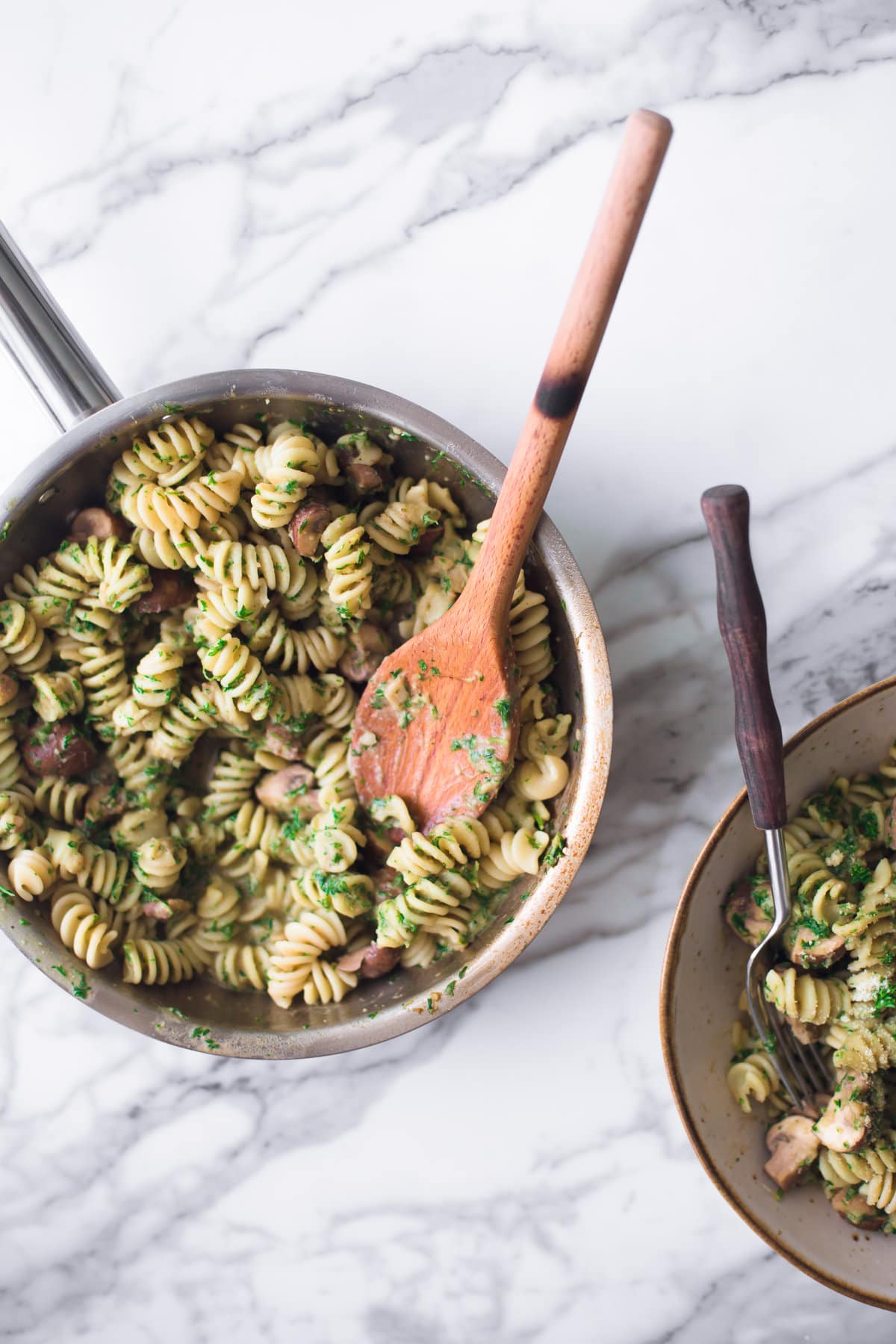 If you're keen on something slightly different this Christmas, then I definitely recommend this dish. Also, you can use Gluten Free Pasta if you want, it won't really make a difference to the final outcome and everyone can enjoy it blah blah blah. Scroll down for the full recipe! 🙂 Don't forget to leave a comment here on my Instagram page if you have tried any of my recipes out, let me know if you hate them, let me know if you love them!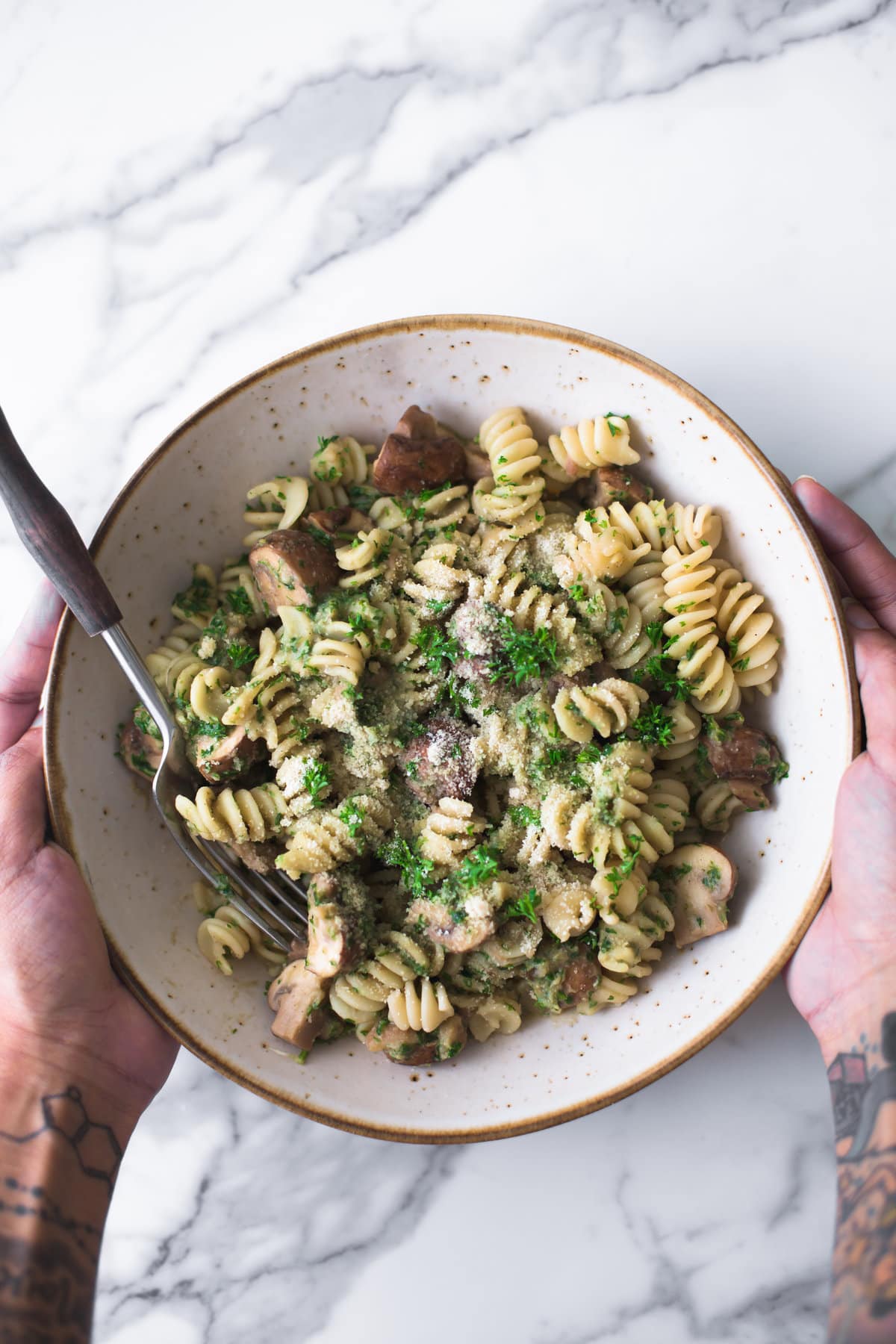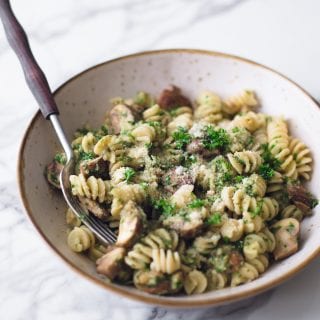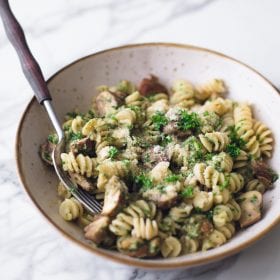 Vegan Mushroom Pasta
Delicious Vegan Mushroom Pasta with Chestnut Parsley Pesto. A simple, delicious and easy to prepare Christmas dish, ready in under 20 minutes.
Ingredients
For Chestnut Parsley Pesto:
1/3

cup

Flat Leaf Parsley

chopped

1 1/2

cloves

Garlic

minced

1/4

teaspoon

Miso Paste

1 1/2

tablespoons

Nutritional Yeast

1/4

cup

Extra Virgin Olive Oil

4

Ounces

Chesnuts

chopped finely (from a Tin or a Vacuum-Pack)

1

tsp

salt

to taste
For Mushrooms:
1 1/2

tablespoons

Vegan Butter

7

Ounces

Brown Mushrooms

sliced

1

tsp

pepper

to taste

6

Ounces

Pasta

I used fusilli

1

tbsp

Parsley

chopped, to garnish

1

tbsp

Vegan Parmesan

to garnish
Instructions
Bring water to boil in a large pot. Liberally salt the water and then boil Pasta according to package directions.

Meanwhile, combine Parsley, Garlic, Miso, Nutritional Yeast and Olive Oil in a food processor. Process till finely chopped, but not a Puree.

Add chopped Chestnuts to the food processor and Pulse until everything is combined and you have a coarse Pesto. Season to taste and set aside.

In a small saucepan, melt Vegan Butter. Add Mushrooms and cook until Golden. Season with Salt and Pepper.

Once pasta is cooked, drain and reserve about 1/2 a cup of the cooking liquid.

In a saucepan, combine Mushrooms, Chestnut Pesto and Cooked Pasta. Toss well and add reserved cooking liquid to loosen the Pesto up.

Season with Salt and Pepper and serve warm, sprinkled with additional Parsley or Vegan Parmesan.
Nutrition
Serving:
1
serving
Calories:
187
kcal
Carbohydrates:
7
g
Protein:
4
g
Fat:
17
g
Saturated Fat:
3
g
Trans Fat:
1
g
Sodium:
859
mg
Potassium:
466
mg
Fiber:
2
g
Sugar:
3
g
Vitamin A:
893
IU
Vitamin C:
11
mg
Calcium:
28
mg
Iron:
1
mg