These jackfruit tacos are the BEST vegan tacos recipe you'll ever make. Flavorful and juicy jackfruit stuffed in soft tacos, it's so meaty, you won't miss the meat!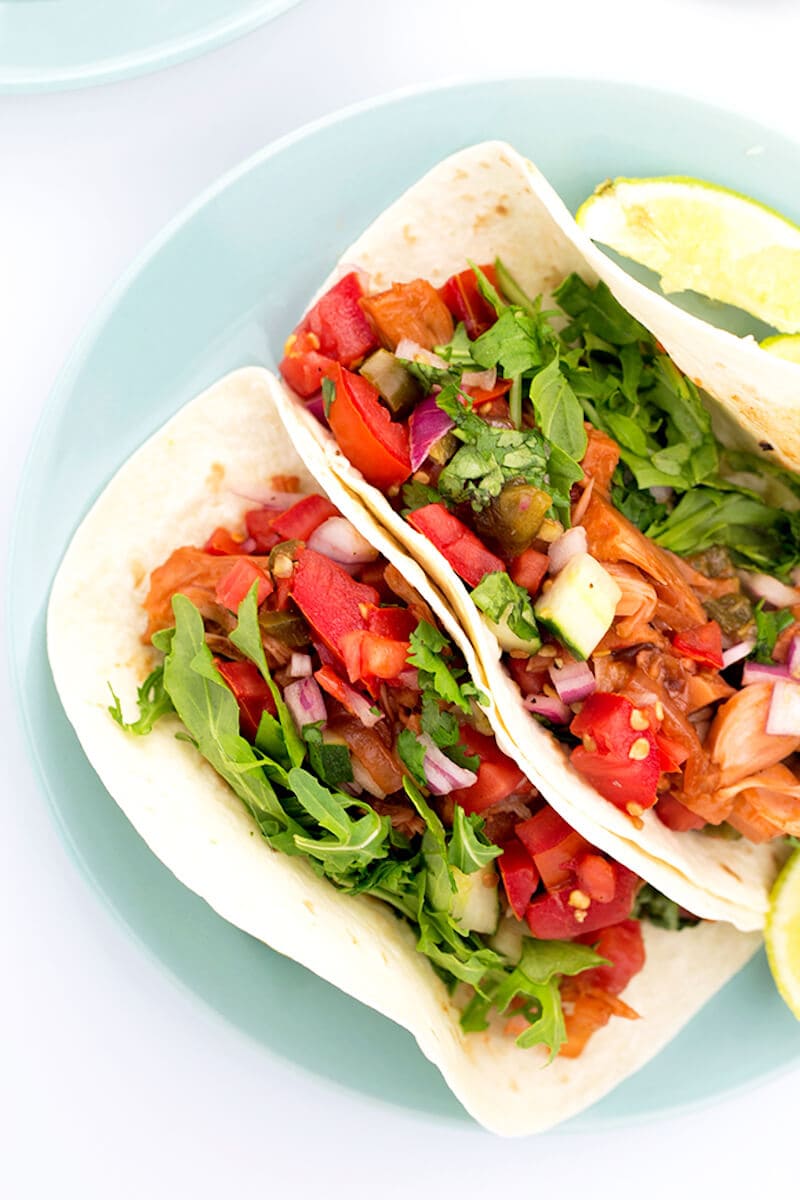 Mexican food is easily one of my favorite cuisines. Guacamole is its own food group and so is salsa, but the MVP in cuisines is easily tacos.
I grew up eating tacos loaded with my mom's famous pulled pork. Since going vegan, I've been craving it and found the best substitute ever- jackfruit!
What Is Jackfruit?
Jackfruit is a large fruit that was originally grown in India. But now, it's a tropical fruit produced in the tropical regions, including Southeast Asia and Brazil. Jackfruit is used both in ripe form and as young fruit. It's often used as a replacement for meat in vegan food.
Does Jackfruit Tastes Like Meat?
Yes, jackfruit has a meaty flavor and is a popular meat alternative. Not only the taste but also the texture of jackfruit looks like meat.
What Are Jackfruit Tacos Made Of?
It's a one-pot meal, so you already know how simple the ingredients will be. The ingredients you'll need to make Vegan Jackfruit Tacos include:
Shredded and cooked jackfruit- For this, get canned jackfruit and oil, red onion, and white onion for cooking. For seasoning and spicing, you'll need taco seasoning and BBQ sauce. 
Pico de Galo ingredients- tomatoes, red onion, and jalapeno drizzled with lime juice, salt/pepper, and cilantro. 
Guacamole ingredients- You'll need avocado, red onion, large lime, cilantro, and salt for this. 
How Do You Make Vegan Jackfruit Tacos?
Making Vegan Jackfruit Tacos is easier than you even think. With minimal cooking, the recipe is mostly assembling. Here is a step-by-step process to make these tasty Vegan Jackfruit Tacos:
Slice and sauté jackfruit
Take jackfruit and cut it into small slices. Heat a frypan and add red and white onions and saute till soft. After about 10 minutes, add the sliced jackfruit to the pan and mix well with the onions.
Cook and shred jackfruit
Next, add Taco seasoning and BBQ sauce. Mix the seasoning and sauce well with the jackfruit. Then, cook it by covering the pan for 30 minutes. Meanwhile, continue checking jackfruit at regular intervals to make sure it's not burned.
Once the jackfruit is completely cooked, use a potato masher or two forks to mash the jackfruit. Mash it until it resembles shredded pork or chicken.
Prepare Pico de Gallo and Guacamole
In a bowl, take tomatoes, red onion, and jalapeno for preparing Pico de Galo. Add lime juice, cilantro, and salt/pepper for garnishing and taste. Take another bowl, and add avocado, red onion, lime, cilantro, and salt to make guacamole.
Assemble and serve with your favorite toppings!
To assemble all ingredients for making yummy tacos, first heat taco shells. Then, fill them with the prepared ingredients, including guacamole, lettuce, jackfruit, and any other topping that you like. Add Pico de Galo, sprinkle some cilantro over the top, and serve them with your favorite sauce.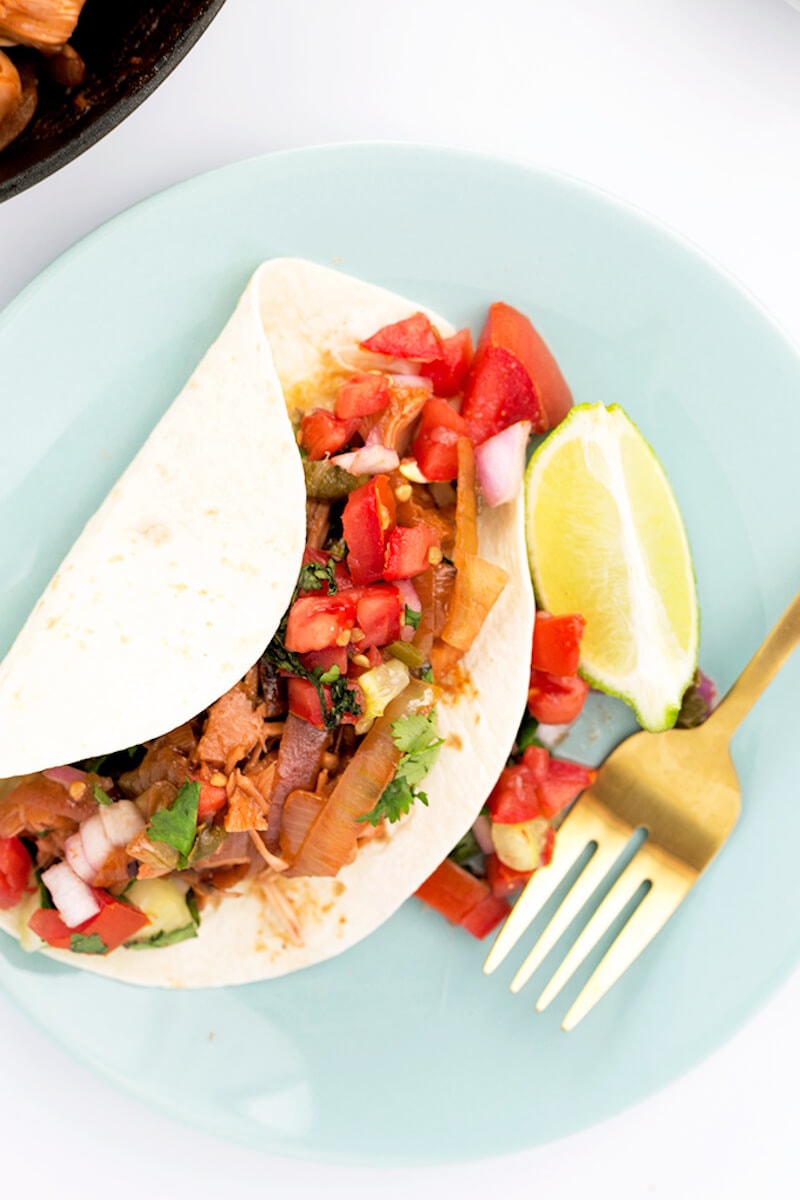 How Do You Cut a Jackfruit for Tacos?
If you get canned jackfruit, it's already cut into small triangles or rounded shape. For tacos, you'll have to cut the pieces further into small thin slices. While cutting jackfruit to make slices, there is no need to remove seeds. The seeds are ready with the rest of the jackfruit in your tacos.
How Do You Store Jackfruit Tacos or What to Do with Leftover Jackfruit?
To store the leftover jackfruit, use air-tight containers or the cans. Jackfruit is good to use for up to 7 days if stored in the refrigerator and for 4 months if kept in the freezer.
Where Can You Buy Jackfruit?
You can easily get jackfruit from the local shops and supermarkets in your area. If some reason, they don't have jackfruit, you can purchase it online too.
When picking jackfruit, be careful as the ripe fruit isn't suitable for tacos. Young jackfruit is green, and they sell the yellow fruit as whole fruit, not a pulled meat substitute.
Jackfruit is available as fresh, frozen, and canned fruit. You can choose any as per your choice.
Tips to Make Best Jackfruit Tacos
Here are some tips to boost the flavor of your Jackfruit Tacos:
If you're making it the first time, try using store-bought BBQ sauce to give your recipe a professional touch. 

You can also use tortillas or hard-shell tacos if you like them more. 

Squeeze lime or add cream as topping to make them more delicious.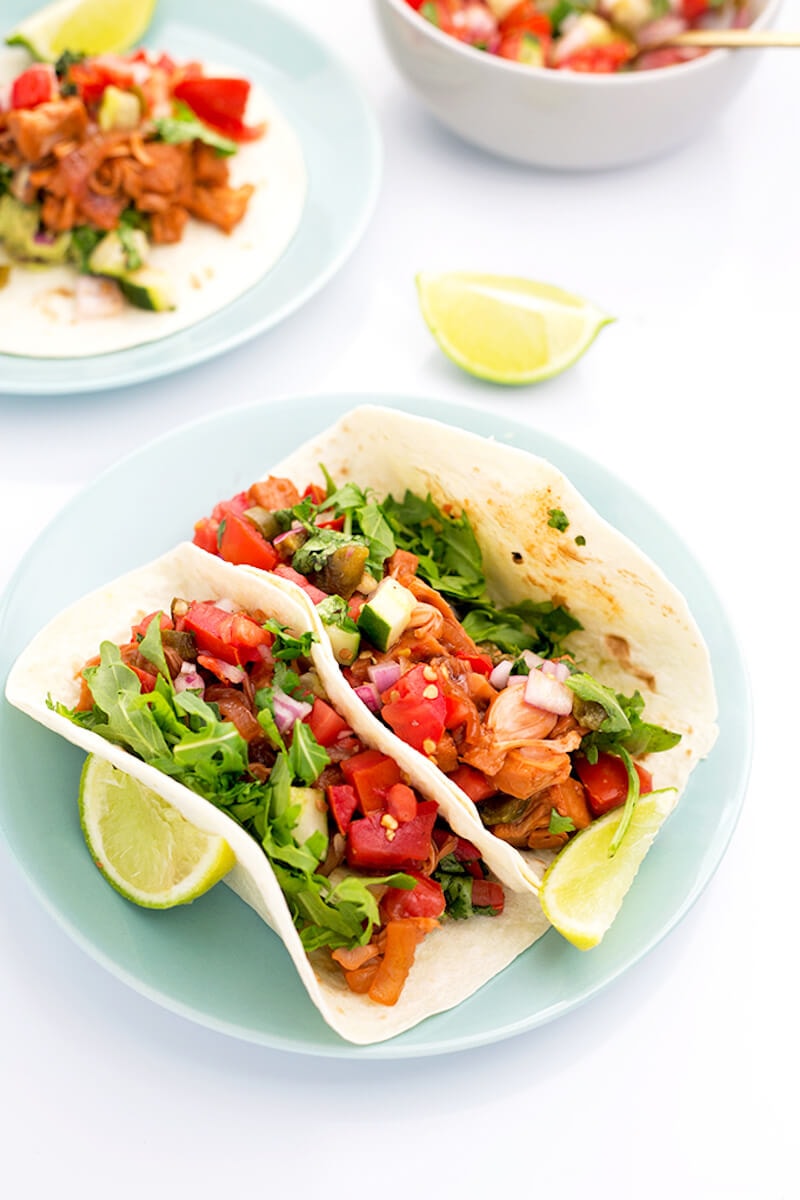 What to serve with tacos
Key tools to make this recipe
Non-stick pan– A good pan to cook everything up in.
Spatula– Non-stick spatulas that ensure there is NO scratching!
Mixing bowls– To mix the guacamole and Pico de galo!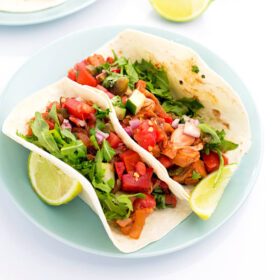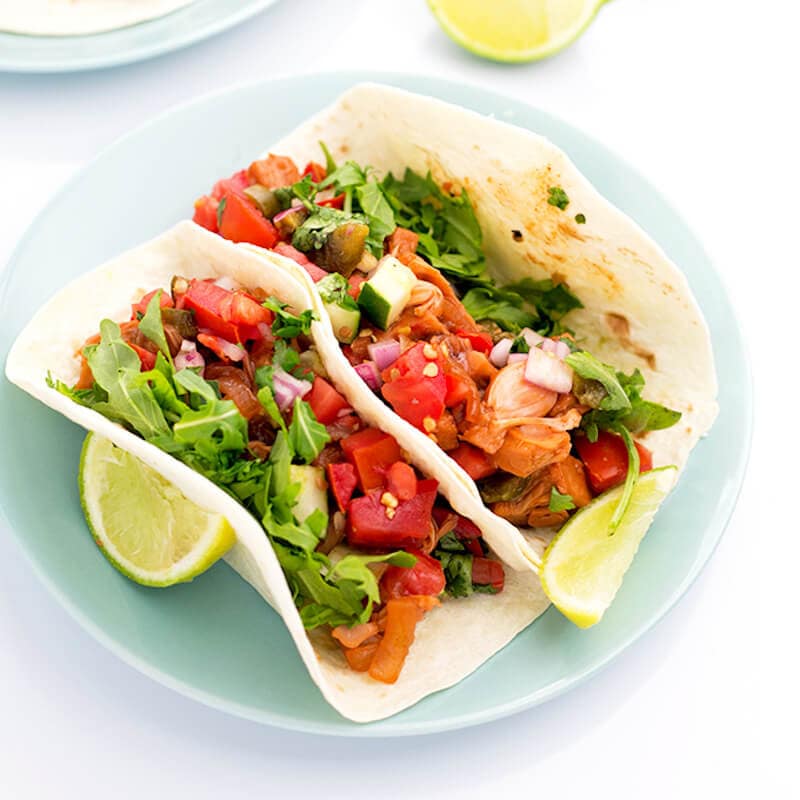 Vegan Jackfruit Tacos
These vegan jackfruit tacos are so flavorful and meaty, you won't believe there is no meat in it! Easy to make and SO delicious!
Ingredients
BBQ Pulled Jackfruit:
1

10 oz can

jackfruit

drained

1

tablespoon

Vegetable Oil

1/2

large

Red Onion

sliced into crescents

1

large

White Onion

sliced into crescents

2

teaspoons

Taco Seasoning

1/2

cup

BBQ Sauce
Pico De Gallo:
2

medium

Tomatoes

diced

1/4

large

Red Onion

diced

1

tablespoon

Jalapeño

finely chopped

2

teaspoons

Lime Juice

fresh

1/4

cup

Cilantro

chopped

1

teaspooj

Salt

to taste
Guacamole:
1

large

Avocado

1/4

large

Red Onion

diced

1/2

large

lime

juiced

1/4

cup

Cilantro

chopped

1

teaspoon

Salt

to taste
Instructions
To make Pulled Jackfruit, heat oil in a pan. Sautee red and white onion till soft, and continue to cook until just slightly caramelised, about 10 minutes on low heat. Add drained jackfruit chunks to the pan and stir well.

Stir in Taco Seasoning and BBQ Sauce. Stir to coat jackfruit pieces and then cover with a lid and cook on low heat for 30 minutes, checking every 10 minutes to make sure it is not burning. Once cooked, use two forks and tear Jackfruit pieces up until it resembles pulled Pork/Chicken.

Prepare Pico de Gallo by combining all ingredients in a bowl.

Prepare Guacamole by combining all ingredients in a bowl and mashing with a fork.

To serve, heat soft taco shells and fill with Guacamole, Lettuce, Pulled Jackfruit and Vegan Sour Cream if you are using it (I didn't). Top with Pico de Gallo and extra chopped Cilantro.
Nutrition
Serving:
1
serving
Sodium:
577
mg
Calcium:
15
mg
Vitamin C:
13
mg
Vitamin A:
352
IU
Sugar:
6
g
Fiber:
3
g
Potassium:
259
mg
Calories:
99
kcal
Saturated Fat:
2
g
Fat:
6
g
Protein:
2
g
Carbohydrates:
12
g
Iron:
1
mg