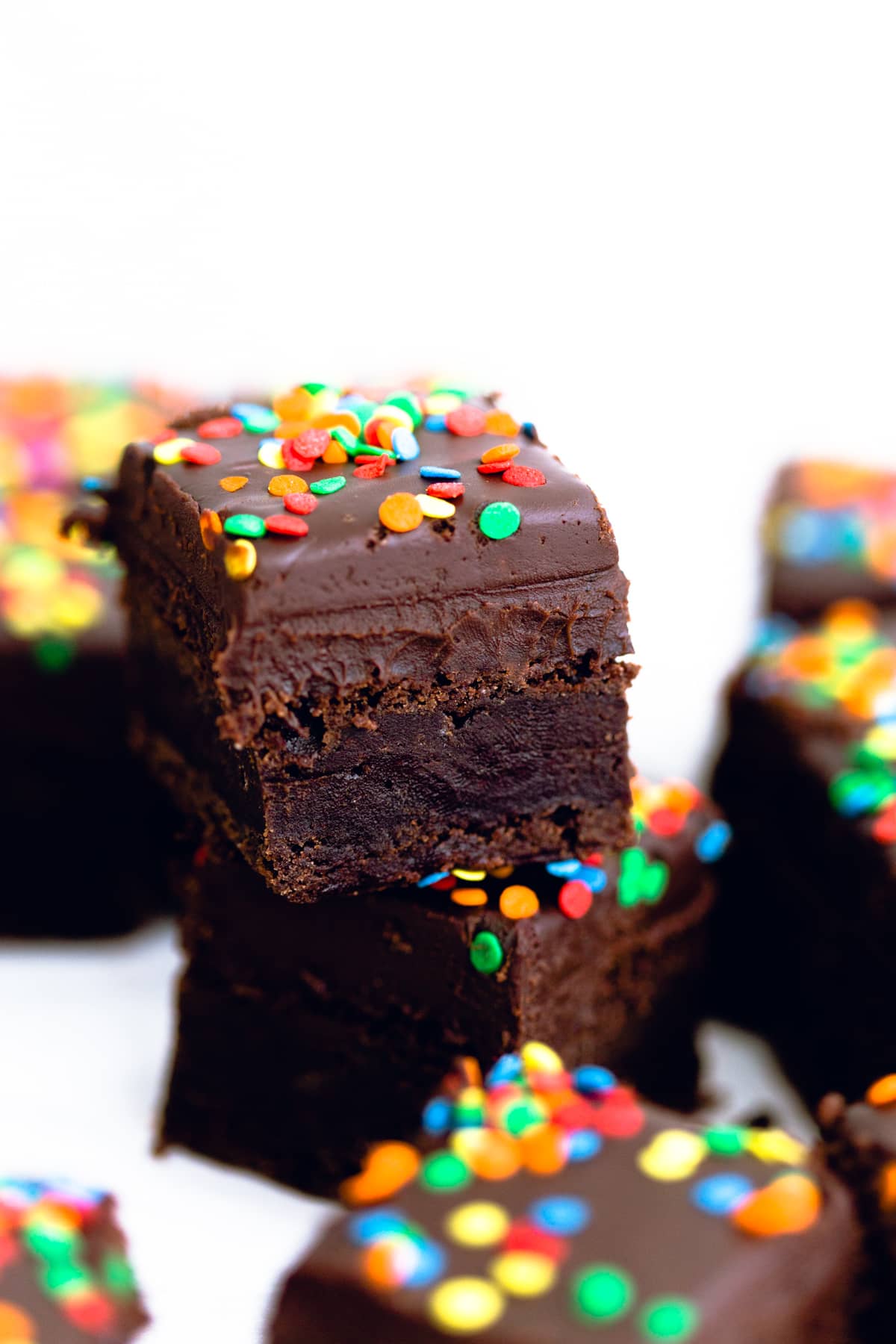 Cosmic Brownies – I swear to God I spent about 3 hours at the Food Pantry in Honolulu when I was 13 looking for them. I was unsuccessful, to say the least (as I am with most things in life), and all I remember is walking home sadly with some Hostess Cupcakes instead and then stuffing them down my face in the hotel room. Sadly, I'm now 29 and I've still yet to try a Cosmic Brownies. Of course, they don't appeal as much to my tastebuds today nearly as much as they did 16 years ago, but recently I came across them on Instagram and thought why not create Vegan Cosmic Brownies just for the f*ck of it!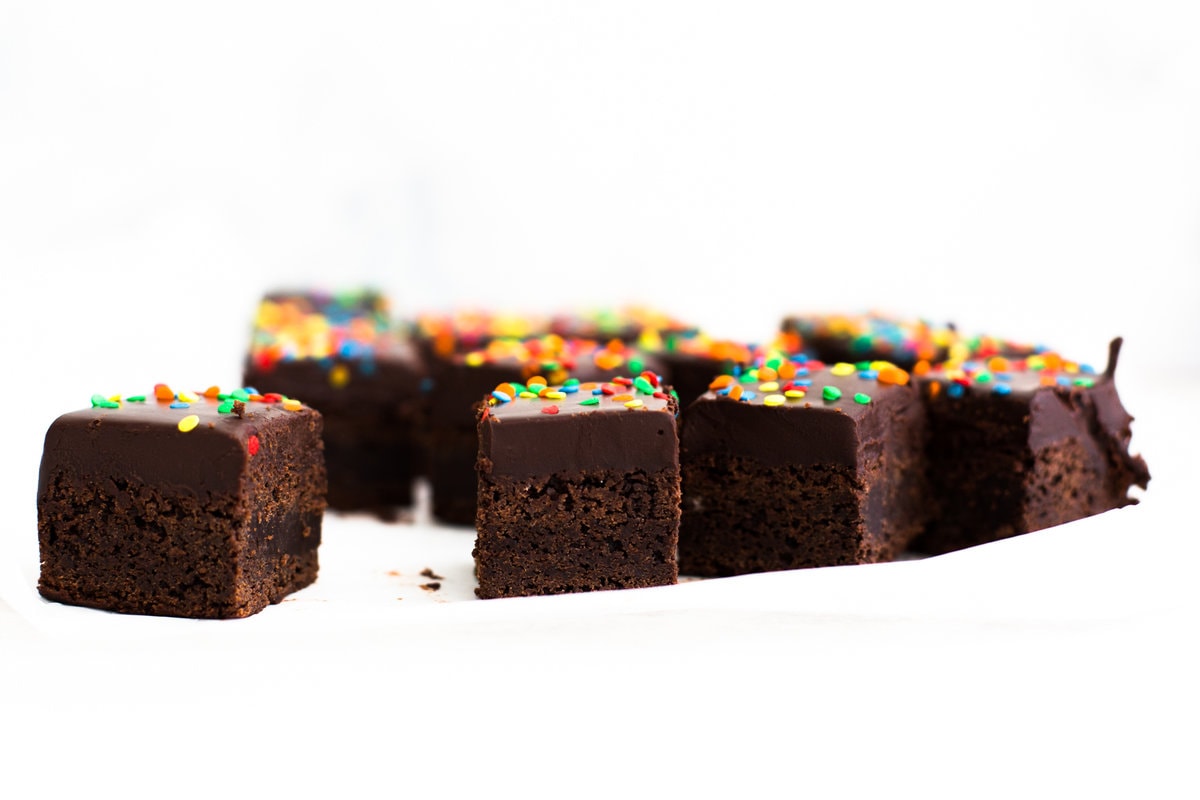 My Vegan Cosmic Brownies consist of an adapted fudge Brownie base (the one I posted here ages ago), a thick layer of Vegan Chocolate Ganache and a bunch of rainbow confetti that I had to get on Ebay. Yes, I am that extra. In fact, I actually looked for the rainbow candies that they use to top Cosmic Brownies but I couldn't find any in Australia because we fucking suck.
What Exactly is A Cosmic Brownie?
Cosmic Brownies are one of the treats produced by the company Little Debby Snacks, along with probably another 100 different "one molecule away from being plastic" cakes and treats. Don't get me wrong, I literally do not give a shit about preservatives or additives..I literally eat chocolate for breakfast. The only reason I'm even making these Vegan Cosmic Brownies instead of buying them is because they don't exist. Sad reacts.
The Cosmic Brownie consists of FUDGE BROWNIE > CHOCOLATE ICING > RAINBOW SPRINKLY THINGS. That's the most eloquent way I could possibly describe them, and I'm a writer by profession.
Tips For Making Vegan Cosmic Brownies:
Use Quality Cocoa – This means HERSHEY'S COCOA. IS. NOT. ALLOWED. I actually have nightmares of that strange terra-cotta hued powder disguising itself as Cocoa. Shun the non-believers. Wherever possible, go Dutch (processed). And on dates too.
Use Refined Coconut Oil – Unless you want your vegan brownies to taste like the inside of a bottle of Malibu, I always recommend using REFINED Coconut Oil. It is neutral in taste and a really versatile ingredient that you can use in heaps of recipes.
Add A Touch of Cornstarch – If you want a really chewy brownie, then I suggest adding a touch of Cornstarch to your batter (it's included in my recipe). You can omit this, but your brownies will turn out more fudgy than they are chewy. Not a bad thing
Don't Bother With Fancy Chocolate – When it comes to making the Ganache for these Vegan Cosmic Brownies, don't bother with fancy chocolate. I mean for f*ck sake, we are trying to replicate a $3 for a dozen box of brownies that you can get at Walmart. Don't try to be all fancy. It's unbecoming.
Be Patient with your Ganache – Ganache does this funny thing where it takes a bit of time to set up. I know, SHOCKING in this world where we expect instant gratification. Unless you want gross wet brownies, allow the ganache to set till it is firm before digging in.
Anything Else I Need to Fucking Know?
Well, A FEW THINGS. 
Let your brownies cool entirely in the tin before you attempt to cut them. I like to even leave them in the fridge for 2-3 hours prior to cutting, in order to get those really neat looking fucking squares for food fucking photography.
These Vegan Cosmic Brownies will keep for 1 week in the fridge, stored in an air-tight container. They'll also freeze till the apocalypse comes, which I assume is soon based on the current state of the world.
TAG ME ON INSTAGRAM IF YOU MAKE ANY OF MY RECIPES. I know this has nothing to do with brownies. It's my blog, I can do what I want.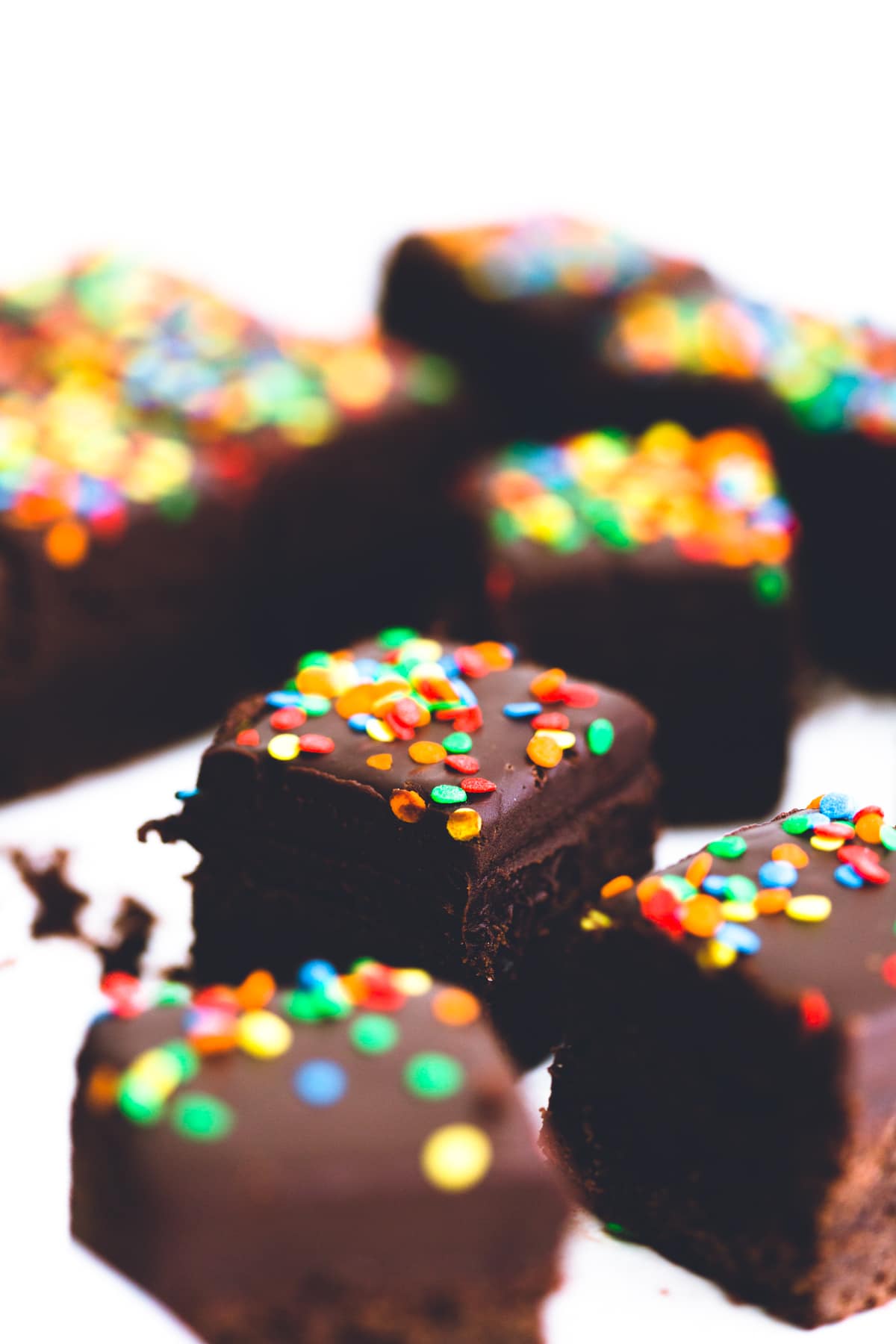 Anyway, if you're done reading this absolute atrocity of a blog post, scroll down to grab the full recipe for my Vegan Cosmic Brownies. Hope you like them. If you don't well too bad. Hehe. Until next time, folks!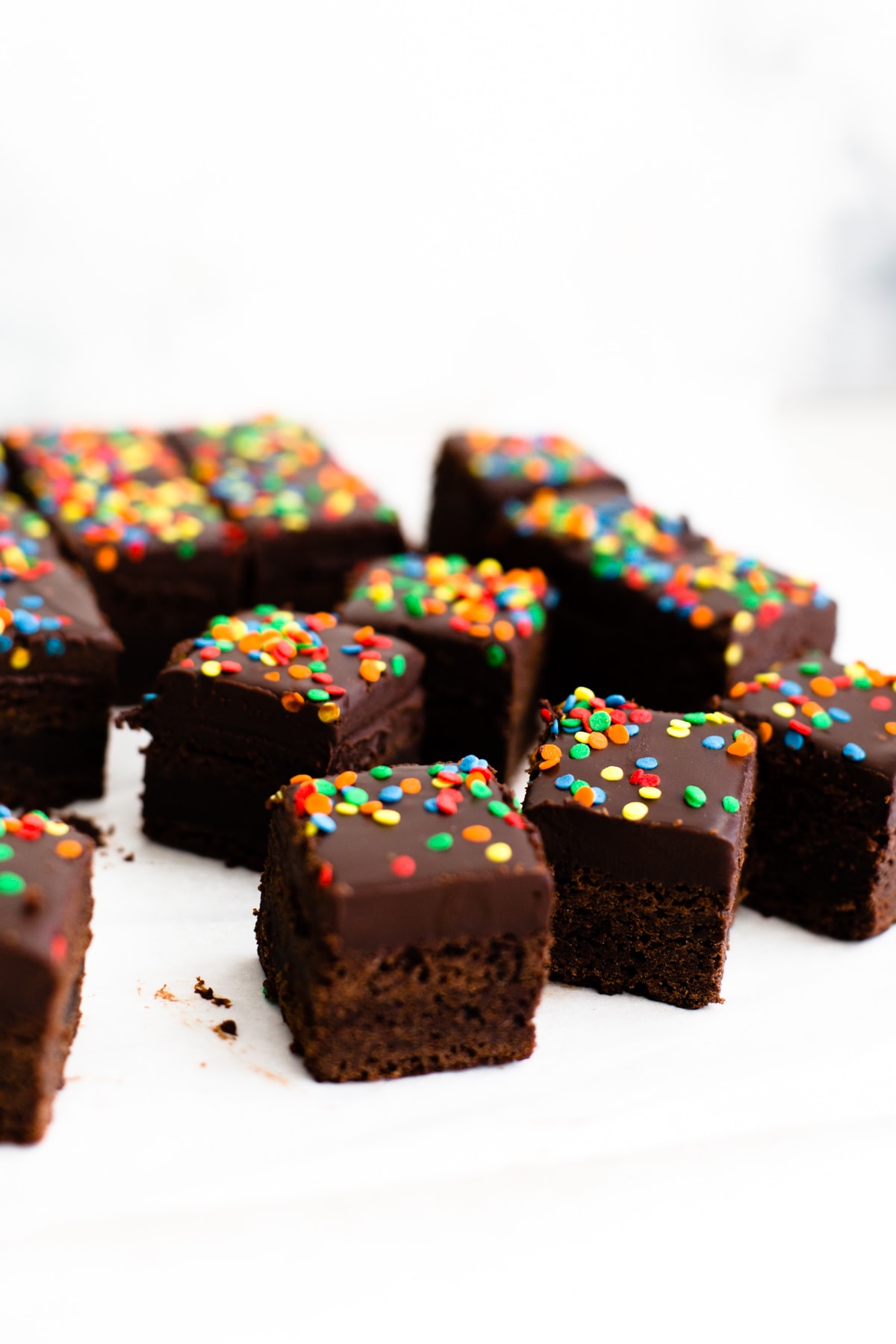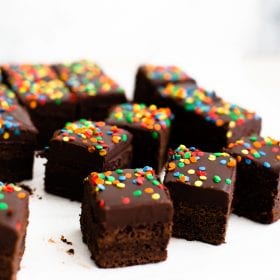 Vegan Cosmic Brownies
Vegan Cosmic Brownies - a Little Debbie classic veganized. Delicious Vegan Fudge Brownie topped with Chocolate Ganache and Sprinkles.
Ingredients
Brownies:
1 1/2

oz

Unsweetened Chocolate

45g (I used 90%)

6

tbsp

Unsweetened Cocoa Powder

30g

3/4

tsp

Instant Espresso Powder

1/2

tsp

Salt

1/2

cup

Boiling Water

125g

1/3

cup

Coconut Oil

90g

2

tsp

Corn Syrup

1 1/4

cups

Sugar

250g

1

tsp

Vanilla Extract

1

cup

All Purpose Flour

120g

1

tbsp

Cornstarch

1/8

tsp

Baking Powder
Ganache:
1 1/3

cups

vegan chocolate chips

220g

1/2

cup

Coconut Milk

110ml

1

tbsp

Corn Syrup

1/4

tsp

of Salt

1/4

tsp

Instant Espresso

Rainbow Confetti Sprinkles
Instructions
Line a 8x8 inch baking tray with baking paper, and preheat your oven to 350F/175C.

In a bowl, combine Cocoa Powder, Unsweetened Chocolate, Espresso Powder and Sea Salt. Pour boiling water over and whisk until you achieve a smooth chocolate lava.

Add Coconut Oil, Corn Syrup, Sugar and Vanilla to the mixture and whisk to combine. Leave to cool for 10 minutes.

Once cooled, add Flour, Cornstarch and Baking Powder to the mixture and whisk till smooth.

Pour batter into prepared tin and bake for 22 minutes.

Remove from the oven and allow to cool in the tin for 2 hours.

Meanwhile, make the Ganache by bringing Coconut Milk to a simmer and pouring it onto your chocolate in a large bowl. Add salt and instant espresso.

Allow to sit for 2 minutes and then using a spatula, gently mix until you achieve a thick and glossy ganache. Whisk in Corn Syrup.

Pour over cooled brownies and spread evenly. Whilst the ganache is still wet, sprinkle with Rainbow Confetti.

Chill in the refrigerator for an hour or 2 until the ganache sets up. Once it is set, cut brownie into squares.

Store leftovers in an air-tight box in the fridge for up to 1 week, or in the freezer till the end of the world.
Notes
TO STORE: TO FREEZE: 
Nutrition
Serving:
1
serving
Calories:
327
kcal
Carbohydrates:
47
g
Protein:
4
g
Fat:
17
g
Saturated Fat:
12
g
Sodium:
107
mg
Potassium:
103
mg
Fiber:
3
g
Sugar:
33
g
Vitamin C:
1
mg
Calcium:
39
mg
Iron:
3
mg