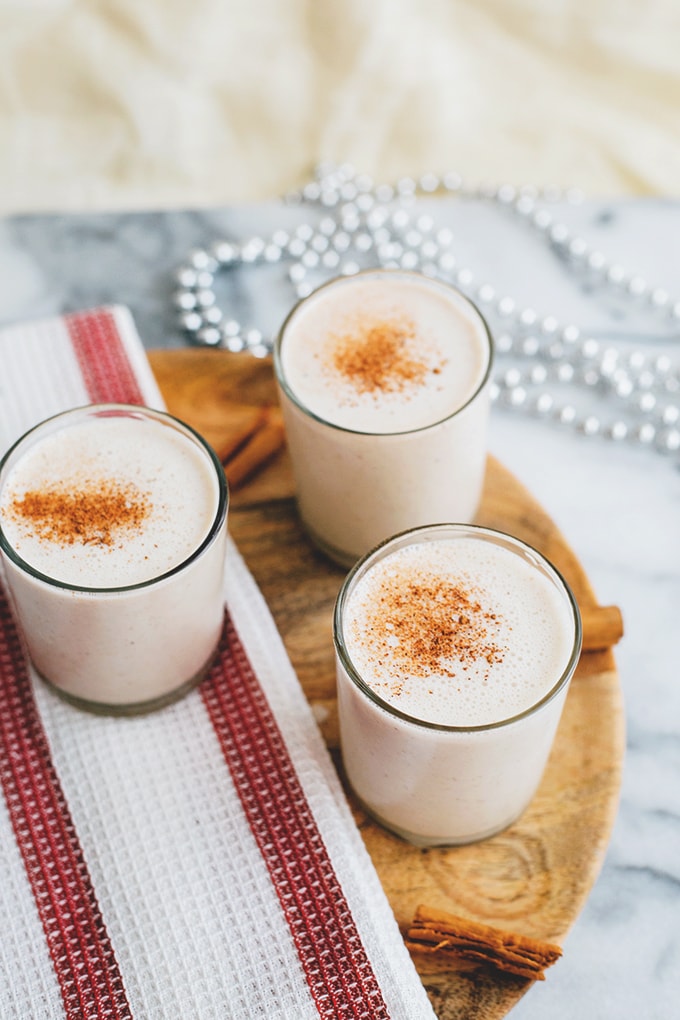 If there is one particular food I've always feared, it would have to be Eggnog. Every Christmas, as the supermarket fridges fill up with traditional Eggnog, I feel my stomach do a little dance of horror as I walk past. I mean, raw egg in a creamy beverage? Yucky yucky fukky! One of the perks of being Vegan is that I automatically cannot consume such atrocities, and have the privilege of making my own Eggless Nog, aka Vegan Eggnog. This Vegan Eggnog recipe is egg-free, chicken period free, full of nothing but tasty vegan deliciousness.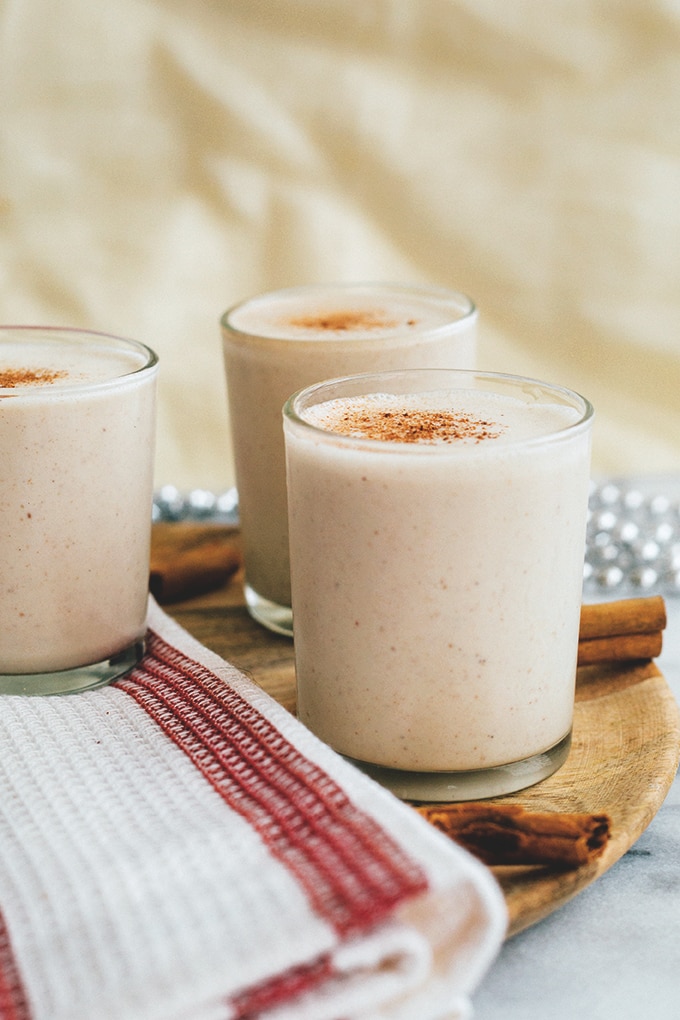 The recipe for this Vegan Eggnog is as simple as can be. All you need are a few ingredients – Almond Milk, Light Coconut Milk, Raw Cashews, Medjool Dates, Sea Salt, Nutmeg, Cinnamon, Cloves, Vanilla Bean and Bourbon. Of course, the Bourbon is optional and you can leave it out for a non-alcoholic Vegan Eggnog, but I personally love the little kick it lends to this Eggless Nog. Another great thing about Vegan Eggnog? You needn't cook it because there is nothing in here that could potentially give you Salmonella. Teehee. Anyhoo, all these ingredients go into a high-powered blender and you are a whizz away from Vegan Eggnog bliss.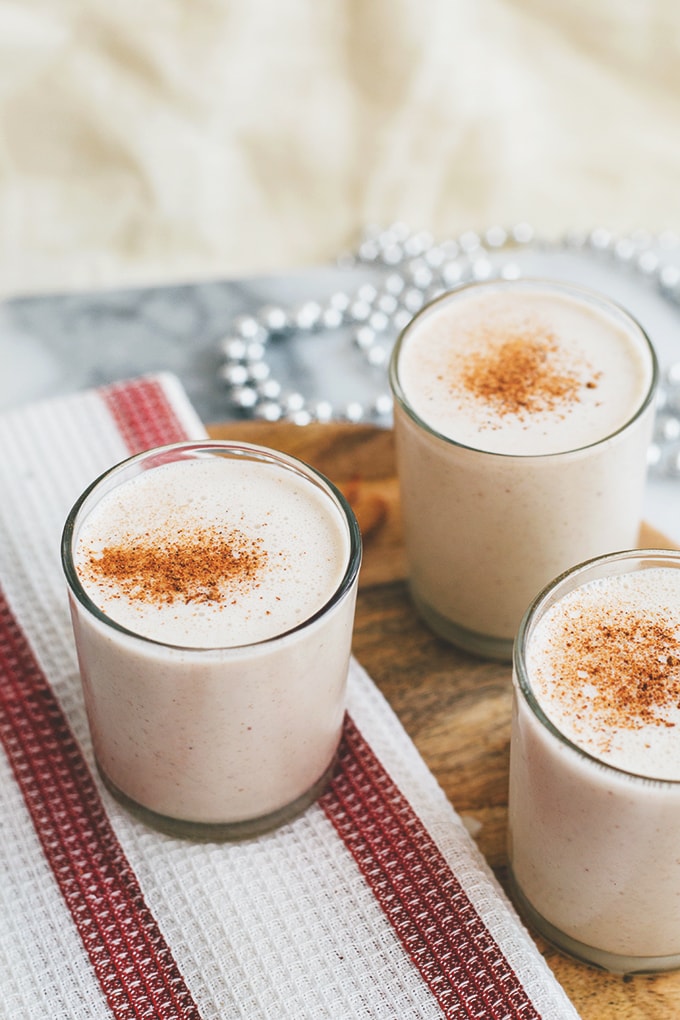 The final result? A goddamn winner, that's what. This Vegan Eggnog recipe results in a creamy, thick and rich beverage that could fool any non-vegan out there. "This is fukking delicious, dude.", said my non-vegan friend. And there you have it. Delicious Vegan Eggnog!!!!!!! Without the fukking eggs!!!! Who would have thought! Scroll down for the full recipe and happy sipping!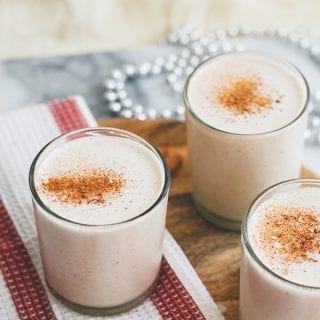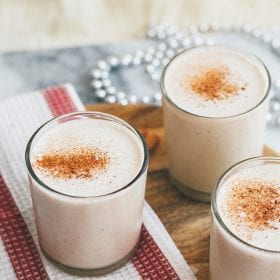 Vegan Eggnog
An Eggless Nog that is completely Vegan, Dairy Free and easy to make. Perfect for the Holiday Season.
Ingredients
3 1/2

cups

Almond Milk

the refrigerated variety

1/2

cup

Light Coconut Milk

6

large

Medjool Dates

pitted

1

cup

Cashews

Raw

1/2

Cinnamon Stick

1 1/2

teaspoons

Nutmeg

freshly grated

1/4

seed

Vanilla Pod

1

Pinch

Ground Cloves

1/4

teaspoon

Sea Salt

2

tablespoons

Bourbon
Instructions
In a high powered blender such as a Vitamix, combine all the above ingredients. Blend on high until your Vegan Eggnog is perfectly smooth and creamy.

Strain through a fine meshed sieve if you fancy an extra smooth and silky beverage.

Keep chilled, in an airtight bottle for up to 1 week.
Nutrition
Serving:
1
serving
Calories:
235
kcal
Carbohydrates:
26
g
Protein:
5
g
Fat:
13
g
Saturated Fat:
3
g
Sodium:
303
mg
Potassium:
312
mg
Fiber:
3
g
Sugar:
18
g
Vitamin A:
37
IU
Vitamin C:
1
mg
Calcium:
202
mg
Iron:
2
mg