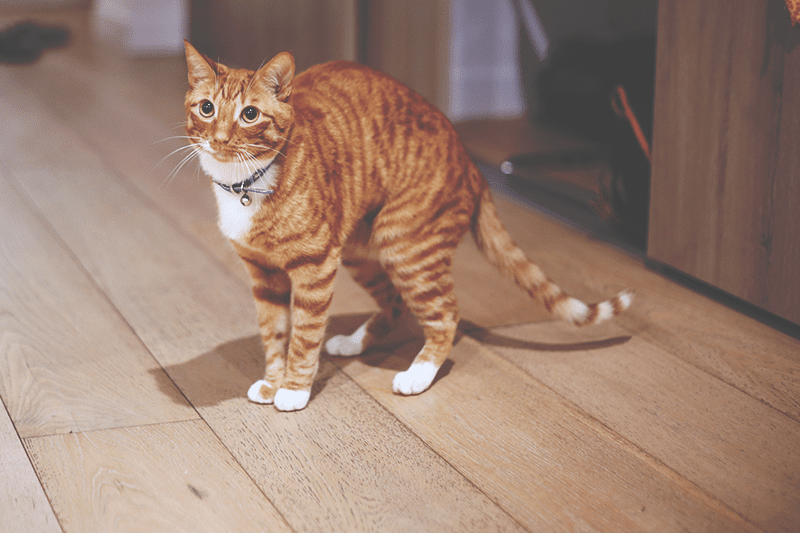 You may be wondering why this post starts off with a photo of my FAVOURITE kitty, Richard Parker. Well, let's cut to the chase: Richard Parker has decided to write a guest post for us on this fine Saturday afternoon – a post dedicated to our newest recipe, Vegan Thai Green Curry Fried Rice. Without further ado, take it away Richard Parker!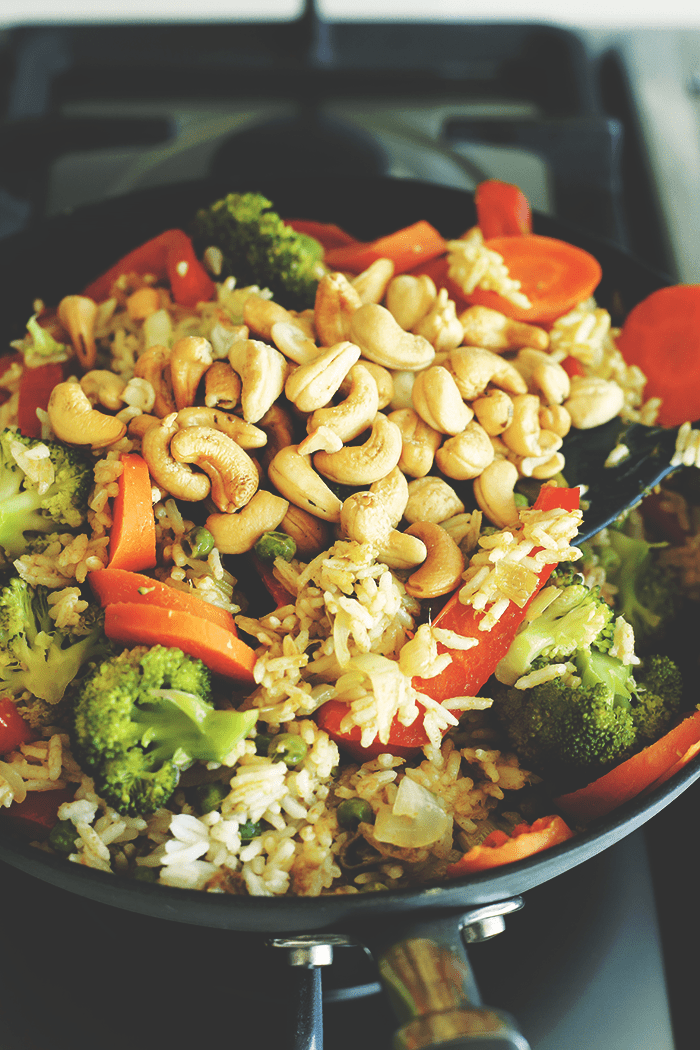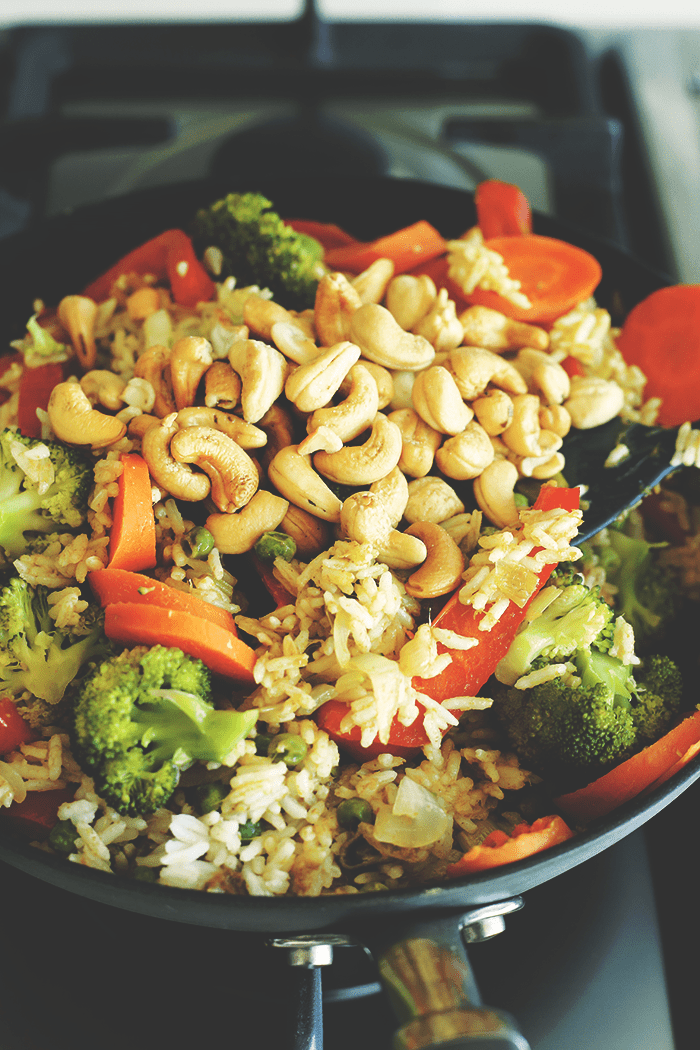 Mreowr…Meow rarr meow mewwwwwww meow mroarrrrrr mroewr. Wehhhhh, Thai Green Curry Fried Rice …… Meow wrarr meow mew rarr meow mewwwwwww meow mroarrrrrr!?!?! Purrrrrrrr, growrrrrrr…..HISS!!! HISS!!! HISS!!!!!!!!! VEGAN…..maooo?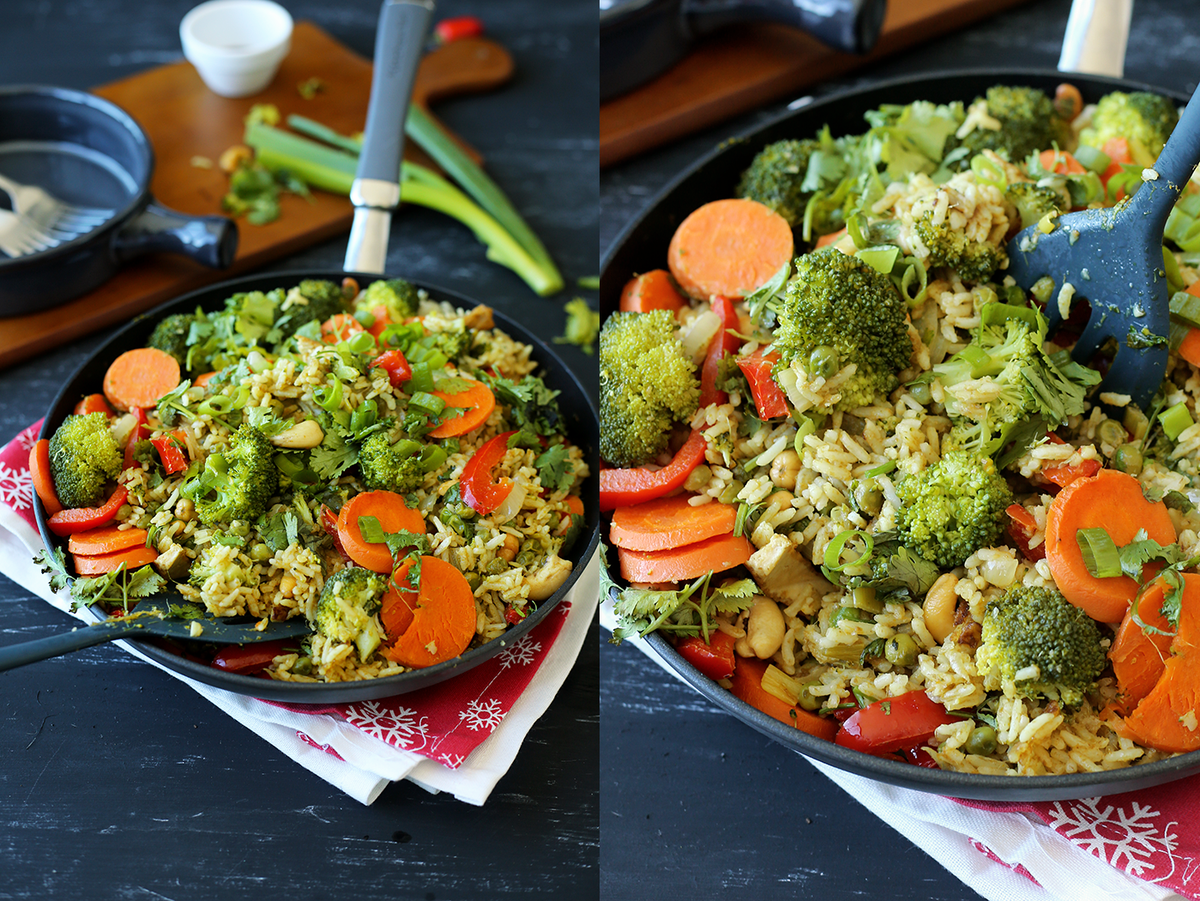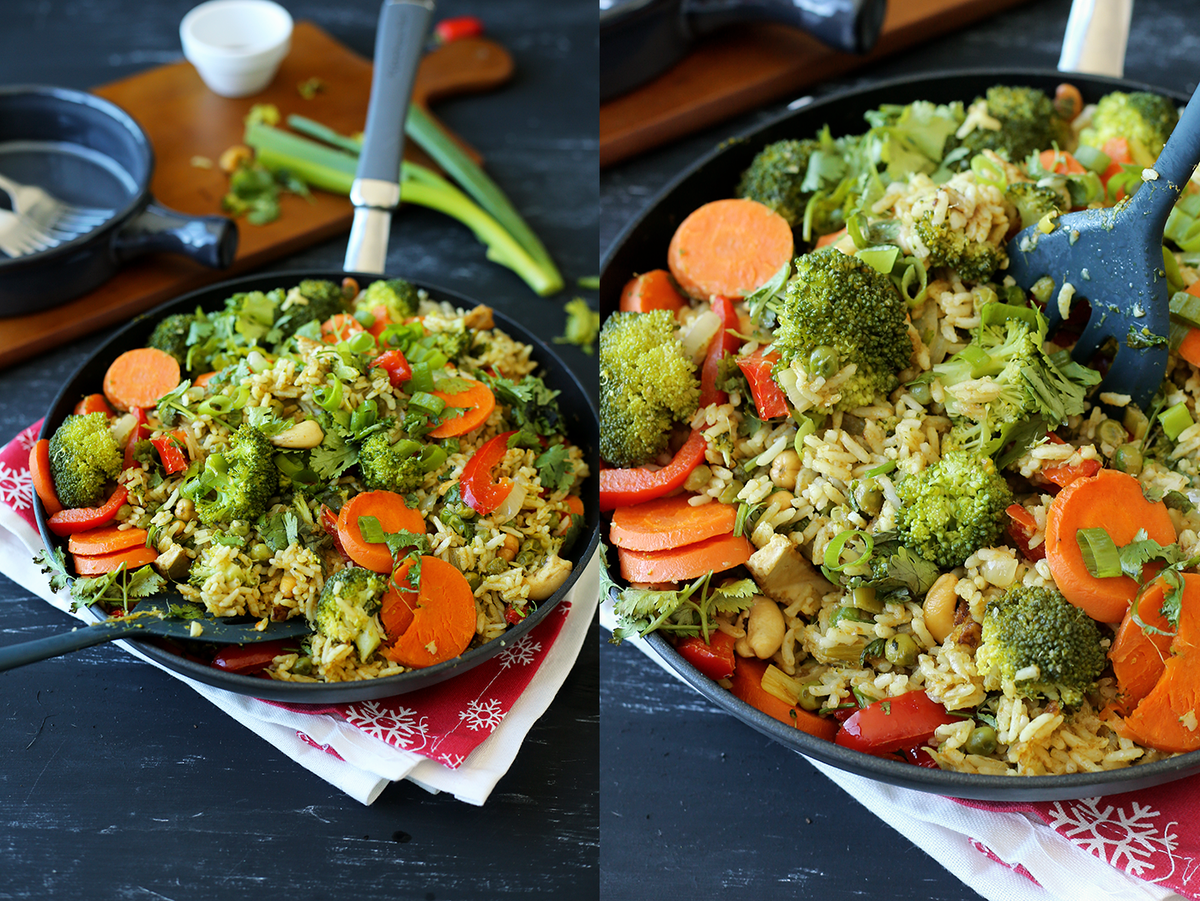 Yummy, delicious and simple…..MRAWRN?????? YOWLLLL YOWLLLLL 6AM MORNING YOWLLLLL! EAT ALL THE PLASTIC…..HISS!!!!!! Ack ack ack, guh guh guh, mreowrrrrr!!!! Brrrrrrowr…Vegan Thai Green Curry Fried Rice. Hithhh mew mew purr meow rawr mreowr yowl?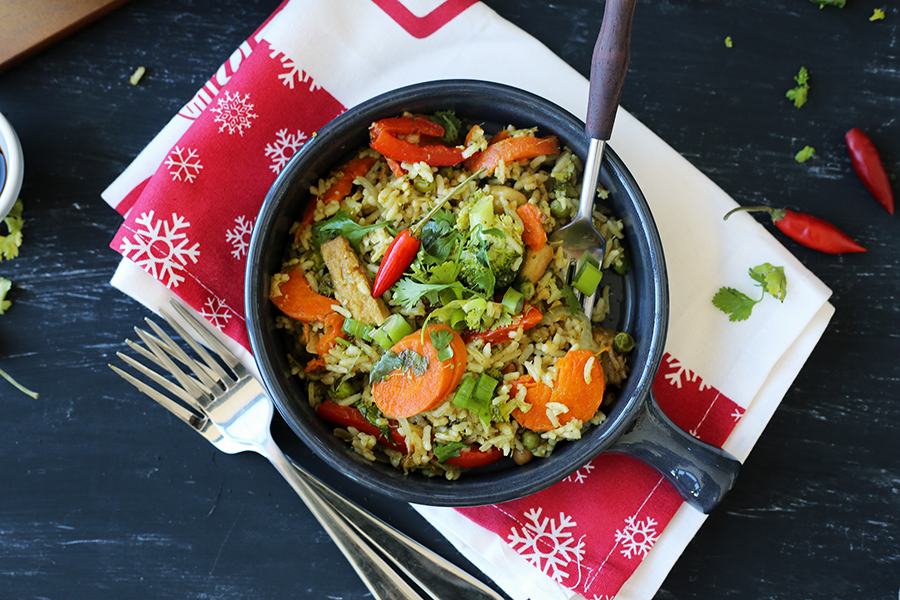 Rrarr meow mewwwwwww meow mroarrrrrr pom pom pom, spicy and full of veggies. My captors continue to taunt me with stupid fluffy objects for babies that dangle in the air like mosquitos. They feed themselves with delicious fresh food, while I am forced to eat dry, low quality kibble. Curses.  The only thing that keeps me going is the hope of escape, and the mild satisfaction I get from chewing their clothing and depositing my fur in their lungs. My time will come. I don't give a damn about their Thai Green Curry Fried Rice Recipe.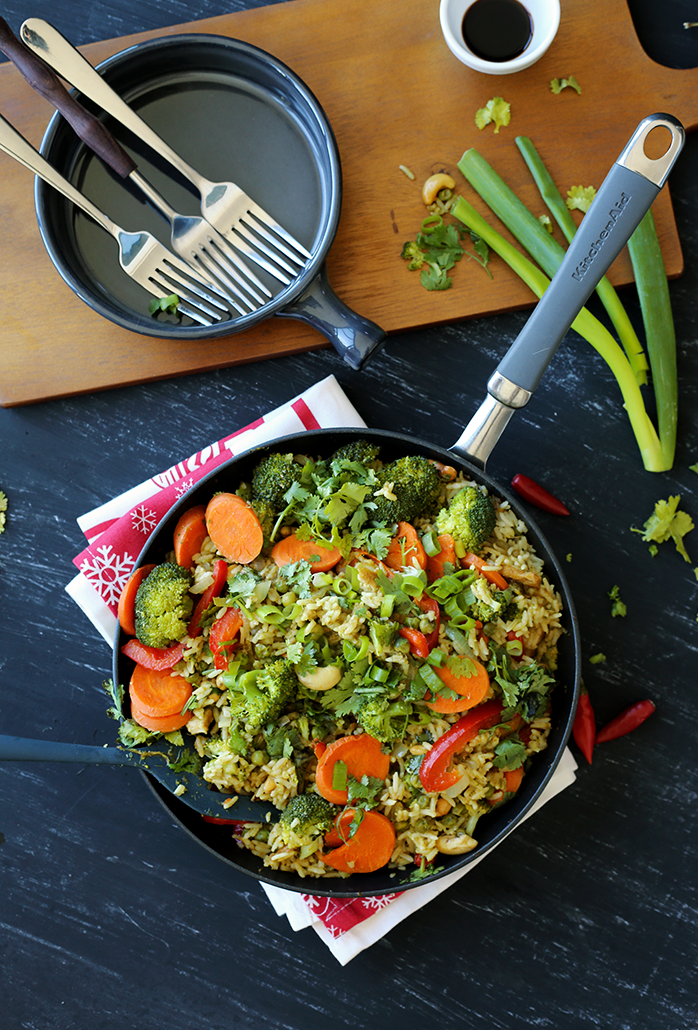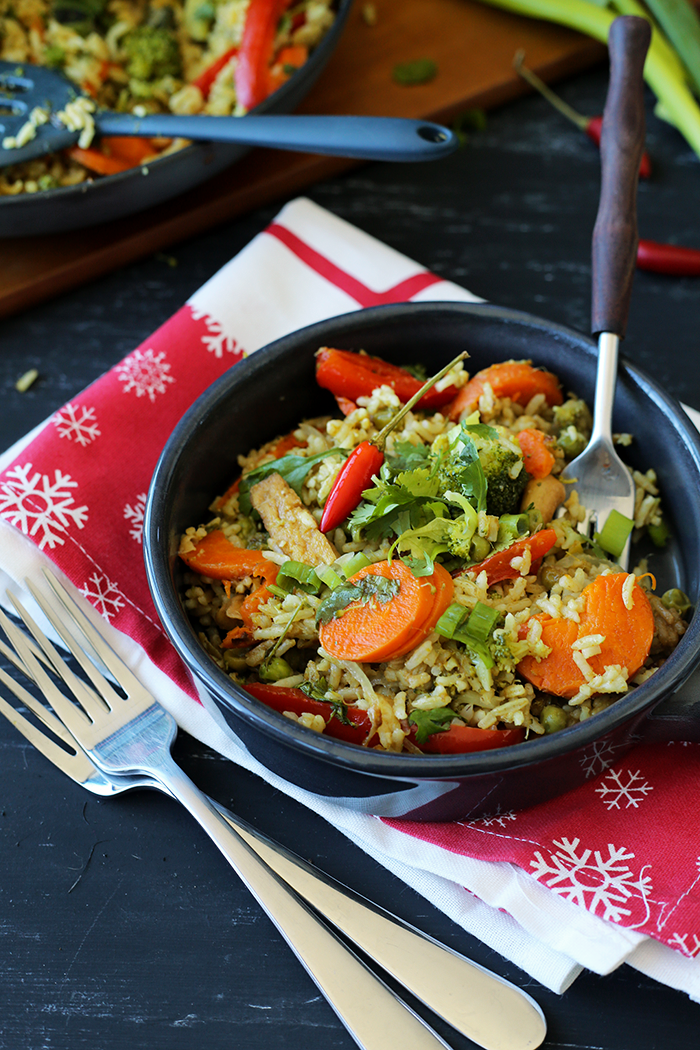 Meow meow meow I will take my revenge MRAORRRRRRR HISS HISS HISS HISS PUR PUR PURRRRRRR. .Meow rarr meow mewwwwwww meow mroarrrrrr mroewr. WAHMREOW, to hell with these people and their stupid recipe for Thai Green Curry Fried Rice.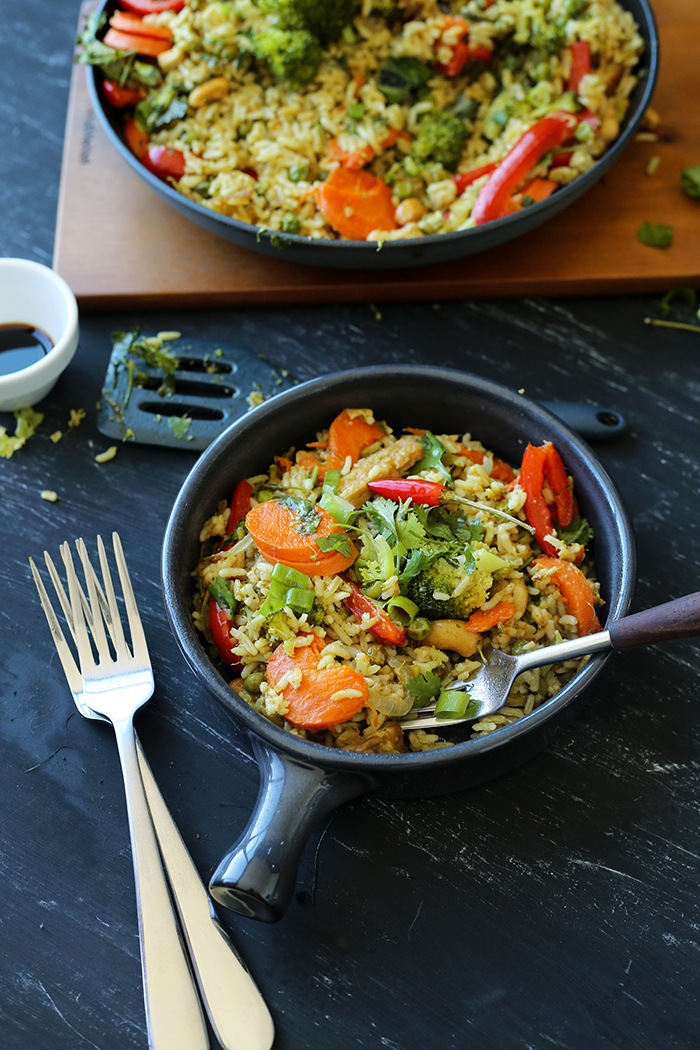 PS: Kitty aside, we do hope you try our recipe for Vegan Thai Green Curry Fried Rice out, because it's delish. And as usual, don't be shy: we'd love for you to say hi to us in our comment box! Till next time.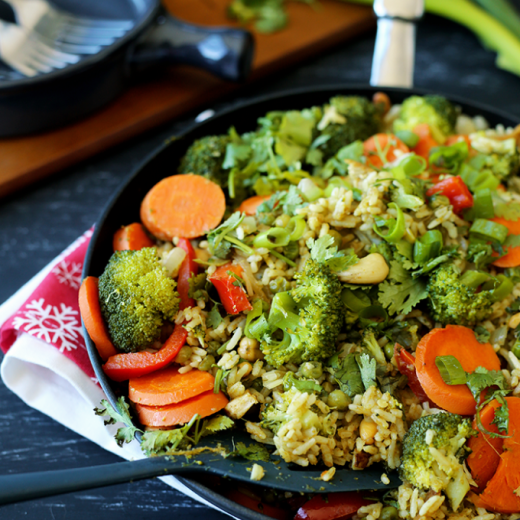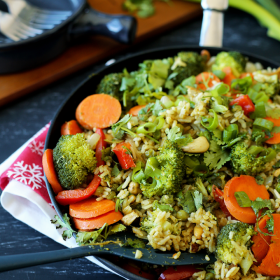 Thai Green Curry Fried Rice
Ingredients
1

Carrot

sliced into rounds

1

head of Broccoli

cut

3

tablespoons

Canola Oil

1

Yellow Onion

sliced

3

Spring Onions

sliced

2

cloves

Garlic

minced

1

cup

Frozen Peas

1

Red Bell Pepper

sliced

2

Tablespoons

Green Curry Paste

preferably homemade

2

cups

cooked Jasmine Rice

preferably refrigerated overnight

1/2

teaspoon

Sugar

2

teaspoons

Tamari

1/2

cup

Roasted Cashew Nuts

1/2

cup

chopped Cilantro
Instructions
Steam veggies: Steam broccoli and carrot till tender and set aside.

Prepare Fried Rice: In a large frying pan or a wok, heat canola oil up. Add sliced yellow onion, spring onion, garlic, red pepper and frozen peas into the pan and cook till onion has softened and peas have defrosted.

Add green curry paste to the pan and mix it in well - this may be difficult with some commercial pastes that are rather thick in texture, but keep stirring and it'll all come together.

Once combined, add cooked Jasmine rice to the pan and toss well, making sure each grain of rice has been coated in the curry/veggie mixture. Season with sugar and tamari.

Add steamed carrot, broccoli and cashew nuts to the pan and mix in well. Turn heat off and sprinkle chopped cilantro into the pan. Mix well, and garnish with more cilantro and spring onions.