Learn how to make a chai tea latte from scratch! Made without dairy or refined sugar, it makes the most delicious vegan chai tea latte!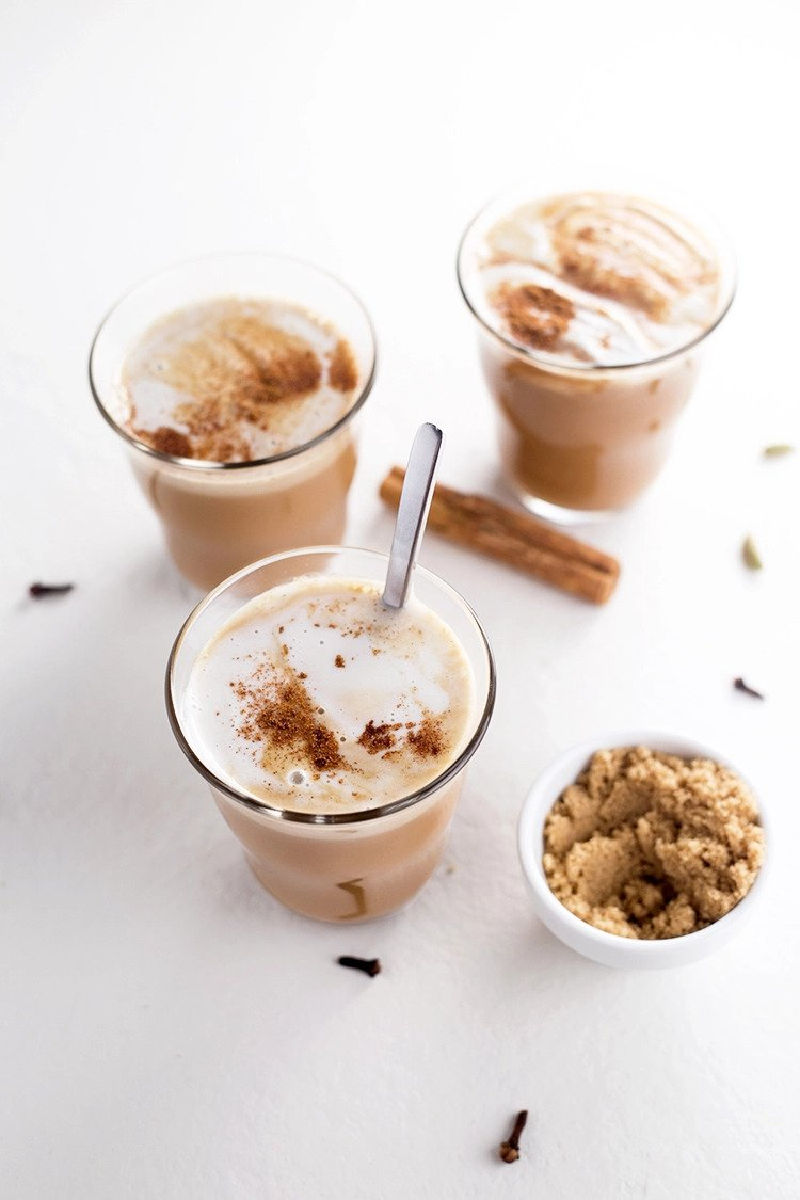 Homemade Chai Tea Latte
Skip the expensive and sugar laden chai tea latte syrups and make your own! It tastes so much better than the syrup that lasts for ages!
FREE EBOOK SERIES! 5 SECRETS FOR FOOLPROOF VEGAN DESERTS
I first tried a chai latte several years ago, when they were all the rage. Like most people, the sweet spices lured me in and I couldn't help myself but order one almost every day from Starbucks. I soon noticed that the syrups were becoming readily available from grocery stores and was shocked with how long the ingredient list was. Not only that, but many contain up to three kinds of sugar in them!
This homemade chai tea latte and syrup will be your new favorite. It uses plenty of warming spices to yield the perfect chai tea latte. No dairy is needed, making it perfect for those following a vegan, gluten free and dairy free diet!
How to make a chai tea latte from scratch
For the chai tea syrup
Black peppercorns– Whole black peppercorns, usually found in the spice aisle of the grocery store.
Cloves– The key ingredient in a chai latte. This Asian-derived aromatic spice has a slight kick to it which gives slightly spicy notes to the drink.
Cardamom pods– NOT ground cardamom. The pods must be used because they infuse the flavor into the syrup slowly and proportionately.
Cinnamon sticks– Like the cardamom, cinnamon sticks are preferred over the ground-up kind.
Anise– Star anise. A little goes a very long way so don't go overboard with this!
Filtered water– Clean and pure water to make the syrup.
Loose black tea– Not teabags. If you'd like this to be a decaffeinated beverage, use decaffeinated black tea.
Sugar– Adds sweetness. I use raw sugar, but white or brown sugar can also be used.
Ginger– Freshly minced ginger to give it an extra kick.
To make the latte
Milk of choice– I like using unsweetened almond milk, but any plant based milk can be used.
How do you make the chai tea syrup?
1. Roast the spices. In a small saucepan, roast the spices for 1-2 minutes, until fragrant.
2. Grind the spices. Use a coffee grinder to grind the spices until an almost powder-like consistency.
3. Infuse the spices. Add the ground spices back into the saucepan, along with the water and ginger. Bring it to a simmer and cover it for 20 minutes, stirring regularly.
4. Strain the liquid. Add the loose black tea and turn the heat off. Let the tea infuse into the liquid for 10 minutes, before straining it.
5. Add sweetness and simmer. Add the strained liquid back into the saucepan then add the sugar. Bring to a simmer for 10-15 minutes, until it has thickened.
6. Cool the syrup. Cool the syrup before transferring it to a sterilized jar or container.
7. Make a chai tea latte. Combine one part syrup to two parts milk of choice. Either enjoy cold or heat up until warm.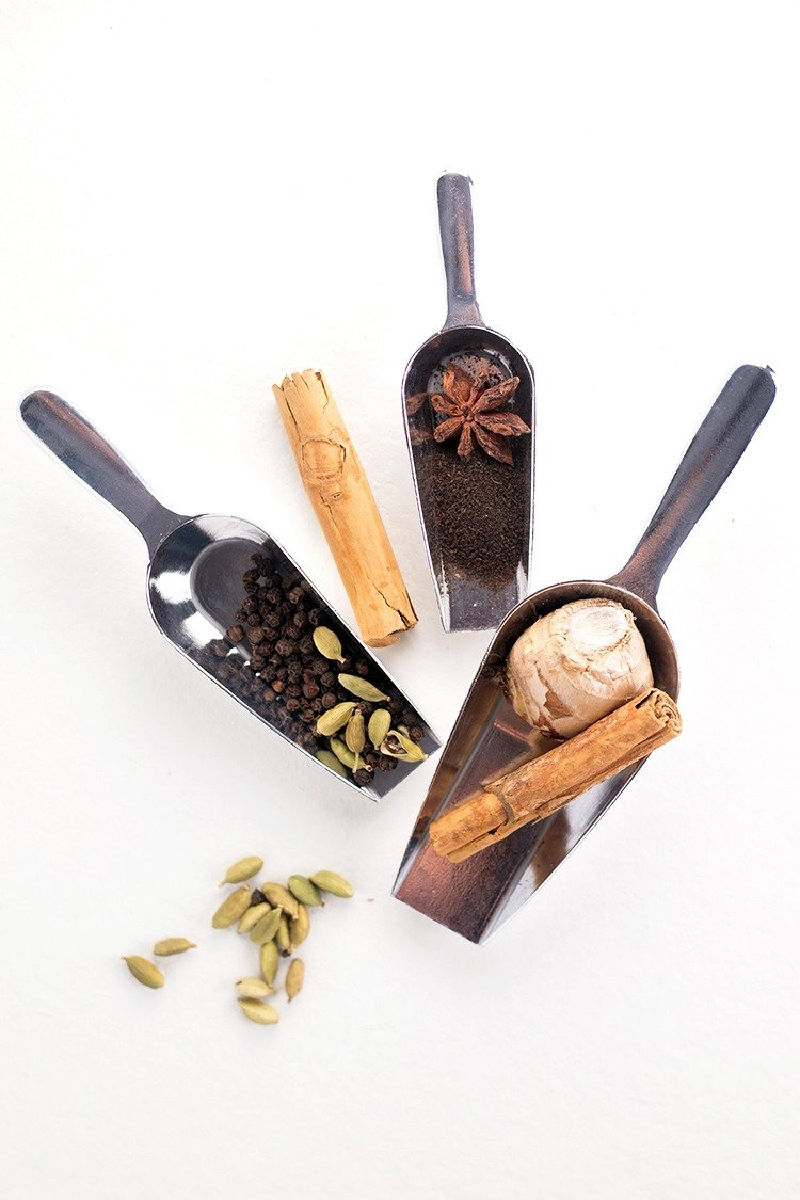 Tips to make the best chai tea latte syrup
Roasting and grinding the spices are essential. This intensifies the flavor and seeps into the latte so much better than any commercial syrup out there!
Make sure when simmering the mixture that the water never comes to a boil – you want gentle heat so that the spices don't go bitter.
Be sure to seep the liquid very well to ensure there are no odd spices left behind.
How to store chai tea latte syrup
You must store your syrup in sterilized glasses, to ensure there is no cross-contamination. Keep the syrup in the refrigerator and it will remain fresh for up to 2 weeks.
What to serve with your latte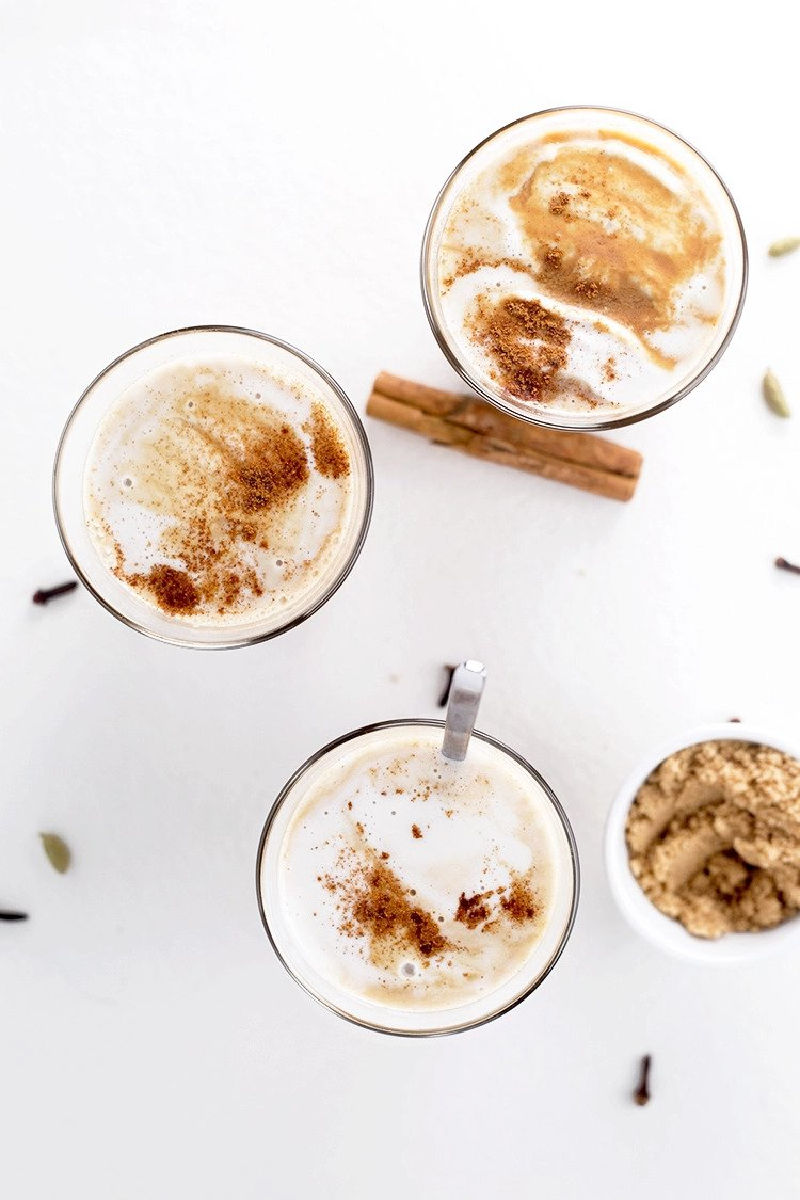 Tools to make this recipe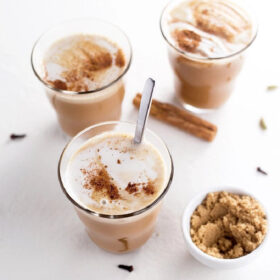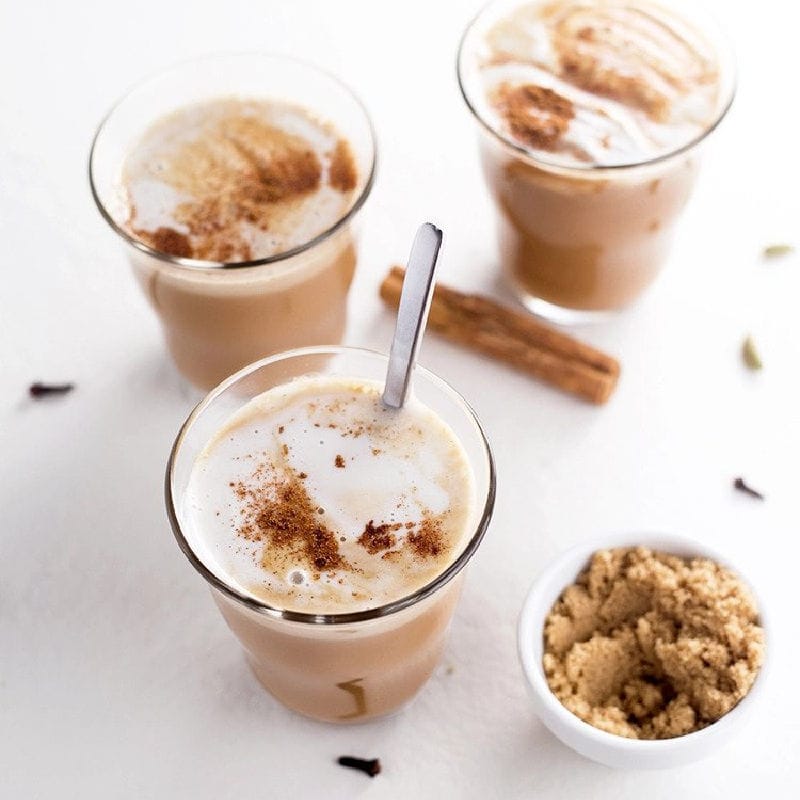 How To Make Chai Tea Latte
Learn how to make a chai tea latte from scratch- No dairy, no refined sugar, and gluten free!
Ingredients
For the chai tea latte syrup
40

whole

Black Peppercorns

10

whole

Cloves

10

whole

Cardamom Pods

2

Cinnamon Sticks

1

Star Anise

5

cups

Filtered Water

5

tablespoons

Loose Black Tea

1 1/4

cup

Cane Sugar

1/4

cup

Ginger

minced
to make a chai tea latte
1

part

Chai Syrup

2

parts

Unsweetened Almond Milk
Instructions
To make the chai tea latte syrup
In a large saucepan, roast black peppercorns, cloves, cardamom, cinnamon, star anise over a very low heat for 1-2 minutes or until fragrant. Remove spices from saucepan and leave them to cool.

Once cool, grind the roasted spices in a coffee or spice grinder till a coarse powder is achieved (it doesn't need to be perfectly ground).

In a large saucepan, combine water, ground spices and ginger. Stir well and bring to a very gentle simmer. Cover the saucepan with a lid and let the ingredients continue to simmer for another 20 minutes.

After 20 minutes, remove the lid and add your loose black tea into the pot. Turn heat off, stir and allow the tea to sit for 10 minutes to infuse. Once infused, strain the warm liquid into another saucepan. Use a fine meshed sieve so that none of the spices filter through.

Add sugar to strained liquid and then put on the heat and bring to a simmer. Let simmer, uncovered, for 5-10 minutes or until the syrup has thickened ever so slightly. Immediately pour into sterilized bottles to cool.
To make a chai latte
For a warm Chai Latte, combine 1 part syrup to 2 parts almond milk and heat on the stove till warm. If drinking cold, simply pour 1 part cold syrup into 2 parts chilled almond milk. Stir and enjoy.
Notes
TO STORE: You must store your syrup in sterilized glasses, to ensure there is no cross-contamination. Keep the syrup in the refrigerator and it will remain fresh for up to 2 weeks.
Nutrition
Serving:
1
serving
Calories:
8
kcal
Carbohydrates:
2
g
Protein:
1
g
Fat:
1
g
Saturated Fat:
1
g
Polyunsaturated Fat:
1
g
Monounsaturated Fat:
1
g
Trans Fat:
1
g
Sodium:
8
mg
Potassium:
30
mg
Fiber:
1
g
Sugar:
1
g
Vitamin A:
3
IU
Vitamin C:
1
mg
Calcium:
18
mg
Iron:
1
mg