This light and crunchy asparagus salad features perfectly cooked asparagus and roasted pumpkin seasoned with a nutty, sweet cranberry dressing. Healthy, delicious, and refreshing, this salad is all things spring!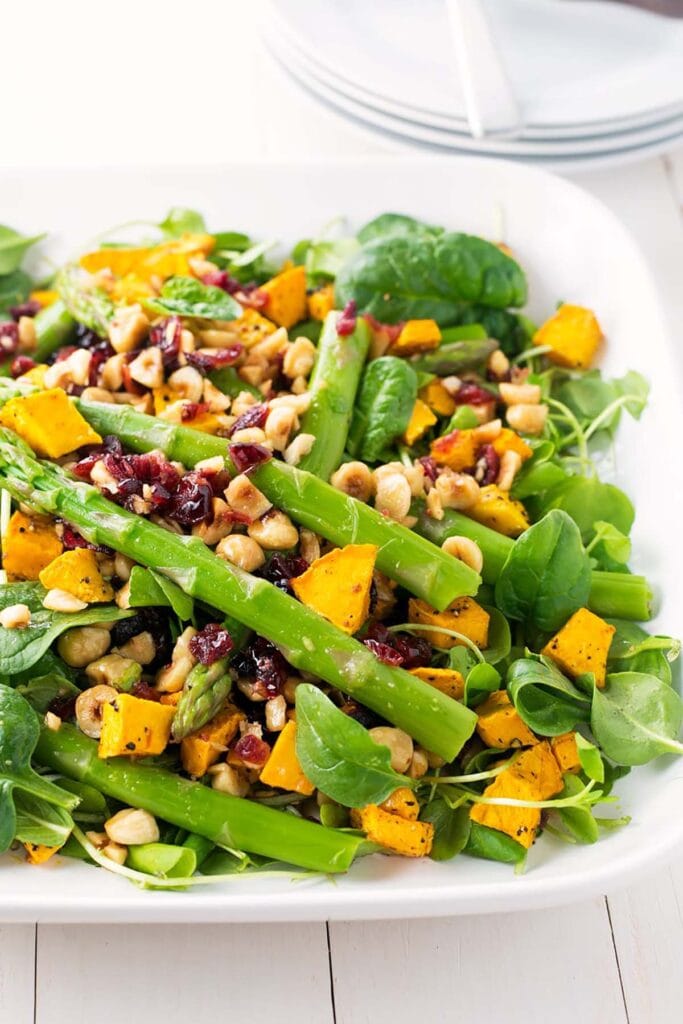 Salads are so much more than just green leaves tossed together, and we love tasty, filling salads full of different textures and flavors.
Our all-time favorites include black bean salad, watermelon feta salad, and roasted veggie salad.
FREE EBOOK SERIES! 5 SECRETS FOR FOOLPROOF VEGAN DESERTS
DIFFERENT WAYS TO COOK ASPARAGUS
Asparagus is so versatile that it can be cooked in every imaginable way- you can blanch, roast, grill, steam, or air-fry, and each time, you'll end up with a tasty, tender side.
We have used the boiling method to cook asparagus, but you can also use one of the other methods for this recipe.
Steaming. Put the asparagus in a steaming basket and cook for 5-10 minutes until just done. You may have to adjust the steaming time per the asparagus' thickness.
Grilling. Light up the barbeque or prepare a large iron skillet on your stove. Then line up a batch of asparagus spears on the pan. Stir continuously at high heat to char it evenly on all sides. In 4-5 minutes, it should be done.
Roasting. To roast in an oven, layer asparagus on a baking tray and transfer it to a preheated oven. Roast at 210°C for 15 minutes until tender.
WHY YOU'LL LOVE THIS RECIPE
Healthy. This delicious spring salad is a well-balanced and nutritious dish. Asparagus, pumpkin, spinach, and watercress are loaded with vitamins like A, C, and K, minerals, fiber, and antioxidants, and they are low in carbs.
Tasty. What sings about this recipe is the complex flavor of the red wine vinaigrette and maple syrup.
Customizable. While we have kept the recipe low in fats and carbs, you can always add crumbly vegan feta cheese to the salad for extra richness.
What I love the most about this recipe is how the soft pumpkin texture contrasts the crunch of roasted hazelnuts and tender asparagus.
INGREDIENTS NEEDED
This complex and vibrant salad uses simple and healthy ingredients readily available in supermarkets or farmer's markets. Here's what you'll need:
For The Salad:
Pumpkin. Peeled and chopped pumpkin.
Oil. To roast pumpkin.
Salt/Pepper. To taste
Asparagus. The star ingredient of the salad. Pick snappy, young, trimmed asparagus spears for this salad recipe.
Watercress. A fresh green crunchy salad.
Baby Spinach. A good dose of greens. Wash and spin dry well before use. Don't substitute it with large spinach because it doesn't taste great raw. But you can use arugula instead.
Mint Leaves. Refreshing herby flavor.
For Hazelnut Cranberry Dressing:
Olive Oil. For dressing.
Hazelnuts. We love the crunch of roasted hazelnuts in this recipe. Chop them well before use. You can also use roasted nuts like walnuts, pecans, or pine nuts.
Dried Cranberries. For the dressing, chop the cranberries finely. They are sweet and tart and work wonderfully with the other ingredients.
Chianti Red Wine Vinegar. An essential acidic element to make this simple vinaigrette. You can use balsamic vinegar or lime juice if you don't have this particular vinegar.
Maple Syrup. Perfect sweetener for this sweet-sour dressing. You can use any sweetener of your choice, like sugar-free syrup or agave syrup.
Salt/Pepper. To taste.
HOW TO MAKE TASTY ASPARAGUS SALAD?
All you need to make this refreshing, vibrant salsa is to chop up and mix five ingredients!
Step 1- Prep the pumpkin
Clean, peel, and dice pumpkin into roughly uniform cubes. Toss them with salt, pepper, and oil, and transfer it onto a baking tray lined with parchment paper in a single layer.
Preheat the oven to 175°C.
Step 2- Cook the pumpkin
Transfer the tray to the oven and roast the pumpkin for 30 minutes. Once cooked thoroughly, remove the tray from the oven and let the pumpkin cool.
Step 3- Blanch the asparagus
Drop the spears into a pot of boiling water to cook the asparagus perfectly. After 2-3 minutes, you'll notice that the color of the asparagus has transformed into a bright green.
As soon as this happens, transfer the asparagus into an ice water bowl to stop further cooking and lock in the vibrant color.
Step 4- Make the dressing
Heat olive oil in a small pan and add chopped hazelnuts and cranberries. After roasting briefly, take the pan off the heat, and deglaze the pan with red wine vinegar.
Add maple syrup, salt, and pepper to finish the dressing.
Step 5- Toss and serve
Add baby spinach, watercress, mint, blanched asparagus, and roasted pumpkin in a large salad bowl. Pour over the prepared dressing and toss it to mix everything.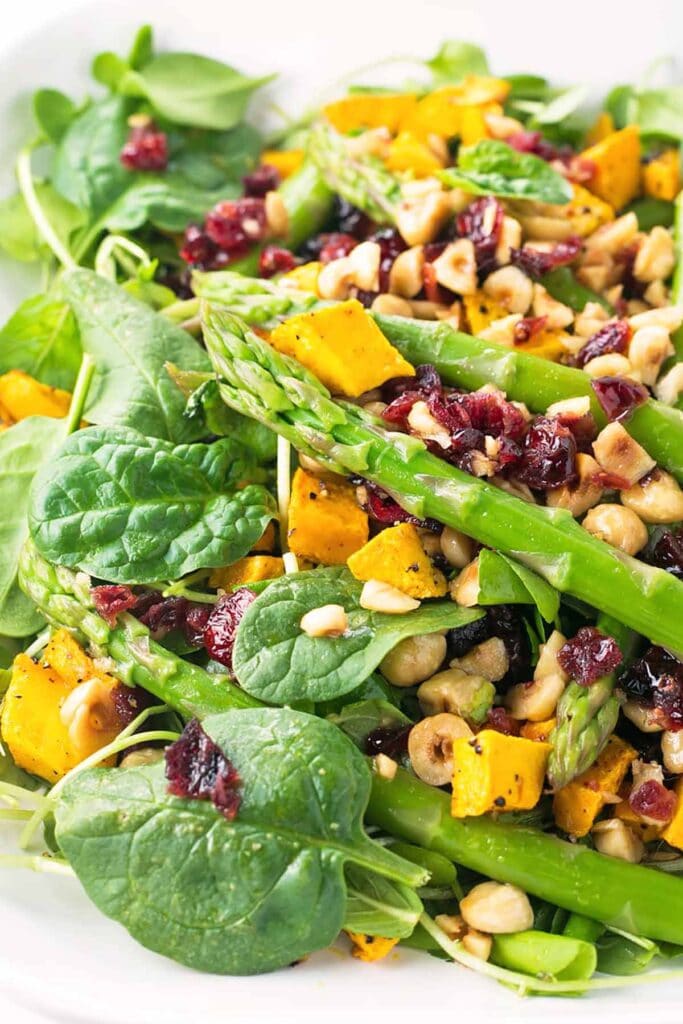 TIPS TO MAKE THE BEST RECIPE
Avoid overcooking asparagus. Asparagus cooks in under a couple of minutes when put in boiling water. Adjust the boiling time as per the thickness of the spears. Watch the veggies closely to notice the change of color. The longer you boil, the mushier it'll become.
Plan ahead. If you plan to prep your salad in advance, combine everything except the dressing and store it in the refrigerator. Just before you serve, toss the salad with the prepared vinaigrette.
Don't overcook the pumpkin. You want to get a nice char on the pumpkin pieces but not make it so mushy that it blends into the vinaigrette.
FLAVOR VARIATIONS
Vegetable substitutions. You can swap out roasted pumpkin with roasted potatoes or sautéed carrots. Or add cherry tomatoes, radish slices, and olives to this salad for a refreshing taste.
Use lemon vinaigrette. If you prefer lemon vinaigrette to red wine vinegar, you can make one with lemon juice, maple syrup, dijon mustard, garlic, and olive oil.
Make it more filling. Add roasted chickpeas, grilled tofu, or grains like bulgur wheat, wild rice, and quinoa to make it more filling.
STORAGE INSTRUCTIONS
Although this salad is best enjoyed fresh, you can store the leftovers for a few days.
To store: Transfer asparagus salad to an air-tight container and store it in the refrigerator for a couple of days.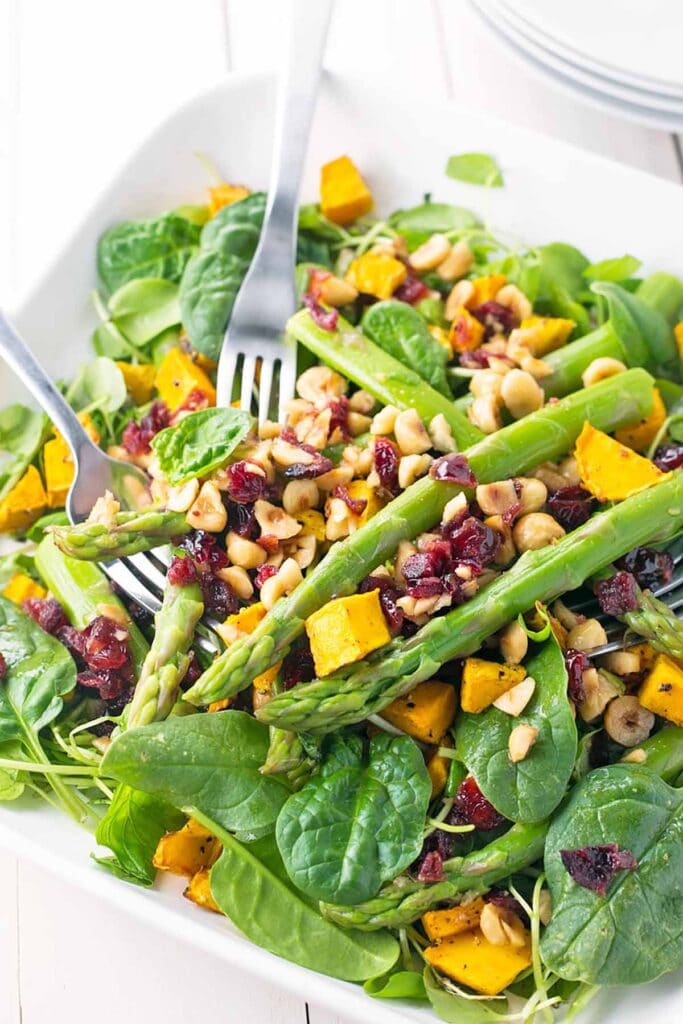 WHAT TO SERVE WITH ASPARAGUS SALAD?
While we love to enjoy this asparagus salad solo for lunch or as a snack, you can always support it with a filling soup like lentil soup, corn chowder, minestrone soup, and our soda bread.
Pair this salad with lasagna, red pepper pasta, or mushroom risotto for an Italian-inspired spread.
MORE HEARTY SALAD RECIPES TO TRY
FREQUENTLY ASKED QUESTIONS
Can I cook asparagus in an air fryer instead of boiling it?
Indeed, cooking asparagus in an air fryer is quick and hassle-free. If you use tender asparagus, you can cook it in under 5 minutes.
Can you make this recipe with raw asparagus?
I prefer cooking it briefly before using it in salads. Although some people use chopped raw asparagus directly, I find some parts tough to chew.
Should I peel asparagus?
No, you don't need to peel asparagus. So long as you remove the wooden ends, you're good to go.
Is this salad served warm or cold?
You can serve this salad cold. You can make it a few hours in advance and store it in the refrigerator before use.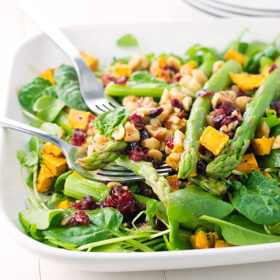 Asparagus Salad
This light and crunchy asparagus salad features perfectly cooked asparagus and roasted pumpkin seasoned with a nutty, sweet cranberry dressing. Healthy, delicious, and refreshing, this salad is all things spring!
Ingredients
1

cup

Pumpkin

chopped

1

teaspoon

Oil

1

teaspoon

Salt

to taste

15

spears

Asparagus

trimmed

2

cups

Watercress

chopped

1

cup

Baby Spinach

1/4

cup

Mint Leaves

torn
Dressing
1

tablespoon

Olive Oil

1/4

cup

Hazelnuts

dry-roasted

1/4

cup

Dried Cranberries

chopped finely

3 1/2

tablespoons

Red Wine Vinegar

2

teaspoons

Maple Syrup

1

teaspoon

Salt

to taste
Instructions
Preheat your oven to 175 degrees Celsius. Toss pumpkin in 1 teaspoon of oil and season with salt and pepper.

Lay on a baking tray in a single layer and roast for 30 minutes or till the pumpkin is cooked all the way through. Once cooked, let cool till it is just warm.

Whilst pumpkin is roasting, prepare Asparagus. Bring a large pot of water to boil and dump Asparagus in. Cook for 2-3 minutes, or until the Asparagus turns a bright, vibrant green. Immediately transfer your Asparagus spears into a bowl of ice water to help retain its vibrance.

Prepare the dressing by heating olive oil in a small pan till just warm. Add Hazelnuts and Dried Cranberries to the oil and let everything heat through slightly. Take off the heat and mix in red wine vinegar, maple syrup and salt/pepper.

Place chopped Watercress, Baby Spinach, Mint, blanched Asparagus and Roasted Pumpkin in a salad bowl. Dress your salad with the prepared dressing and toss to combine.
Notes
TO STORE: Transfer asparagus salad to an air-tight container and store it in the refrigerator for a couple of days.
Nutrition
Serving:
1
serving
Calories:
136
kcal
Carbohydrates:
13
g
Protein:
2
g
Fat:
9
g
Saturated Fat:
1
g
Polyunsaturated Fat:
1
g
Monounsaturated Fat:
7
g
Trans Fat:
0.01
g
Sodium:
1179
mg
Potassium:
288
mg
Fiber:
2
g
Sugar:
9
g
Vitamin A:
3864
IU
Vitamin C:
14
mg
Calcium:
56
mg
Iron:
1
mg