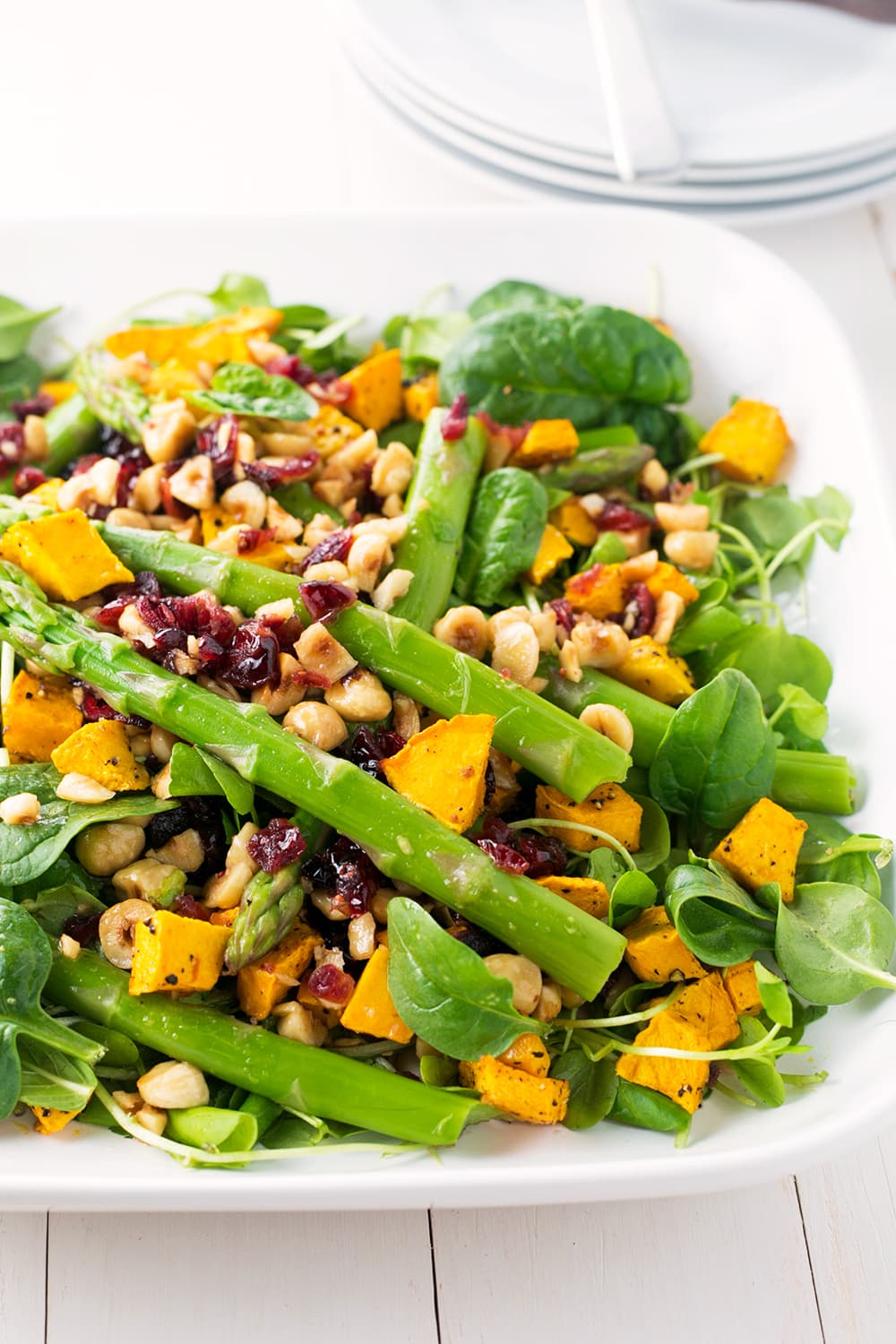 There are 2 reasons I love Asparagus. The first one, obviously, is because it tastes awesome. The second one is because it makes my pee smell funny. Who doesn't love strange smelling pee? One of my favourite ways of having Asparagus is in this Pumpkin Asparagus Salad with Hazelnut Cranberry Dressing. I love making this when it's freezing cold in Melbourne, because it reminds me so much of Australia's elusive, short-lived Summers. I think I want to move to frikkin Hawaii.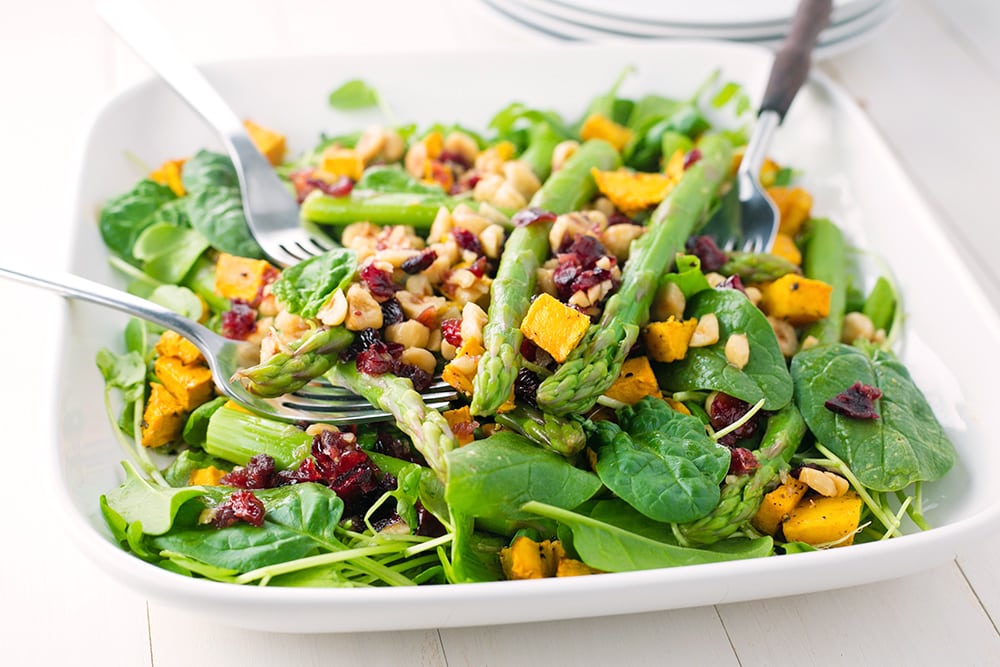 This Pumpkin Asparagus Salad with Hazelnut Cranberry Dressing consists of sweet roasted Pumpkin, blanched Asparagus, Greens and Mint – bathed in a tangy, crunchy Chianti Red Wine Vinegar and Hazelnut Cranberry dressing. For my salad greens, I use my favorite Watercress and Baby Spinach, but feel free to use any greens you like (for the love of God, no Iceberg lettuce, PLEASE!).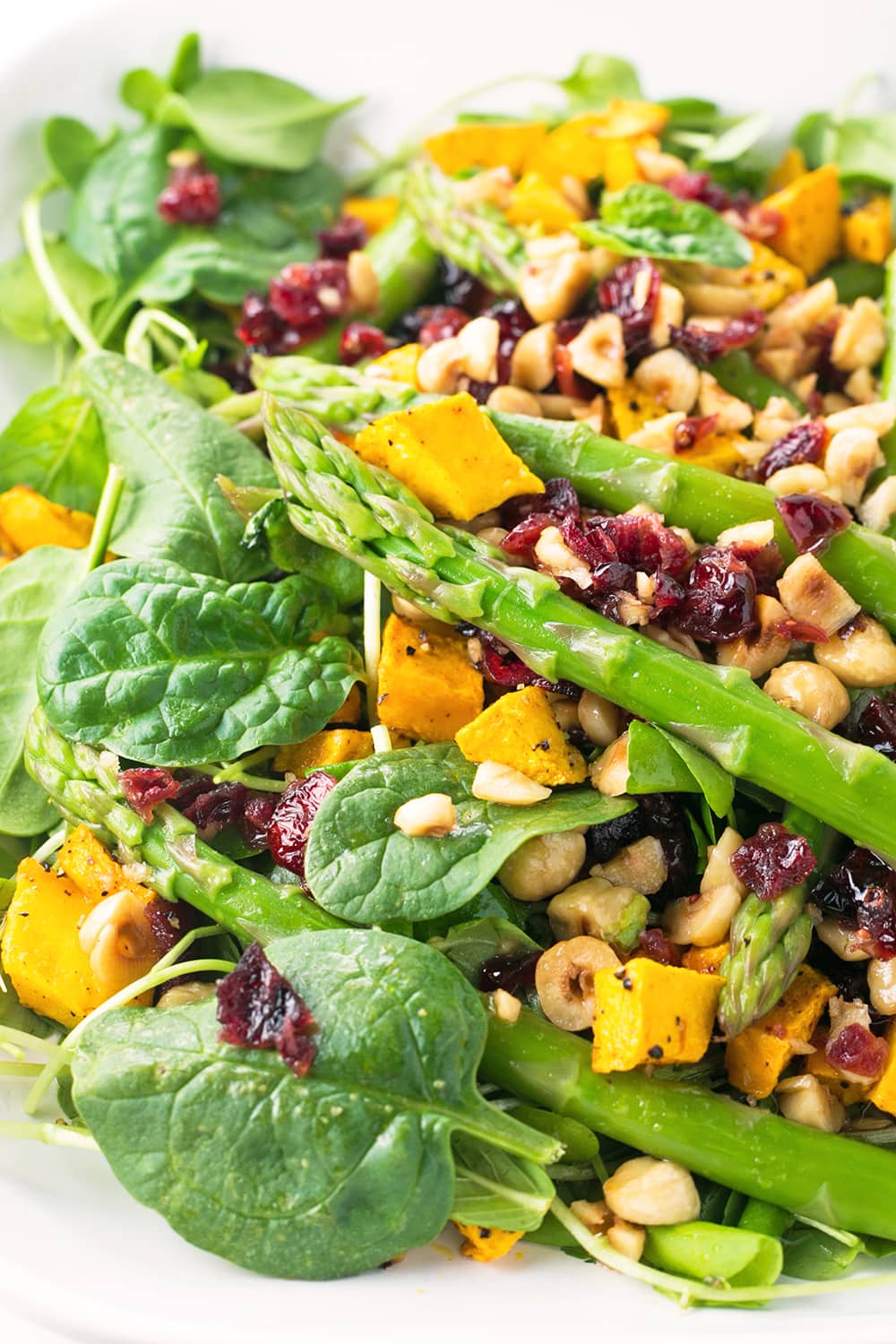 A little note on the Vinegar I use – I've tried many different Red Wine Vinegars in the past, but Chianti Red Wine Vinegar is by far my favorite one to use in salad dressings. It's acidic, but not in a harsh way that a lot of cheaper vinegars are. If you're interested in purchasing some, click on the Amazon link below or here
. (We earn a tiny commission if you purchase anything through the above link, at no extra cost to you! We only recommend products we personally own and love).
FREE EBOOK SERIES! 5 SECRETS FOR FOOLPROOF VEGAN DESERTS
Anyway, back to our
Pumpkin Asparagus Salad with Hazelnut Cranberry Dressing.
 It is
Gluten Free, Vegan, Low in Fat, Free of Child Labor
and only sets you back about 135 calories per serving. Awesome! The whole thing comes together in about half an hour and tastes a million times better than the bullsh!t salads sold at supermarkets or cafes. Scroll down to get the full recipe for our 
Pumpkin Asparagus Salad with Hazelnut Cranberry Dressing. 
Till next time, homies.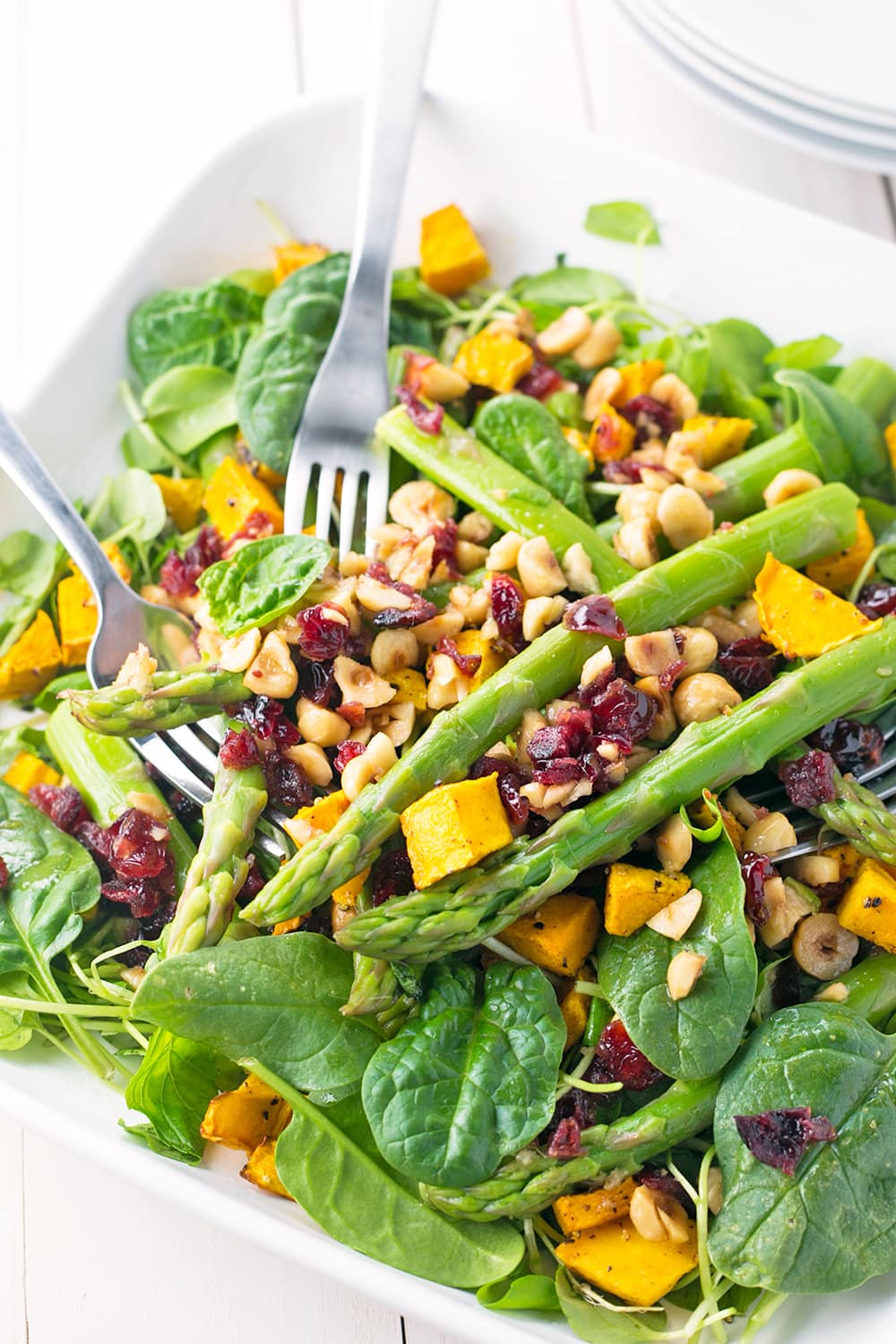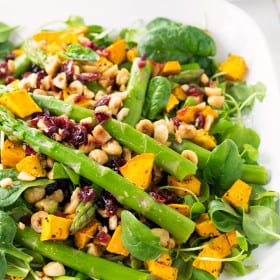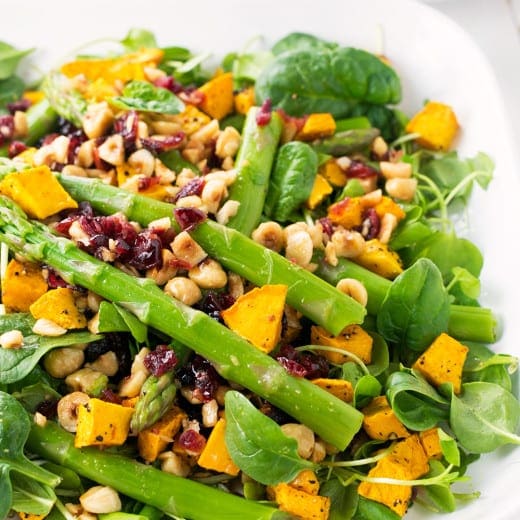 Pumpkin Asparagus Salad with Hazelnut Cranberry Dressing
Tangy Pumpkin and Asparagus Salad with Hazelnut Cranberry Dressing. Healthy, Vibrant and Delicious. Vegan | Gluten Free
Ingredients
1

cup

chopped Pumpkin

1

teaspoon

Oil

Salt/Pepper

to taste

15

medium spears of Asparagus

trimmed

2

cups

chopped Watercress

1

cup

Baby Spinach

1/4

cup

torn Mint Leaves

Hazelnut Cranberry Dressing:

1

tablespoon

Olive Oil

1/4

cup

dry-roasted Hazelnuts

chopped

1/4

cup

Dried Cranberries

chopped finely

3 1/2

tablespoons

Chianti Red Wine Vinegar

2

teaspoons

Maple Syrup

Salt/Pepper

to taste
Instructions
Preheat your oven to 175 degrees Celsius. Toss pumpkin in 1 teaspoon of oil and season with salt and pepper.

Lay on a baking tray in a single layer and roast for 30 minutes or till the pumpkin is cooked all the way through. Once cooked, let cool till it is just warm.

Whilst pumpkin is roasting, prepare Asparagus. Bring a large pot of water to boil and dump Asparagus in. Cook for 2-3 minutes, or until the Asparagus turns a bright, vibrant green. Immediately transfer your Asparagus spears into a bowl of ice water to help retain its vibrance.

Prepare the dressing by heating olive oil in a small pan till just warm. Add Hazelnuts and Dried Cranberries to the oil and let everything heat through slightly. Take off the heat and mix in red wine vinegar, maple syrup and salt/pepper.

Place chopped Watercress, Baby Spinach, Mint, blanched Asparagus and Roasted Pumpkin in a salad bowl. Dress your salad with the prepared dressing and toss to combine.